Vorige week liep ik me het leplazarus, tankte ik bij met chocolade, pizza en nog meer chocolade en verstuurde ik ontzéttend veel webshoppakketjes…
Vorige week vrijdag gingen Tom en ik naar de Stadsschouwburg. We hadden kaartjes voor Micha Wertheim en de cheapskate in mij had hele goedkope kaartjes voor op het derde balkon gekocht. Toen we er kwamen lachten we ons dood om hoe hoog dat eigenlijk was en daarna om Micha zelf. Goede voorstelling en stiekem best een mooi plekje hoor, zo'n hoog balkonnetje. :)
Vorige week zaterdag had ik Tom eindelijk zo gek gekregen om mee te lopen met de wandeltocht waar ik bijna elk jaar aan mee doe. Door het Groningse landschap met meer dan genoeg sterke drank om ons erdoorheen te helpen. Jaja, dat is inderdaad een borrelglaasje dat je daar om mijn nek ziet hangen… Het was ver lopen, érg ver.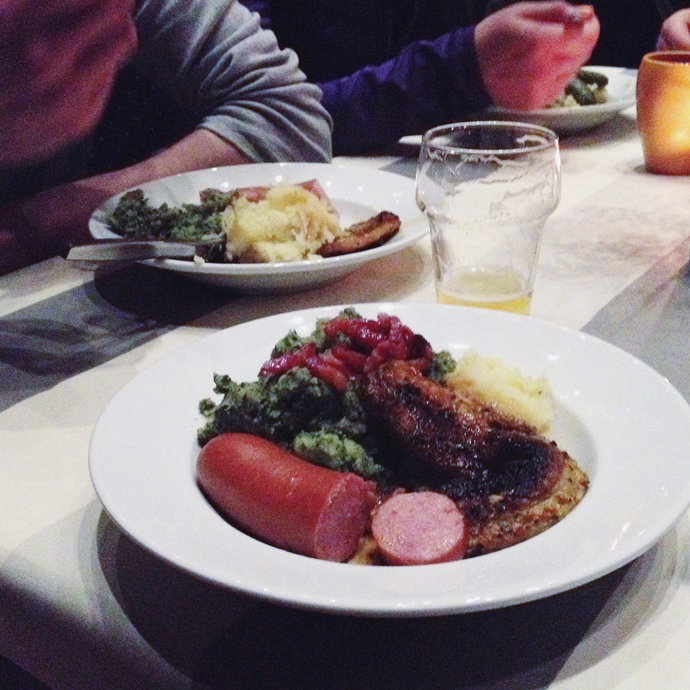 Maar het eindpunt was magisch. Doodop, drijfnat en een beetje dronken kwamen we aan in een partycentrum in Winsum (waar je op de gemiddelde zaterdagavond normaal écht niet wilt zijn). En daar stond een stamppot buffet op ons te wachten. Heaven!
Op zondag hebben we met onze zere beentjes (wij zijn ook niks gewend) op de bank gelegen en ik heb nog een stapel webshoppakketjes ingepakt. Tetkees vindt het altijd heel gezellig als we ziek of moe op de bank liggen, haha. Toen dus ook.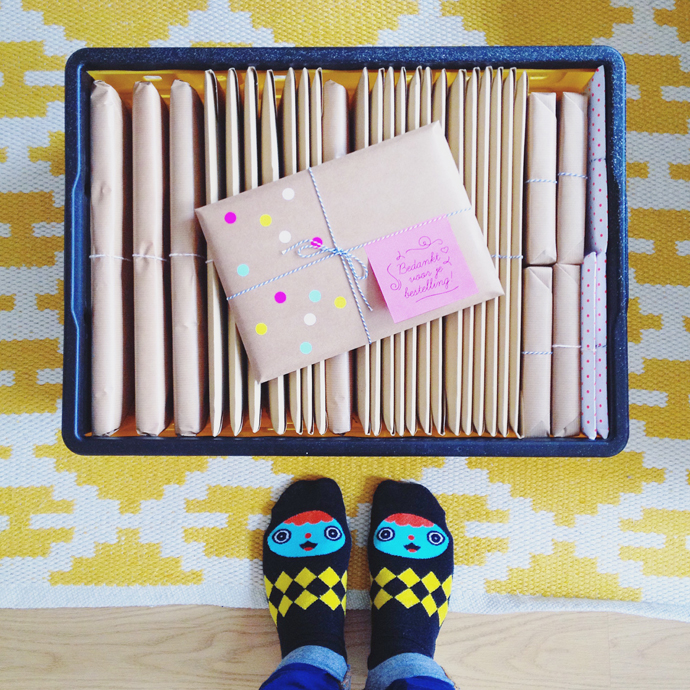 Het was maar goed dat ik zondag al was begonnen met inpakken, want het waren zooooooveel bestellingen. Crazy! De daily planners waren halverwege vorige week echt op, maar er komen gelukkig nieuwe aan. Er gaat wel wat tijd inzitten omdat ik alles mooi wil inpakken, maar het is zo leuk om van alles een klein cadeautje te maken en ik weet dat het wordt gewaardeerd. :)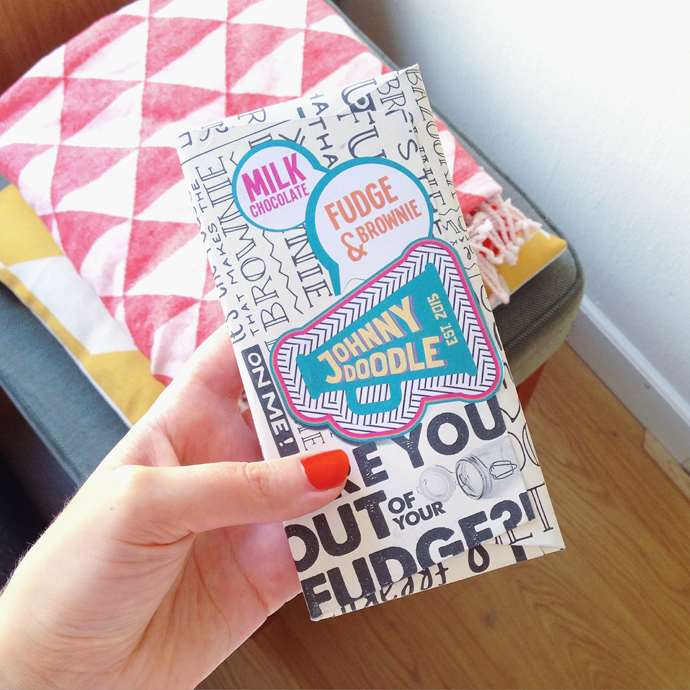 Ik kreeg (net zoals heel bloggend Nederland volgens mij, haha) een enorm pak met chocoladerepen opgestuurd van Johnny Doodle. Heel erg lekker natuurlijk, maar ik was verbaasd hóéveel deze repen qua concept en uiterlijk op de repen van Tony Chocolonely leken. Zelfs het idee van de ongelijke stukken was hetzelfde. Maar dan iets goedkoper, hmmmm. Dat is niet zo netjes Johnny! Ik blijf een trouw Tony-meisje maar mocht je deze repen toch willen proberen, dan zijn die in de smaak melk en melk&fudge&brownie het lekkerst. ;)
Ik had een pakketje van Lush binnengekregen en die laat ik heel graag aan jullie zien (en ruiken, maar dat kanhelaas niet, snif). En zo ziet het eruit vanaf de andere kant van de camera, haha. Waar de lensdop lag, daar was het scherpgesteld. Dus daar hield ik alle wortelen en jelly konijntjes boven. Easy peasy, want ik ben natuurlijk een TOPMODEL. En de zon scheen, thank goodness.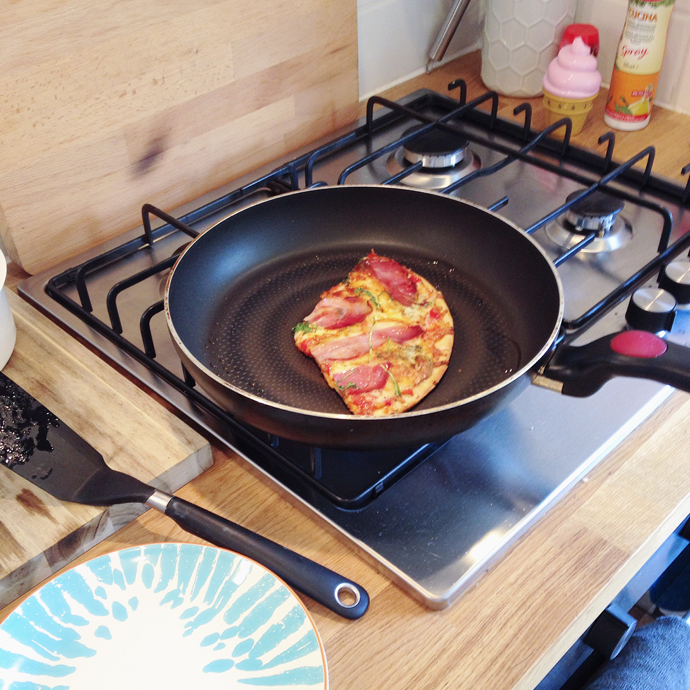 Dit is de beste lunch op aarde: opgewarmde pizza in de pan. Eventjes op de kaaskant en genieten maar!
Ook had ik vorige week een gezellig middagje met mijn mama. We dronken thee met chocoladefondant bij Toet. En toen ze weer naar huis ging, zei ze opeens: 'Je moet nog even langs Woon Zooi voordat je naar huis gaat, daar staat een cadeautje op je te wachten.' Noujaaaaaaa! Het bleek een over the top paas-vaas te zijn, vol met vogeltjes. Instant lente in huis (en hysterie, maar daar hou ik wel van).
KATTENBONUS!
♥♥♥
Vind je het leuk om te zien wat ik de hele week uitspook? Volg Team Confetti dan op instagram.