Budget en eten zijn mijn twee favoriete woorden (zo ongeveer). En omdat Tom en ik verder geen geldslurpende hobby's hebben en omdat we een neusje hebben voor goed eten met een klein prijsje, kun je ons vaak in de stad Grongen vinden met onze neus in een menukaart. Woon je niet in Groningen? Pak je koffer ( de Eminent webshop heeft hele geweldige ) en kom vooral langs in het prachtige Grunn! Ik ben de beroerdste niet en deel graag de budget juweeltjes die Groningen te bieden heeft. Here it goes:
DE GROENE WEYDE / Nieuwe Ebbingestraat 149
Ons favoriete buurtrestaurant voordat we naar ons nieuwe huis verhuisden. Het is een knettergoed eetcafe dat wel raad weet met een goed stukje biologisch vlees (die SAUS ook altijd, devine!). Omdat het er zo knus is en ze heerlijke stampotjes maken, eet ik er vooral graag in de winter. Maar zoals je hierboven ziet, kun je er ook in de zomer op het terras zitten met uitzicht op het Noorderplantsoen.
***
DE BIECHTSTOEL / Damsterdiep 22-24
De Biechtstoel is onze nieuwe Groene Weyde sinds we zijn verhuisd. Een stukje dichterbij en net zulk goed eten. We lunchen er vooral vaak omdat je heel veel voor heel weinig krijgt. En dan hoeven we 's avonds alleen nog maar een boterham te eten. Tijdens de lunch is het ook bijna altijd rustig, terwijl het 's avonds afgeladen is. Zonder reservering kun je het wel vergeten. Dus even bellen van tevoren of aanschuiven bij de lunch. O en het pand staat van onder tot boven propvol oude kerkbeelden, heel erg cool.
***
DE UURWERKER / Uurwerkersgang 24
De Uurwerker is door hun self-service heel budgetvriendelijk (eten en drinken bestel je aan de bar, ze komen het wel brengen) en door de kleine kaart ook heel smakelijk. Het is wel DE plek voor de vrijdagmiddagborrel. Het is een grote tent en er is dus altijd wel een plekje te vinden, maar je moet geen haast hebben, want als het heel druk is, kan het even duren. Goeie pizza's en burgers!
***
JAVAANS EETCAFE / Binnenstad-Zuid
Ik wil eigenlijk veel vaker Indonesisch eten, want ik hou zo van die keuken! Maar je krijgt altijd zoveel en ik ben een klein meisje waar niet zoveel inpast. Maar als ik ga, dan ga ik hier heen (en honger ik mezelf ervoor gewoon helemaal uit). SO GOOD en ze hebben vaak kortingsacties.
***
DE SOEPWINKEL / Oude Kijk in 't Jatstraat 12
SUPERbudget en ook nog eens gezond. De Soepwinkel is helaas maar tot 18.00 open (op donderdag tot 20.00), maar tot die tijd raad ik een proeverij van soep en extra brood aan. De soepjes zijn heerlijk, de eigenaresse een schat en het mini soepwinkeltje is zo lief en knus. Met mooi weer kun je buiten voor de winkel op een bankje zitten. En genoeg vega opties!
***
LITTLE ITALY / Damsterdiep 20
Pas ontdekt, maar het beviel goed. Little Italy is van dezelfde 'makers' als De Biechtstoel en zit er pal naast. Lekkere pizza en goddelijke risotto balletjes.
***
DE GROTE FREDERIK / Frederiksplein 7
Zit verstopt in de Oosterpoort buurt. Dus perfect als je naar een voorstelling gaat in de Oosterpoort (muziekcentrum en theater). Net als bij De Biechtstoel geldt: reserveren. Want ze zitten altijd vol. De bediening is ontzettend gezellig en de kwaliteit van de eetcafe-gerechten outstanding. En als de zalm met gemberkorst nog op de kaart staat: DOEN! Er staat maar één vegetarisch gerecht op de kaart, maar die is wel heel lekker. Vraag m'n moeder maar. ;)
***
HET CONCERTHUIS / Poelestraat 30
Ofcourse. Kon niet missen. Deze hipstertent serveert eten om te delen voor kleine prijsjes. Ik hou van eten om te delen, want dan kan ik meer proeven. Heel soms zit er een missertje tussen, maar het is bijna altijd smullen geblazen. Hele originele combinaties. Aanrader van dit moment: tiki massala en brood met smeersels. Je vindt hier genoeg vegan / vega opties. En als je geen biertje kan kiezen van de ellenlange kaart, neem dan een Dead Pony Club, heer-lijk!
***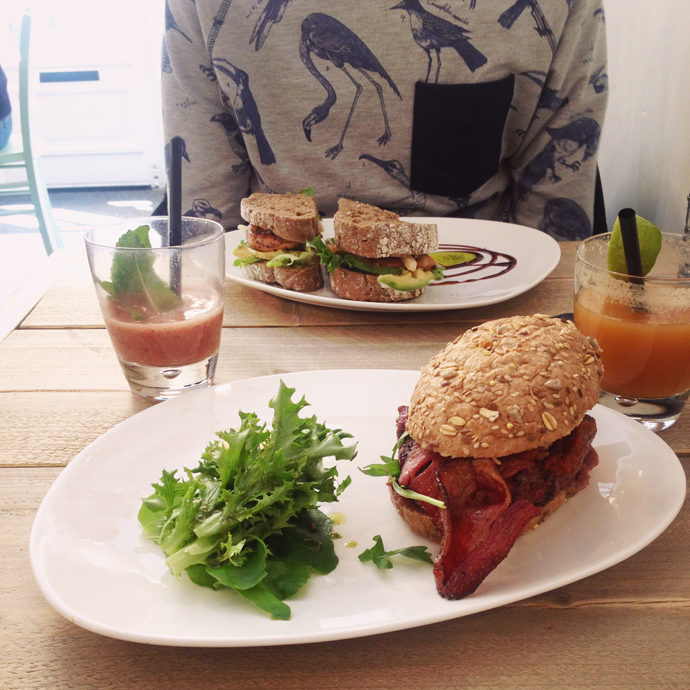 NO 25 / Oude Kijk in Het Jatstraat 25 / Rademarkt 9
Toegegeven, hier zijn we nog maar één keertje geweest, maar het was een schot in de roos. De burger was smokey as hell (that's a good thing) en de aankleding supercute.
En de zaken gaan goed want er zijn inmiddels al twee vestigingen! Je moet wel vroeg trek hebben want ze doen alleen aan ontbijt, lunch en 'early dinner.'
***
PERNIKKEL / Aweg 2
Mijn FA-VO-RIETE budgetrestaurant in Groningen en here's why: je kunt er de hele dag fluffy pancakes of warme appeltjes met yoghurt bestellen VOOR MAAR €3,50 / €2,50! Ja, capslock was nodig. Verder hebben ze elke week een nieuwe kaart met drie lunchgerechten en drie hoofdgerechten (vlees / vega / vis). De limonade is heerlijk (bestel 'iets zonder prik') en er zijn elke dag versgebakken taarten.
This is the place to be people!
***
Ik verwacht dat de lijst met fijne budget restaurants alleen maar groter zal worden, want ze ploppen hier in Groningen uit de grond als paddestoelen!