Emails kunnen heel leuk en persoonlijk zijn, maar er gaat NIKS boven echte post. Het hartverwarmende gevoel van een kaartje op je deurmat is daar niet mee te vergelijken. Sinds ik fulltime blog, krijg ik veel meer post dan ervoor en ik word er elke keer weer blij van. Tijd om iemand anders blij te maken met leuke post! In samenwerking met Hallmark ga ik een paar van jullie een persoonlijk kaartje sturen. :D
Hallmark heeft namelijk een hele leuke nieuwe collectie, de 'Lifestyle' collectie. De kaartjes zijn bijzonder omdat er een extra textuur is toegevoegd.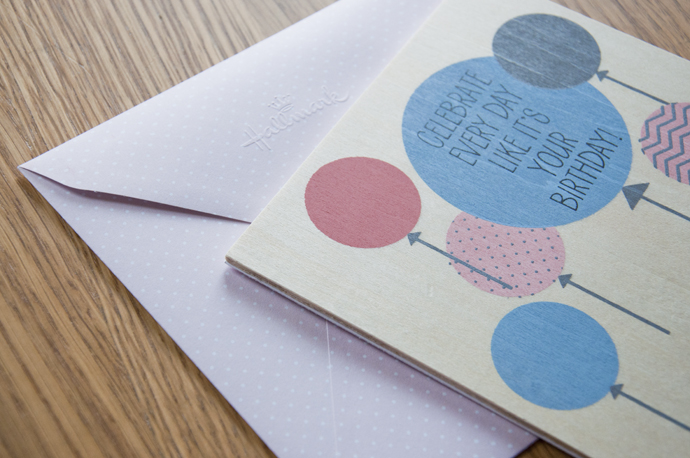 Dat klinkt heel erg spannend, maar het betekent dat er bijvoorbeeld kaartjes van hout (zie hierboven), dik karton en blik zijn. Je kunt je kaartje dus (als je zou willen) ook aan de muur hangen en hij kan niet meer verkreukeld aankomen. De postbodes kunnen af en toe een beetje ruig met post omgaan, dus dat is een fijne bijkomstigheid. :D
Ik mocht er een paar uitkiezen om te laten zien EN om te versturen, joepie! Ik heb uiteraard de vrolijkste met de leukste patroontjes en party-spirit uitgezocht, haha. Check 'em out:
De laatste is mijn favoriet, met ballonnen, stipjes en een quote waar ik het HEEL ERG mee eens ben. Dat lukt natuurlijk niet altijd, soms zijn dagen gewoon stom, maar als het even kan, maak een feestje van elke dag (en plak confetti stippen op je muur)!
En nu de FUN PART! Ik ga deze kaartjes allemaal versturen naar jullie! Ik heb er vijf en kan dus vijf blij maken met een handgeschreven kaartje. :D
Voor wie wel een opstekertje in de vorm van een vrolijke Lifestyle kaart kan gebruiken: laat een reactie achter met 'ja, ik wil!' en vertel welk kaartje je het leukst vindt. Ik kan niet garanderen dat je dat kaartje ook krijgt, maar ik ga wel mijn best doen. Je hebt tot en met aanstaande vrijdag (10 april) de tijd om mee te doen. Vrijdag gooi ik jullie allemaal in de random name picker en krijgen de winnaars een berichtje van me. En ergens volgende week gaan de kaartjes op de bus!
♥♥♥
Geen kaartje gekregen? De kaartjes zijn nu verkrijgbaar bij Primera, The Read Shop, AKO, Cigo, Vivant en de betere wenskaartenwinkel en kosten €5,95 per stuk. Daar kun je iemand anders blij mee maken of gewoon lekker in je eigen huis ophangen.