Oh yeah baby! Ik mocht weer eens een heerlijk geurend doosje opentrekken van Lush en wat  limited edition lekkers aan jullie laten zien. En het is smullen geblazen hoor! In dit artikel laat ik een paar items uit de Moederdagcollectie en de Paascollectie van 2016 zien. Spoiler alert: er zit een wiebelend konijntje tussen…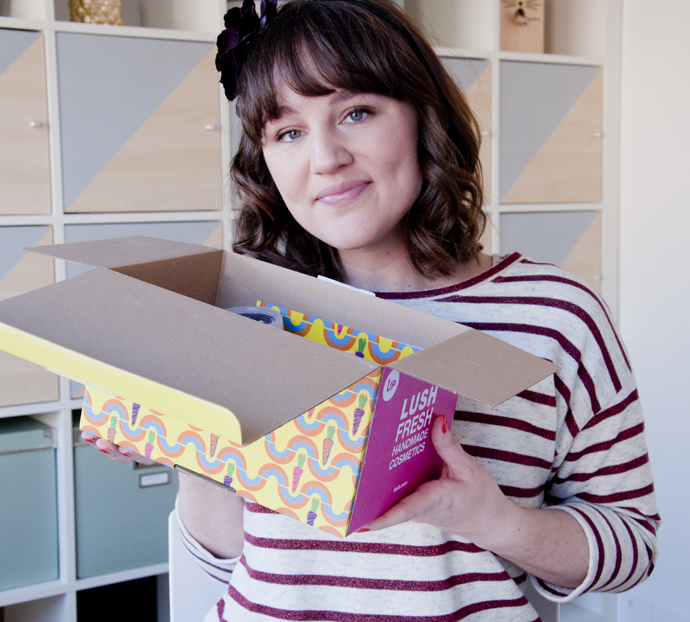 Daar hang ik al met mijn kop boven de zoetgeurende voorjaarsbox. Ik kon niet wachten om erin te duiken…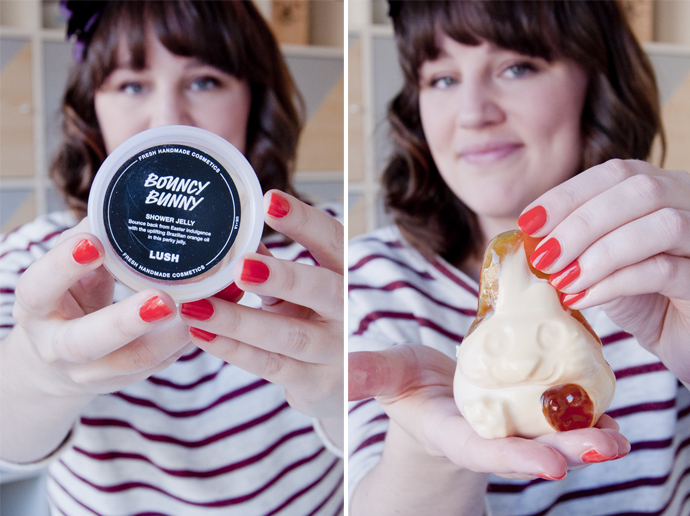 Het eerste wat ik vond was de Bouncy Bunny. Een shower jelly in de vorm van een konijntje die heerlijk naar sinaasappelsnoepjes ruikt. Een jelly werkt hetzelfde als gewone zeep (voor onder de douche of gewoon voor je handen) alleen is ie lekker drillerig én zacht voor je huid. Het enige nadeel van jelly's is dat ze na een tijdje een beetje beginnen te verkruimelen en er niet meer zo appetijtelijk uitzien. Ja, ik raad bij deze aan om dit konijntje te slachten en maar een klein stukje mee onder de douche te nemen. Meedogenloos, ik weet het, maar dan heb je er langer plezier van. ;)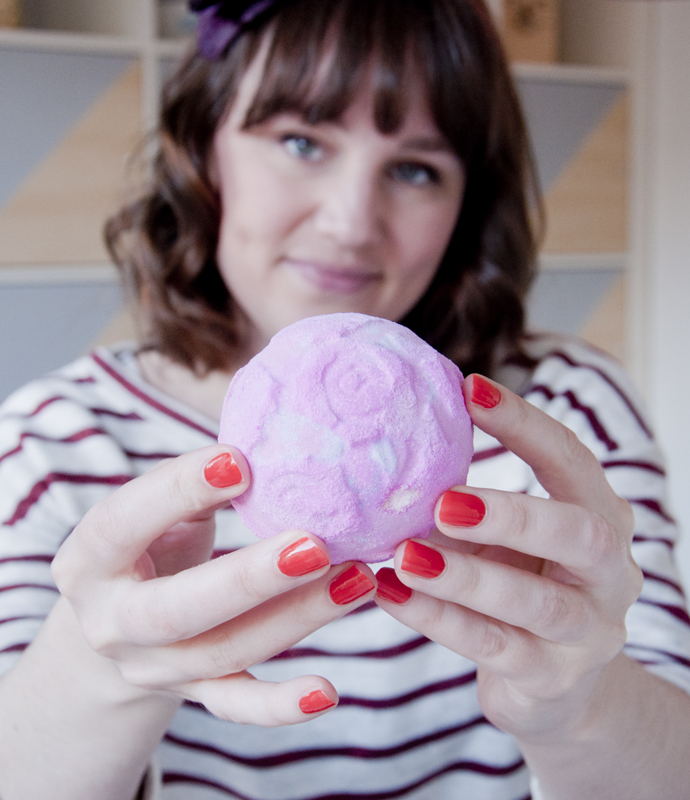 Volgende vondst in mijn Lush schatkist was deze Rose Bombshell. Hij ruikt lekker bloemig en heeft mooie pastelkleuren. Het schijnt dat als je deze bal in je bad gooit, er een gele bloemenexplosie volgt, spannend! Bath bombs zijn mijn favoriet omdat ze vol zitten met voedende oliën. Zo kom je lekker soepel je bad weer uitgeklauterd.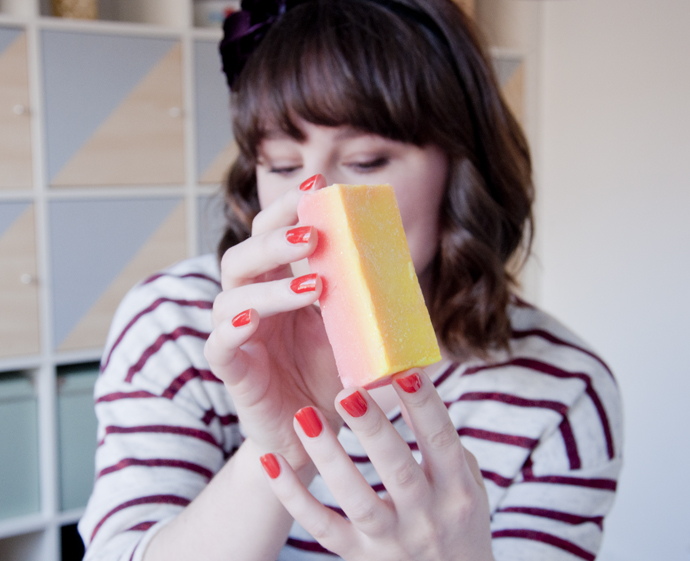 Lush staat bekend om haar heerlijk gekleurde en geurende zeepjes en deze is heel mooi. Hij heet Somewhere Over The Rainbow (smelt) en ziet eruit als een zonnetje. Er zitten zelfs glitters op! De zeep ruikt lekker, maar niet overweldigend, een typisch Lush geurtje.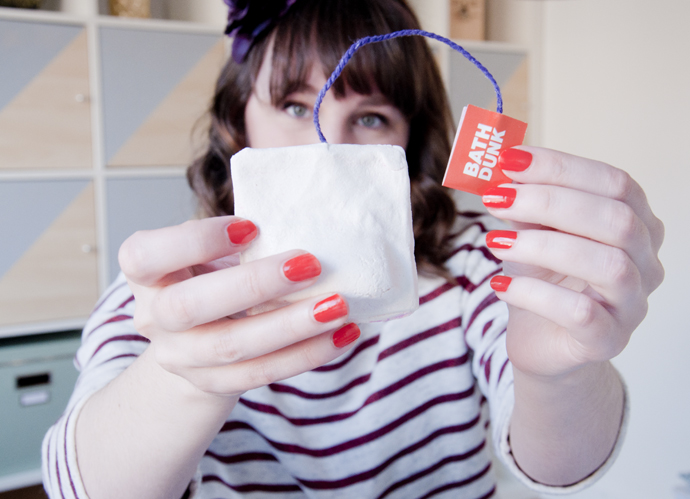 Alhoewel ik nu erg graag een kopje koffie drink 's ochtends, ben ik de rest van de dag een echte theeleut. En hoera, ik kan nu zelfs mijn thee meenemen in bad! Dit robuuste theezakje heet Flowering Tea kun je meerdere keren gebruiken door hem in je bad te dippen. Hij ruikt naar jasmijn en ook hier zitten bloemblaadjes in verstopt…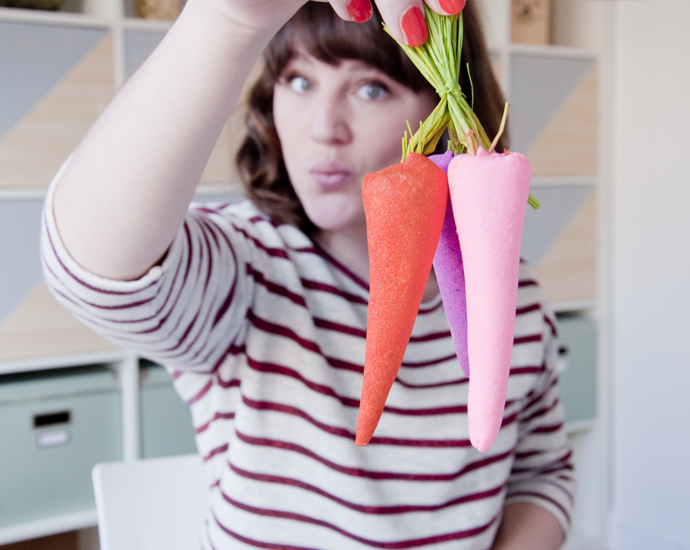 Hier ging ik echt van watertanden. Bunch Of Carrots bestaat uit drie wortelen, allemaal met een ander smaakje. Vorig jaar zat er ook ook een mooie bos wortelen in de Paascollectie, maar die waren allemaal oranje. Dit stel ruikt lekker tropisch en kun je allemaal meerdere keren gebruiken en zorgt voor een bad vol bubbels!
♥♥♥
Naast deze vijf beauty's zit er nog veel meer moois in de Paas- en Moederdagcollectie van Lush.
Bekijk hier ALLES.