Toen ik vorige week een spontaan afspraakje had bij de persafdeling van Lush, kreeg ik tot mijn verbazing een hele tas prachtige cadeautjes mee naar huis. En dan weet je wel wat er gaat komen nu: een enorme unboxing! En ik kan alvast verklappen: alles ruikt HEERLIJK en ziet er HEEL mooi uit. Maar dat zal je niet verbazen, want ja, het is Lush hè?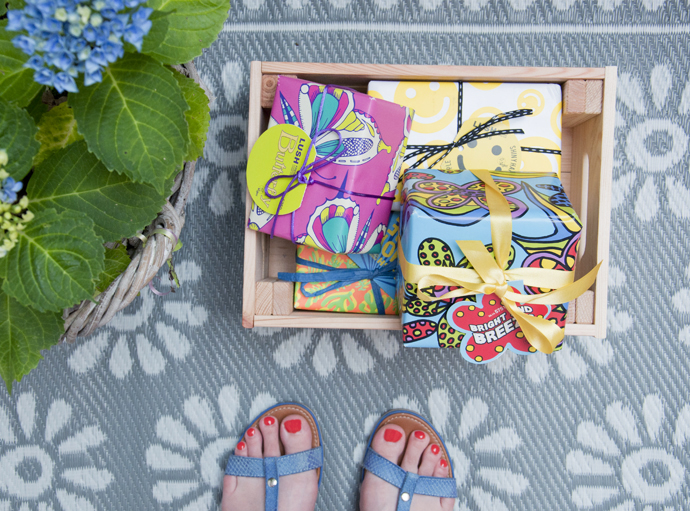 Een zomerse unboxing moet op een zomers balkonnetje. Mijn balkon is nog niet helemaal zomerproof, maar voor de gelegenheid had ik het er even heel gezellig gemaakt (lees: alle bierkratten en dorre plantjes naar één kant van het balkon geschoven). Het leek wel alsof Sinterklaas een mini vakantie naar Nederland had geboekt en onderweg wat cadeautjes in mijn sandaaltjes had laten vallen, kijk nou!
Nu hoor ik je denken: wat moet je nou met douche/bad producten in de zomer, ik moet er niet aan denken om in een warm bad te stappen? Het antwoord: Lush kan altijd. De presentjes zaten vol frisse en fruitige spulletjes die je mee kunt nemen onder een verfrissende lauwe douche of een verkoelend voetenbadje op je balkon.
Ok, en nou is het tijd om die mooie pakketjes open te scheuren en te kijken wat erin zit!
BRIGHT AND BREEZY
In deze box zitten de tools voor glanzende, verzorgde benen (je mag het ook op de rest van je lichaam smeren hoor). Te beginnen met de helderblauwe scrub Rub Rub Rub die lekker fris ruikt en (had ik dat al gezegd) BLAUW is! Alsof je verkruimelde smurfensnoepjes over jezelf uitsmeert. De scrub is medium. Effectief dus, maar niet te ruig. Ook droogt hij niet uit, maar laat een zacht laagje achter op je huid. Voor nog een beetje extra verzorging kun je daarna Each Peach over je benen wrijven. Dit blokje smelt een beetje als hij in contact komt met je warme huid (je ziet het al op mijn hand) en zorgt voor een vettig laagje dat naar perzikjes en citroenen ruikt. Lekker fris!
BUTTERFLY
Het volgende doosje ruikt het lekkerst van allemaal. En dat was lastig vast te stellen hoor, want alles ruikt WAANZINNIG! En wat ruikt er dan zo lekker? Nou zeepje Sultana. Het kaartje omschrijft deze zeep als: 'bevat meer gedroogd fruit dan het gemiddelde zakje potpourri.' Nou associeer ik potpourri met de badkamer van mijn oma, vertrouwd, maar nou niet bepaald hip & happening. Dus op papier zouden dit zeepje en ik niet een goede match zijn, maar de realiteit is dat mijn neus eraan vast zit gezogen. De geur is ZO verslavend. Hij schuimt flink en lijkt op een gebakje, wat wil je nog meer?
Verder zit er in deze box een heerlijk verzorgende body conditioner genaamd Ro's Argan Body Conditioner. Deze ruikt zoet en warm en luxe en perfect om je zongebruinde huidje mee in te smeren aan het einde van de dag als het is afgekoeld en je wel toe bent aan een verzorgend goedje op je huid.
AHOY THERE
Met deze box is je gezicht aan de beurt. Want die heeft ook wel wat frisse verzorging nodig na (of voor) een dagje in de zon. De Ocean Salt scrub is fris, bevat zeezout (past perfect in het zomerthema) en avocado boter om je gezicht zacht te maken. Ik kan heel blij vertellen dat deze scrub goed zijn werk doet en niet uitdroogt (dat wil nog weleens met scrubs).
Ook zit er een flink stuk zeep in dat heerlijk citrussig (is dat een woord?!) ruikt. Aan één kant zit een fijn laagje zand. Naast wassen, scrubt hij je huid dus ook lichtjes. Vandaar de naam Sandstone.
SHINY HAPPY PEOPLE
Een blijer doosje bestaat er volgens mij niet! Ik ben gek op de douchegels van Lush, en bij elke die ik probeer, heb ik een nieuwe favoriet. De laatste kwam uit de kerstcollectie (Rose Jam) en deze is ook hard op weg naar de top. Happy Hippy ruikt naar grapefruit en iets kruidigs, wat hem fris maar ook bijzonder maakt. En de gel is heel dik, zodat het lijkt alsof je een beetje jelly op je hand spuit. En het floept weer terug als je ophoudt met knijpen in het flesje (volgt iedereen me nog?).
De Bohemian zeep ruikt fris en volwassen, een beetje unisex. Voor als je alle mierzoete zomerluchtjes een beetje zat bent of samenwoont met een stoere vent die zich ook wil inzepen met een heerlijk ruikend stuk Lush zeep maar niet naar suikerspin wil ruiken.
En tot slot: FUN! FUN is een kneedbare zeep waar je lol mee kunt hebben, maar ook voor je lichaam EN je haar kan gebruiken. Deze variant is groen en ruikt een beetje naar cola. Kinderen zullen er vast helemaal loco op gaan, maar ik vond het ook heel leuk om mee te knutselen. #itsnoteasybeinggreen.
☆☆☆
En daarmee is deze unboxing tot een einde gekomen. Ik ben ontzettend blij met deze berg goodies en kan er de hele zomer mee door (en mijn vrienden en familie ook, de zeep van Lush kun je namelijk in stukjes snijden).
☆☆☆
Wat is jullie laatste Lush ontdekking?