Het kan voorkomen dat je eiwitten over hebt. Omdat je heel experimenteel 'egg fried rice' hebt gemaakt. En wat doe je daar dan mee? Meringue maken natuurlijk. Een tijd geleden zette ik een basisrecept voor merengue online (toen had ik net pasta carbonara gemaakt) en die gebruikte ik dit keer ook, alleen dan met een swirl nutella erdoorheen. Het resultaat: merengue om van te watertanden en héle blije vrienden…
De eerste test-batch was heerlijk. Nee maar echt heerlijk. Krokant van buiten, zacht van binnen met druipende nutella en een gecarameliseerde bodem. Maar wat waren ze lelijk! Bruin en schrompelig kwamen ze de oven uit. 'Dat moet nog maar een keertje overnieuw' dacht ik en stopte de merengue in een bakje om uit te delen na de yoga les (van yoga krijg je honger).
Ik had meteen een stel nutella-meringue-verslaafde-yoga-vrienden gecreëerd en toen ook de tweede lading er niet heel smakelijk uitzag (maar wel heel smakelijk smaakte) bracht ik weer een doosje mee voor mijn vrienden.
De derde poging (oven op een hele lage temperatuur met de hete-lucht-functie aan) zag er het mooiste uit (vooral de binnenkant) en die zie je hier vandaag dus op de foto's staan. Als je straks gaat maken, verwacht dan niet roomwitte meringue met een sexy swirl nutella erdoorheen, maar neem genoegen met bruine, verschrompelde hoopjes met een magisch grotje aan de binnenkant. It's the inside that counts…
INGREDIENTEN VOOR ZES GROTE MERENGUES:
♥ Ei-wit, ik gebruikte er twee.
♥ Citroensap.
♥ Suiker (15-20 gram per eiwit).
♥ Mixer.
♥ Keukenpapier.
♥ Bakpapier.
♥ Twee kleine kommetjes.
♥ Een grote kom.
♥ Een oven.
♥ Een dikke eetlepel nutella.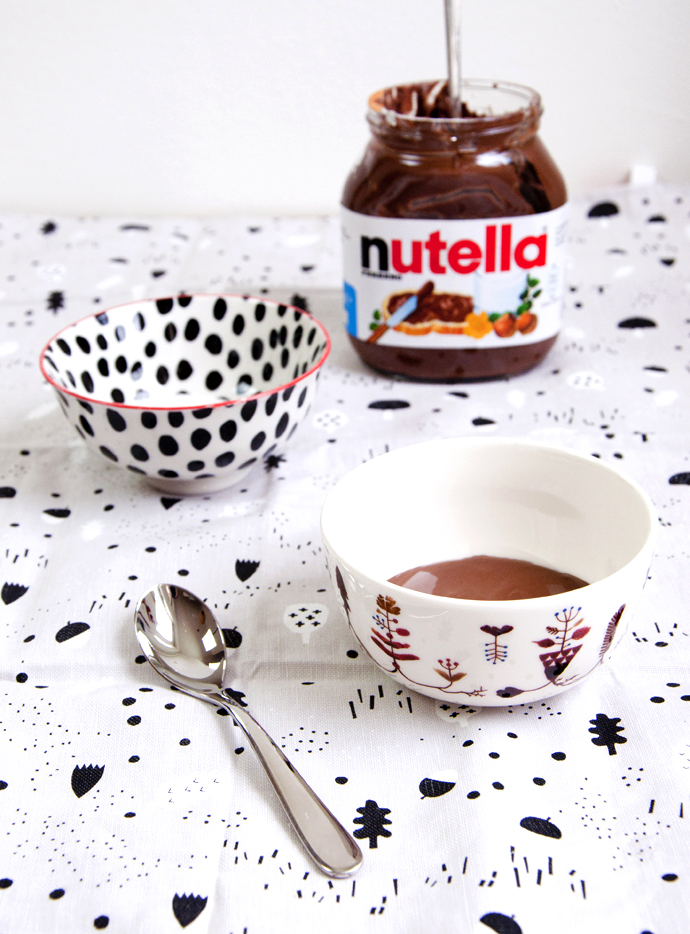 Doe de eetlepel nutella in een kommetje en zet het 30 seconden in de magentron. Even roeren en nog een keer 30 seconden. Net zolang totdat de nutella gesmolten is en makkelijk te roeren is. Laat dit rustig afkoelen.
Voor de instructies voor de basismeringe, lees dit artikel. Hier leg ik heel uitgebreid uit hoe je meringue maakt en hoe je extra stevige pieken krijgt. Als het goed is, kun je de schaal dan zonder vrezen boven je hoofd houden, zoals ik hierboven (misschien moet dit een yoga houding worden met de naam: meringue pose).
Als je basis-meringe klaar is, dump dan de afgekoelde nutella erbij en roer met een grote lepel of spatel een paar keer voorzichtig door het mengsel voor een gemarmerd effect. Laat zes grote klodders op een met bakpapier-bekleed rooster of plaat vallen en stop ze in de oven.
In het basis-recept staat de oven op 120 graden en laat ik de merengue er een uur tot anderhalf uur inzitten. Ze worden dan wel een beetje bruin en je kunt het gemarmerde effect niet zo goed meer zien. Ik zette bij de nutella variant daarom de oven op 100 graden en hete-lucht-stand en liet de merengue er zo'n twee uur inzitten. De binnenkant is dan nog vrij zacht, dus je kunt er nog een half uurtje aan vastplakken. Het is een beetje uitvogelen, elke oven is anders.
Tijd om te smullen en uit te delen (en er een beetje poedersuiker eroverheen te strooien zodat ze toch wit lijken)!
♥♥♥
Wanneer blijven jullie met ei-witten zitten?
Ha dat rijmt…