Emaille pins zijn the cats pyjama's (oftewel, ze zijn het helemaal). En alhoewel ik al die speldjes prachtig vind, heb ik er nog niet één. En daar moet echt verandering in komen. Dus speurde ik de kleine winkeltjes op internet af op zoek naar lieve, hilarische, eigenwijze maar vooral kleine speldjes die met liefde zijn ontworpen door kleine en grote designers. En oh boy, ik heb een paar schatten gevonden…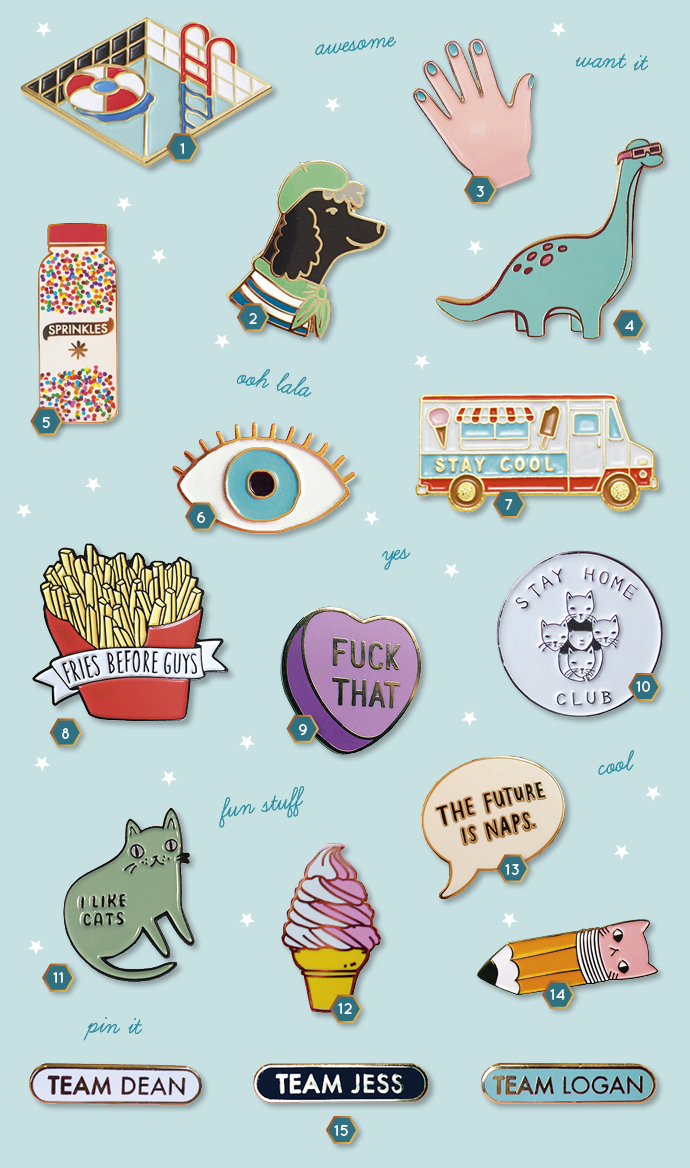 Ik maakte een overzicht van de mooiste en leukste speldjes die ik kon vinden, sommige van lokale ontwerpers (er zit zelfs een Groninger tussen, woop, woop) en andere zitten wat verder weg. Als je ze net als ik állemaal wil gaan sparen, kun je hieronder op het bijbehorende nummertje klikken en naar hun shop surfen:
1. CHILL OUT / £25,-
2. FRENCH POODLE / $10,-
3. BLUE NAILS / €11,-
4. DINOSAUR WITH SUNGLASSES / €7,22
5. SPRINKLES / $12,-
6. BLUE EYE / €11,-
7. STAY COOL ICE CREAM TRUCK / €10,82
8. FRIES BEFORE GUYS / €9,02
9. FUCK THAT / €9,02
10. STAY HOME CLUB / $6.00
11. I LIKE CATS / €9,11
12. ICE CREAM / €8,12
13. THE FUTURE IS NAPS /  $10,-
14. PENCIL KITTY / €10,-
15. TEAM DEAN / TEAM JESS / TEAM LOGAN / $12,-
Leuk om te weten is dat de dinosaurus gemaakt is door Erik Buikema uit Groningen die ik volg op instagram, maar verder helemaal niet ken, haha. De Kitty Pencil is gemaakt door Anne Knispel van Pony People (awesome #girlboss lady uit Haarlem) en ik heb hem gisteren besteld (eindelijk)! En waarschijnlijk snapt niet iedereen de onderste drie pins: Team Dean, Team Jess en Team Logan?? Maar als je Gilmore Girls hebt gekeken en naar de Gilmore Guys luistert (zoals yours truly) dan begrijp je waarom ik de speldjes hilarisch vind. En even tussen jou en mij: ik ben Team Dean…
♥♥♥
Welke zou ik eigenlijk nog meer moeten bestellen van deze lijst?