Woop woop! De eerste TC FEELGOOD BOX staat nu in de webshop, klaar om besteld te worden! In dit artikel nog iets meer info en een paar sneak peek foto's.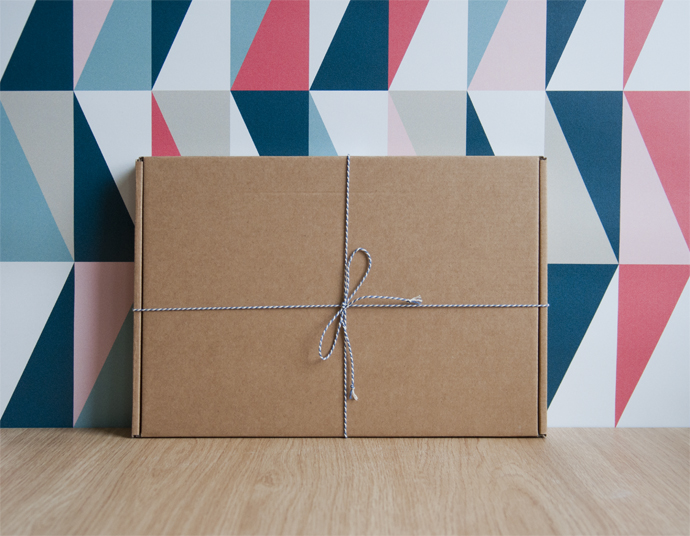 Vorige week vertelde ik al met veel trots dat de eerste TC FEELGOOD BOX eraan zat te komen. Het is een box gevuld met zes zelf ontworpen/gemaakte items door mij!
De box past door de brievenbus, geen tripjes naar de buren of het postkantoor dus, hij ligt gewoon op je te wachten als je thuis komt. Hij zit dicht met twee kartonnen flapjes, een sticker en een touwtje. En de driehoekjes konden natuurlijk niet ontbreken…
Als je de doos open hebt gemaakt, zie een vrolijk kaartje met het onderwerp van de box. Dit is de eerste box en heeft een wat algemener onderwerp. Surprise! Dat past natuurlijk perfect bij de feestelijke sfeer van Team Confetti. Op de achterkant van dit kaartje staat de inhoud. En die blijft nog even geheim. Anders is het geen surprise meer… ;)
Nog even de feitjes op een rijtje:
BESTELLEN
De TC FEELGOOD BOX is vanaf vandaag te bestellen in onze webshop. Let op! Er zijn twee opties. Er is een Nederlandse box en een Europese box. Omdat de verzendkosten naar het buitenland iets hoger zijn, is de prijs voor deze box ook wat hoger: €20,25 inclusief verzenden. De prijs voor de Nederlandse box is €17,50 inclusief verzenden. Behalve de hogere verzendkosten zijn de boxen identiek. Je kunt de box bestellen t/m zondag 30 november. 
VERZENDING
Omdat het een verrassingsbox is, worden alle dozen in één keer verstuurd. Zo kan niemand stiekem verklappen wat erin zit en de pret bederven (foei).  Op 1 december worden alle bestelde boxen verstuurd, zodat ze ruim voor Sinterklaas binnen zijn. Want hey, don't just treat yourself, also treat someone else!
Als er toch nog een paar boxen overblijven na de bestelperiode van 20 november t/m zondag 30 november, dan is de box vanaf zondag 7 december te bestellen voor €22,50 inclusief verzenden (voor de mensen die buiten Nederland bestellen: €25,25). Ik zal op die dag ook een uitgebreid blogartikel schrijven over de box. Een heuse unboxing dus! Maar ik kan dan niet beloven of er dan nog boxen over zijn. In het voorjaar komt er weer een nieuwe TC FEELGOOD BOX met een nieuw thema.
ONSCHATBARE WAARDE
Omdat alle items in deze box door mij gemaakt en ontworpen zijn, en niet los te koop zijn in de winkel, is de waarde onschatbaar. Ik heb mijn stinkende best gedaan om hem zo leuk mogelijk te maken en ik hoop dat iedereen die hem besteld er ook heel erg blij mee is. Alhoewel ik natuurlijk niet het bereik en de inkoopkracht heb van de almachtige (beauty)boxen, heb ik wel iets wat zij niet hebben: iets unieks. De box die ik heb gemaakt is persoonlijk en origineel. Het is een cadeautje voor iedereen die hem bestelt en naast heel veel ontwerp/reken/inpakwerk is er ook heel veel liefde in deze box gaan zitten. Dus voor iedereen die hem heeft besteld of gaat bestellen: heel erg bedankt voor het vertrouwen!
EDIT: DE TC FEELGOOD BOX IS INMIDDELS UITVERKOCHT! IN FEBRUARI 2015 KOMT ER WEER EEN NIEUWE TC FEELGOOD BOX. SCHRIJF JE IN VOOR DE NIEUWSBRIEF OM OP DE HOOGTE TE BLIJVEN.