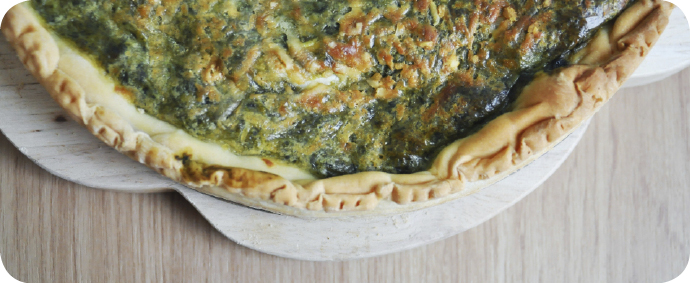 This is a great recipe if you love pie for dinner!
Taart voor het avondeten, what's not to like? Deze quiche maak ik al jaren met veel plezier (en Tom eet hem met veel plezier op). Het is een doe-maar-wat-je-zelf-lekker-vindt recept als het om de exacte hoeveelheden / ingrediënten gaat. Zo kun je hem makkelijk aanpassen aan je eigen smaak.
De ingrediënten voor de taart zijn:
– Hartige taartdeeg uit de vriezer.
– Twee eieren.
– Bakje kruidenkaas.
– Teentje knoflook.
– Spinazie (vers, uit de vriezer, blikje of potje, maakt niet uit)
– Plakjes ham (of spek, Italiaanse rauwe ham, parmaham, whatever you like)
– Geraspte kaas (uit een zakje, van een blokje, oud, jong, Parmezaans, whatever you like)
– 2/3 brie
– olijfolie
Ingredients for the savory pie:
– Savory pie dough.
– Two eggs.
– Tub of garlic and herb spread.
– Garlic clove.
– Spinach
– Slices of ham.
– Grated cheese.
– 2/3 of a brie cheese.
– Olive oil.
First things first. Leg vijf plakjes hartige taartdeeg op het aanrecht om te ontdooien en verwarm de oven voor op 200 graden.
Bak de plakjes ham in een (gril)pan totdat ze lekker knapperig zijn. Er moet genoeg ham zijn om een laag te vormen in de quiche. Ik gebruikte zeven plakjes.
En snijd de brie in plakken. Zelfde verhaal als bij de ham, moet genoeg zijn om een laagje te maken in de quiche.
Daarna maak je het eiermengsel. Zet een pan op laag vuur en fruit een teentje geperste knoflook in een beetje olie. Draai het vuur uit en voeg de kruidenkaas en de spinazie (druk eerst het vocht uit de spinazie met een zeef en een lepel) en roer totdat de kruidenkaas gesmolten is en gemengd is met de spinazie. Tegen die tijd is de pan voldoende afgekoeld om de eieren erdoorheen te mengen (en ze niet stollen).
Fry the ham and cut the brie into slices. Mix the egg, drained spinach, garlic and herb spread together.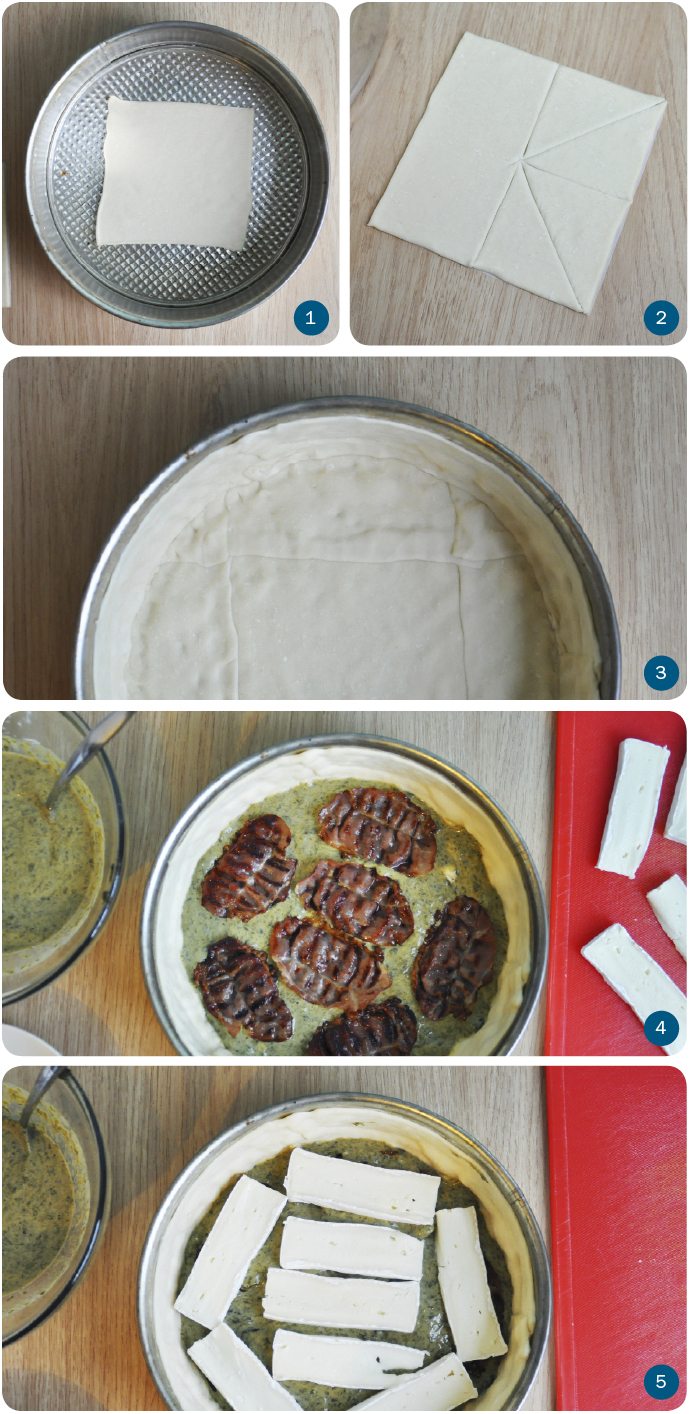 Tijd om te gaan bouwen!
1. Ik vind zelf dat ik een ingenieuze manier heb bedacht om een springvorm te bekleden met  deeg: Vet de springvorm in en leg een heel plakje deeg precies in het midden.
2. Snijd drie plakjes deeg doormidden en snijd een plakje deeg zoals je op het plaatje ziet.
3. Plak de helften aan de boven- en onderkant van het plakje deeg dat al in de springvorm ligt. Plak vervolgens vier driehoekjes in de openliggende hoekjes in de springvorm. Nu heb je nog drie helften over. Rek ze een beetje uit en bekleed de rand ermee.
4. Doe een schepje van het eiermengsel in de quiche en beleg met plakjes ham.
5. Doe nog een schepje eiermengsel in de quiche en beleg met de plakken brie.
6. Doe de rest van het eiermengsel in de quiche en strooi er wat kaas overheen.
7. Met behulp van een vork (of je vingers) duw je het deeg naar beneden totdat hij nog maar een heel klein stukje boven de inhoud van de quiche is, zo krijg je een mooie, dikke rand.
8. Bak driekwartier in de oven of totdat hij goudbruin en gaar is.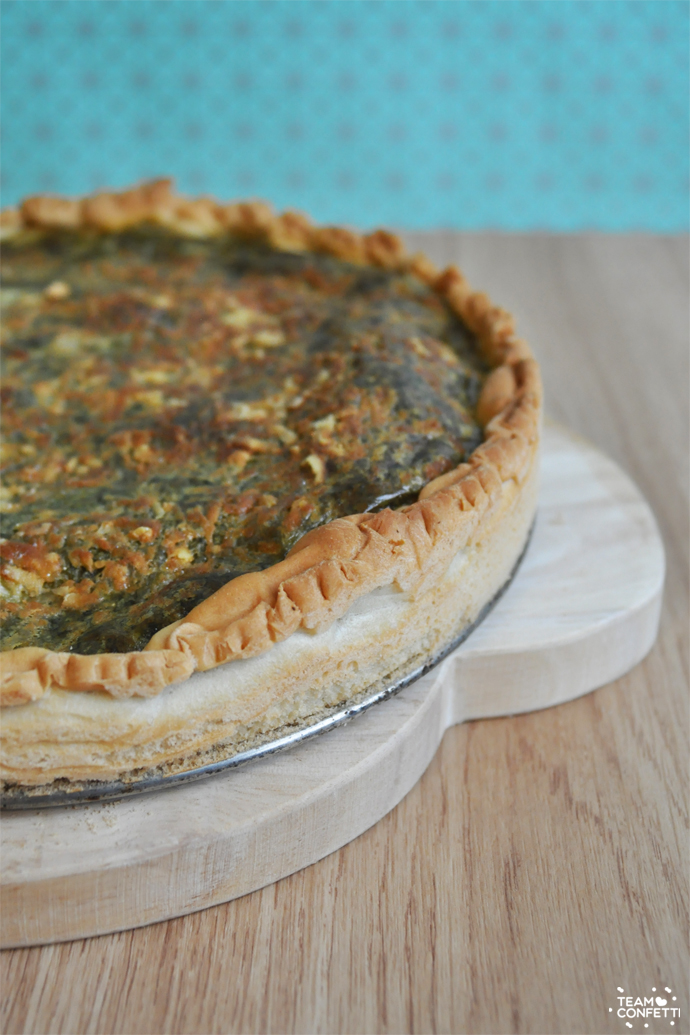 Et voila! Taart!
Yay! Spinach pie!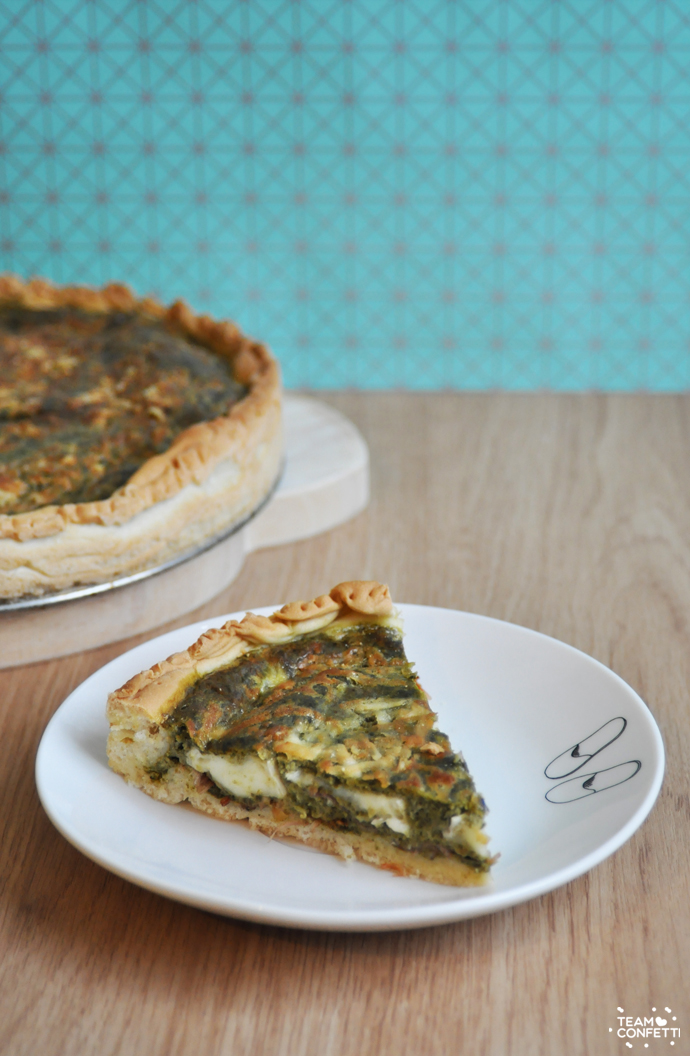 Nomnomnom! Ik ben niet zo goed in zoete taarten bakken, maar een hartige lukt me wel (zal wel door de prefab taartdeeg komen).
***
Als je besluit dit recept te proberen, verblijd ons dan met een fotootje op instagram (en tag ons) of stuur een emailtje naar info@teamconfetti.nl. Daar worden we blij van ;)
If you try this recipe, please make a picture and put it on instagram (and tag us) or send us an email: info@teamconfetti.nl. We would love to see how yours turns out!