Gastblog door Vera – Ik weet niet hoe het met jullie zit, maar ik ben gek op tosti's. Tosti's met 'gewone' kaas, geitenkaas, brie (ik houd van kaas, heb je 'm al door?), pesto, tomaat of zelfs avocado (ja, echt): je kunt me ervoor wakker maken. Hell, mijn bestie maakt ze zelfs met stroopwafels! Ik bestel deze goudgele vriend niet alleen in de horeca, maar ik eet hem ook vaak thuis. Bij gebrek aan een vriezer (helaas heb ik daar geen ruimte voor) kamp ik nogal snel met een overschot aan oud brood en laat dat nou perfect zijn voor een tosti!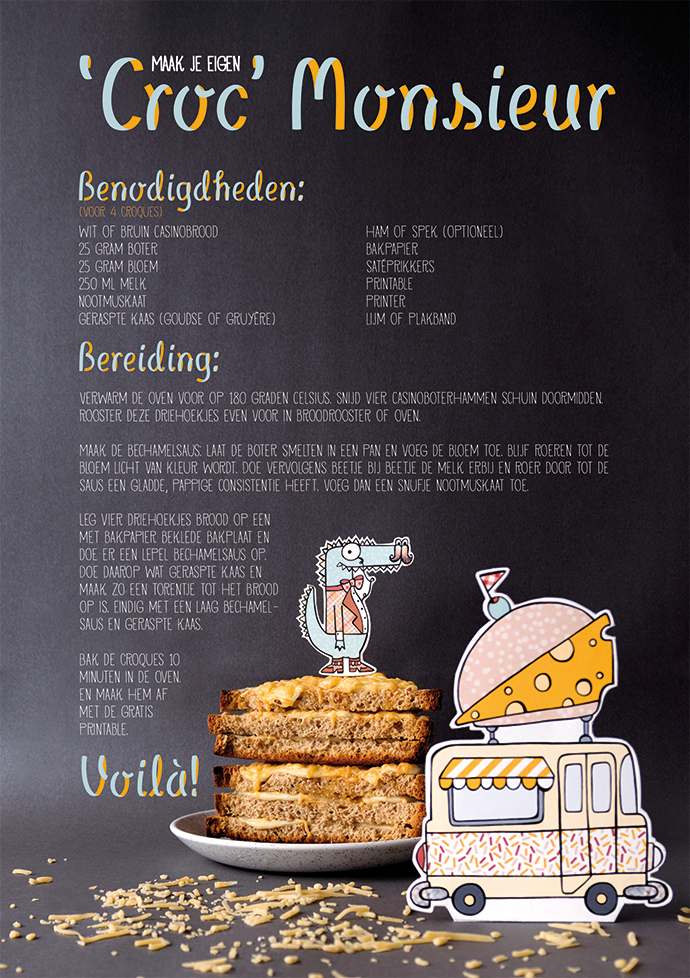 Ik moet alleen wel toegeven dat zo'n kale 'grilled cheese' met ketchup drie keer in de week wel een beetje saai wordt. Daarom heb ik deze week de handen uit de mouwen gestoken en een recept voor de perfecte (vega) 'Croc' Monsieur voor jullie uitgevogeld. 'Croc' in plaats van 'Croque' ja; want een recept zonder illustratieve printable en creatieve woordspeling is wat mij betreft drie keer niks. Print deze nette Alligatormeneer dus uit voor een extra culinaire dimensie. Of verras je lief, kind of hond met een extra feestelijke lunch. Ready? Here we go!
Benodigdheden voor het eetbare deel:
♡ wit of bruin casino brood
♡ 25 gram boter
♡ 25 gram bloem
♡ 250 ml melk
♡ nootmuskaat
♡ geraspte kaas (goudse of gruyère)
♡ ham of spek (optioneel)
♡ bakpapier
Voor de Croc:
♡ satéprikkers
♡ printable
♡ printer
♡ lijm of plakband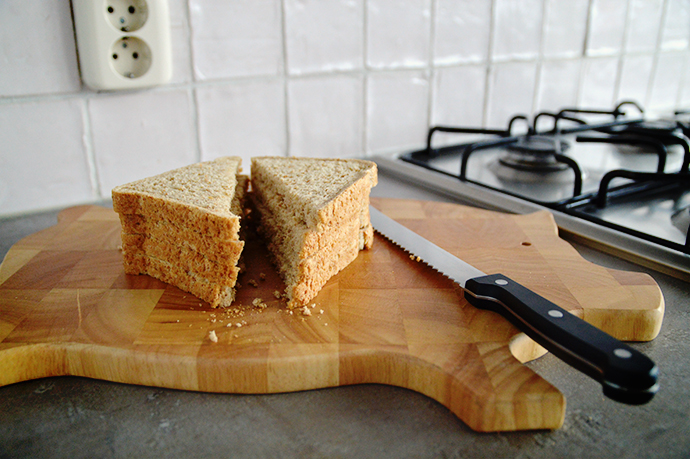 Zo doe je het:
Verwarm de oven voor op 180 graden. Snijd vier casinoboterhammen diagonaal door zodat je acht driehoeken overhoudt. Rooster de boterhammen eventjes voor in een broodrooster of in de oven (dit zorgt ervoor dat het brood niet te sponzig wordt wanneer je er straks de bechamelsaus op doet).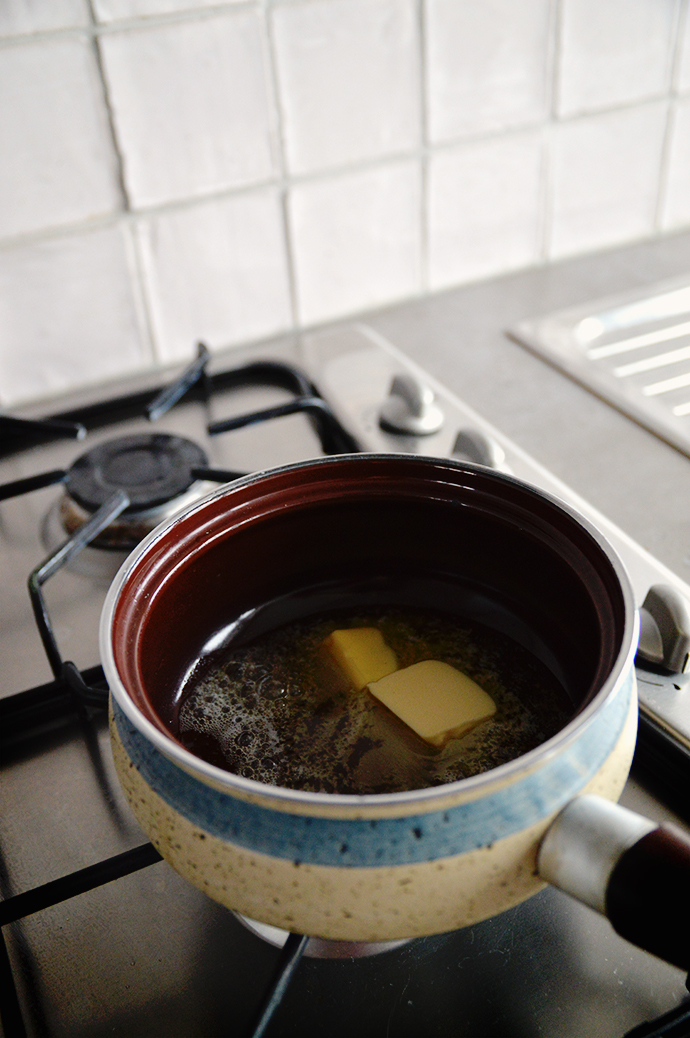 Bij een echte Croque Monsieur hoort bechamelsaus. Bij deze Croc is dat niet anders. Je kunt dit kant en klaar kopen, maar bechamelsaus maken is eigenlijk heel makkelijk. Dat doe je zo: Smelt de boter in een steelpannetje en doe vervolgens de bloem erbij. Blijf roeren en laat de bloem op laag vuur gaar worden totdat de bloem licht van kleur wordt.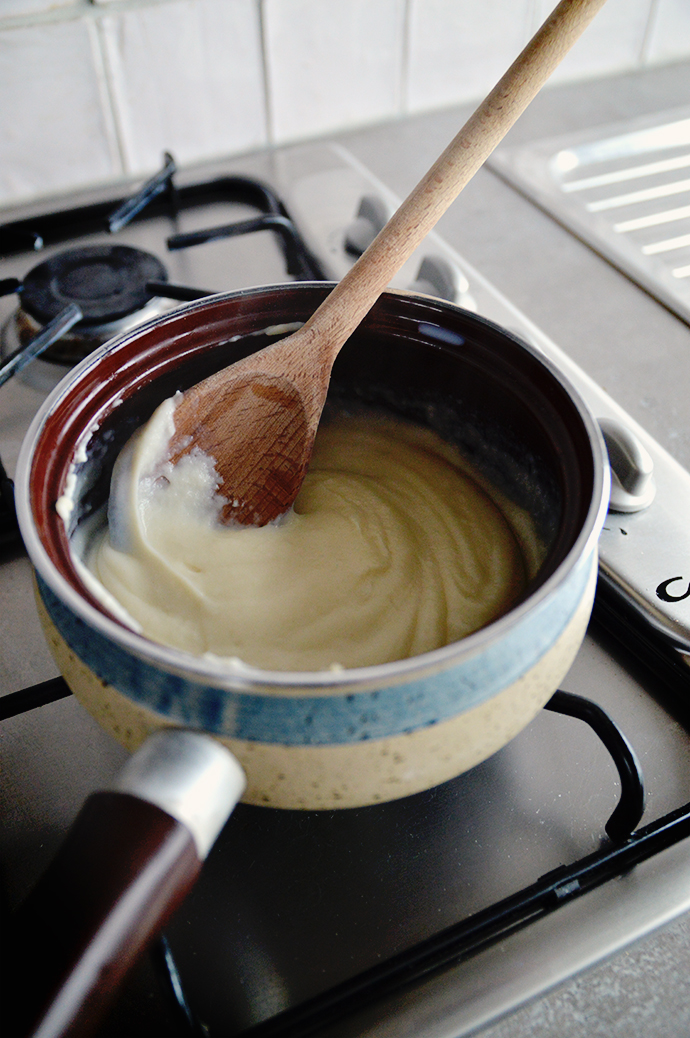 Doe vervolgens de melk er beetje bij beetje bij en breng de saus aan de kook. Laat de saus een aantal minuten doorkoken tot hij een gladde, pappige consistentie heeft (als de saus al snel wat te dik wordt kun je er een extra scheutje melk bij doen). Roer op het laatste moment nog een snufje nootmuskaat door de bechamelsaus.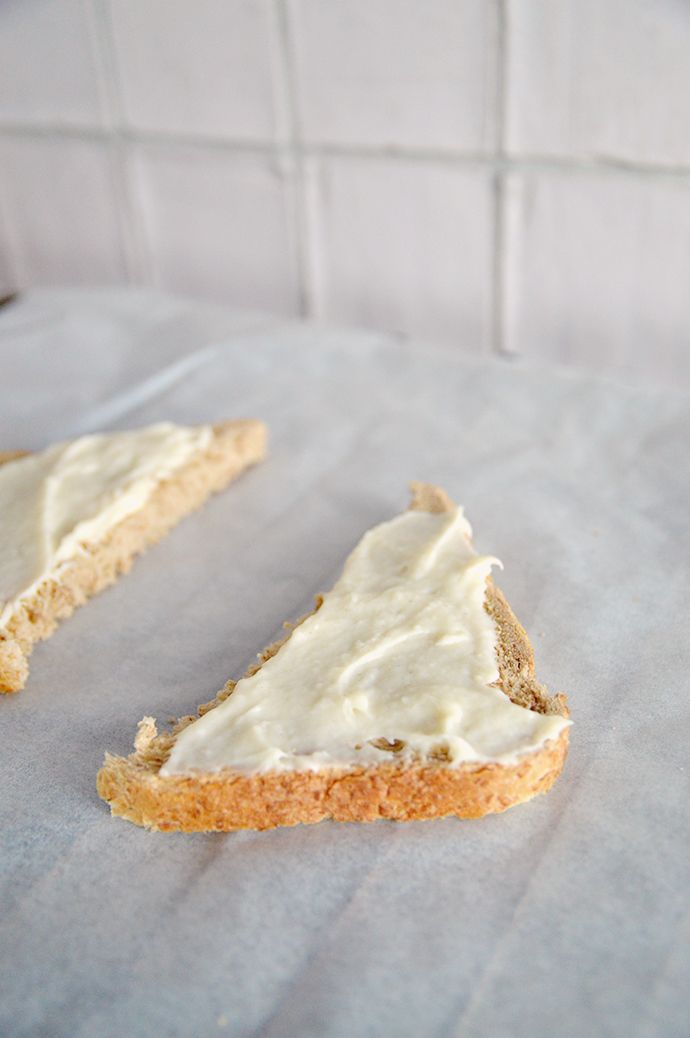 Leg vier van je driehoekjes brood op een, met bakpapier beklede, bakplaat. Als je vlees op je Croc wil, dan leg je een plakje ham of spek op elk driehoekje brood. Doe er daarna (of meteen als je voor de vega variant gaat) een lepel bechamelsaus op.
Op de bechamelsaus doe je wat geraspte kaas. Dek dit geheel af met een tweede driehoekje brood en doe ook hier weer een lepel bechamelsaus en wat geraspte kaas op. Extra veel honger? Dan stapel je er gewoon nog een laag bovenop (zoals ik hier op de foto's heb gedaan)! Zet de bakplaat met je Crocs in de oven en bak ze ongeveer tien minuten tot de kaas bovenop goudbruin is.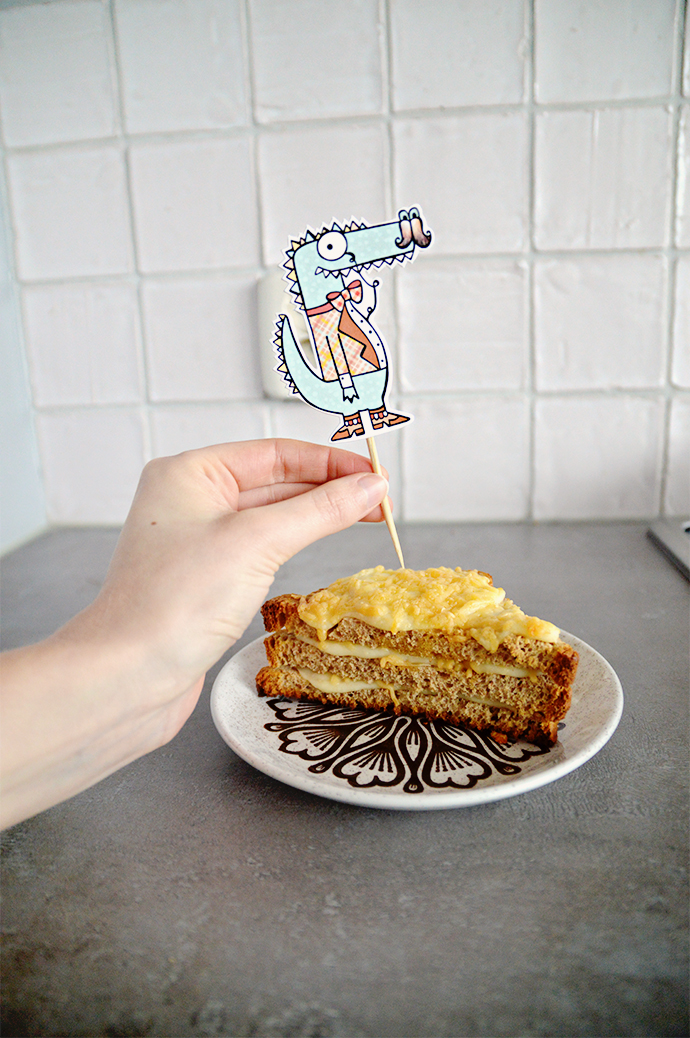 Ondertussen dat je Croc staat te bakken kun jij mooi je printable in elkaar zetten.
Download de PDF hier.
Print de PDF uit, knip de illustraties uit langs de stippellijn en plak je Monsieur op een stokje. Dit stokje prik je als je de tosti klaar is bovenin en je bent klaar om de show te stelen met je extra leuke Croc Monsieur. De tosti-truck vind je ook terug op de printable. Prik deze in een andere Croc of zet hem er los bij voor de gezelligheid.
☆☆☆
Have fun, eet smakelijk en see you later, alligator!
☆☆☆
Vera blogt één keer in de vier weken voor teamconfetti.nl. Ze is illustrator, allround mooie dingen maakster en ze heeft haar eigen label: Franje Design!