Ik ben een hele bezige paashaas geweest voor de HEMAblog. Letterlijk zelfs! Ik maakte maarliefst drie paasgerelateerde artikelen (zie hier de eerste en de tweede) en dit is de laatste. En stiekem vind ik deze de allerleukste. Want speurtochten zijn het einde, helemaal als chocolade de schat is…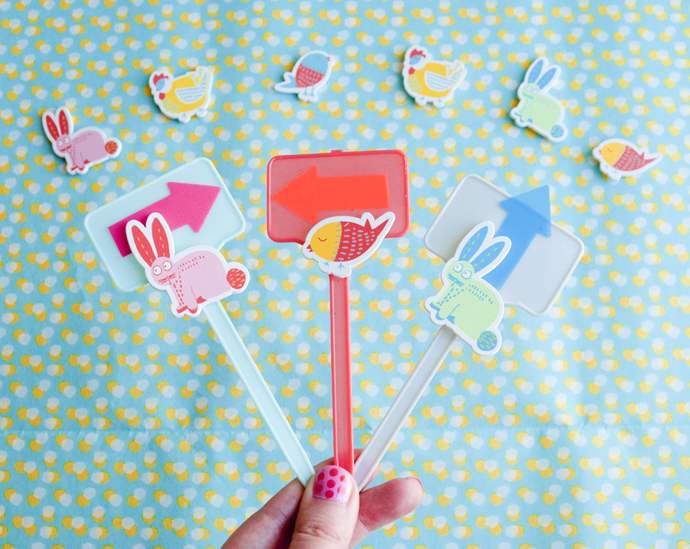 Een speurtocht is pas een speurtocht met aanwijzingen. In dit geval kleine bordjes met pijlen en houten paasplakkertjes. Alles is basically een sticker, dus het maken van de bordjes is binnen vijf minuten gepiept. Ik vind ze zo vrolijk en schattig geworden!
Ik zei toch dat ik letterlijk een paashaas was? Hihi. Met de pijltjes kun je een route maken of het vinden van de paaseitjes wat makkelijker maken. Leuk voor (buur)kindjes natuurlijk of voor grote-mensen-vrienden. Ik ben altijd in voor een goede speurtocht namelijk! Misschien ga ik dit jaar wel een speurtocht voor mijn verjaardag vragen, oeh!
Meer info, tips en foto's vind je in het bijbehorende blogartikel!
♥♥♥
Ik heb nog veel meer leuke blogartikelen voor HEMA geschreven, dit zijn mijn favorieten:
Ben je toe aan een houder waar al je washi tape in past? KLIK HIER.
Vind je dat enveloppen wel wat vrolijker kunnen? Ik ook! KLIK HIER.
Heb je nog kruidnoten over en wil je daar een milkshake van maken? KLIK HIER.
Wil je weten hoe je een mooi gouden hagelslag-kussen maakt? KLIK HIER.
Wil je je ordners in een nieuw jasje steken met een free printable? KLIK HIER.
En heb je mijn eerste HEMA DIY met memoblaadjes en photo props gemist? KLIK HIER.
♥♥♥