Jup, dat lees je goed. Ik maakte een macaron koffer! Voor moederdag. Want je kan echt niet meer met een doosje merci chocolaatjes aankomen toch? Dat dacht ik. Dus als je zin hebt om je handen nog even uit de mouwen te steken en iets moois/lekkers voor je lieve moeder te maken, dan is dit een goed artikel voor wat inspiratie!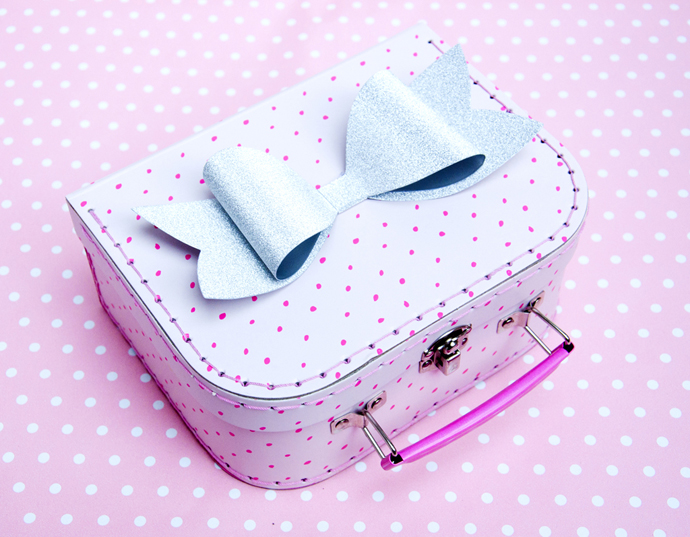 Voor deze diy gebruikte ik het allerliefste koffertje dat je kan vinden bij HEMA. Om op te vreten toch? Oh nee, dat is de inhoud… Ik plakte een glitter strik op de bovenkant voor een nog hogere schattigheidsfactor.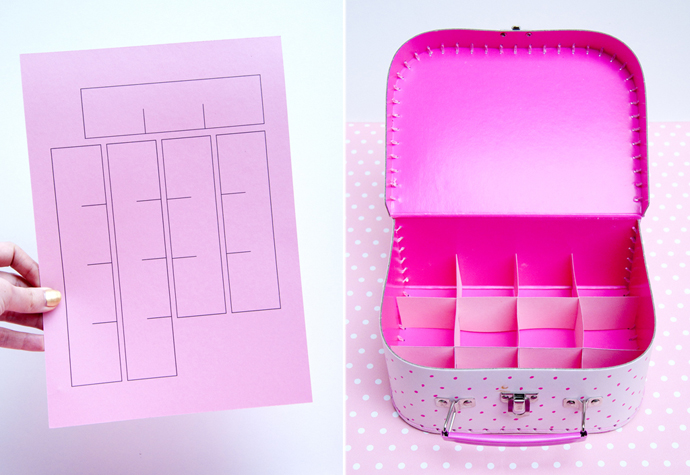 Door naar de binnenkant. Met een free printable maak je heel makkelijk een vakjes-raster om in de koffer te plaatsen. Zo blijven je macarons (of andere mini cadeautjes) mooi op hun plek liggen. Omdat het raster precies past, hoef je hem niet vast te plakken dus als de macarons op zijn, kan het koffertje voor iets anders gebruikt worden.
Ik versierde twaalf heerlijke macarons met gekleurde rolfondant en met wat vloeipapier-magic vulde ik de koffer. Ik vind het heel erg leuk dat HEMA nu vloeipapier verkoopt in alle kleuren van de regenboog. Dat kun je goed gebruiken om cadeautjes of (als je een webshop of winkel hebt) producten leuk en licht mee in te pakken. Vloeipapier heeft op de één of andere manier de kwaliteit om alles wat er in zit, bijzonderder te maken. Of ben ik de enige idioot die warme gevoelens krijgt bij het zien van dat gekleurde, vederlichte papier?
Voor de printable én duidelijk instructies, lees het artikel op de HEMAblog.
♥♥♥
Ik heb nog veel meer leuke blogartikelen voor HEMA geschreven, dit zijn mijn favorieten:
Wil je een prachtige cactus jungle bouwen? KLIK HIER.
Ben je toe aan een houder waar al je washi tape in past? KLIK HIER.
Vind je dat enveloppen wel wat vrolijker kunnen? Ik ook! KLIK HIER.
Heb je nog kruidnoten over en wil je daar een milkshake van maken? KLIK HIER.
Wil je weten hoe je een mooi gouden hagelslag-kussen maakt? KLIK HIER.
Wil je je ordners in een nieuw jasje steken met een free printable? KLIK HIER.
En heb je mijn eerste HEMA DIY met memoblaadjes en photo props gemist? KLIK HIER.
♥♥♥