Tom en ik zijn sushi lovers eerste klas. Maar oh boy, sushi is niet goedkoop. En meestal betekent sushi all you can eat en daar zijn wij mini mensen niet helemaal op berekend. Maar zelf sushi maken is ook zo wat. We zijn liever lui dan moe en aan het einde van de dag willen we meestal snel iets in elkaar flansen en naar binnen schuiven. De oplossing: DIY sushi!
Voor zijn verjaardag vorig jaar kreeg Tom een sushi-maak-gadget. Een rood kubusje, bestaande uit twee onderdelen die je vol kunt stouwen met plakrijst en garnalen, even flink drukken et voilà: een blokje sushi! Het ding ligt al eeuwen in onze keukenlade en ik besteed er alleen aandacht aan als door dat rode geval de lade niet meer dicht wil.
Nog steeds in semi romantische sferen door ons weekendje in eigen stad en Valentijnsdag afgelopen weekend, besloot ik een sushi night voor twee te organiseren. Ik maakte de rijst klaar en sneed wat nep-krab en komkommer in stukjes. Alles in schattige bakjes op tafel, kaarsje erbij en laat het sushi-maken maar beginnen! We had so much fun!
En omdat het al donker was en ik ons gezellige avondje niet wilde verstoren door duizend foto's te maken, heb ik speciaal voor jullie de volgende dag de DIY sushi night (eh, middag) gerecreëerd. En dat zag er ongeveer zo uit: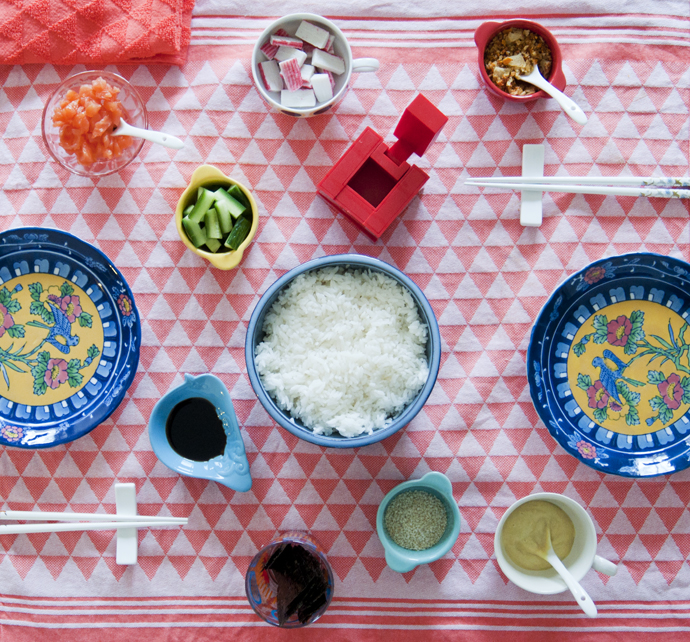 Wat er op tafel stond: een enorme bak sushi rijst (AH heeft een heel handig instructie-filmpje voor sushi-rijst), zalmsnippers (rauw en gebakken), surimi sticks, komkommer, wasabi mayonaise, sesamzaadjes, fijngemalen groente chips (om tempura een beetje na te apen), soja saus en strookjes nori-vel. Ook heel erg lekker: avocado, maar dat had mijn groenteboer gister niet en ik had geen zin om naar de supermarkt te fietsen…
'En werkt dat dan een beetje, zo'n rice-cube?' hoor ik jullie denken. Nou, je moet geen haast hebben. En waarschijnlijk is een kubus per persoon handiger dan eentje delen. Anders slaat de gezellig sfeer al snel om: 'ben je nou NOG niet klaar?!'. Ik heb er op een gegeven moment toch een rolmatje erbij gepakt. Tom maakte de vierkante gebakjes en ik een paar simpele rollen die wat sneller klaar waren. Hier zie je de kubus in actie:
Ik had nori velletjes in reepjes geknipt, die gingen er als eerste in. Daarna de rijst en de vulling. Na stevig aandrukken werd het trouwens geen perfect kubusje, eerder een rechthoekje. Maar dat was prima, anders werd het veel te groot om in een keer in je mond te proppen.
✰✰✰
And there you have it, gezellig sushi eten en in elkaar zetten as you go. Ik vond het wel geslaagd (Tom ook) en ik ben benieuwd of jullie dit ook (gaan) doen?