Afgelopen week lag ik op de grond te tekenen, hield ik een patroontjes-maak-marathon en ging er een donut-wereld voor me open…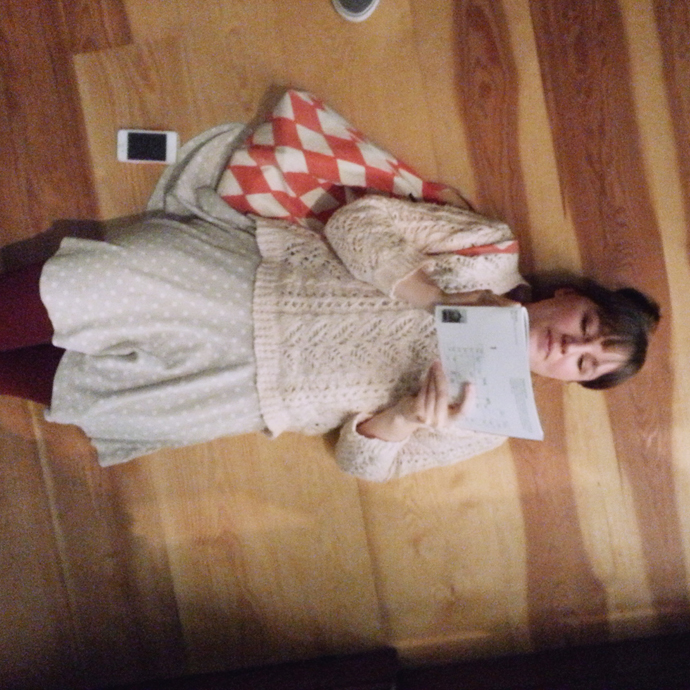 Vorige week zaterdag trokken Tom, Hessel en ik erop uit om The Big Draw weekend bij te wonen in het Rijksmuseum. We had a blast, je kunt hier al onze avonturen lezen en onze tekeningen bekijken.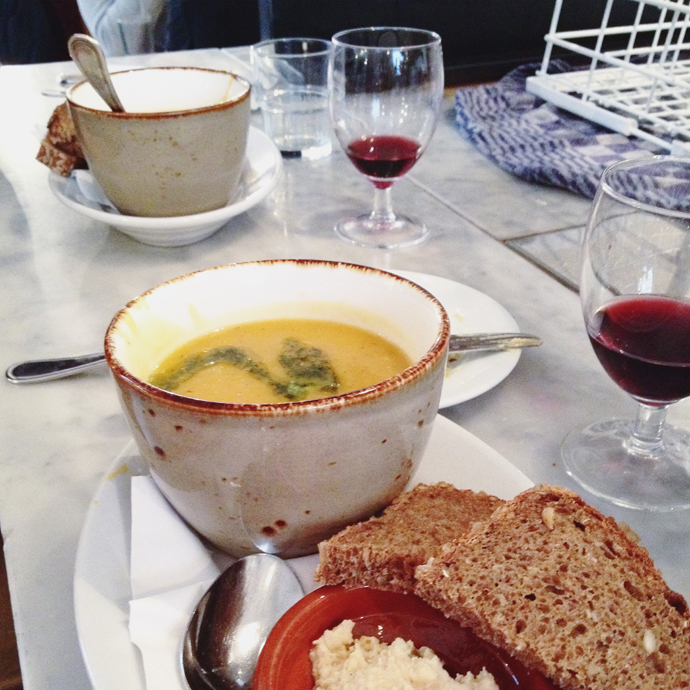 Na een hele dag het Rijksmuseum doorgehobbeld te hebben, hadden we trek. Op aanraden van schoonzusje Delana aten we een hapje bij Buffet van Odette. Soep, broodjes, een bijzonder charcuterieplankje en sticky toffee cake na. Drie blije veelvraatjes verlieten Amsterdam die dag. :)
Zondagochtend een heerlijk ontbijtje (aan tafel, want we hebben nu EEN TAFEL) en… BTW aangifte. Nooit leuk, maar gelukkig hadden al mijn opdrachtgevers netjes hun rekeningen betaald afgelopen kwartaal en hoefde ik dus geen emails op hoge poten te schrijven. En dus deed ik zondagmiddag een dansje dat het er weer op zat.
En omdat ik zo trots op mezelf was dat ik dat zo flink had gedaan op zondagmiddag, gingen we samen nog even een rondje door de stad om mooie dingen te kijken. De plantenpot met konijn stond in Groening. Zooooo leuk, maar we hebben op dit moment genoeg plantjes in huis. Awwww… Wat we wel kochten: twee donuts to go! Bij Pure Frozen hebben ze nu een etalage vol met donuts met bijzondere smaakjes. Nutella, pudding aardbei en caramel zijn al goedgekeurd (en daarmee bedoel ik dat we met volle mond OMG hebben geroepen).
Maandag en dinsdag werkte ik heel hard om alle blogartikelen voor die week af te krijgen en woensdag en donderdag was het patroontjes-marathon in mijn party office. Ik maakte er een hele hoop voor in de nieuwe Team Confetti agenda 2016, waaronder deze twee. Waarom heb ik er niet eerder aan gedacht om patroontjes met sokjes te maken? Ik hou zo van sokken!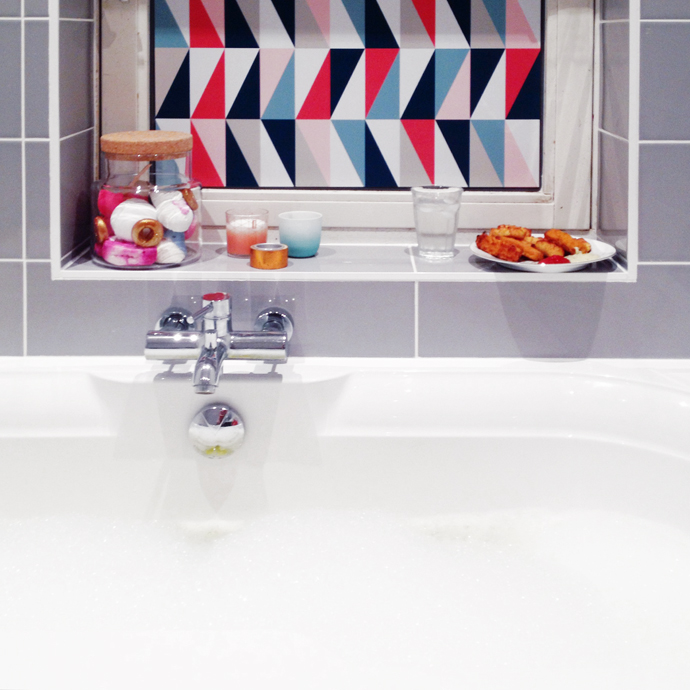 Na hard werken moet je hard ontspannen. Aardappelkroketjes in bad is het antwoord. :D
Donderdagavond moest ik nog een paar dingen uit de stad hebben en kon ik het niet laten een blik te werpen op de kerstafdeling van Sissy Boy. Zo schattig! En hotdogs-kerstballen, love it! En als cadeautje voor mezelf omdat ik zo hard gewerkt had: een kaars met Engelse drop erop. Hij ruikt zoet en naar vanille (niet echt naar Engelse drop).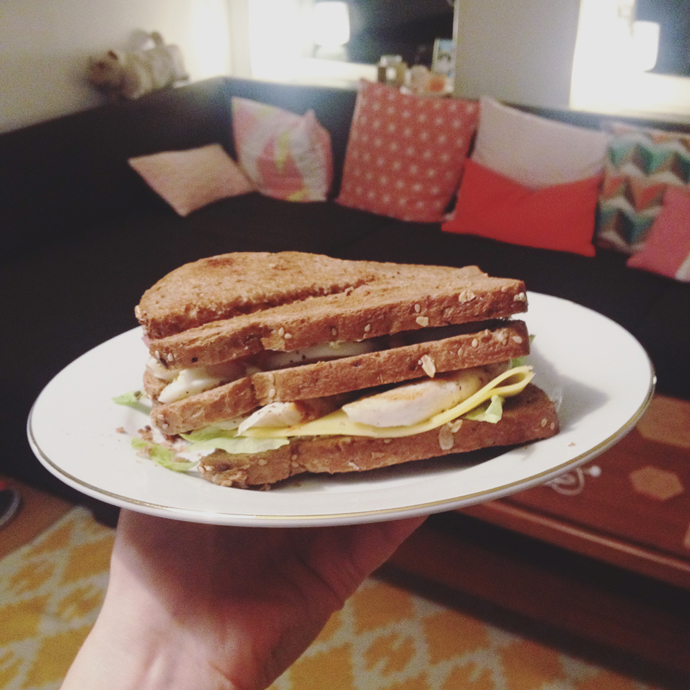 Door de agenda deadline (shit is getting real) is gezond eten en schoonmaken een beetje de deur uitgegaan. Oh well, dat komt later wel weer. We maakten een heerlijke club sandwich waarvan het recept hier staat (met een geweldig gifje, al zeg ik het zelf). Gelukkig maakt Tom af en toe zeer onaantrekkelijk gekleurde groentesapjes (bruin) om de boel weer een beetje in balans te trekken. Thanks man!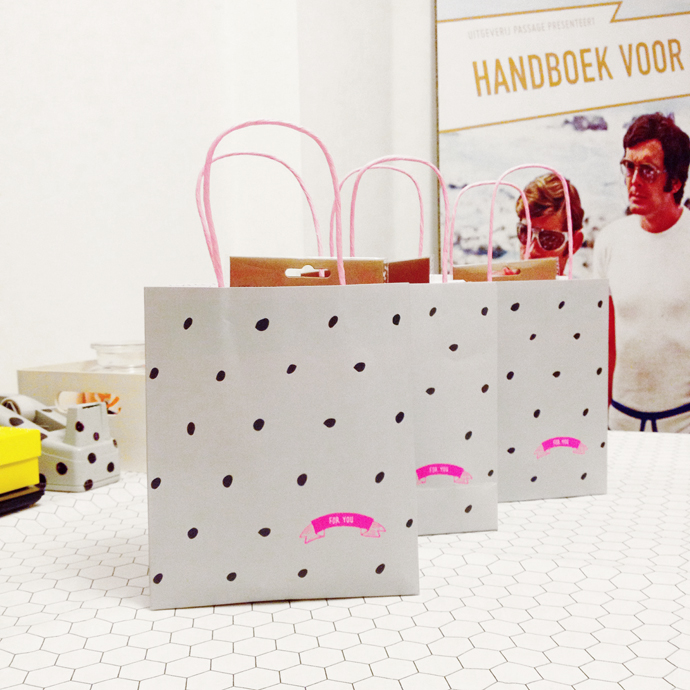 Vrijdag hadden we weer eens een meeting met alle confetti-meisjes (behalve Tea, die kon niet zo makkelijk vanuit Londen naar Utrecht komen). Ik maakte voor al mijn lieve #girlbosses een goodiebag met fijne dingetjes. Ik heb het geluk om bijvoorbeeld voor Lush veel te mogen reviewen en dat deel ik heel erg graag met mijn geweldige gastbloggers. Ik zou niet meer zonder ze kunnen!
Kleppen, lunchen en cadeautjes uitdelen. Zo fijn. Oh, ik zou ze elke week wel willen spreken in real life. Gelukkig hebben we de foto's (en de whatsappgroep) nog! De Crazy Cactus Club patch hierboven verkoopt Vera trouwens in haar Etsy shop (voor maar zes miezerige eurootjes) en ik kan niet wachten om een tas of kledingstuk uit te kiezen waar hij op gaat. :D
KATTENBONUS!
♥♥♥
Vind je het leuk om te zien wat ik de hele week uitspook? Volg Team Confetti dan op instagram.