Vorig jaar in september maakte ik mijn eerste capsule wardrobe. En het bevalt nog steeds enorm goed. Ik vind het fantastisch om alleen nog maar kleding in mijn kast te hebben die ik draag, me mooi staat en redelijk goed bij elkaar past. In december begon ik met updaten (van herfst- naar winter wardrobe) en vandaag laat ik een paar van mijn favoriete outfits zien.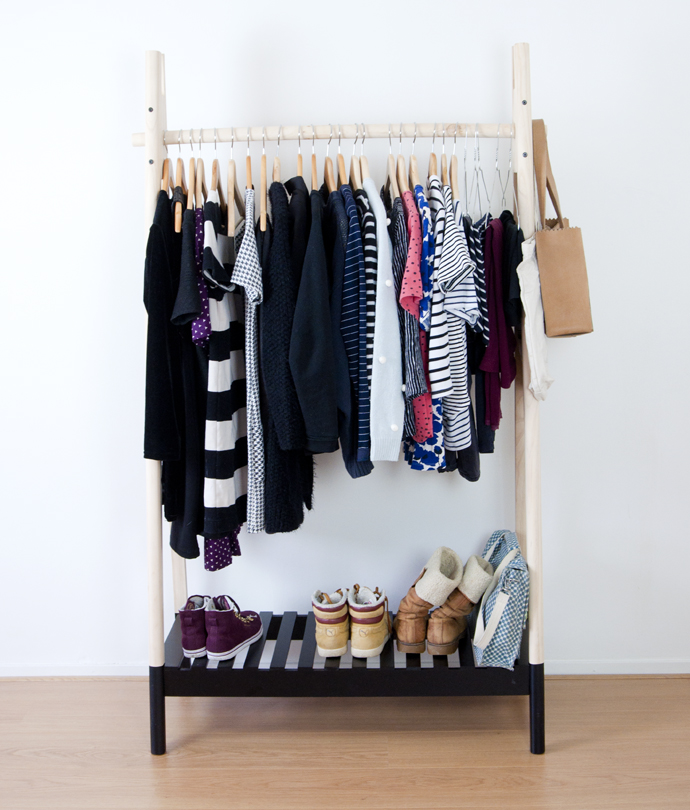 WAT IS EEN CAPSULE WARDROBE?
Voor wie het heeft gemist en geen idee heeft waar ik maar over doorratel: een capsule wardrobe is in dit geval een kledingkast met max 37 kledingstukken (inclusief jassen en schoenen, exclusief ondergoed, pyjama's en sportkleding) die goed bij elkaar passen en die allemaal regelmatig gedragen worden. Waarom ik met een capsule wardrobe begon, kun je lezen in het eerste artikel over mijn capsule wardrobe.
CAPSULE WARDROBE UPDATE
In december begon ik dus met de update van herfst naar winter. Zo ging ik te werk:
1) Uitzoeken wat ik wilde houden. De dingen die niet geschikt waren voor de winter heb ik opgeborgen. Dit was onder ander mijn spijkerjasje en een paar sneakers.
2) Uitzoeken wat ik te weinig had gedragen en wat ik kon gaan verkopen of weggeven.
3) Items kopen van mijn wishlist. Hier stonden o.a. een warm vest, warme schoenen, een nieuwe winterjas en een warme pyjama op.
4) Kleding verkopen of naar de kringloop brengen.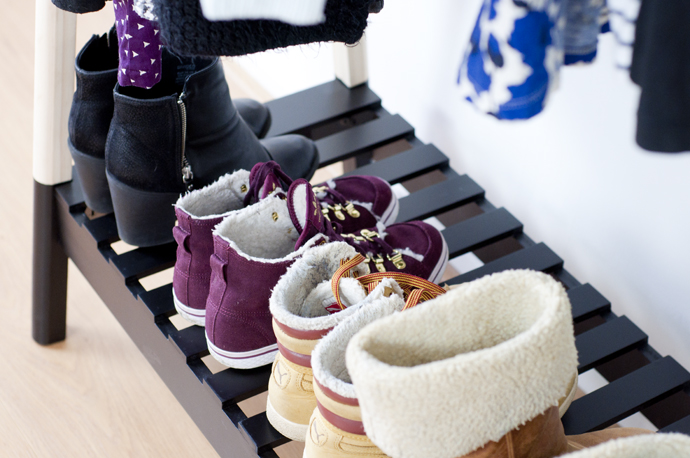 WINTER CAPSULE WARDROBE OUTFITS
Voor mijn nieuwe capsule wardrobe wilde ik een paar dingen waarvan ik wist dat ik ze veel zou gaan dragen, maar ook een paar minder veilige items. Anders wordt het allemaal veel te verstandig en ik zou het jammer vinden als ik me door mijn capsule wardrobe zou laten beperken en niet durf te experimenteren. Als daar een paar missers tussen zitten dan is dat ok, want in het volgende seizoen filter ik alles wat niet heeft gewerkt er weer uit en zoek ik een nieuwe eigenaar voor ze.
HET IS EEN PROCES
Het mooie van een capsule wardrobe is: het hoeft niet in één keer perfect. Je smaak blijft veranderen, je doet elke update nieuwe ontdekkingen en niet alles wat je koopt, hoef je jarenlang te houden (mag wel natuurlijk). Voordat ik een capsule wardrobe had en een miskoop in huis haalde (it happens) dan stopte ik het eerst héél lang in mijn kast, droeg het een paar keer met tegenzin voordat ik besloot dat het wegkon. En nu als ik iets koop online en het blijkt niet te passen of het is toch niet wat ik ervan verwachte: dan gaat het linea recta naar de weggeef/verkoop stapel. Ik heb geen ruimte in mijn kast voor dingen die ik niet ga gebruiken! Volgende keer beter…
Hieronder een paar outfits met kledingstukken waar ik érg blij mee ben: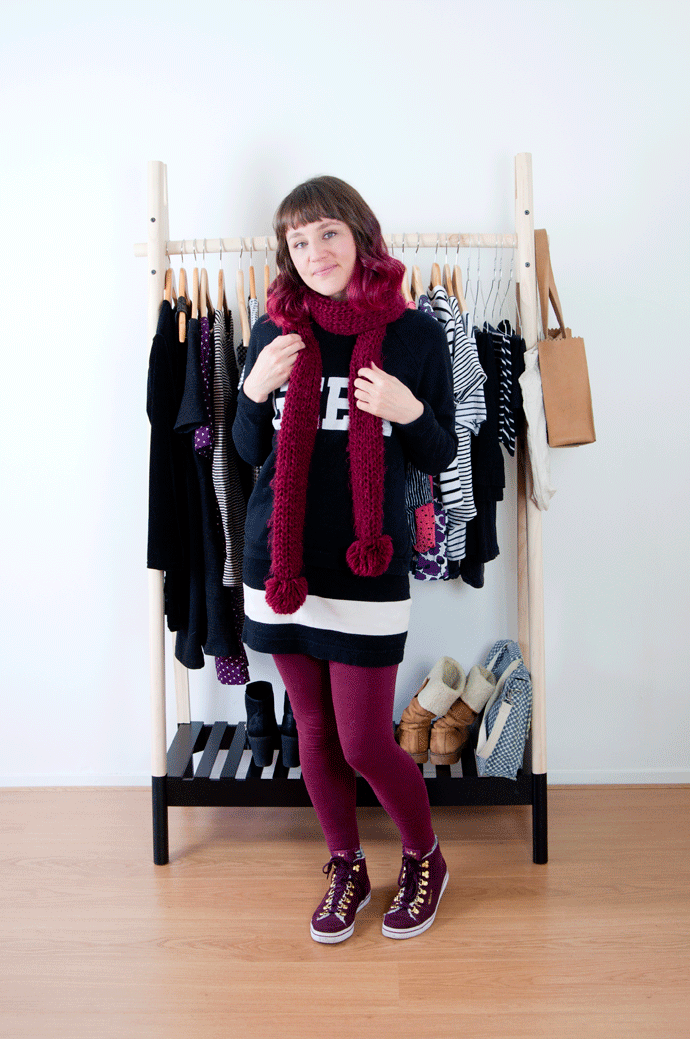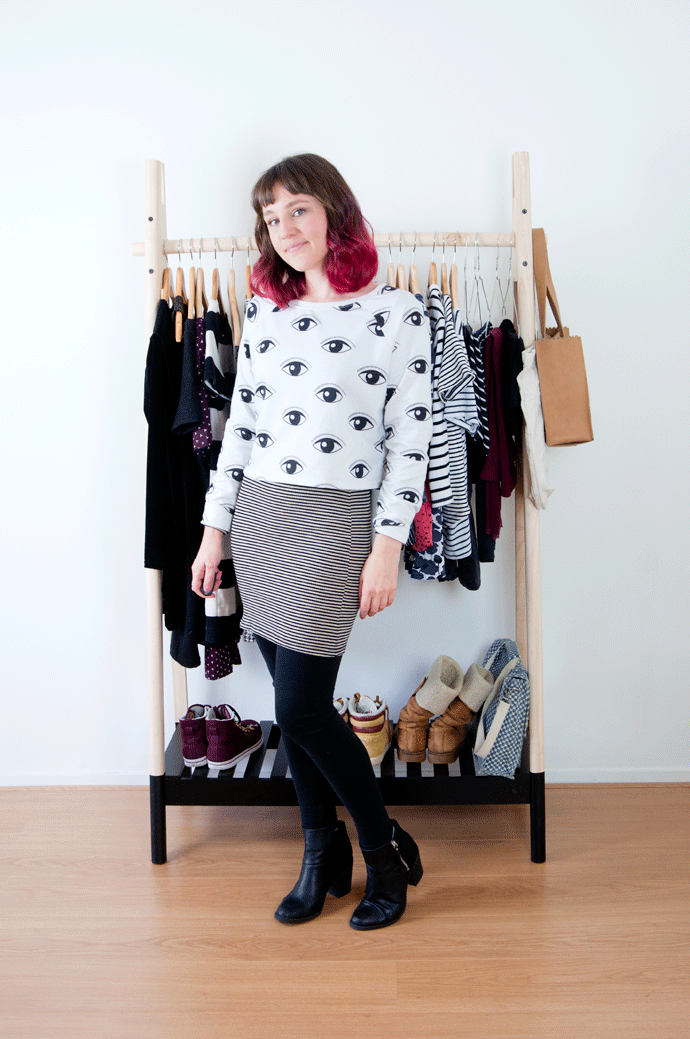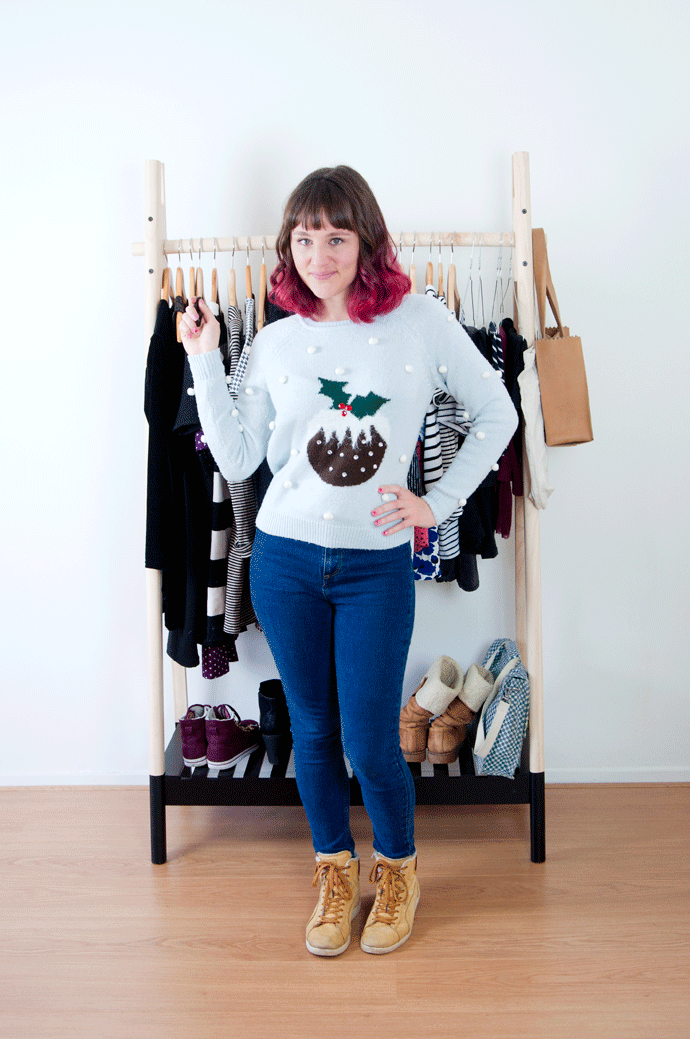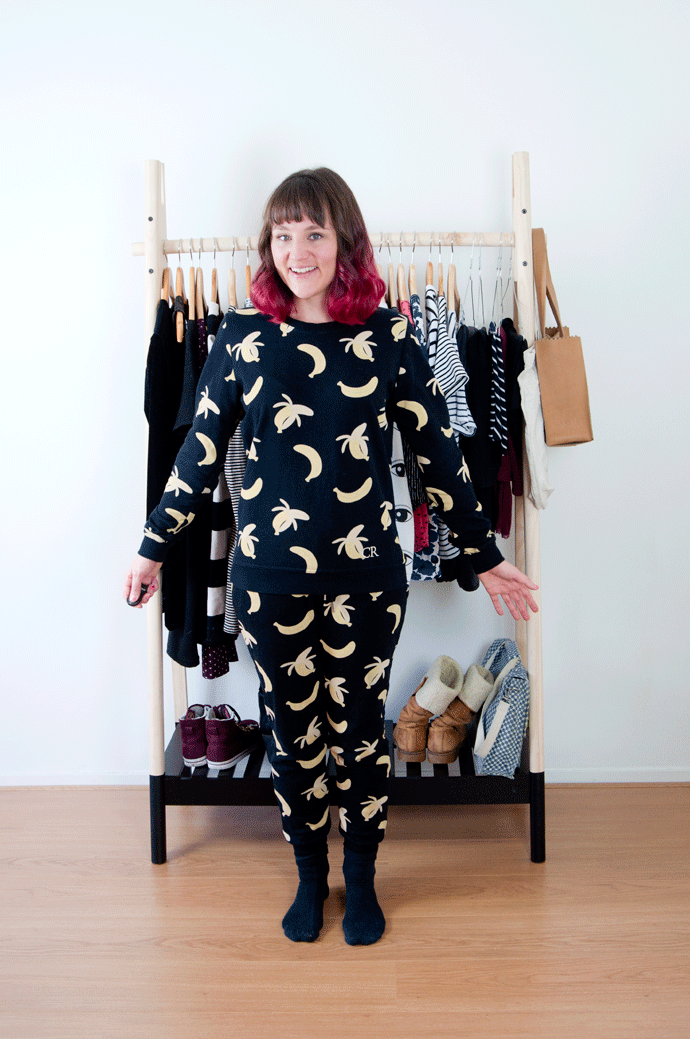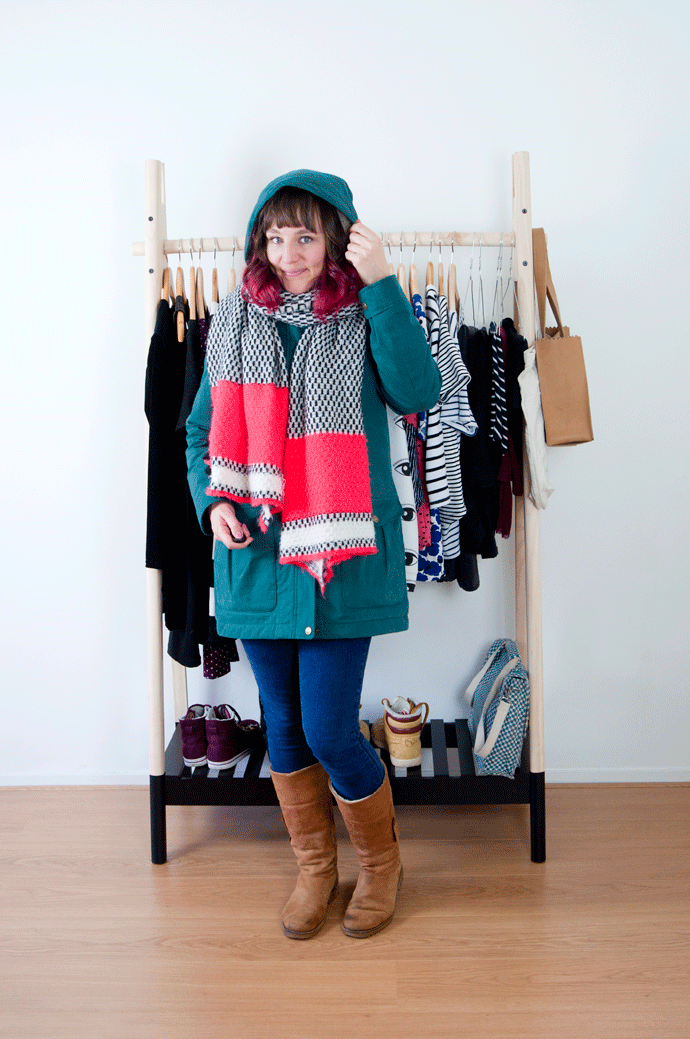 Bijna alles wat je hierboven ziet is tweedehands, op de winterjas na (die kocht ik online bij Seasalt Cornwall, een fair fashion kledingmerk). Ja, zelfs het bananen pyjama pakje kocht ik tweedehands en de bordeaux kleurige sjaal ook.
Volgende week vertel ik iets meer over tweedehands kleding kopen en waarom het zo goed is niet mee te doen met fast fashion… Ook geef ik jullie de kans om een paar items uit mijn garderobe te kopen, ooooeeh!
♥♥♥
Heb je nog vragen over het concept capsule wardrobe of heb je er zelf ook eentje?
Roep het gerust bij de comments!