Gastblog door Ingrid  –  Huh, moederdag? Niet schrikken hoor, het duurt nog heel even (14 mei, pas) maar jij en ik weten allebei dat dit soort dagen er in ons drukke schema er vaak bij inschieten… (yup). Daarom geef ik je nu alvast een kleine reminder voor komende moederdag mét een makkelijk uit te voeren DIY om je (last minute) cadeautje net wat leuker te maken.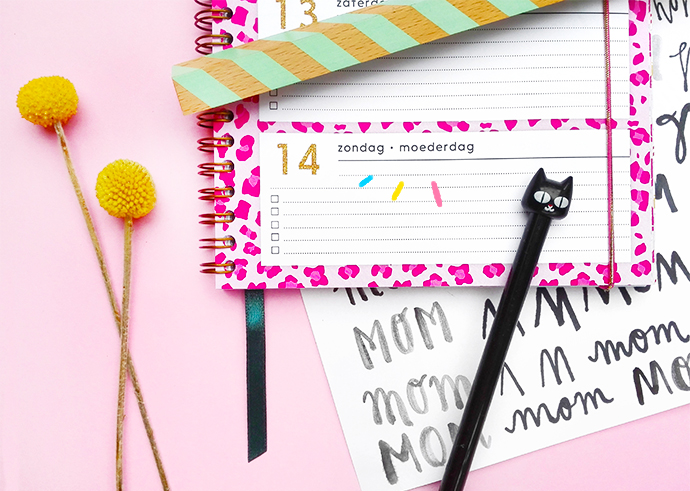 Mijn moeder heeft een hele doos vol met moeder- en vaderdag knutsels van mij bewaard. Vroeger knutselde ik ieder jaar op school zelf een cadeautje in elkaar (jij ook?) en dat was altijd een succes. Als ik er dan ook nog een zelf bedacht gedichtje bij had geschreven dan kon moederdag echt niet meer stuk. Nu ik ouder ben en (meestal) niet meer vol overgave cadeautjes zit te knutselen, vind ik de zoveelste douchegel of chocoladereep ook altijd een beetje 'meh' om te geven. Want ook al zeggen de meeste moeders het 'alleen al goed te vinden als je even langskomt', stiekem vinden ze het heus wel leuk om verrast te worden met een kleinigheidje. En dat verdienen ze ook!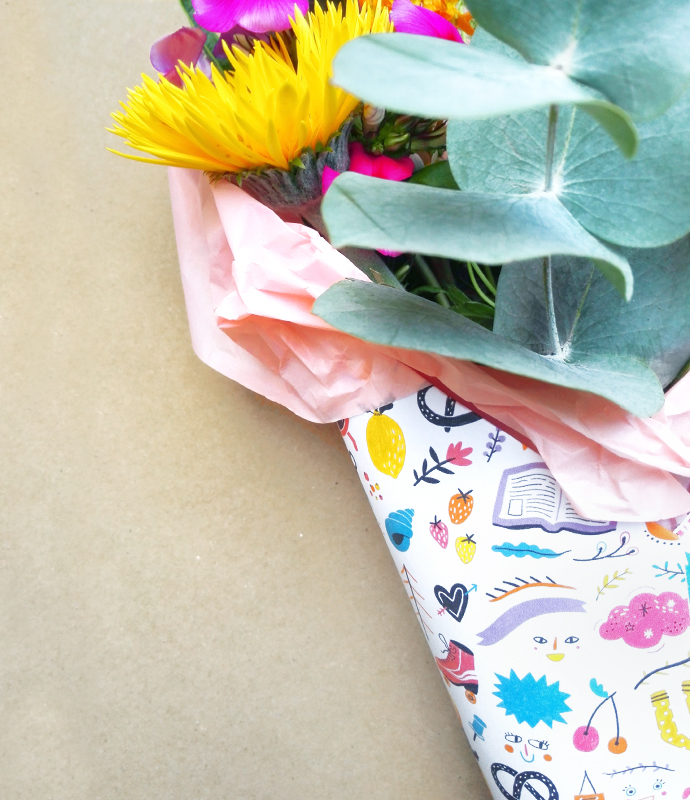 Jij kent je eigen moeder/oma/schoonmoeder natuurlijk het beste om te weten wat zij écht leuk vindt. Mijn moeder houdt enorm van kleur en groen in huis. Ze gaat dan ook elke week speciaal de deur uit om een verse bos bloemen te kopen. Ik weet dus heel zeker dat ik mijn moeder blij maak met een grote bos bloemen of misschien een paar toffe plantjes voor in de tuin! Het is geen cadeau met grote wow-factor, maar wel één waar ze lang plezier van heeft. Om dat 'simpele' bosje bloemen een persoonlijk tintje te geven, heb ik een how-to moederdag-bloemen-wrap voor jullie gemaakt inclusief printable.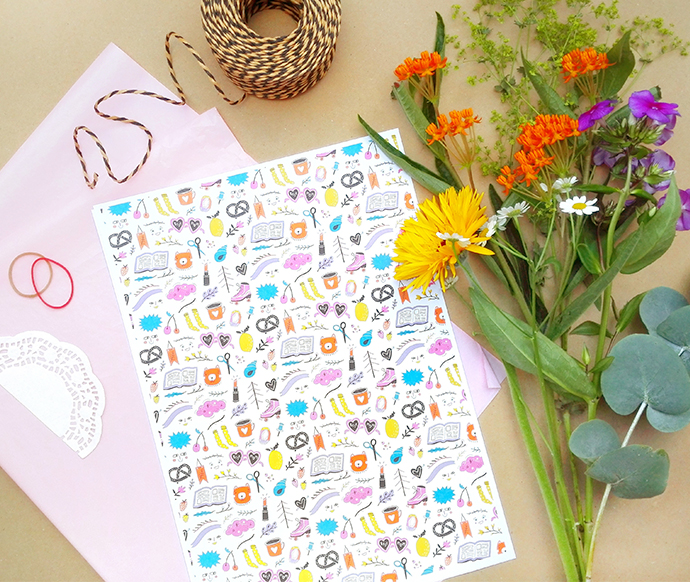 ✿ ❀ ❁ Wat heb je nodig: ✿ ❀ ❁
– De printable download je hier.
– Een bos(je) bloemen
– Pen/inkt/stiften
– Schaar
– Tape/plakband/stickers
– Touw/lint en elastiekjes
– Watjes/keukenpapier
– Plasticfolie
– Tissuepapier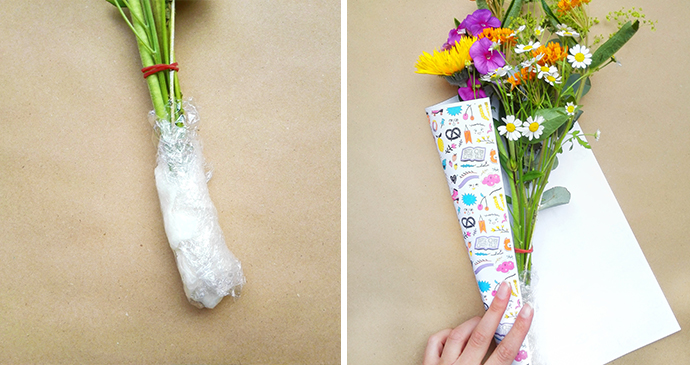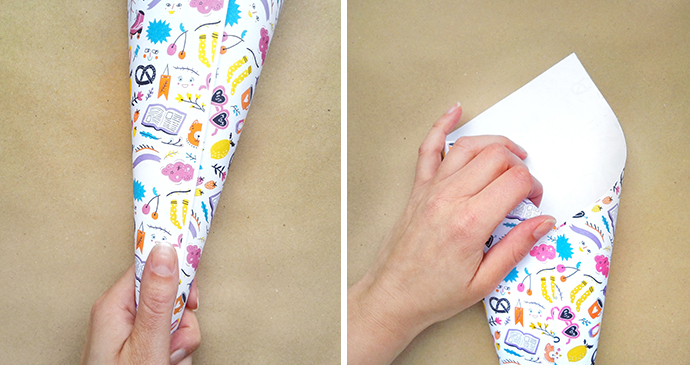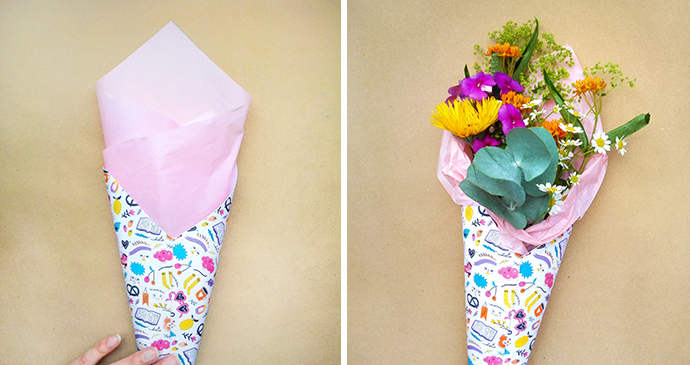 ✿ ❀ ❁ How-to-wrap: ✿ ❀ ❁
– Print de printable uit op A4 papier in kleur of zwart-wit. Je kunt ook een leuk gekleurd papiertje gebruiken!
– Snijd eventueel de witte randjes van het vel af. Heb je een grotere wrap nodig? Print dan meerdere velletjes uit en plak deze stevig aan elkaar.
– Pak nu je bos bloemen erbij. Is je bos heel groot verdeel de bos dan eventueel in meerdere kleinere bosjes (leuk om uit te delen!).
– Optioneel: om je bloemen vochtig te houden, maak je een paar watjes of keukenpapier lichtjes nat met water. Wikkel dit om de bloemsteeltjes heen en sluit af met plasticfolie dat je zo stevig mogelijk om de steeltjes bindt. Zorg wel dat alles goed droog is en het zakje niet lekt voor je de wrap eromheen doet!
– Knip één of meer labels uit langs de stippellijnen en maak er een gaatje in voor een lintje. Beschrijf het label eventueel met een persoonlijke boodschap.
– Ready to wrap! Ik heb nog een vel tissuepapier tussen de wrap en de bloemen te doen voor wat extra kleur. Ik heb 3 leuke manieren op een rijtje gezet hoe je de bloemen kunt 'wrappen'. Bekijk de gifjes en uitleg hieronder!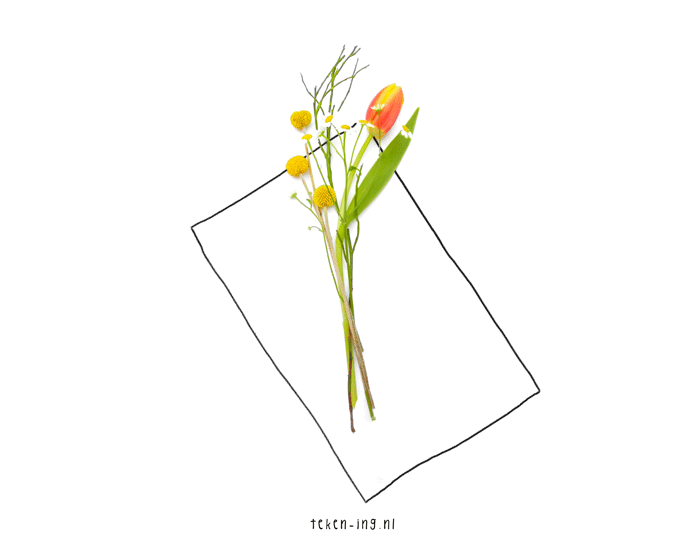 ✿ 'The cone' (geschikt voor een klein bosje bloemen of hele grote wrap):
– Pak de printable en leg deze met de bedrukte kant naar onder op tafel. Draai het velletje in een scherpe punt naar onder zodat je een soort ijshoorntje krijgt. Plak het papier stevig vast langs de randen met stevig tape of plakband.
– Stop eventueel het vel tissuepapier los in de cone en drappeer het leuk over de rand.
– Steek je bloemen in de cone en zorg er hierbij voor dat de bloemstelen kort genoeg zijn zodat de bloemen er goed in blijven zitten. Stop eventueel wat extra tissuepapier tussen de bloemen en de wrap zodat de bloemen niet kunnen schuiven.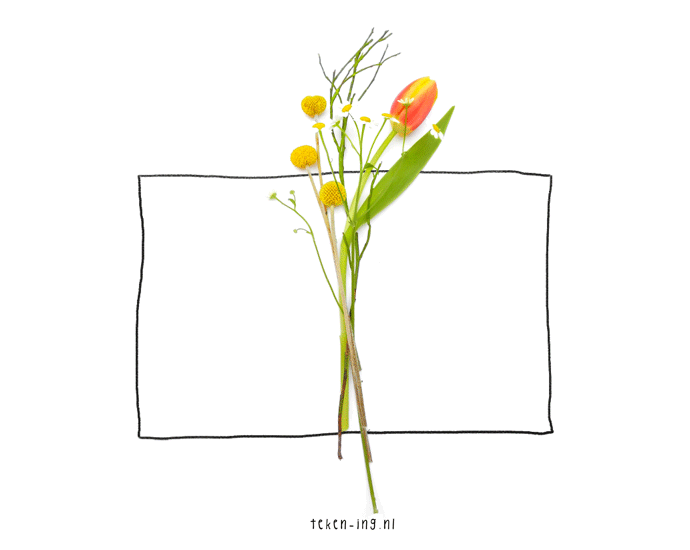 ❁ 'De messy wrap' (de makkelijkste, geschikt voor bloemen met lange stelen):
– Pak de printable en leg deze met de bedrukte kant naar onder op tafel.
– Leg je bos bloemen er boven op, een beetje in het midden zodat de stelen onder de wrap uitsteken.
– Wikkel nu de wrap losjes om de stelen heen, je mag het zelfs een beetje verfrommelen als je dat wilt.
– Wikkel de wrap vast met een leuk lint of touwtje met een grove slag.
– Bij deze manier is het voor het zicht leuker om het watersysteem met zakje en watjes weg te laten ;)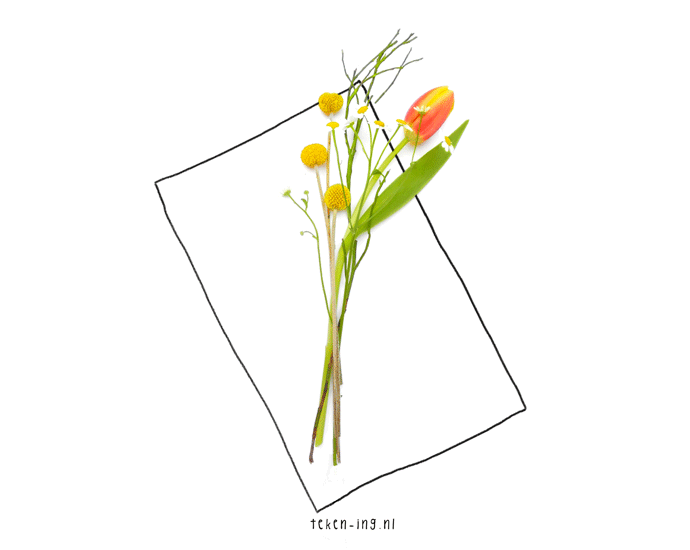 ❀ 'Het slaapzakje' (geschikt voor bloemen met korte stelen):
– Pak de printable en leg deze met de bedrukte kant naar onder op tafel en dit keer met een punt naar beneden.
– Vouw de onderstepunt naar binnen (plak eventueel vast aan de bloemen).
– Vouw dan de rand van de linker zijde 1x om naar binnen (smal reepje) en rol deze linker flap naar binnen.
– Vouw de rechterhoek 1x naar binnen en rol deze rechter flap over de linker flap. Zo wikkel je je bloemen in een soort slaapzakje.
– Zet de flappen vast met tape, stickers of een leuk lintje.
Tip: geef je geen bloemen? Gebruik de moederdag printable dan als cadeaupapier!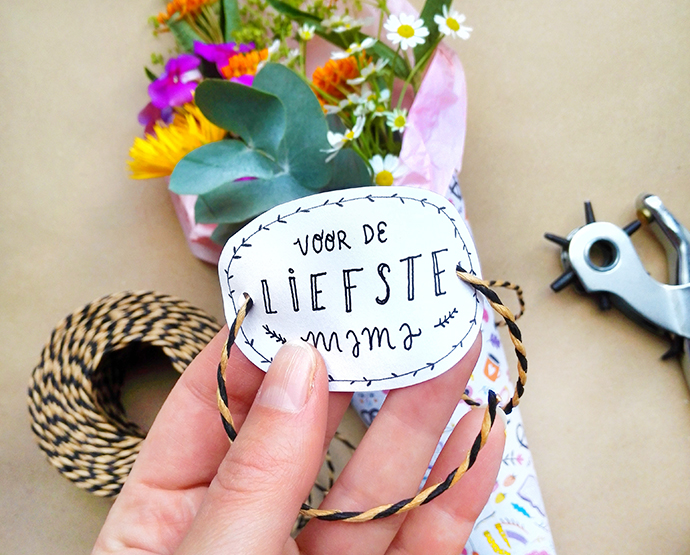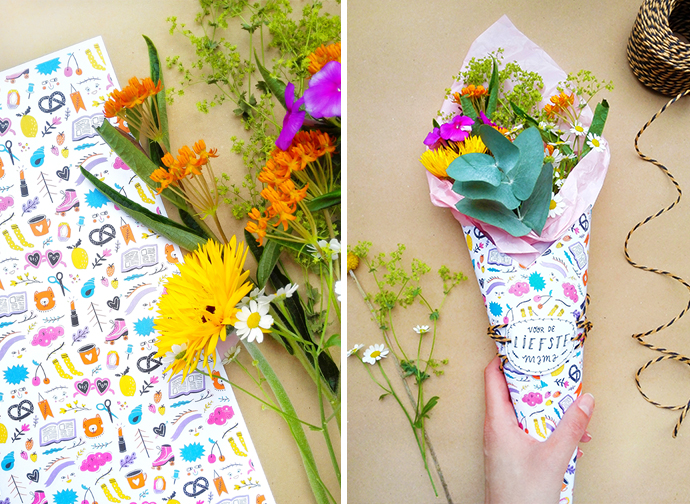 Tadaa! Hoe leuk is het om zo de bloemen te geven aan je moeder? Met persoonlijke boodschap of leuk label. Hoe zet jij jouw moeder, oma, schoonmoeder, zus, vriendin of moeder-maatje in het zonnetje? Hopelijk heb ik jou met deze how-to inspiratie gegeven!
Eerder maakte ik voor Teamconfetti een printable cadeauset voor Vaderdag, die kun je hier bekijken.
❀❀❀
Ingrid Wuyster is illustrator / ontwerper en maakt veel moois onder de naam Teken-ing.
Eén keer in de vier weken blogt ze voor teamconfetti.nl