Gastblog door Ingrid  –  Als illustrator maak ik natuurlijk veel tekeningen in opdracht. Ik werk met potlood, inkt maar ook veel met digitale technieken. Ook ik moet af en toe even freewheelen om mijn teken-motor op te warmen of om nieuwe inspiratie op te doen en dat doe ik het liefste door met mijn handen bezig te zijn met écht materiaal. Onder het mom 'don't forget to play' lijkt het mij leuk om deze keer een klein tekenlesje aan jullie te geven!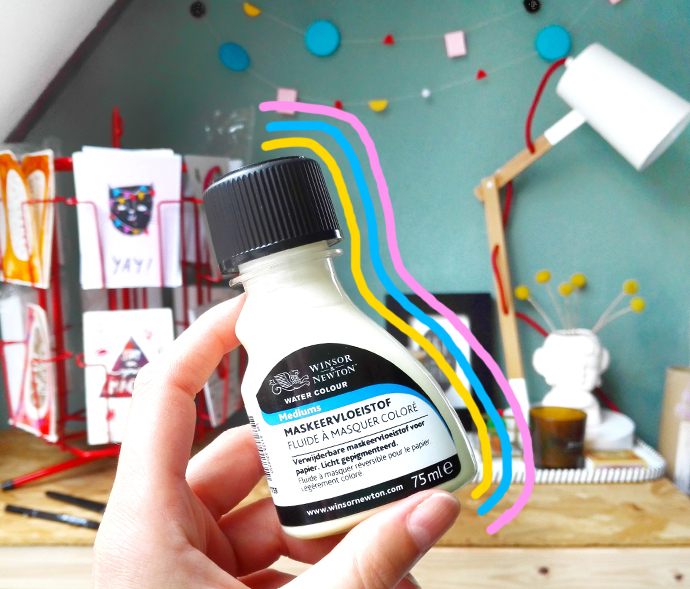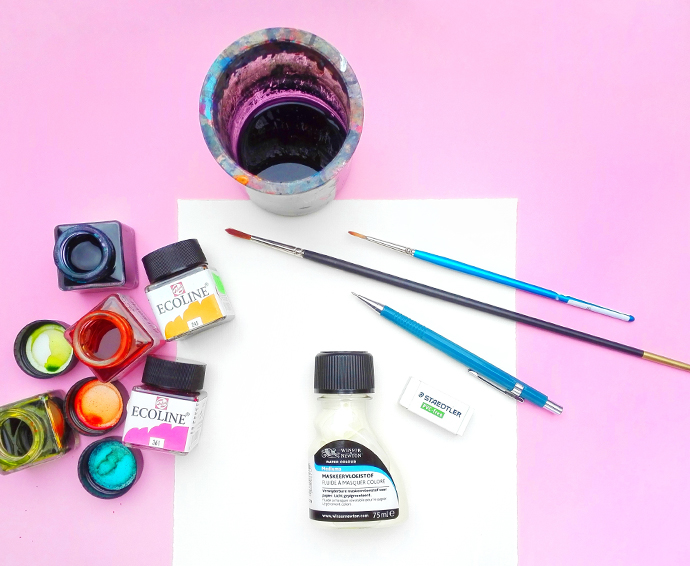 Eigenlijk is het meer een materiaal les, want in deze blog leg ik uit hoe je kunt werken met inkt en maskingfluid. Maskingwatte? Maskeervloeistof! Dit is een vloeistof die je kunt aanbrengen op papier of canvas en droogt op als een soort rubber/gom. Door er daarna met inkt of verf overheen te gaan kun je bijvoorbeeld witruimte uitsparen, strakke lijnen maken of kleine details in een tekening behouden.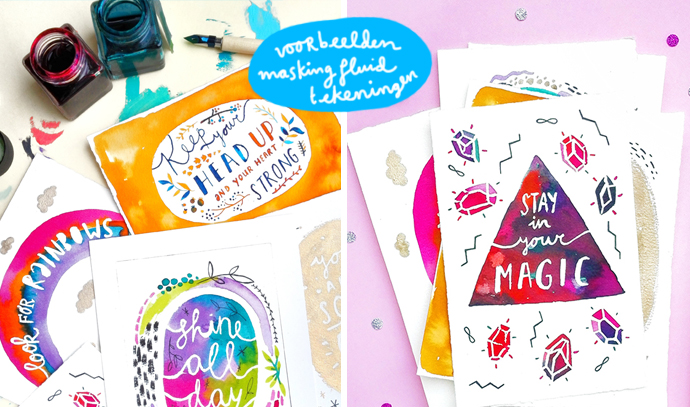 Afgelopen november mocht ik tijdens Het Papieratelier van HappyMakersBlog live tekenen op Flavourites Live (klik hier voor meer foto's). Op dit event heb ik voor de bezoekers persoonlijke wenskaartjes getekend en daarbij maakte ik gebruik van maskeervloeistof. Het live tekenen vonden de mensen heel tof om te zien en ook het gebruik van de maskeervloeistof trok veel bekijks. Mensen hadden veel vragen over het goedje en ook wanneer ik foto's op Instagram plaats van werk waarbij ik dit heb gebruikt, komen er veel vragen over. Om te laten zien hoe leuk het is, leg ik uit hoe het precies werkt!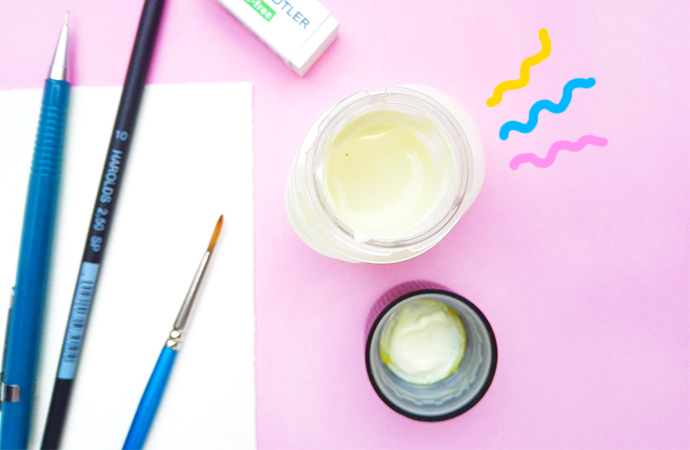 Maskingfluid kun je net als verf aanbrengen op papier of canvas. De vloeistof droogt aan de lucht als een rubberachtige substantie maar hecht zich niet permanent aan het papier. Dat is fijn want dan kan je het later weer verwijderen. Op de plekken waar je de vloeistof op doet, kan geen andere vloeistof (verf of inkt) op die plek op het papier hechten. Op deze manier kun je dus witruimte (of ondergrond kleur) uitsparen in een tekening.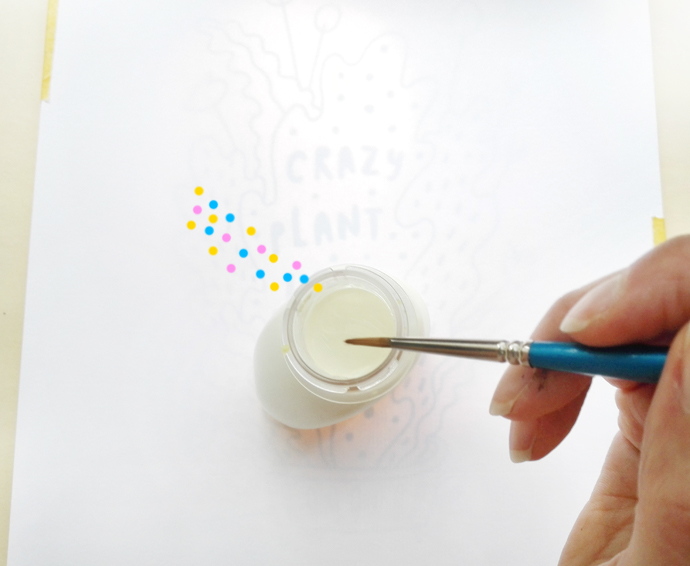 Er bestaan verschillende soorten maskingfluid. Zoals je ziet heb ik een gelige variant maar bestaan ook in blauw of volledig transparant. Je kunt dit spulletje kopen bij de tekenspeciaalzaak en vast ook online. En oja, wanneer je het potje opent en je ruikt een soort vislucht; don't worry de vloeistof is niet bedorven, zo ruikt het helaas gewoon. Neus dicht dus ;)
Voor gebruik altijd even schudden! Niet te hard want je wil zo min mogelijk belletjes in je vloeistof, misschien kun je zelfs beter in het potje roeren bedenk ik mij nu, hmm!
De ondergrond waarop je werkt is belangrijk. Niet elk papier is geschikt voor maskingfluid en/of inkt/verf. De kwaliteit van het papier maakt echt een verschil dus ga voor goed dik en natuurlijk papier, dan trek je geen laagje mee wanneer je de maskingfluid eraf haalt.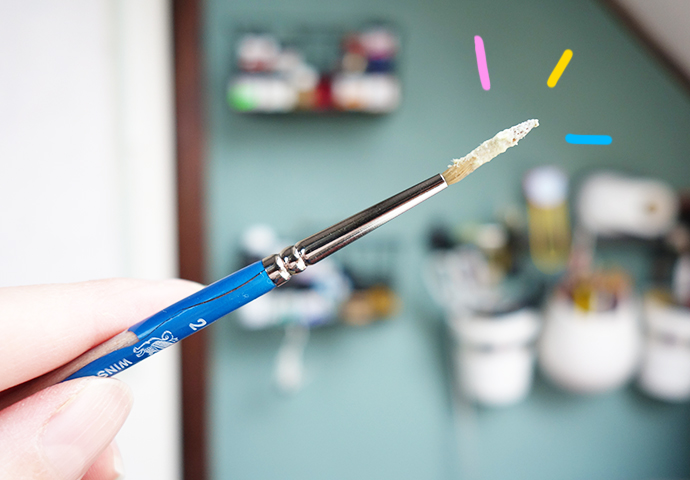 Je kunt de vloeistof gewoon aanbrengen met een kwast. Neem wel een oude kwast of eentje die je speciaal voor maskingfluid gebruikt want het spul blijft op de den duur aan de haartjes plakken. En uiteindelijk zit er zoveel spul aan dat je de kwast weg kan gooien, meh. Je kunt ook een kroontjespen gebruiken om de vloeistof aan te brengen op het papier, hier was je het makkelijk weer af omdat het zich niet hecht aan het pennetje.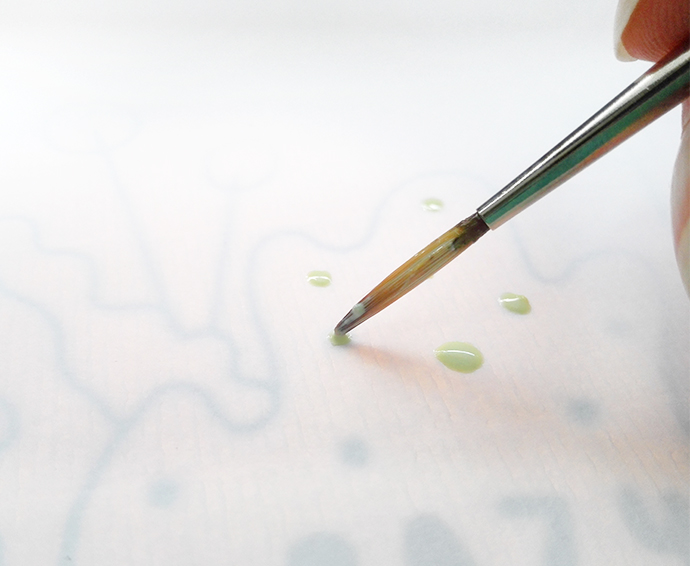 Ok, let's go! Het vereist soms wat denkwerk vooraf over welke ruimte je wilt uitsparen dus ga niet te snel van start. Maak een schets op het papier (of gebruik zoals ik een lichtbak) en breng de maskingfluid aan daar waar je het nodig hebt. Het laagje dat je aanbrengt op het papier, hoeft niet super dik te zijn. Voordeel van een dik laagje is wel dat je het er later weer makkelijk van het papier af haalt. Maar werk ook zeker niet te dun anders heb je kans dat de inkt/verf toch onder de randje door gaat lopen. Zoek naar een mooie balans.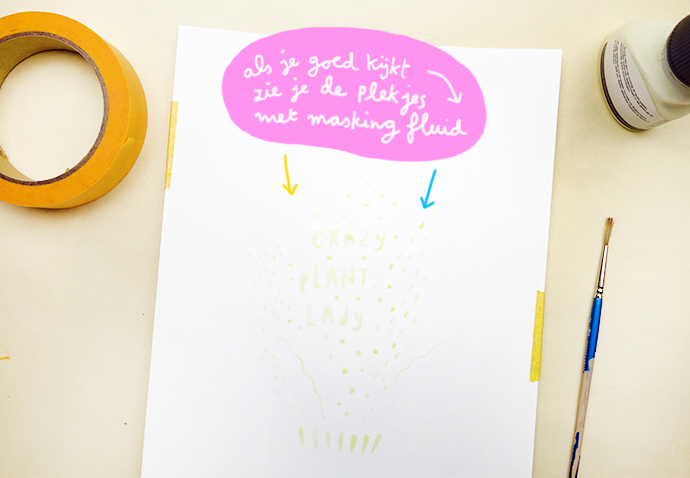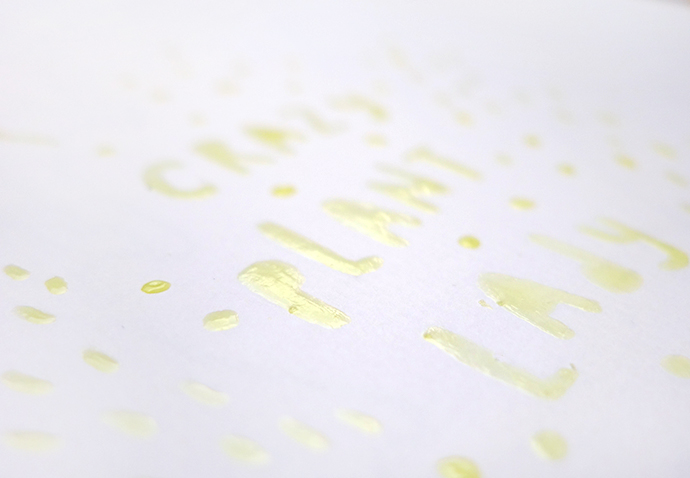 Wanneer je alle plekjes met maskingfluid hebt beschilderd moet je het laten uitharden en dit kan eventjes duren, afhankelijk van de dikte van het laagje. Tijd voor een kopje thee of zoek vast wat kleuren inkt/verf uit waar je mee wilt werken. Gebruik geen föhn om de vloeistof te laten drogen! Door de hitte smelt het vast in het papier en trek je straks misschien een laag papier mee en dat wil je niet.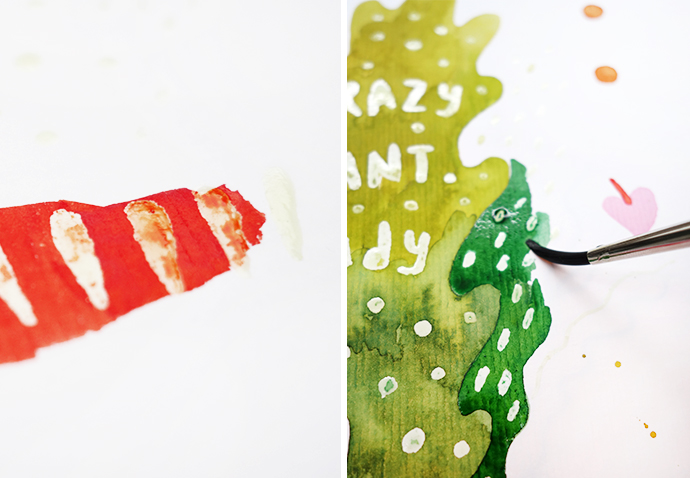 Wanneer de maskingfluid droog is, kan je de tekening gaan inkleuren zoals je normaal zou doen met inkt of verf (ceck vooraf nog wel even of je echt geen plekken in de tekening bent vergeten). Je kunt gewoon met een kwast over de plekjes heen gaan waar de maskingfluid zit. Je zult zien dat de inkt/verf er een soort vanaf glijdt. Doordat de inkt/verf op die plaatsen niet in het papier trekt kun je goed zien waar de maskingfluid zit.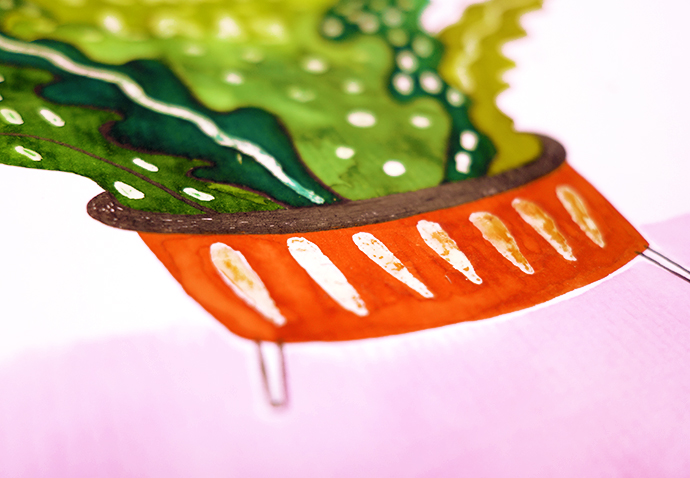 Wanneer je tekening klaar is laat dan alles weer goed laten drogen. Als je de maskingfluid er al af gaat halen wanneer het papier nog nat is, trek je ook een laagje papier mee. Je geduld wordt zo zeker beloond, want als alles droog is, kunnen we beginnen aan het meest satisfying part: het verwijderen van de maskingfluid!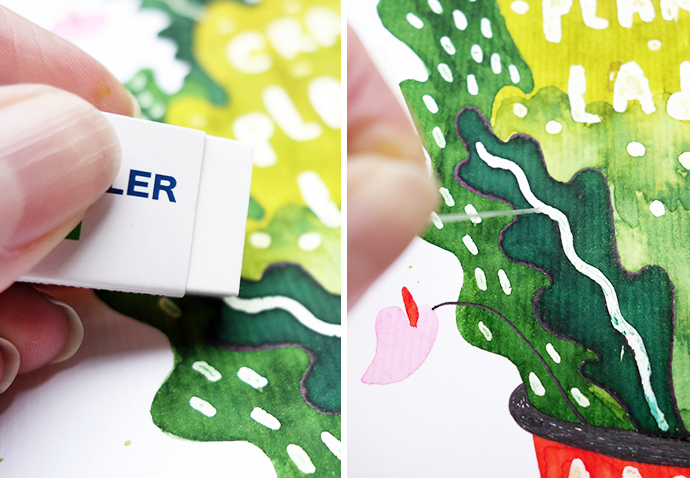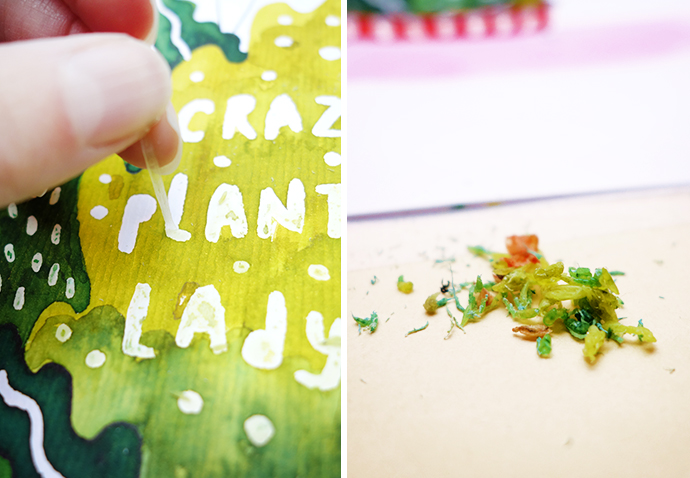 Het verwijderen van de maskingfluid is very satisfying. Het beste werkt het door met een gum te wrijven over de plek waar de maskingfluid zit (met je vinger kan ook maar gaat wat lastiger). Door voorzichtig te wrijven komt er ergens een stukje fluid los. Je kunt dit beginnetje met je vingers pakken en zo de fluid lostrekken van het papier. Herhaal dit bij alle plekjes waar de fluid zit en als het goed is komen de uitgespaarde ruimtes te voorschijn, zo heerlijk om te doen!
Tip: maak na gebruik de randjes van het potje maskingfluid en de dop goed schoon, anders krijg je 'm nooit meer open :) En draai ook de dop weer goed vast zodat er geen lucht bij komt.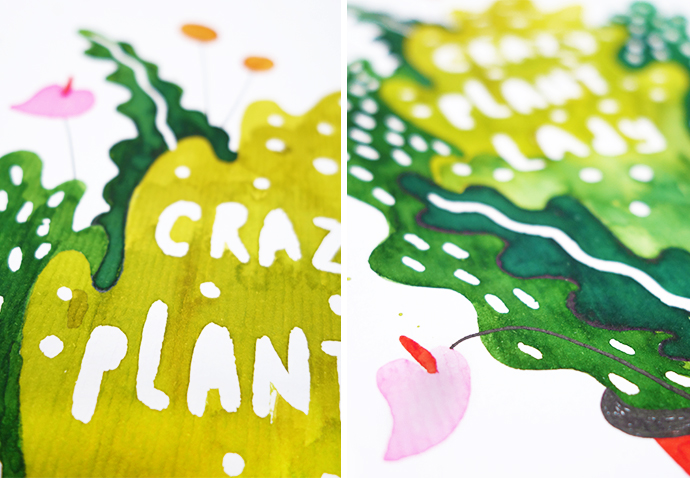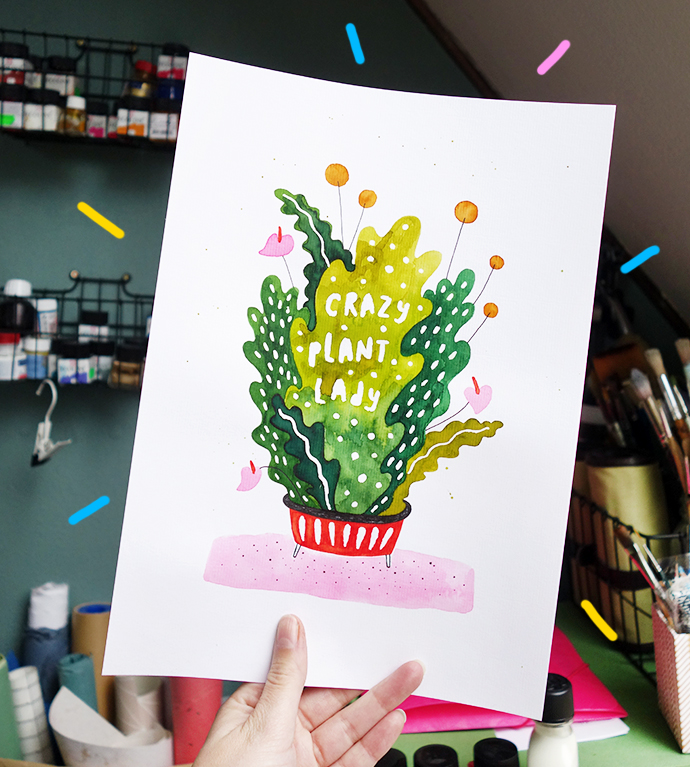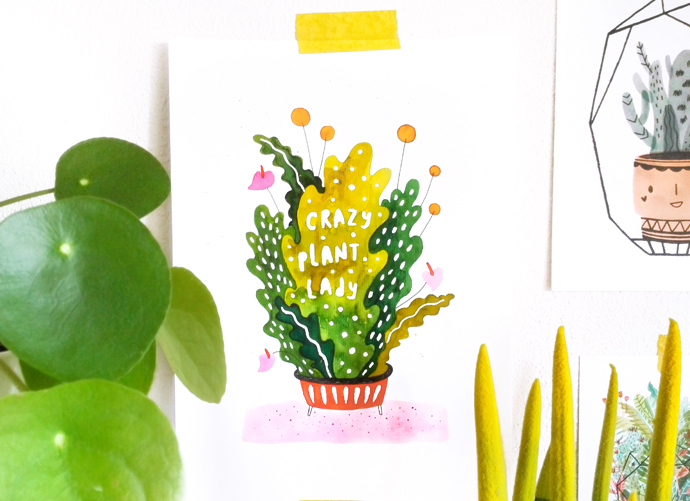 Speciaal voor deze tekenles maakte ik deze Crazy Plant Lady print op A4 formaat. Ben jij een crazy-plant-lady of wil je de print aan iemand cadeau doen? Jij kunt deze originele (en gesigneerde) print winnen! Hoe doe je mee?
1. Laat een comment achter onder dit bericht en laat in je comment weten wat voor materiaal jij fijn vindt om mee te werken en waar je wel wat meer uitleg over zou willen.
Niet verplicht maar wel gezellig:
2. Like mijn Instagram account, want ook daar geef ik een print weg en dan maak je dubbel kans!
♥♥♥
Je kunt zulke leuke effecten bereiken met maskingfluid in combinatie met inkt of verf. Ik hoop dat dit materiaal lesje je wat inspiratie heeft gegeven voor jouw volgende project. Heb je vragen of zou je een andere materiaal of tekenles willen zien? Laat het weten in de comments en wie weet volgen er in de toekomst meer tekenlesjes :)
♥♥♥
Ingrid Wuyster is illustrator / ontwerper en maakt veel moois onder de naam Teken-ing.
Eén keer in de vier weken blogt ze voor teamconfetti.nl