Gastblog door Ingrid – Wat een te gekke reacties kreeg ik van jullie op het laten zien van mijn creatieve hol en mijn werk als illustrator. Er werden veel vragen gesteld over de ins en outs van het tekenen. In één van mijn volgende gastblogs zal ik hier zeker dieper op ingaan maar omdat ik heb gemerkt dat jullie zelf ook mega-creatief zijn, vond ik het eerst tijd voor een leuke DIY! (En vooral ook omdat ik deze zelf graag wilde uitproberen).
Het is al bijna april, say what? Voor je het weet staan de kerstspullen weer in de huiskamer. En daarover gesproken: hoe zit het eigenlijk met die goede voornemens die je had aan het begin van dit nieuwe jaar? Eehhh ja, dat dus. Ik vind altijd dat ik niet aan goede voornemens maken doe, maar stiekem bedenk ik elk jaar wel kleine dingen die ik zou willen toepassen of veranderen. Dit zijn geen vaste afspraken of keiharde deadlines, maar kleine wensen waar ik mijzelf af en toe aan moet herinneren. Zo halverwege het jaar is alles weer naar de achtergrond geschoven, vervallen in de dagelijkse routine of domweg niet uitgevoerd door de Grote Twijfel. Ik denk namelijk graag en veel. Teveel soms. Mijn hoofd staat nooit stil en dat is fijn, want ik heb altijd ideeën genoeg. Maar soms vergeet ik daardoor weleens om tot actie over te gaan. Om daar uit te snappen, werken motiverende woorden bij mij het best, een beetje als een soort mantra. Je bent tenslotte toch een powervrouw, right? Right! Met het lange paasweekend voor de deur heb ik daarom een motiverende DIY van mijn DIY-bucketlist voor jullie uitgeprobeerd: de powervrouw-muur-banner. No sew, just glue (en een beetje strijkijzer magic). Natuurlijk mét printables voor jullie om te downloaden. Zijn jullie klaar voor heel veel foto's van mijn handen? Let's go!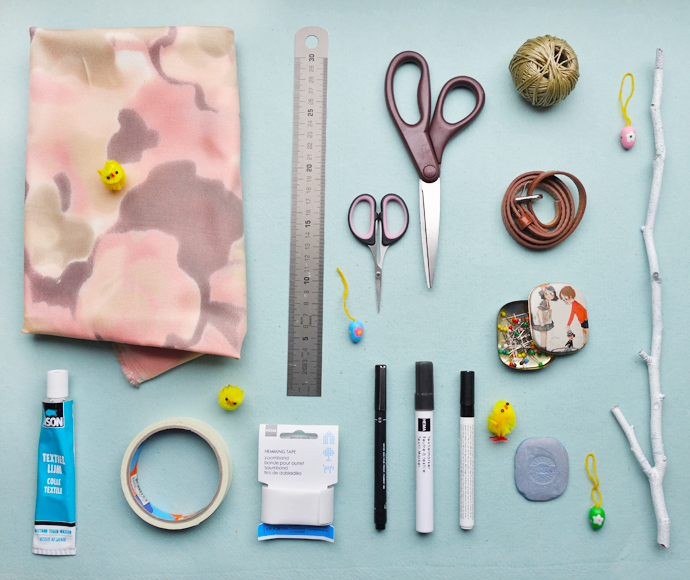 Nodig:
♥ Je favoriete (vintage) stof (niet te dik of te donker i.v.m. overtrekken van de printable).
♥ Textielstift / fineliner / marker.
♥ Zoomband (te koop bij HEMA).
♥ Krijtje (stofkrijtje).
♥ Textiellijm.
♥ Liniaal.
♥ Tape.
♥ Schaar.
♥ Strijkijzer.
♥ Spelden.
♥ Eén van de printables, klik hier om ze te downloaden (of eigen ontwerp).
♥ Tak of rond stokje.
♥ Touw en/of oud leren riempje en/of lint.
Optioneel:
Om de banner en de tak te versieren kun je van alles gebruiken: wol, borduurgaren, knoopjes, lintjes, kantjes, studs, verf, you name it!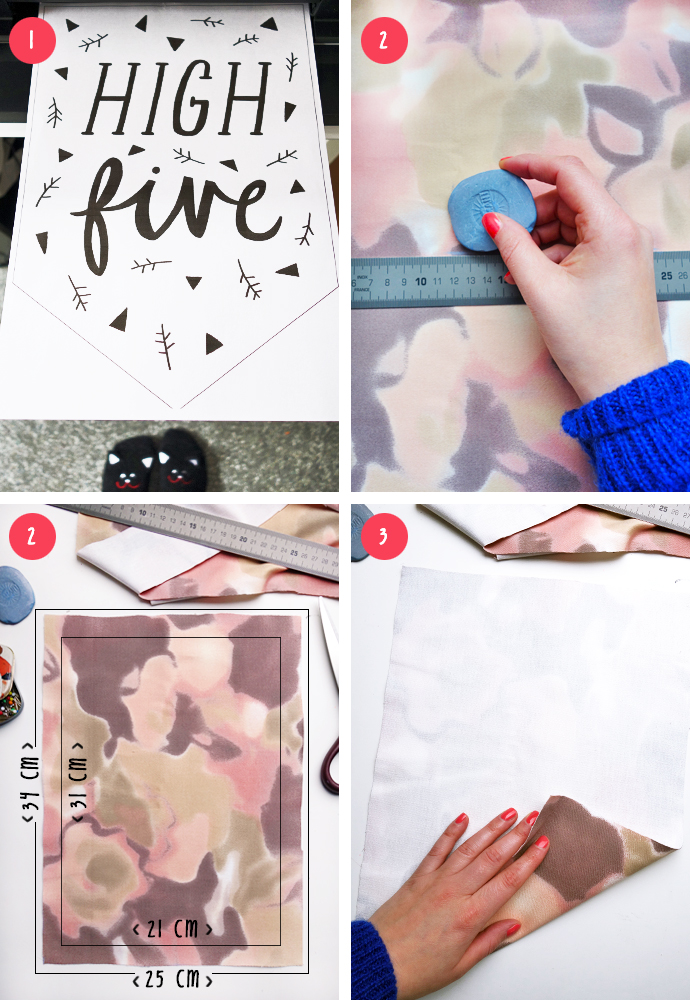 Stap 1: Print één van de bijgevoegde printables om te gebruiken of wees creatief en maak je eigen ontwerp!
Stap 2: Pak je favoriete stof erbij en teken met liniaal en een stofkrijtje (potlood kan ook) een vlak op de stof van ongeveer 21 cm breed x 30 cm hoog (het uiteindelijke formaat). Meet daarna nog 2 cm extra af aan alle zijden, dit wordt de rand die we later gaan 'omzomen'. Het totale vlak wordt ongeveer 25 cm breed x 34 cm hoog.
Stap 3: Knip het afgetekende vlak los en keer hierna de stof om.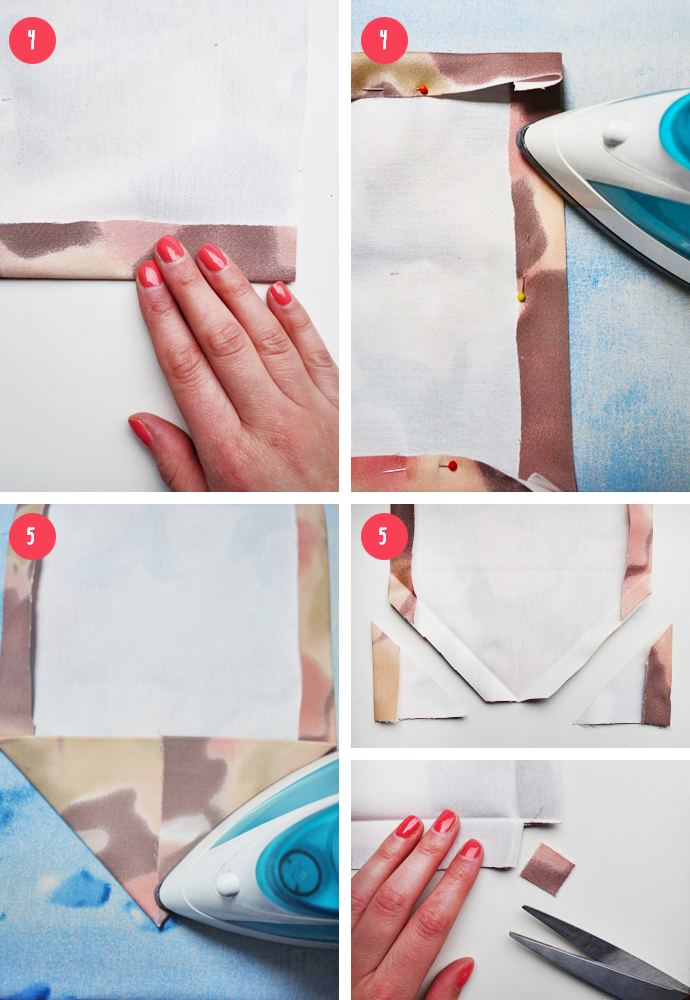 Stap 4: Vouw nu aan drie zijdes van de rechthoek, de randen 2 cm naar binnen (de 2 cm die je extra hebt afgetekend). Laat één van de korte zijdes nog even ongevouwen. Dit mag een beetje op gevoel, zolang de gevouwen randen op het oog er recht uitzien. Met een speldje kun je de vouw op zijn plek houden. Strijk met het strijkijzer een scherpe vouw in de stof en doe dit bij alle drie de zijdes. Dit is handig omdat we straks eerst de tekening op de stof gaan zetten, voordat we de randen gaan omzomen.
Stap 5: De nog ongevouwen zijde wordt de punt van de banner. Vouw bij deze zijde de 2 hoeken naar binnen in een punt en strijk hier ook vouwen in. Knip eventuele overtollige stof weg bij deze punten (hou wel een randje van +/- 2 cm over voor de zoom). Dit kun je ook doen bij de hoekjes van de andere randen. Als je alle randen van de stof nu weer uitvouwt, zie je in het midden het uiteindelijke vlak waar we op gaan tekenen.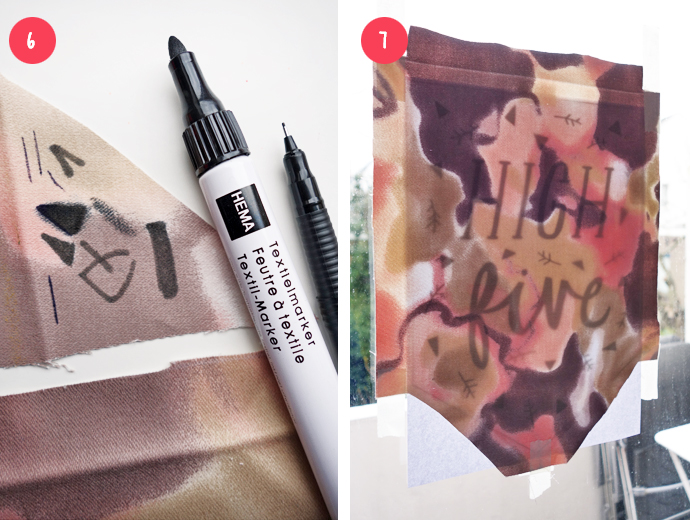 Stap 6: Doe op een restje stof eerst een test met je textielmarker of zwarte stift. Zo kun je zien of de stift erg uitvloeit (dat was bij mij het geval wanneer ik veel inkt op dezelfde plek gebruikte). Het maakt niet zoveel uit met wat voor soort stift of pen je gaat tekenen. We gaan de banner niet wassen dus het hoeft niet super-watervast te zijn. Ik heb fineliners gebruikt om de vormen strak te krijgen.
Stap 7: Tape de geprinte tekening tegen het raam en leg de stof over de tekening. Als het goed is, zie je de tekening door de stof heen. Kijk of de afbeelding goed in het midden zit, tape dan ook de stof vast.
Stap 8: Neem de tekening over op de stof. Ik vond het prettig eerst de omtrek te tekenen op het raam en deze daarna in te vullen op de tafel. Leg er dan even een kartonnetje onder de stof tegen het doordrukken.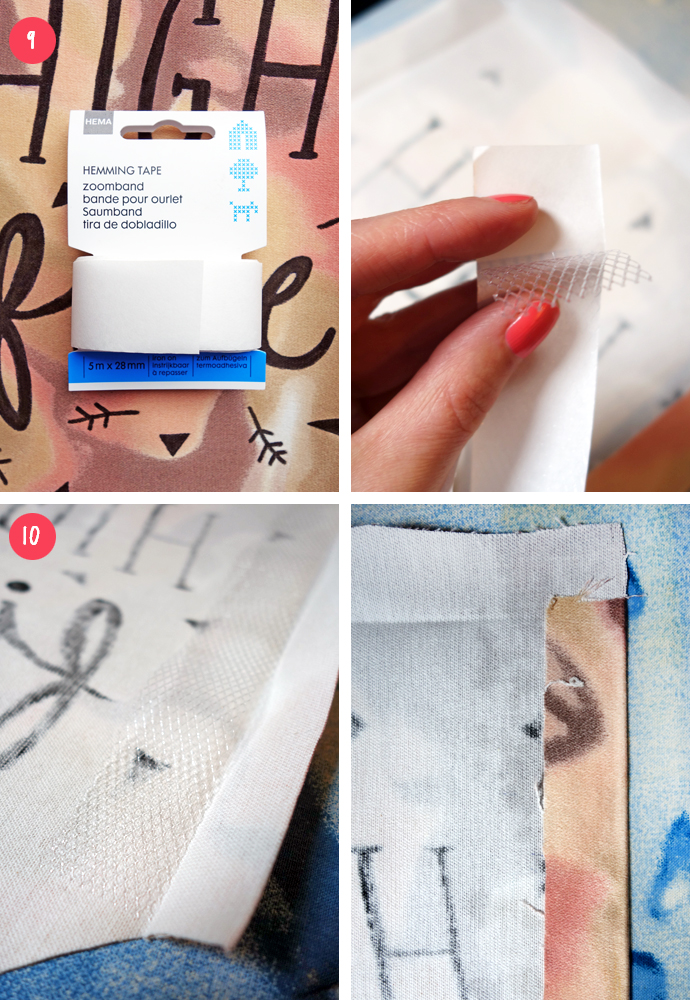 Stap 9: Tijd voor de randjes, be prepared for some magic! Zoomband is zulk leuk spul, je kan hier van alles mee maken zonder dat je hoeft te naaien (mocht je handig zijn met de naaimachine dan kun je de randen met de naaimachine vastzetten). Lees voor het gebruik de gebruiksaanwijzing van het zoomband op de verpakking even door. Knip voor elke zijde van de stof het zoomband op maat (over de hele lengte).
Stap 10: Leg de stof met de tekening naar beneden op de strijkplank. Vouw de randen om en leg per rand een stukje zoomband in de vouw. Strijk de randen volgens de gebruiksaanwijzing het zoomband vast. Ik vond het handig om eerst de twee lange zijdes, daarna de bovenzijde en als laatste de punten om te zoomen. Eigenlijk alsof je een cadeautje inpakt. Keer de stof weer om en als het goed is heb je nu een banner met mooie omgezoomde randen.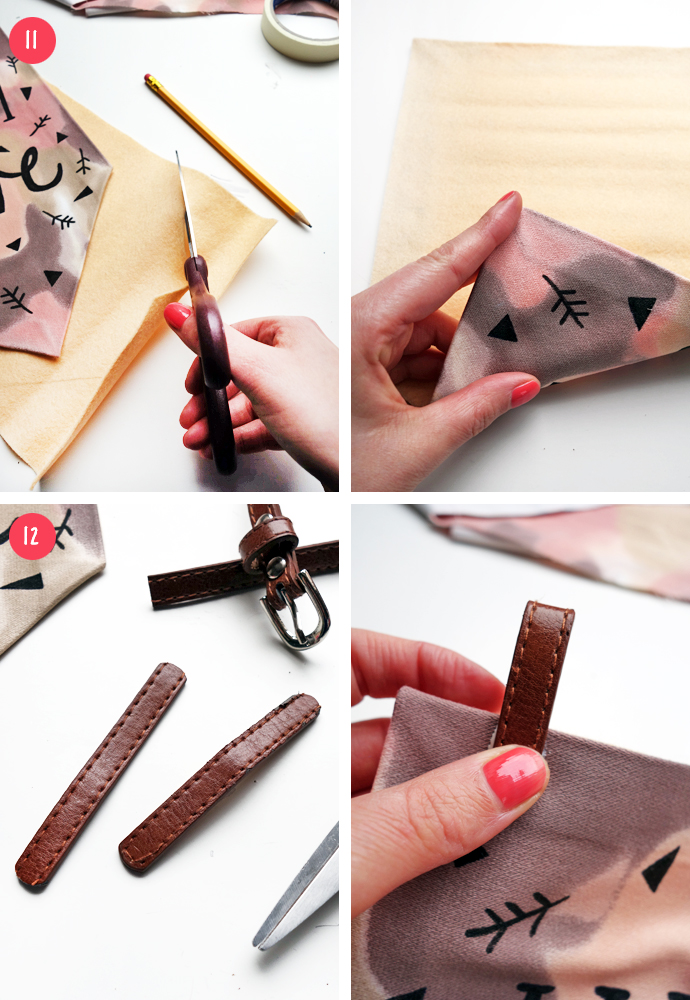 Stap 11 (optioneel): Voor de stevigheid kun je aan de achterkant van de banner nog een stuk dikkere stof bevestigen. Ik knipte een stuk vilt op maat en lijmde dit met textiellijm op de achterkant van de banner.
Stap 12: Om je banner op te hangen kun je twee stukjes touw, lint of band aan de bovenzijde vastmaken (ook leuk met stukjes contrasterende stof). Ik koos voor leren bandjes gemaakt van een vintage riem die ik kocht bij de kringloop. Deze heb ik vastgezet met textiellijm.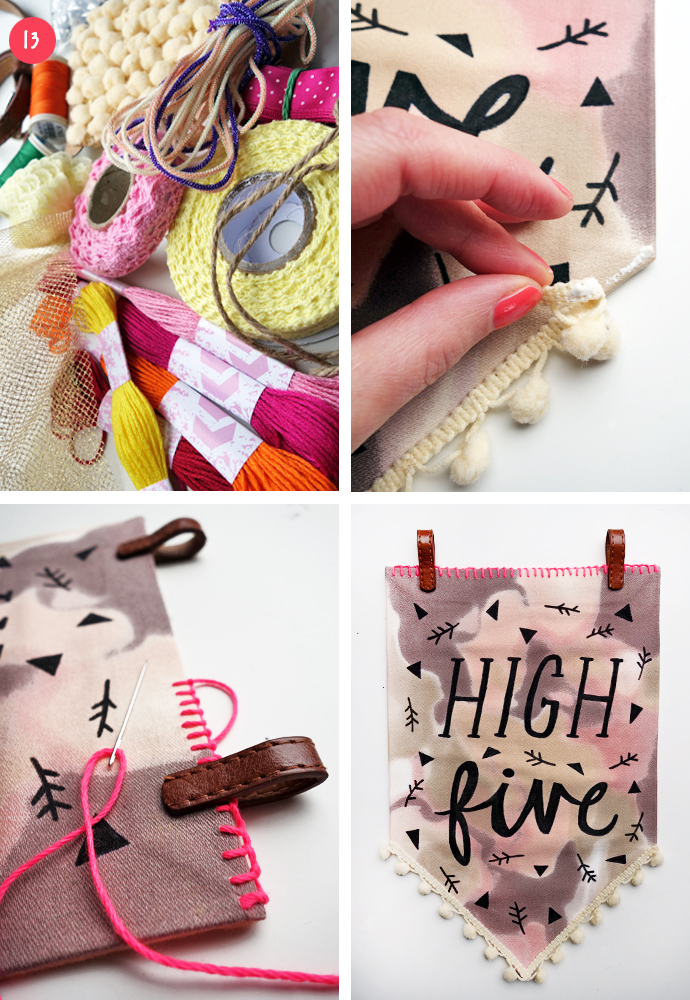 Stap 13: Decoration time! Ga helemaal los om je banner op te leuken. Ik koos voor een pompom-randje aan de onderkant en een festonsteek met neonwol aan de bovenkant. Maar je kunt natuurlijk ook borduren op de banner, deze versieren met strikjes/studs/knoopjes of franjes maken.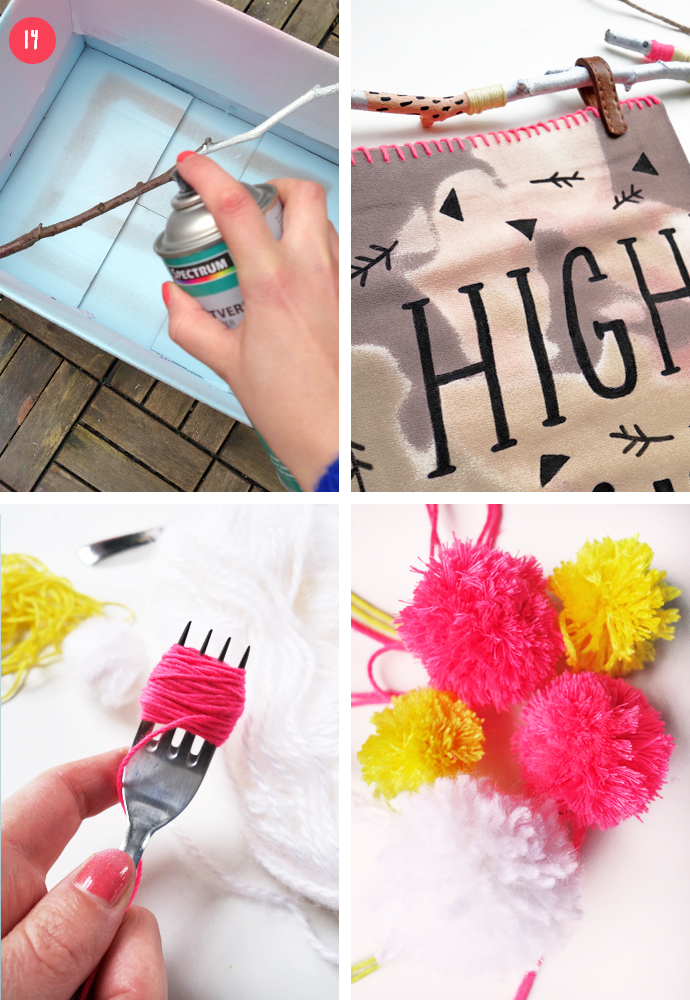 Stap 14: Steek de stok of de tak door de lusjes. Ik zocht buiten een tak, spoot deze wit en maakte 'm nog wat leuker met verf en wol. Ook maakte ik zelf pompoms met wol en een vork, super easy en heel verslavend om te doen. Als laatste knoop je aan het einde van de stok of tak wat touw zodat je de banner kan ophangen.
Je banner is nu klaar, zoek een mooi plekje en hang 'm op! Je hebt gegarandeerd geen last meer van dat chronische motivatiegebrek. Veel maakplezier en alvast een hele fijne Pasen!
♥♥♥
Ingrid Wuyster is illustrator / ontwerper en maakt veel moois onder de naam Teken-ing.
Eén keer in de vier weken blogt ze voor teamconfetti.nl.