Gastblog door Ingrid – Jaaa mensen, gelukkig nieuwjaar! De kerstversiering is weer naar zolder, alle oliebollen zijn op en de eerste werk/school week van het nieuwe jaar is begonnen. Na een korte (grieperige) mini-break ben ook ik deze week weer volop aan de slag. Zelf ben ik niet zo van het maken van goede voornemens aan het begin van het jaar, ik probeer het hele jaar door te werken aan mijn doelen en dromen. Of ik die doelen dan volgende maand of over twee jaar pas bereik, daar ben ik niet zo mee bezig. De weg ernaar toe en het feit dat je je doelen of dromen uiteindelijk bereikt, vind ik veel belangrijker. Soms laat iets zich nou eenmaal niet dwingen of 'life get's in the way'.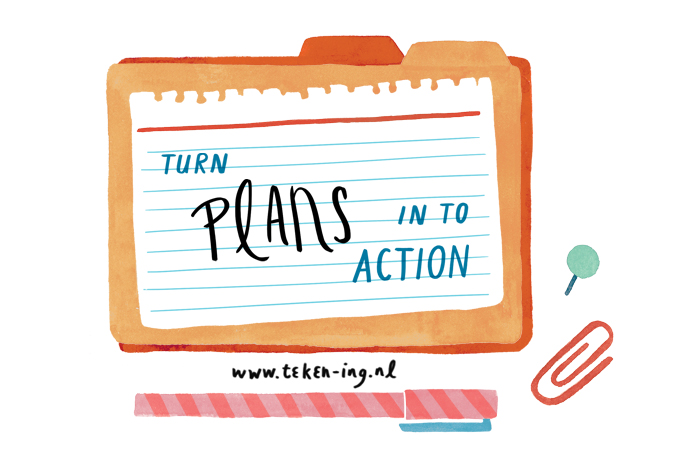 Echt lijstjes met jaarlijkse voornemens maak ik dus niet. Wat ik wél heel fijn vind, is om het nieuwe jaar fris en opgeruimd te beginnen. Zo na kerst krijg ik altijd last van een enorme opruimwoede in mijn huis én home office. Alles gaat overhoop en kastje voor kastje mest ik de boel uit. Zakkenvol onbruikbare spullen gaan de container in en alles waar ik iemand anders nog blij mee kan maken, gaat naar de kringloop of naar een goed doel. Ik kan gelukkig goed afscheid nemen van dingen en ik vind 'ontspullen' dan ook heel fijn. Het maakt niet alleen mijn huis en office leeg en opgeruimd maar ook mijn hoofd! Vol goede moed en met een opgeruimd huis en office pak ik het nieuwe jaar dan bij de kladden en het enige wat ik dan nog nodig heb is een portie goede motivatie.
Om iedereen een kick-start van dit nieuwe jaar te geven heb ik speciaal voor jullie een gratis te downloaden computer- en tablet wallpaper gemaakt. Gewoon om je eens extra te motiveren voor werk of school, compleet met office-illustraties en motiverende quotes! Want ook je 'tech' kan in het nieuwe jaar wel een opfrisbeurt gebruiken. En wat is er nou leuker dan een frisse en fruitige wallpaper voor die apparaten waar we toch al teveel achter zitten: make it work, right?!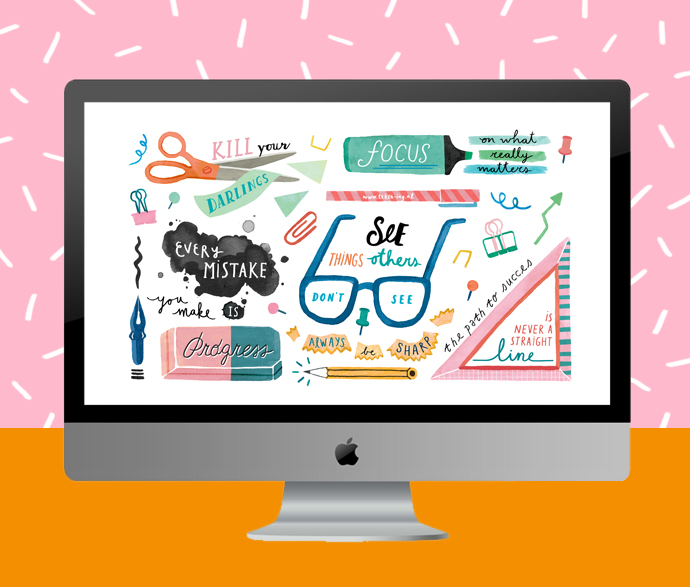 Download de wallpaper voor computer hier.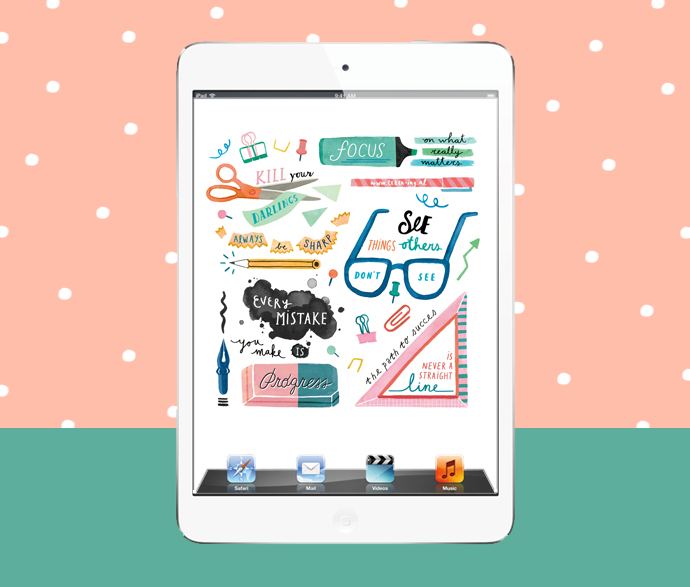 Download de wallpaper voor tablet hier.
♥♥♥
Wil jij deze illustratie als poster in je huis of home office? Bestel deze poster dan nu alvast in de pre-order, want deze bad boy wordt binnenkort op groter formaat afgedrukt en verkocht in mijn 'shop'! Voor meer informatie of het plaatsen van een pre-order kun je contact opnemen via mijn website.
♥♥♥
Ingrid Wuyster is illustrator / ontwerper en maakt veel moois onder de naam Teken-ing.
Eén keer in de vier weken blogt ze voor teamconfetti.nl.