De zomer wil nog steeds niet echt opschieten, boehoe. Maar met het wisselen van de seizoenen krijg ik altijd zin om mijn garderobe te vernieuwen. Natuurlijk heb ik daar geen geld (of ruimte) voor. Om deze drang toch een beetje te stillen, laat ik in deze gastblog zien hoe je makkelijk je garderobe kunt upcyclen. Ik gebruik voor deze DIY gemixte materialen voor een extra grafisch effect.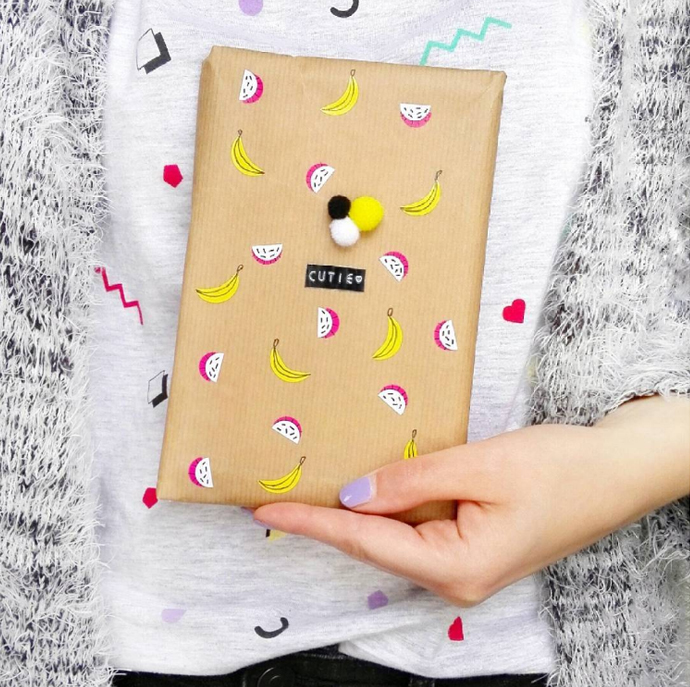 Laatst kocht ik een paar basic t-shirts met kleine printjes erop (met tijgers, stipjes en grafische vormen) en gingen er een paar verwassen en flubberige shirts de kledingbak in, weg er mee! Mijn nieuwe regel is: voor elk ding wat er in komt, gaat er minimaal één ding uit. Op mijn Instagram account plaatste ik onlangs bovenstaande foto met één van mijn nieuwe t-shirts. Het onderwerp van de foto was het ingepakte cadeautje dat ik vast heb, maar ook op het t-shirt kwamen veel positieve reacties. Ik realiseerde me dat je zo'n grafisch t-shirt ook heel makkelijk zelf kunt maken met de juiste materialen en een beetje creatief inzicht. Tijd om dat eens voor jullie uit te proberen. Je hoeft niet persé een nieuw kleding stuk te kopen. Heb jij nog iets in de kast liggen wat je kunt gebruiken? Vast wel!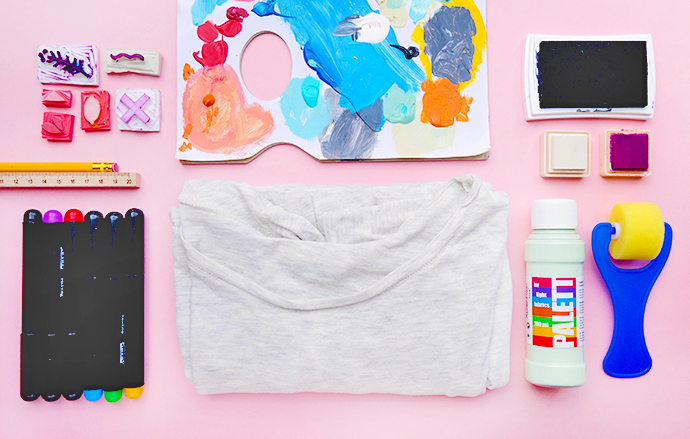 Benodigdheden:
✏ Een top of t-shirt
✂ Krijtje of potlood
✏ Schaar
✂ Textielstiften en textielverf
✏ Stempelkussen met inkt voor op stof
✂ Stempels
✏ Kwast of tamponeer sponsje
✂ Plastic bordje voor verf
✏ Opstrijk folie
✂ Strijkijzer
✏ Lapje oude stof (oud t-shirt/kussenhoes)
✂ Stuk dik karton ongveer zo groot als je top
✏ Föhn om het drogen te versnellen (optioneel)
Tip vooraf: zorg dat je top schoon en gewassen is, ook als je deze nieuw koopt.
▲✿ ☺★♢✱ ❥
Omdat we aan de slag gaan met grafische afbeeldingen en vormen, hoef je niet diep in je creativiteit te graven. Denk in simpele vormen zoals driehoekjes, stippen, strepen, vlekken, spetters, oogjes, hartjes etc. Door dit soort vormen te gebruiken, maakt het ook niet zo uit als het niet helemaal perfect lukt.
Schets
Begin eerst met het maken van een soort schets van de afbeeldingen die je op je top wilt maken en hoe je ze over de stof wilt verdelen. Je kunt dit op papier doen of op de computer. Print of knip ook wat schetsen uit en leg deze op je top. Zo kun je zien of een afbeelding te groot of te klein is. Ga je verschillende kleuren gebruiken? Maak dan ook even een kleurentest!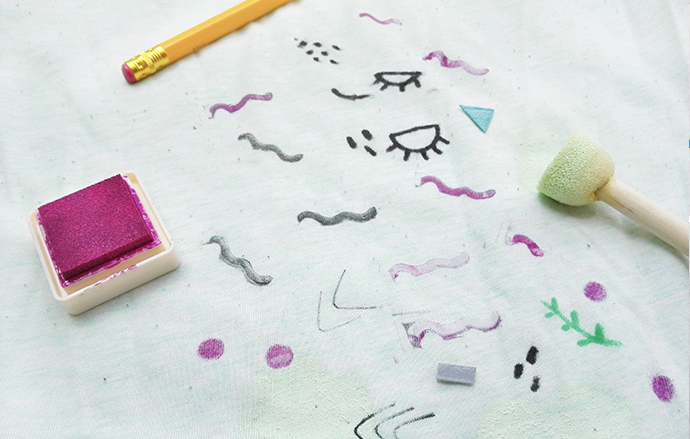 Maak testjes op een lap stof
Test de materialen die je wilt gebruiken eerst even op een oud stukje stof. Zo kun je zien hoe het materiaal reageert op de stof. Of het uitvloeit bijvoorbeeld of hoeveel verf je moet gebruiken om het dekkend te krijgen. Als je gemixte materialen gebruikt, denk dan van te voren na over de volgorde waarin je ze gaat gebruiken. Werk van onderlaag naar bovenlaag.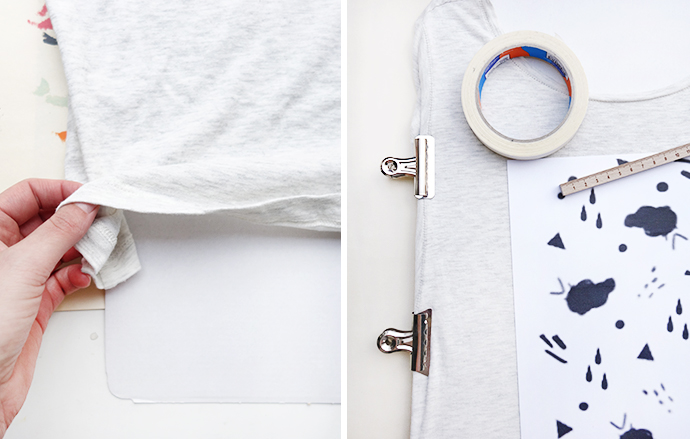 Aan de slag
✏ Dek voor de zekerheid je werkblad af met oude kranten of plastic en zet alvast alle materialen en tools klaar binnen handbereik.
✂ Leg eerst een dik stuk karton aan de binnenkant van je top. Dit voorkomt doordrukken aan de achterkant!
✏ Met een (stof)krijtje kun je lichtjes aangeven waar je de vormen wilt hebben. Als je een top hebt met een lichte stof, kun je de vormen ook eerst uitprinten op A4 en dit blad aan de binnenkant van de top leggen en de vormen lichtjes overtrekken.
✂ Ik heb voor dit patroon verschillende materialen gebruikt: textielverf, textielstiften, stempelinkt voor stof en opstrijkbare flock folie. Je kunt natuurlijk ook één materiaal gebruiken.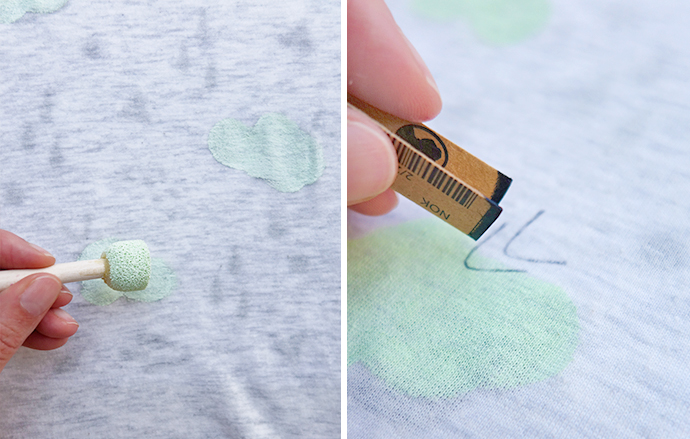 ✂ Ik legde mijn grove ontwerp onder de top en ging van start met de eerste vormen.
✏ Ik begon met het maken random vlekken op de top met textielverf. Gebruik met verf niet te dikke lagen, föhn eventueel de verf, dan is het sneller droog.
✂ Met een stukje gevouwen,stevig karton heb ik met zwarte stempelinkt v-vormen gemaakt op de stof.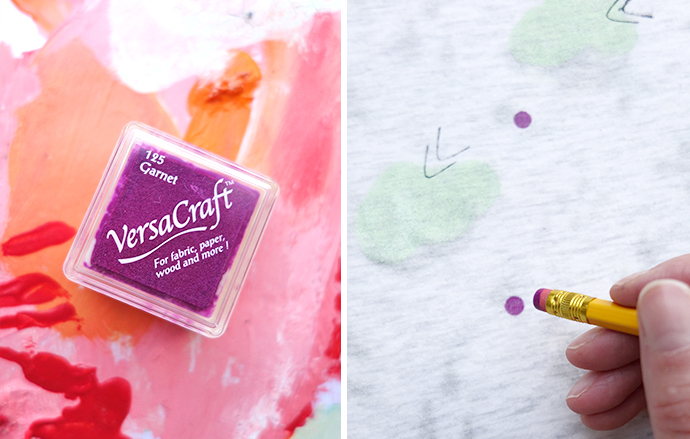 ✏ Ik gebruikte de achterkant van een potlood met gum om confetti-dots op de stof te stippelen. Zoals je ziet op de foto, gebruik ik stempelinkt die geschikt is voor stof.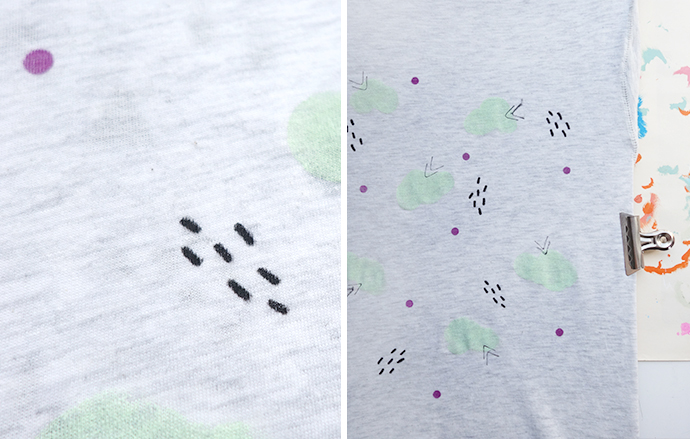 ✂ Met zwarte textielstift maakte ik kleine streepjes in het patroon. Ik merkte dat het fijner was om de streepjes al stippelend op de stof te zetten, in plaats van een lijn te trekken. Wanneer je stippelt trek je de stof niet mee en worden de lijnen strakker (hoewel stift altijd een beetje uitvloeit).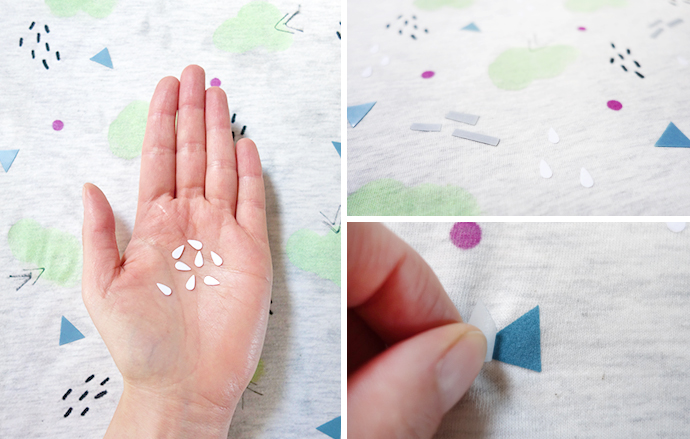 ✏ Voor de blauwe driehoekjes, grijze streepjes en witte druppelvormen gebruikt ik opstrijkbare flock folie. Deze folie kun je knippen, snijden of met ponsjes uitstansen. Door de goede zijde van de folie met een heet strijkijzer op de stof te strijken, kleeft de folie vast. Deze folie is er in verschillende varianten en flock folie heeft een fluweel achtig laagje. Lees goed de gebruiksaanwijzing!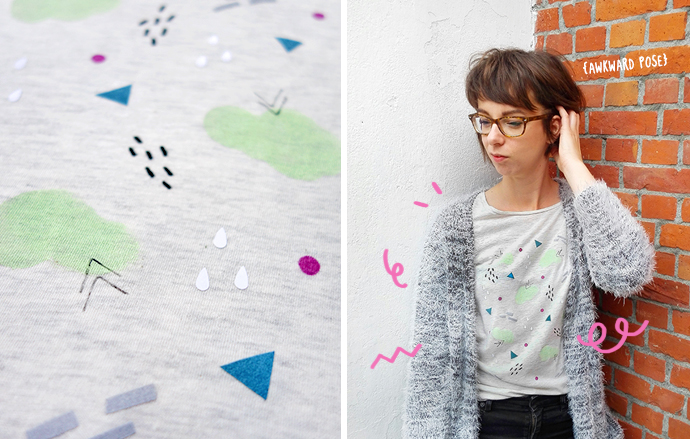 Fixeren
✂ Om je top zonder problemen te kunnen wassen, moet je de opdruk fixeren. Dit kun je als volgt doen: neem een schone theedoek en leg deze op de opdruk. Strijk op de katoen-stand (zonder stoom) +/- 2 minuten met goede druk over de inkt/folie. Keer dan de top binnenstebuiten en strijk nogmaals (zonder theedoek dit keer) over de inkt/folie, ongeveer 5 minuten. Als het goed is, kun je de top met bedrukking nu op 40 graden wassen. Lees wel goed de verschillende verpakkingen om te kijken hoe je de inkt kunt fixeren, dit kan nog wel eens verschillen.
Het eindresultaat
En zo is de D.I.Y. top met grafische print geworden. Leuk om zo te dragen maar ook tof met een vestje of jasje erover! Heb jij door deze D.I.Y. ook zin gekregen om je kledingkast in te duiken en een basic top, trui of t-shirt te upcyclen?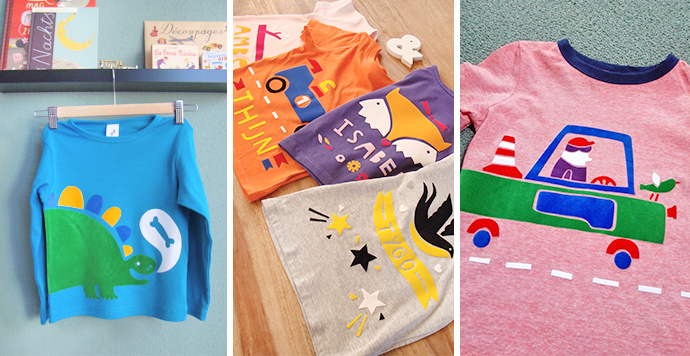 Zelf maak ik regelmatig baby/kindert-shirts in opdracht, met flock folie opdruk! Tof om te geven als kraamcadeautje in combinatie met de naam van de baby, een element uit het geboortekaartje of met een favoriete dier. Wil je meer informatie hierover stuur mij dan een mailtje!
♥♥♥
Ingrid Wuyster is illustrator / ontwerper en maakt veel moois onder de naam Teken-ing.
Eén keer in de vier weken blogt ze voor teamconfetti.nl.