Gastblog door Ingrid – Hoera, het is herfst! Nouja, bijna dan. Na een best mooie (na)zomer, worden de ochtenden kouder en verkleuren langzaam de blaadjes aan de bomen. Ik ga het gewoon hardop zeggen: ik ben écht een herfstmeisje en vind de zomer meestal maar niks (sorry not sorry). Daarom kon ik ook écht niet wachten om het zomerse bureaublad dat ik deze zomer voor Teamconfetti maakte, te vervangen door een herfstige variant, yay!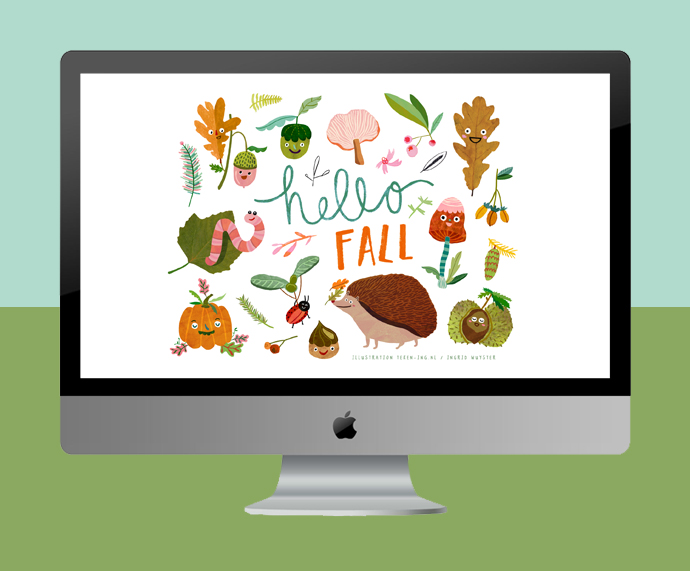 Speciaal voor alle Teamconfetti lezers maakte ik een nieuwe, herfstige desktop wallpaper met texturen van echte blaadjes. Zo kom je vast in de herfstmood en maakt het de overgang voor jullie misschien iets dragelijker. Lees snel verder om de wallpaper te downloaden en om te zien hoe ik de herfst beleef.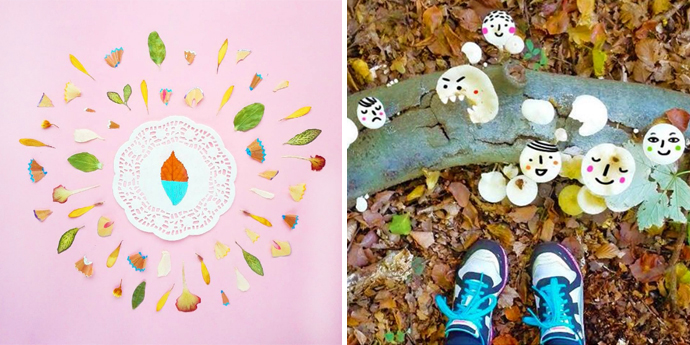 Het herfstseizoen staat voor mij altijd bol van inspiratie. Ik geniet volop van deze dagen met zon, blauwe luchten en het dragen van mijn vesten, laarsjes en dikke sjaals. Neem even de tijd om goed om je heen te kijken: er zijn in dit seizoen zoveel verschillende kleuren te vinden in de natuur. Helemaal met de zon erop is het zó mooi. Ik ga dan ook graag naar buiten om te lopen over de knisperende bladeren en om de geuren van de herfst op te snuiven, hmm!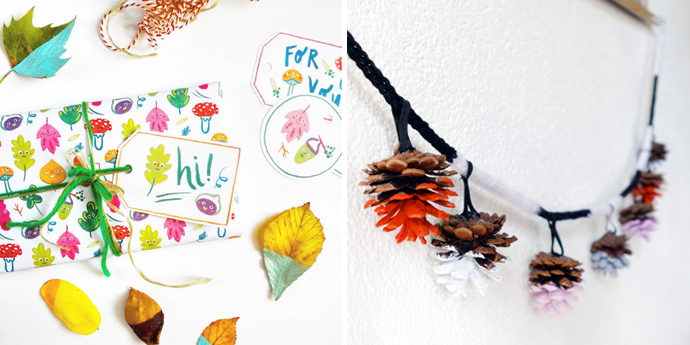 Vroeger hadden we op school of thuis allemaal wel een herfsttafel, weet je nog? Ik ben een echte verzamelaar en vaak zitten mijn jaszakken dan ook vol met bladeren, takjes, stukjes hout of alles wat ik maar mooi vind. Dat doe ik het hele jaar door maar in de herfst is er zoveel meer moois te vinden! Het idee van de herfsttafel is een beetje blijven hangen en hoewel ik niet mijn hele huis in herfstversiering hijs, bewaar ik wel graag al het moois dat ik vind. Ik maak er bijvoorbeeld tijdelijke collages van of leuke decoraties.
Ook in de illustraties die ik maak, gebruik ik veel elementen uit de natuur. De natuur om mij heen is dan ook één van mijn grootste inspiratiebronnen en in bijna in elke illustratie zie je dit terug.
Sinds een tijdje gebruik ik zelfs de mooiste blaadjes die ik vind in het bos of op straat, om mini schilderijtjes mee te maken. De bladeren droog ik in een bloemenpers en als ze helemaal klaar zijn, maak ik er lieve, kleine karaktertjes van. Ik beschilder de blaadjes en geef ze hun eigen identiteit. Wanneer ze klaar zijn, stop ik ze in een mooi vintage lijstje en zo worden het vrolijke kunstwerkjes voor aan de muur. Meer voorbeelden van de beschilderde blaadjes in mijn shop of hier.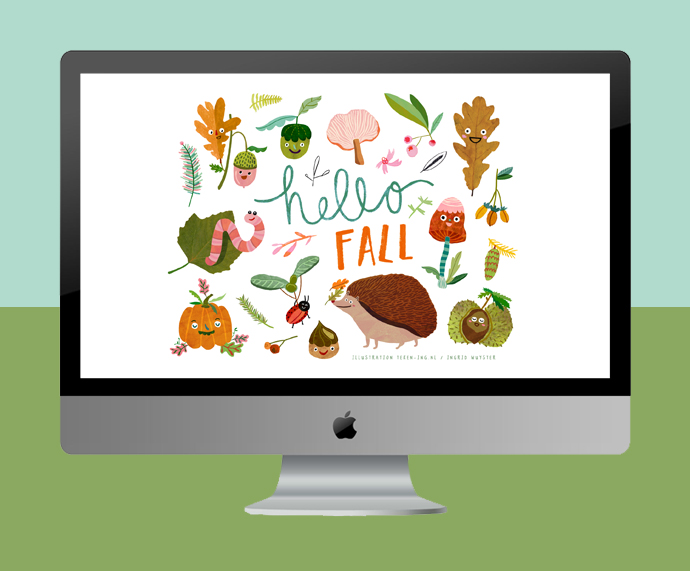 Om het idee van de herfsttafel en het verzamelen door te trekken naar het digitale tijdperk, heb ik voor jullie een gezellig en herfstig bureaublad gemaakt, vol leuke herfstbeestjes!
JE DOWNLOAD HET BUREAUBLAD HIER.
☂☂☂
Heb ik je met deze foto's en het herfstige bureaublad al een beetje enthousiast gemaakt voor het mooiste seizoen van het jaar? Ik hoop het wel! Geniet ervan.
♥♥♥
Ingrid Wuyster is illustrator / ontwerper en maakt veel moois onder de naam Teken-ing.
Eén keer in de vier weken blogt ze voor teamconfetti.nl.