When I was drinking a nice cup of chai tea, I thought it would be nice to make chai cake to go with it!
Een tijdje geleden kochten we bij Sostrene Grene chai thee van celestial seasonings. En die is heel erg lekker. En elke keer als ik hem dronk dacht ik: 'dit ruikt naar cake, ik zou hier cake van moeten maken, dat kan vast.' Op een gegeven moment werd de drang te groot en googelde ik chai cake en kwam ik uit bij dit recept. Ik paste hem aan aan mijn eigen wensen et voilà, chai cake!
En het fijne van deze cake is dat hij niet superzoet of supermachtig is. Dus kun je een tweede plakje nemen zonder misselijk te worden. Yesss.
Dit gaat er in de chai cake:
– 1 cup bloem (150 gr.)
– 1/2 cup suiker (75 gr.)
– 1/2 cup boter op kamertemperatuur (100 gr.)
– 2 biologische eieren (Dina vertelt waarom)
– 3 chai theezakjes
– 1/2 cup kokend water ( half koffiekopje)
– 1 1/2 theelepel bakpoeder
– 1 theelepel kaneel
– 6 kardemompeultjes
– 1/4 theelepel kruidnagelpoeder
– 1/4 theelpel nootmuskaat
– 1/4 theelepel gemberpoeder
– paar druppeltjes vanille extract
Chai cake ingredients:
– 1 cup of flower (150 gr.)
– 1/2 cup of sugar (75 gr.)
– 1/2 cup of butter (100 gr.)
– 2 eggs
– 3 chai tea bags
– 1/2 cup boiling water
– 1 1/2 tsp baking powder
– 1 tsp cinnamon
– 6 cardamom pods
– 1/4 tsp cloves powder
– 1/4 tsp nutmeg
– 1/4 tsp ginger powder
– a couple of drops of vanilla extract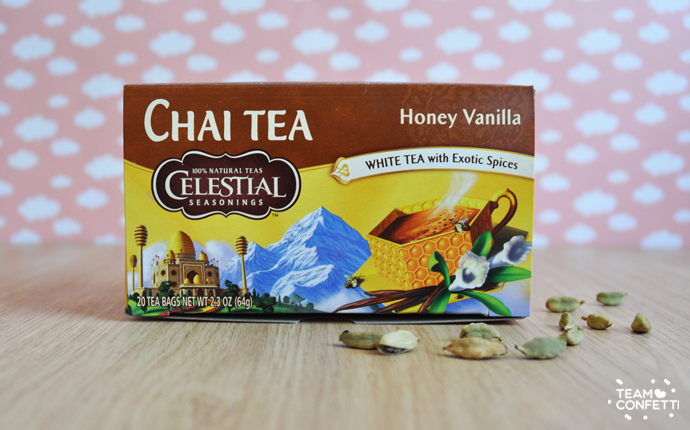 1. First things first. Haal de boter uit de koelkast zodat hij zacht kan worden, kook water en verwarm de oven voor op 180 graden.
2. Vul een half koffiekopje met heet water en prop daar de theezakjes en de kardemompeultjes in. Zet aan de kant voor later.
1. Preheat the oven at 180 degrees celcius. 2. Put the teabags and cardamom pods with the boiling water in a cup and set aside.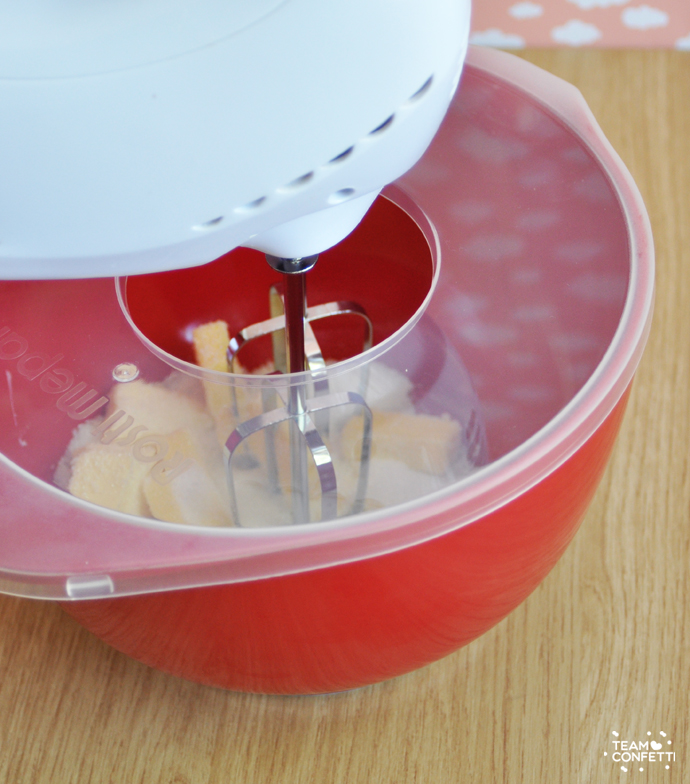 3. Doe de zachte boter en de suiker in een beslagkom en mix totdat het fluffy is. Check mijn nieuwste geniale keukenaanwinst! Het is een kom met een DEKSEL MET EEN GAT ERIN. En dus spat niet mijn hele beslag door de hele keuken en over mijn kleren. En dat was daarvoor dus altijd het geval. Ik snap niet hoe al die bakprinsesjes dat doen hoor, hun keuken netjes houden als ze mixen. Dit is vanaf nu mijn geheime wapen. :D
4. Voeg aan de beslagkom de eieren en de vanille toe. Ik houd niet zo van veel vanille, dus ik deed een druppeltje. Maar doe dit vooral naar eigen inzicht.
5. Doe als laatst de bloem, bakpoeder, alle kruiden en de thee erbij (zonder de theezakjes en kardemompeultjes). Mix mix mix totdat het eruit ziet als een fabulous beslag.
3. Mix the butter and sugar. 4. Add the eggs and the vanilla extract and mix again. 5. Finally add the flower, the water (without tea bags and pods) and the spices. Mix together.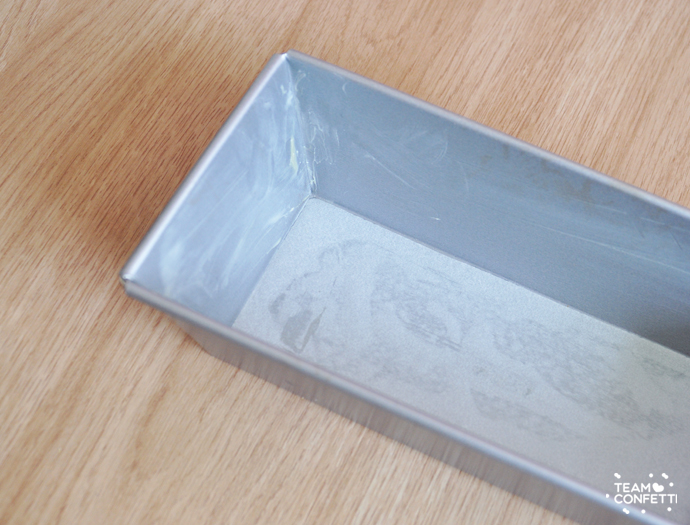 6. De eerste keer dat ik deze cake maakte, bleef hij aan de vorm plakken. Nog steeds lekker, maar minder mooi. Ik had deze keer dus goed met boter ingesmeerd en een velletje bakpapier op de bodem neergelegd. Heb ik toch nog iets geleerd van al die seizoenen Materchef en Great British Bake off die ik ge-binge watched heb…
7. Doe het beslag in de vorm en schuif in de over. Wacht 40 minuten en PING! Cake is klaar!
6. Grease the baking tray with butter and put a piece of baking parchment on the bottom. 7. Put the batter in the pan and bake for 40 minutes.
Kopje chai thee erbij voor de full experience en smullen maar!
***
Mocht iemand het zich nog afvragen, de geniale beslagkom voor keukendummies komt uit de servieslijn van Rosti Mepal, kost €14.95 en kun je hier vinden.