De nieuwe catalogus van Ikea is weer uit! Dat is elk jaar weer een feestje. Niet alleen omdat ik sinds een paar jaar de lancering bij mag wonen, maar ook omdat Ikea zoveel inspirerende ideeën heeft voor het fijner en écht handiger maken / indelen van je huis. Kijk dus mee naar de slimme ideeën en nieuwe ontwerpen van Ikea!
Nieuw (in de vaste collectie).
Hierboven staan een paar van de producten die je terugvindt in de nieuwe catalogus en die dus nu al in de winkels liggen. Persoonlijke favorieten zijn het vloerkleed voor buiten én de superschattige nachtlampjes. Ons balkon is te klein en ons bed is niet geschikt voor die spullen, maar misschien vind ik nog wel een ander plekje voor ze…
Nieuw (in de keukencollectie).
Wij zijn de trotse eigenaar van een (redelijk) nieuwe Ikea keuken en dus zijn we niet bepaald in de markt voor nóg een nieuwe (oh I wish). Ik vind de groene kleur van de kastjes écht heel mooi namelijk, om maar niet te zwijgen van het visgraat motief op bovenstaand aanrechtblad. O wat verschrikkelijk mooi. Waar ik wél iets aan heb is de fantastische keuken-lade-opruim-inspiratie op foto twee. Ik ga daar dus echt heel hard van kwijlen.
KRYDDAD
Een hele mooie herfstige collectie met natuurlijke materialen en patronen in antraciet grijs. Van die producten waar je 'lekker aan wil voelen'. Het is me niet helemaal duidelijk wanneer deze producten in de winkels komen (ik kon op de Ikea website nog niks vinden) maar het kan nooit lang duren want in mijn goodie bag van de Ikea catalogus lancering zaten de twee prachtige rieten mandjes die je hierboven op de tafel ziet staan.
SLADDA fiets.
Hij is er hoor! De eerste Ikea fiets! Volgens de directrice van Ikea Nederland betekent SLADDA 'een hele coole slip maken met je fiets', iets waar zijzelf niet meer mee wegkwam grapte ze. Alhoewel ik het stuur van de fiets maar zo-zo vind (ik ben meer een opoe-fietsstuur-kinda-girl), ben ik groot fan van alle accessoires (de bagagedrager, het fietsmandje en natúúrlijk het karretje). Ik hoop trouwens wel dat je 't ding niet zelf nog in elkaar hoeft te zetten…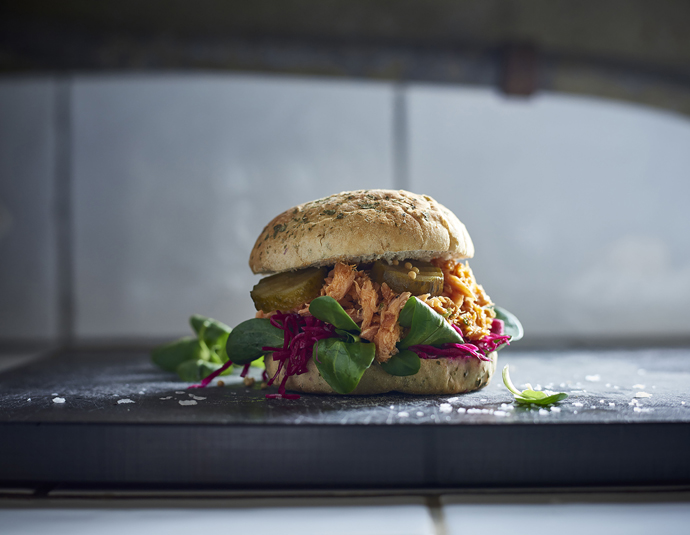 Pulled salmon burger.
Je kunt er niks in opbergen of op zitten, maar het is wel een heel leuk nieuw product bij Ikea. Tijdens de persdag werd deze badboy geserveerd en in het Ikea restaurant bij ons in Groningen smaakte hij bíjna net zo lekker. Je moet even door het celloofaantje heenkijken waarmee hij verpakt in de koelitrine ligt. Dat deed Tom ook (hij was eerst heel sceptisch) maar heeft hem na één hap al een dikke thumbs up gegeven. Portie frietjes erbij en je hebt een heerlijk budgetvriendelijk avondmaaltje. Oh zo fijn dat we om de hoek bij Ikea wonen!
♥ ♥ ♥
Naast bovenstaande producten is er nog véél meer nieuws. Die kun je online vinden, in de catalogus of gewoon in de winkel zelf.