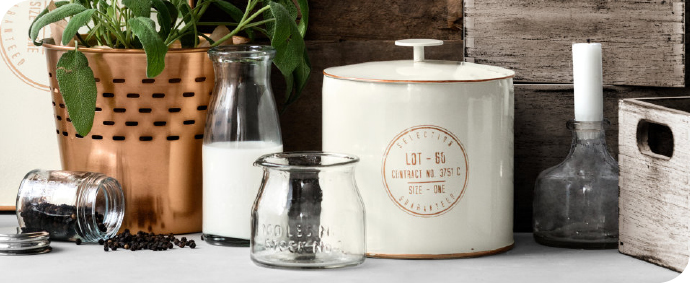 I love the new Home collection by H&M, they incorporated alle the big trends I like.
Het was alweer even geleden dat ik een kijkje nam bij de Home afdeling van H&M. De vorige keer zag ik een hoop leuke spulletjes, maar hing er nog een beetje een tienerkamersfeer. En dat is nu echt anders. H&M Home doet mee met trends als grote prints, okergeel, geometrische vormen, koper en chevron. Ik heb soms moeite met selecteren en daarom laat ik gewoon alles zien, hihi.
Niet alles wat je ziet op de foto's is te koop bij H&M. Het zijn vooral de accessoires, niet de grotere meubelen zoals tafels, stoelen of bedden.
Only the accessories are for sale at H&M, the furniture is not part of the collection.
Green and copper.
Frisse, natuurlijke kleuren met een beetje koper on the side. Ik heb bijna geen groen in mijn huis meer, dus bij mij zal het niet passen. Ik was ooit geobsedeerd door groen in de slaapkamer (zo lekker fris wakker worden, alsof het elke dag lente is). Maar ik ben er een beetje overheen gegroeid. Ik vind groen en koper wel een hele mooie combinatie!
Soft colors.
Er zijn ook een heleboel zachte pasteltinten te vinden. Rustig, fris en romantisch.
Yellow accents.
Ik vind geel als accentkleur echt ontzettend mooi. Er zijn kussens, bakjes, dekentjes, handdoeken en tafelkleedjes in oker- en zonnetjesgeel.
I love the rug with soutwestprint and the big white jar with copper accents.
Ik ben licht geobsedeerd door het vloerkleedje met southwestprint en de grote witte pot met koperen accenten. Ik ben alleen bang dat het kleedje net iets te klein is voor onder onze sallontafel en ik weet niet wat ik in die witte pot zou moeten stoppen… Moeilijk, moeilijk…
Heb jij nog iets leuks gezien? Ik zag toevallig op de website dat je met de kortingscode 1286 tot en met 02-03-2014 10% korting krijgt EN gratis verzending.
***
Happy shopping!