Today I'm going to show you a nail art that's super easy!
Deze week maakte ik een nailart die ontzettend makkelijk is, een beetje slordig mag en waar je geen ingewikkelde tools voor nodig hebt!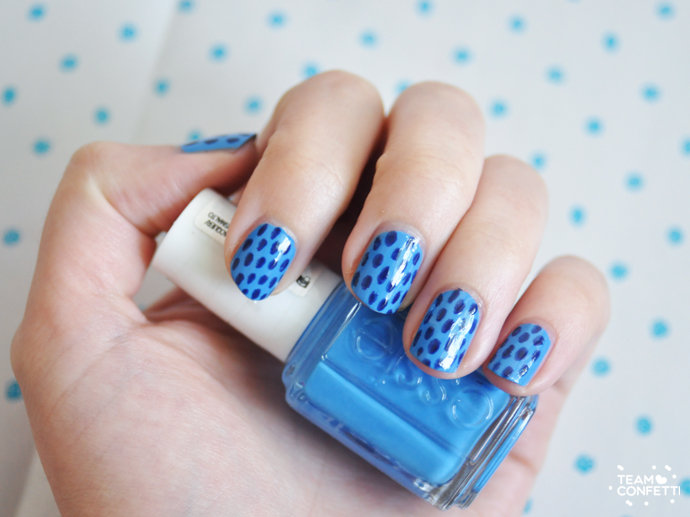 Essie Avenue Maintain.
Voor deze nailart heb je twee tinten van dezelfde kleur nodig. Ik ging voor lichtblauw en donkerblauw. De lichtblauwe kleur is Avenue Maintain van Essie. Dit is een van mijn favoriete nagellakjes geworden. Hij dekt heel goed in twee laagjes en de kleur blauw staat mooi bij mijn huidskleur.
NYC A Suitcase And A Donut.
De donkerblauw is A Suitcase And A Donut van NYC. Waar je op moet letten bij de donkere kleur, is dat het kwastje recht afgesneden is. Voor het lakken van mijn nagels vind ik het het fijnst als het kwastje rond afgesneden is, dat gaat mooi mee in de ronding van je nagels (de kwastjes van Essie zijn rond afgesneden). Maar in dit geval is recht afgesneden het makkelijkst.
Strijk het kwastje goed af en maak kleine stempeltjes met het kwastje door het lichtjes en rechtop op je nagel te drukken. Helemaal netjes gaat dit waarschijnlijk niet, maar dat is helemaal niet erg. Als die scheve streepjes bij elkaar zien er superleuk uit!
Ik vind het resultaat speels en vrolijk en het maken is ook leuk. Win win nagel look!
***
Essie nagellakken kosten €9,99 en zijn verkrijgbaar bij de meeste filialen van Etos en DA.
NYC nagellakjes kosten €2,99 en zijn verkrijgbaar bij Kruidvat.
***
Wat draag jij op je nagels vandaag?
What are you wearing today?