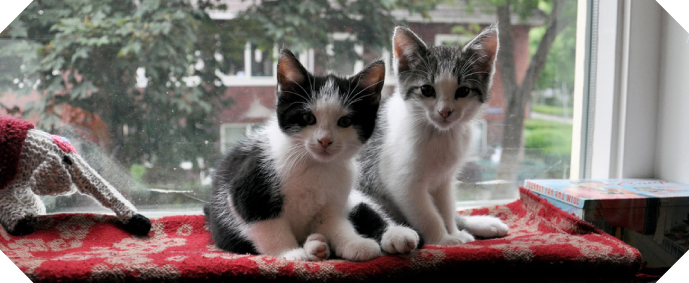 Eindelijk was het zover! We hebben jonge poesjes! Tom en ik willen stiekem al 5 jaar een kat, maar onze huurbazen hebben het nooit toegelaten. Nu we een eigen huis hebben konden we eindelijk een stel harige vriendjes in huis halen. Omdat we niet altijd thuis zijn, wilden we er graag twee. En omdat de meeste katten niet in een setje komen, besloten we twee kittens te nemen. De hele winter hebben we met smart gewacht, we stonden bovenaan de wachtlijst van het asiel. En twee weken geleden was het dan eindelijk zover, Tetkees en Mo kwamen bij ons wonen!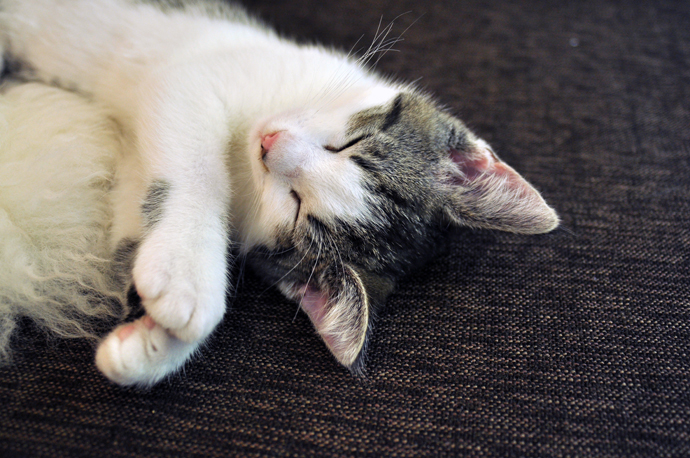 Allereerst zal ik even de namen van deze twee bengels uit leggen. De grijs-witte kater heet Tetkees en is vernoemd naar de hoofdpersoon uit het kinderboek 'Tetkees zoekt een baby'.
De zwart-witte kater heet Mo. Dat komt omdat vrienden van ons een paar straten verderop wonen en ook een zwart-witte poes hebben die Fatima heet. En van het een kwam het ander.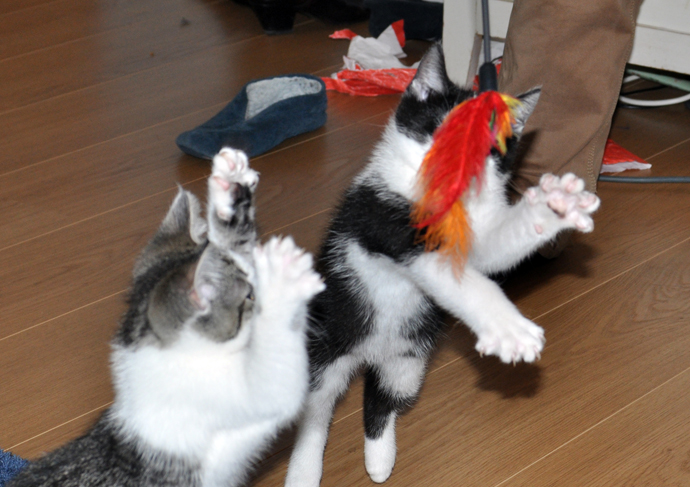 De poesjes zijn nu 2 weken bij ons in huis en ze doen het heel erg goed. Ze eten steeds meer en zijn inmiddels overal op hun gemak. Ze schrikken niet meer van: nieuwe mensen, de blender, de wc, de kookwekker en de douche. De stofzuiger is een paar keer aan geweest, is niet doodeng maar wel errrg spannend. Ze racen 's avonds flink de trappen op en neer en liggen daarbij rollebollend over de grond.
Ze hebben besloten dat de vensterbank in de hoek bij de bank hun vaste slaapplek is. Het is er lekker warm, ze kunnen naar buiten kijken en zijn binnen aai-bereik.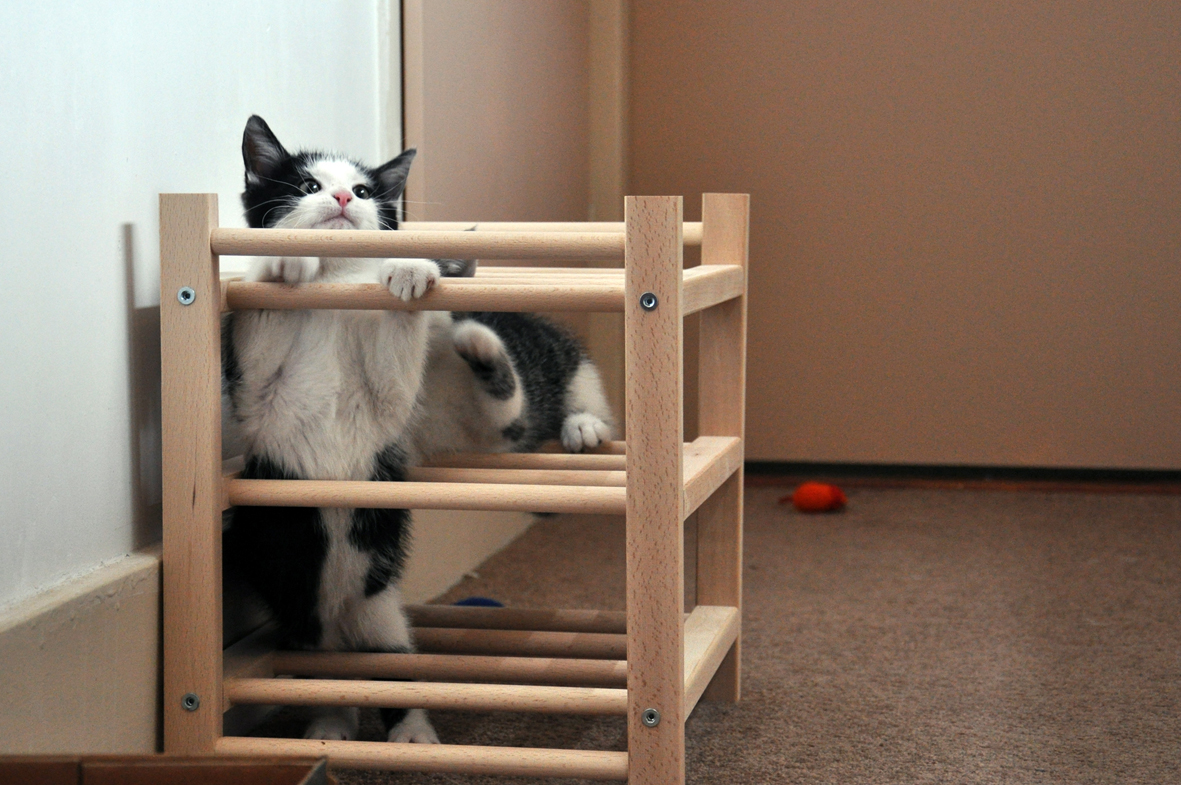 In de gang vinden ze het leuk om een wijnrek als klimrek te gebruiken. Dit is een supertip als je toevallig ook net jonge poesjes hebt of het nog van plan bent. Het is een wijnrek van €5,- van de Ikea. Gooi er een speeltje in en zijn uren in de weer.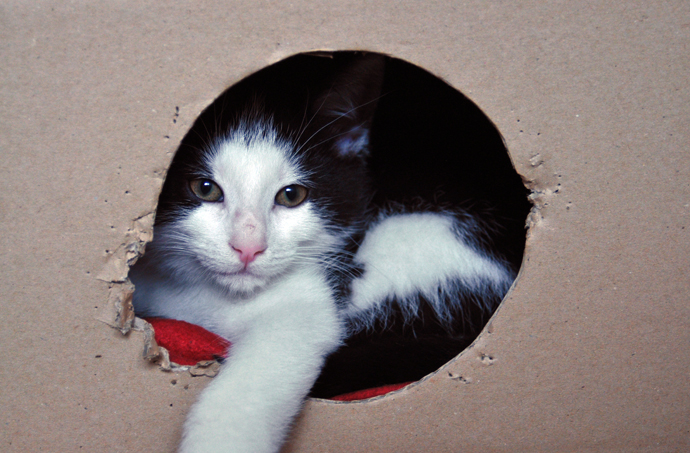 Ze mogen ons graag en worden graag geaaid. Op schoot is er nog niet bij, ze liggen veel naast ons op de bank, in een schoenendoos of in de vensterbank. Dit is een doosje waarin ooit een poezencadeautje is opgestuurd. En ja, ze vinden het doosje leuker dan het cadeautje wat erin zat… (Cadeautje was ook heel leuk hoor!)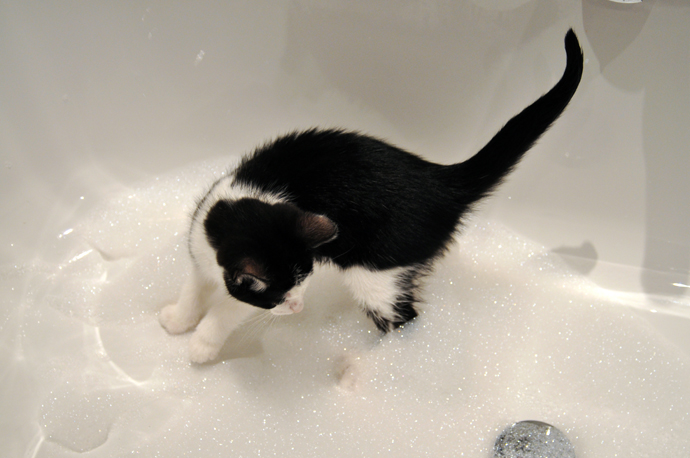 Mo is heel nieuwsgierig het bad ingegleden toen het bad leeg was gelopen maar er nog een hele hoop schuim in lag.
Dat was het voor deze eerste update. De komende weken zal ik jullie op de hoogte houden van het wel een wee van onze nieuwe poezenvriendjes. Zijn er nog meer mensen met jonge poesjes?