Jongens, ik ben on fire. Na jarenlang klussen (en vooral veel kluspauzes) ben ik erop gebrand om onze woonkamer eens echt af te krijgen. Eergisteren liet ik al zien hoe netjes ons tvhoekje is geworden (het bankhanggedeelte is coming soon) en omdat ik veel plannen had voor onze eethoek, besloot ik Photoshop in te duiken om te kijken hoe het zou staan…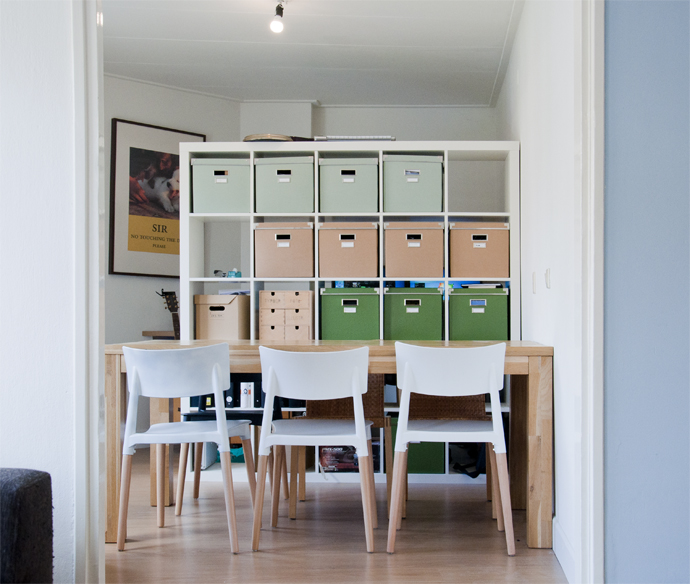 Dit is hoe onze eethoek er nu uitziet. En ik zal je eerlijk verklappen, we zitten er niet vaak. En niet alleen omdat we graag op de bank eten (yes, yes, we zijn echt couch-potatoes). Het is er gewoon niet zo gezellig. De kast staat vol met dozen waarvan we van de helft niet eens weten wat erin zit en de tafel is veel te groot voor de ruimte. Tenslotte hangt er al jaren een zielig peertje omdat we een hekel hebben aan lampen ophangen. Ahum. Tijd voor verandering:
Ten eerste heb ik er een kleinere tafel ingeshopt. Nog twee stoelen aan de overkant moet je er even bij fantaseren. Voor een deel van de kast zitten nu deurtjes, die kun je blijkbaar los kopen bij IKEA (serie heet Kallax, ze hebben ook losse lades). De deurtjes wil ik heel simpel diagonaal grijs schilderen. Op deze manier lijkt het een heel ander meubelstuk!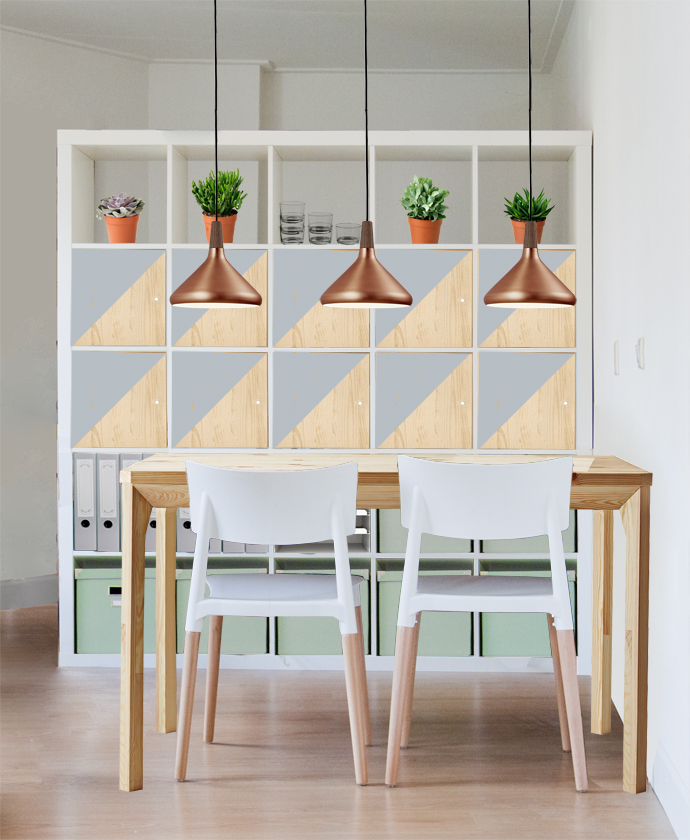 Even een close-up hoor. Ik ben er een hele middag mee bezig geweest, dus dan mogen jullie de details best wat beter bekijken. De bovenste rij vakjes heb ik opengelaten voor mooie dingen. Er staan nu plantjes en glazen, maar er kan ook een mooie vaas komen te staan of een toffe kringloopvondst. Helemaal onderin een rij van dezelfde mappen (in plaats van al die verschillende, zoals je op de eerste foto kan zien) en toch nog een paar van dezelfde dozen om reserve lampen, slippers en 'random stuff' (spul wat echt geen eigen plekje heeft) in te stoppen en die makkelijk te pakken zijn omdat ze helemaal onderaan staan.
Ten slotte heeft het zielige peertje EINDELIJK plaats gemaakt voor echt grote-mensen-lampen die alles veel gezelliger maken. Ze hebben een warme kleur (hallo kopertrend) en een stukje hout, wat bij de rest past. Ik vond de lampen in de webshop van Otto, waar een hele serie van deze lampen te vinden is. In toffe moderne vormen en in verschillende kleuren. Het merk is Nordlux, je kunt alle verschillende modellen hier vinden.
♥♥♥
Meestal maak ik meerdere schetsen, maar omdat ik vrij duidelijk in mijn hoofd had wat ik wilde, heb ik het er bij eentje gelaten. Maar toch fijn dat ik nu weet dat de ideeën die ik had, best goed werken in deze ruimte, yay! Uiteraard, als jullie ook nog ideeën hebben of tips, please let me know!