Ik ga heel erg vaak alleen naar de bioscoop. Want dat is echt zo'n activiteit waar je géén gezelschap voor nodig hebt. Maar blijkbaar denkt niet iedereen er zo over. Want ik krijg erg vaak de vraag of 'dat niet gek of heel spannend is?' En dat veel mensen het zelf niet durven, maar wel zouden willen. Welnu, vandaag deel ik een foolproof in-je-eentje-naar-de-bios-checklist waar zelfs de allergrootste angsthaas mee uit de voeten kan.
STAP 1: KIES EEN FILM
Kies een film uit die je heel graag wil zien, maar waar niemand anders die je kent, trek in heeft. Want ze hebben geen tijd/zin of delen jouw smaak gewoon niet. Of het is een guilty pleasure en je hebt niet eens zín om naar een date te zoeken. Dit zijn de beste films om voor het eerst alleen naartoe te gaan. Blijf op de hoogte van films door je te abonneren op de nieuwsbrief van jouw favoriete bioscoop. In mijn geval is dat het Filmhuis in Groningen: Groninger Forum. Zij hebben een fijne nieuwsbrief waar ze in het kort films die die week in première gaan, beschrijven. Je kunt vanuit de nieuwsbrief meteen naar de trailer klikken en bepalen of het iets voor je is. Zet de film in je agenda (in Groningen hebben films op première-donderdag altijd 50% korting) wanneer je van plan bent te gaan.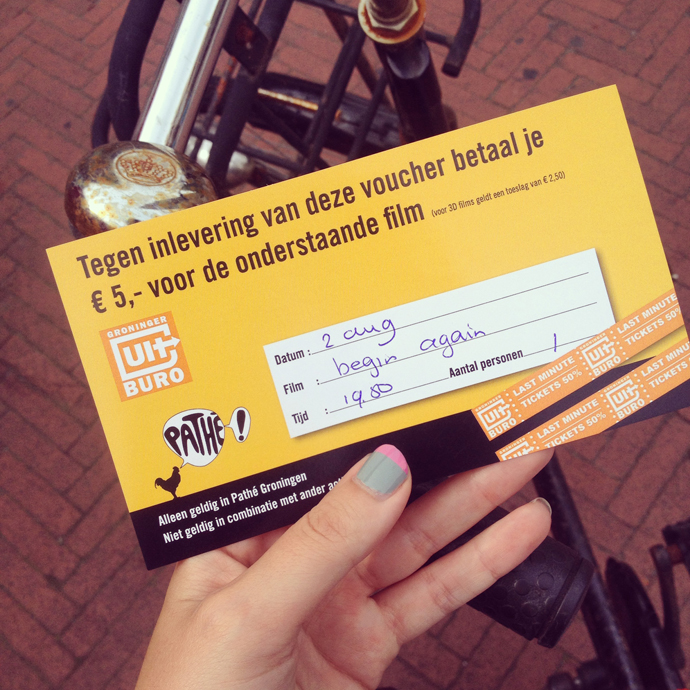 STAP 2: KOOP EEN KAARTJE
Bij veel bioscopen kun je online alvast een kaartje kopen. Heel erg fijn, want dan kun je deze vraag van de gemiddelde balie-medewerkster ontwijken: 'Maar één kaartje? Echt waar?!' Én je hoeft niet in de rij te staan. Én je loopt niet de kans voor Jan Lul naar de bioscoop te gaan terwijl de film al is uitverkocht. Het grote voordeel voor de angsthaas is vooral: nu móét je wel gaan. Want je hebt al betaald en ons zuinige Nederlandse hart is altijd sterker dan onze bioscoop-vrees. Toch?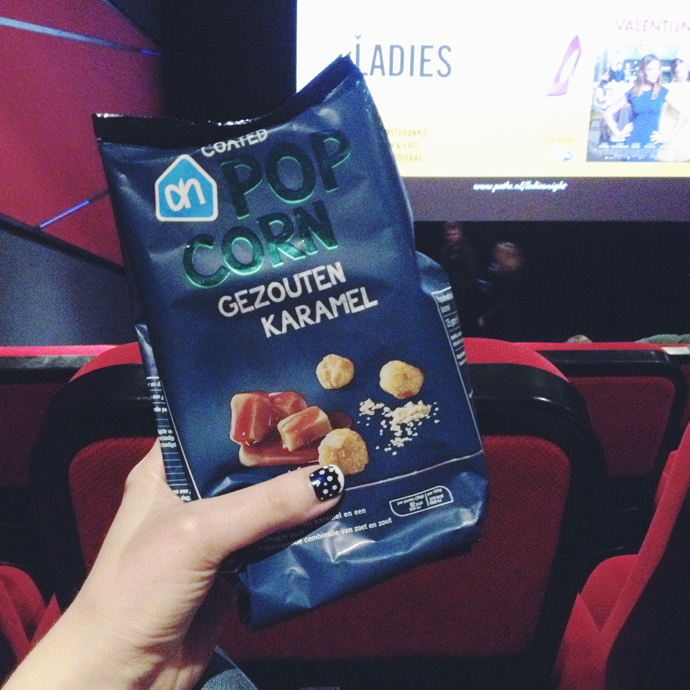 STAP 3: HAAL VAN TEVOREN SNACKS DIE GEEN GELUID MAKEN
Je kunt snacks halen bij de bioscoop. Dat kún je doen. Maar dat is echt niet slim. Daar hebben ze vooral oude saaie popcorn dat een rib uit je lijf kost. Fiets dus als je naar de bioscoop gaat, even langs de supermarkt. Ga voor verpakkingen die niet kraken en flesjes drinken die je weer dicht kunt doen. Als einzelgänger in de bioscoop wil je liever niet ontzettend opvallen met luidruchtige zakken ships en omgevallen blikjes drinken. Wij zijn ninja's waar niemand iets van merkt. Kraakt je zakje wel? Maak hem dan alvast open voordat de film begint en positioneer hem zo dat je zonder geluid te maken, goed kunt graaien. O en houd je niet in, je bent in je eentje en er is dus niemand die je fronzend aankijkt als je popcorn bedekt met caramel én chocolade neemt.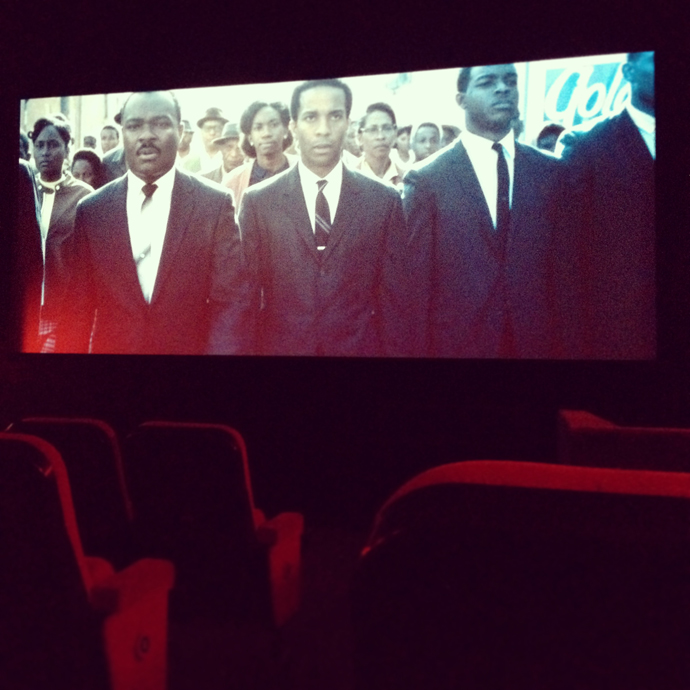 STAP 4: NEEM TISSUES MEE
Je weet maar nooit, die stoere actiefilm kan opeens eindigen in een tearjerker en dan zit je niet met een mascara-hoofd als de lampen in de zaal weer aan gaan. Come prepared.
STAP 5: KOM PRECIES OP TIJD
Aangezien je je kaartje al online hebt gekocht en op niemand hoeft te wachten, kun je gewoon vijf minuten voor de film begint, aan komen kakken. Zo zit je niet een kwartier in het volle licht angstig de zaal in te koekeloeren en aangezien je alleen bent, pas je altijd nog wel ergens tussen. Ik heb dan ook geen genade voor groepjes van vijf man die één minuut voordat de film begint moeilijk de zaal in kijken, op zoek naar vijf stoelen naast elkaar. Dat wordt apart zitten jongens, hadden jullie maar eerder moeten komen (ik ben al een echt bioscoop-badass geworden volgens mij).
STAP 6: KIES EEN ZITPLEK
Vaak kan dit tijdens het online kaartjes kopen al, maar niet altijd. Als je alleen bent, is het niet zo leuk om tussen groepjes mensen ingepropt te zitten die zitten te kleffen of te fluisteren. Kies daarom de plek naast het gangpad (links of rechts, maakt niet uit). Dan heb je wat meer bewegingsvrijheid en in ieder geval privacy aan één kant. Daar kun je ook je tas en je snacks kwijt. Daar is er ook bijna altijd nog wel eentje van vrij, want iedereen wil in het midden zitten.
STAP 7: DOE JE SCHOENEN UIT (optioneel en voor gevorderden)
Doe alsof je thuis bent. Het is donker en niemand weet wie je bent. Omdat ik niet zo groot ben, kan ik lekker wegkruipen in die grote bioscoopstoelen. Maar let op! Heb je het idee dat de film bijna is afgelopen? Doe dan stiekem je schoentjes weer aan en niemand heeft iets gemerkt. Oh en als je stinkvoeten hebt, dan gaat dit feest niet door.
♥♥♥
En zo, dames en heren, is hoe ik dat doe, alleen naar de bioscoop gaan.
De eerste keer is een beetje gek, maar daarna wil je niet meer anders, heus waar.
En? Wie gaat ervoor? Make this confetti mama proud!