Gastblog door Ingrid  – Terwijl ik dit schrijf, ben ik deze week al 3x zonder jas naar buiten geweest, heb ik mijn zonnebril opgevist uit een vergeten tas en is mijn neus al licht verbrand (de zonnebrand zit waarschijnlijk ook ergens onder in die tas…). Ik kondigde het in mijn vorige blog al aan: LENTE! Voor als je het nog niet door had: ik ben lyrisch over dit seizoen. Dus ook deze keer weer een blog over fris lente groen, sorry not sorry! Vandaag deel ik mijn tips om planten (langer) in leven te houden + een gratis printable plantlabel.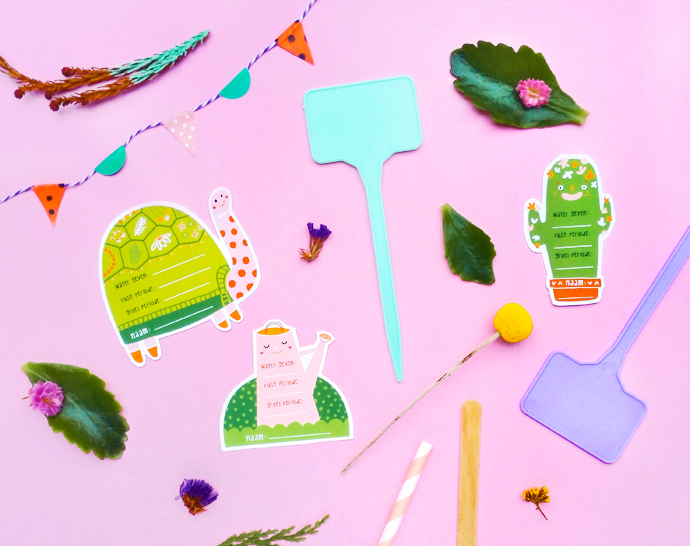 Als je mij al wat langer volgt dan weet je dat ik mij in mijn illustraties vaak laat inspireren door de natuur, planten en bloemen. Helaas heb ik zelf geen tuin maar wel heb ik hoop planten in huis waar ik super blij van word én inspiratie van krijg.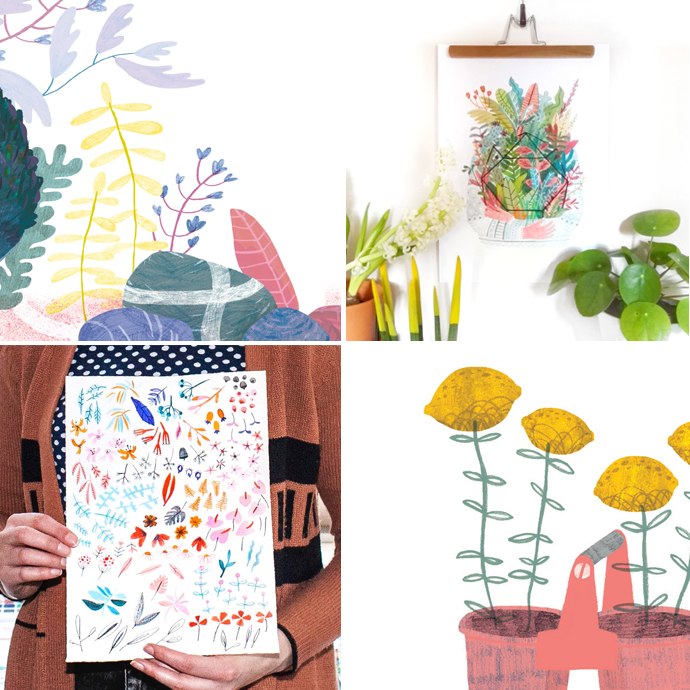 Die lente dus, I love it. Ik ben zelf erg gevoelig voor dag/zonlicht en ik voel mij gelijk 100% beter, energieker en vrolijker als ik blauwe luchten zie. En ook mijn kamerplanten houden van een stevige dosis lichttherapie. In de winter gaan er bij mij vaak een paar planten (of delen van planten) dood. Niet omdat ik mijn baby's niet goed verzorg (ik ben een heuse planten-mama) maar vooral omdat ze niet genoeg licht krijgen door het grijze weer. Nu het voorjaar weer aanbreekt zie ik alle planten uit hun winterslaap komen en krijgt iedereen zin om weer groen en kleur in huis te halen. Daarom verklap ik hierbij een paar van mijn 'geheimen' waardoor planten het bij mij vaak lang uithouden *eigen-huis-en-tuin muziekje*.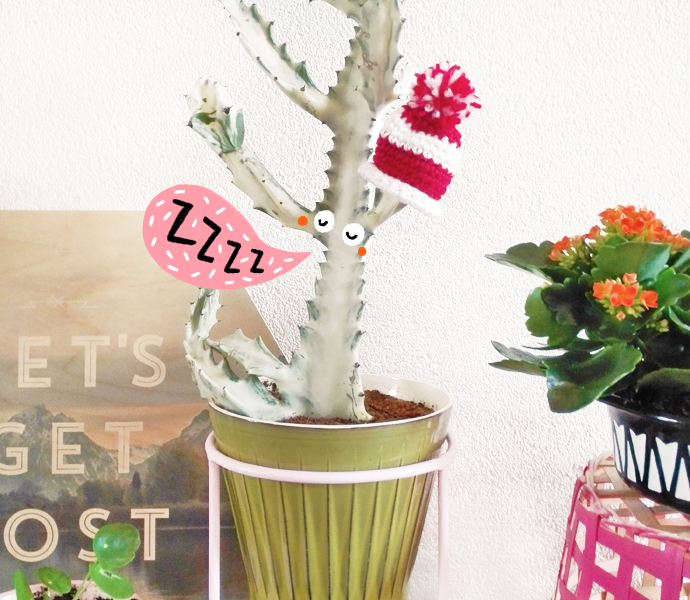 ☂ Water geven ☂
De meeste planten houden er niet van als je in één keer een emmer koud water in hun nek gooit. Want eigenlijk is dat wat je doet als je het water giet direct op de stam van de plant, brr. Deze methode is wel lekker makkelijk maar planten hebben ook feelings (echt!). Een plant drinkt liever graag zélf. Mijn manier om water te geven kost iets meer tijd maar werkt bij mij heel goed! Mijn planten gaan eens in de zoveel tijd 'in bad'. Ik vul een teiltje met lauwwarm water, genoeg zodat de planten net onder kunnen staan. Vervolgens haal ik ze één voor één uit hun pot en dompel de kluit (met binnen pot) helemaal onder water. Door het onderdompelen van de kluit in het water ontstaan er luchtbelletjes. Wanneer de luchtbelletjes bijna of helemaal zijn verdwenen weet ik dat de plant (ongeveer) genoeg water op heeft genomen en haal ik de plant weer uit het water. Ik laat 'm goed uitlekken en zet 'm dan weer terug in zijn pot. Het fijnst is het dus als je je planten in een binnen pot laat zitten zodat je 'm makkelijk kan onderdompelen. Natuurlijk is het afhankelijk van je plant hoe vaak deze water nodig heeft (kijk op het kaartje bij aankoop en anders google knows best).
☂ ☂ ☂ Sommige planten vinden het fijn om hun blad af en toe af gesproeid te krijgen. Bespuit dus je plant af en toe met de plantenspuit (niet te nat, beetje ernevelen). 
✿ Groei- bloei- en rustperiode ✿ 
Soms lijkt het alsof je geliefde plantje maar niet wil groeien ondanks dat je lieve woordjes fluistert en goed water geeft. Ook ik heb wel eens een plant in de prullenbak gegooid omdat ik dacht dat het nooit meer iets zou worden (sssst). Tot ik er achter kwam dat bijna alle planten een groei-, bloei- én rustperiode hebben. Dit houdt in dat ze niet altijd even hard zullen groeien en ook dat ze niet altijd even veel/vaak water nodig hebben. In een rustperiode verbruiken ze minder energie omdat er weinig groeit en dus hebben ze dan ook niet zoveel water nodig (anders komen ze te nat te staan). In de groei- en bloeiperiode hebben ze juist wél wat extra's nodig om te kunnen groeien en bloeien! Ook deze periodes verschillen per plant maar als je het eenmaal door hebt dan zul je zien dat het echt zo is.
✿ ✿ ✿ Cactussen hebben bijvoorbeeld in de wintermaanden haast geen water nodig want dat is hun rustperiode. Tijdens de groeiperiode is 1x per maand water geven eigenlijk al voldoende.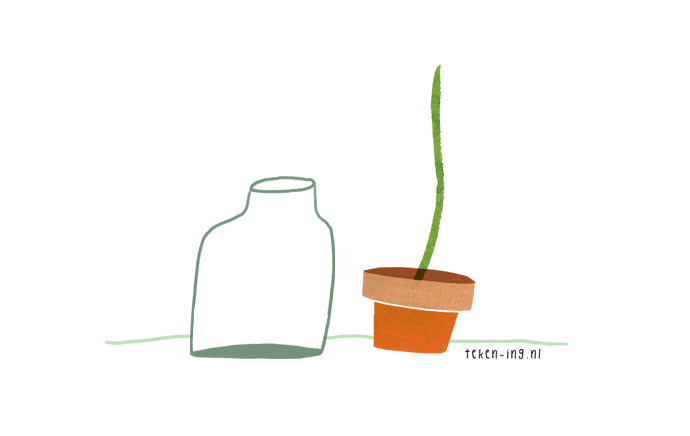 ☺Voeding en verpotten☺
Plantenvoeding, de één zweert erbij, ik niet. Ik heb het een paar keer geprobeerd maar mijn planten gaan er alleen maar dood van (ik doe vast iets fout). De voeding van de plant zit normaal gesproken genoeg in de aarde waar hij in staat. Maar omdat de aarde in een pot niet natuurlijk wordt bemest, is de voeding in de aarde op een gegeven moment op en daarom kun je inderdaad om de zoveel weken de plant nieuwe voeding geven. Wat ook kan helpen is om 1x in de zoveel tijd je plant weer eens verse aarde te geven en om 'm eventueel gelijk te verpotten naar een grotere pot. Dit kan allebei enorm helpen om de plant weer een nieuwe groeiboost te geven.
☺ ☺ ☺ Gebruik de juiste aarde voor je plant, er zijn namelijk verschillende soorten aarde beschikbaar (speciaal voor kamerplanten, voor buitenplanten, voor cactussen etc.) 
❦ Plukken ❦
Wanneer je plant heeft besloten om bladeren of bloemen af te stoten, don't worry. Als delen dood of dor zijn of er uit zien alsof ze niet meer zullen reviven, haal ze dan weg. Er blijft altijd een beetje energie naar deze delen toe gaan en die energie kan de plant dan beter gebruiken om te steken in de gezonde delen of het maken van nieuwe delen. Vaak loop ik 's ochtends even een rondje langs de planten om te checken of er blaadjes of bloemen zijn die ik weg kan halen. Dit houdt je plant gezond en het is tegelijkertijd lekker therapeutisch om in de aarde te wroeten en dingen weg te plukken (call me crazy).
❦ ❦ ❦ Tip: delen die je eventueel nog wel kunt redden kun je proberen te stekken! Door het in het water te zetten groeien er misschien weer nieuwe wortels en bladeren aan.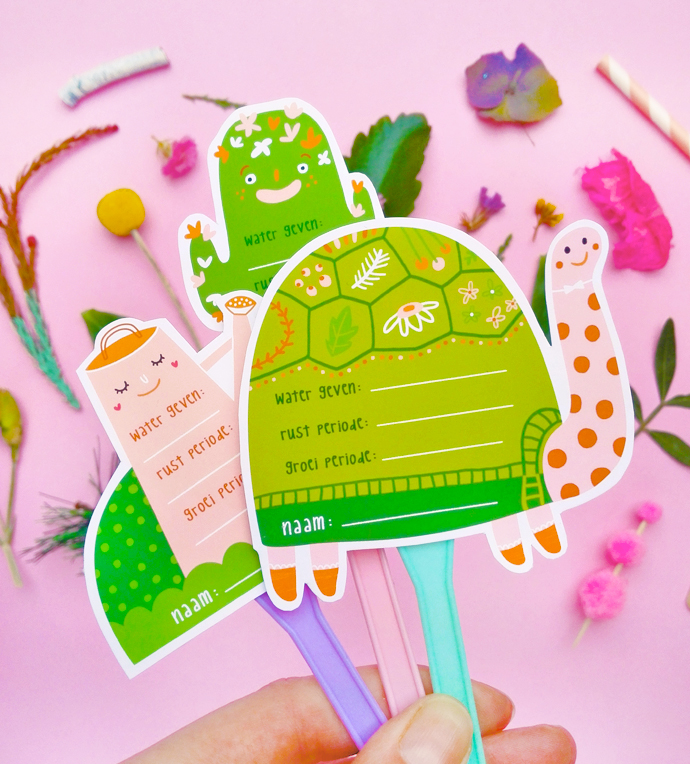 Ik hoop dat deze tips een beetje extra zullen helpen om je planten in leven te houden. Als geheugensteuntje voor de verzorging van je planten, heb ik een handige plantenlabel gemaakt die je kunt invullen en bij je plant kunt steken. Zo heb je alle informatie altijd binnen handbereik.
✿ download de printable hier ✿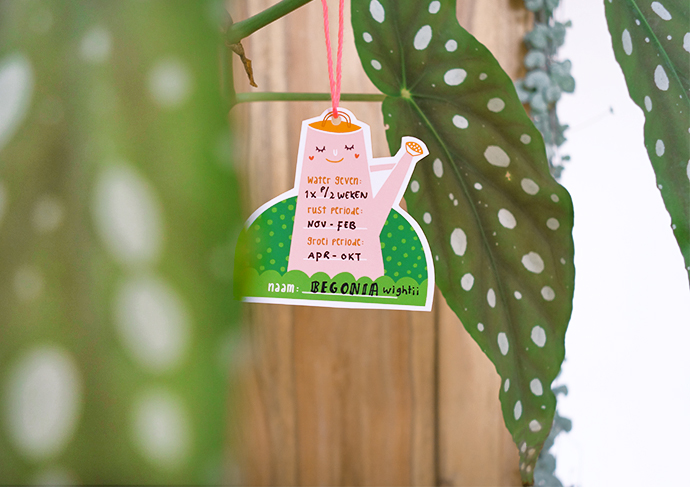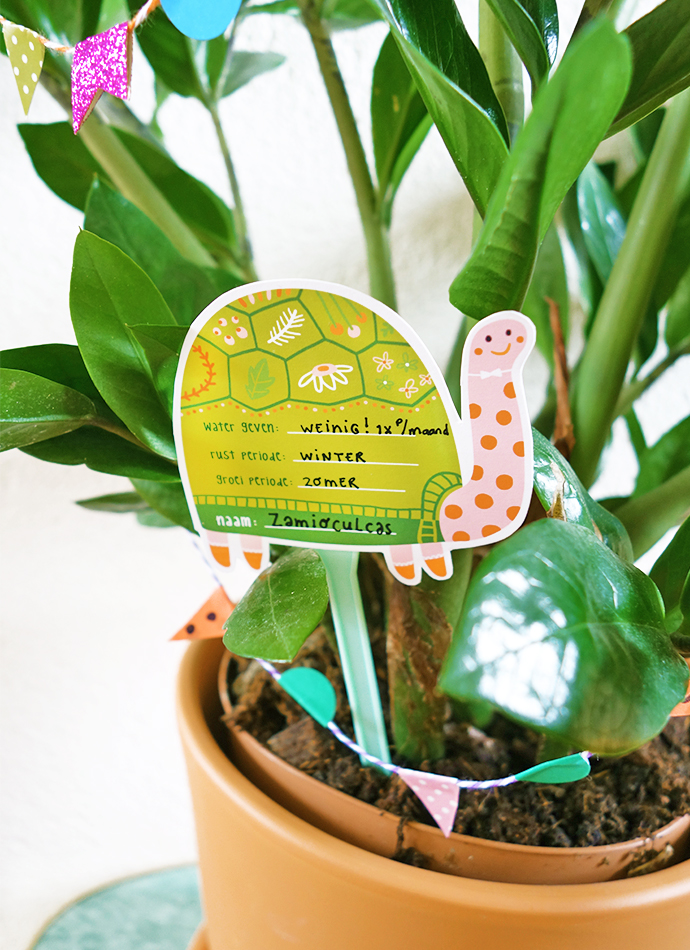 ✄ Print het label uit (bij voorkeur op dikker papier en/of plak het op karton).
✄ Vul de informatie in op het label (per plant).
✄ Lamineer het plantlabel eventueel voor extra stevigheid en bescherming tegen water
✄ Plak het label op een satéprikker, een ijsstokje of een rietje en steek 'm in de aarde. Je kunt ook een gaatje maken en het label met een mooi lintje ophangen in de plant, of tape het label met washitape aan een stengel.
✄ Keep your plants happy!
✿✿✿
Hou jij ook van planten en heb jij groene vingers of juist helemaal niet? Ik ben benieuwd naar jouw verzorgingstips! Kijk ook nog eens naar deze blog voor andere leuke plant printables die ik eerder maakte om de lente te vieren.

✿✿✿
Ingrid Wuyster is illustrator / ontwerper en maakt veel moois onder de naam Teken-ing.
Eén keer in de vier weken blogt ze voor teamconfetti.nl