Gastblog door Vera – Bij een nieuw jaar horen nieuwe plannen. Zoals je vorige week al hier op de blog kon lezen, heb ik geen goede voornemens opgesteld, maar ik heb wel een plan om mijn bedrijf zo efficiënt mogelijk te kunnen runnen in 2017. Hiervoor stelde ik aan het einde van vorig jaar een nieuwe freelance GIRLBOSS planning op die ik graag met jullie deel vandaag.
Als freelancer en/of kleine ondernemer ben je 1001 verschillende 'werknemers' in één: van directeur tot productontwikkelaar, van verkoper tot administratief medewerker. Sommige van die taken zijn leuk en (veel) andere ook niet. Maar dat maakt ze niet minder belangrijk. Daarom begin ik dit jaar dus met een nieuwe planning die ervoor zorgt dat ik wekelijks alle taken van het ondernemerschap (hoe vervelend die ook kunnen zijn) tackle.
Het idee van deze planning is gebaseerd op dit artikel van Studio Meroe dat ik een tijdje geleden op internet vond. Het idee achter deze planning is dat je in de ochtend als eerste een 'X hoeveelheid' tijd besteedt aan taken die altijd terug zullen komen in je werkroutine, maar die je vaak (om verschillende redenen) links laat liggen. Denk daarbij aan dingen als inspiratie opdoen (noodzakelijk voor creatievelingen), administratie, opruimen, acquisitie en marketing. Elk van deze activiteiten plan je op een andere dag en zo zorg je dus dat je jezelf er min of meer toe verplicht wekelijks aandacht te besteden aan dingen die je óf altijd uitstelt (want: niet leuk) óf waar je simpelweg niet aan toe komt (want: geen tijd). Wanneer je de met jezelf afgesproken hoeveelheid tijd (ik plan zelf dagelijks anderhalf tot twee uur in voor deze 'moetjes') met de taak in kwestie bezig bent geweest, leg je het opzij en kan de rest van je werkdag (vol met opdrachten voor klanten bijvoorbeeld) beginnen.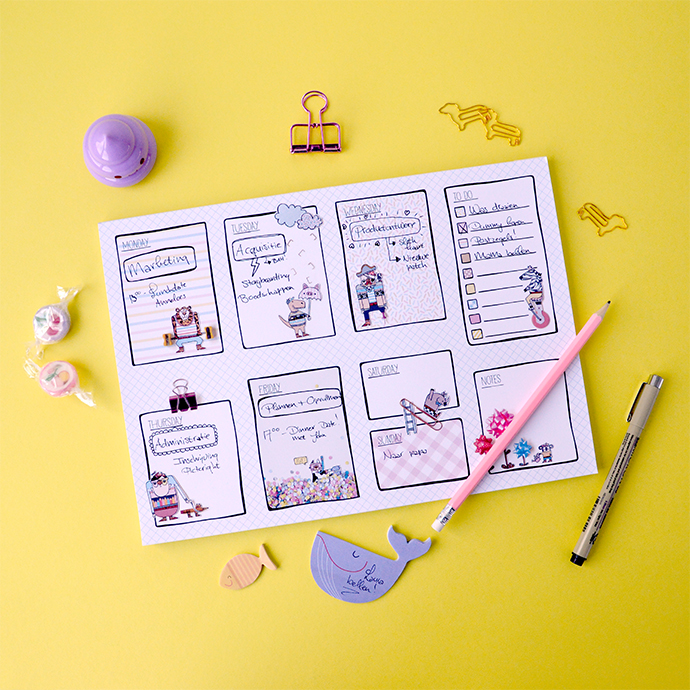 Op basis van dat principe stelde ik voor mezelf de volgende planning op:
✎ Maandag: Marketing
Marketing. Ik heb er jarenlang les in gehad en het is en blijft niet mijn ding. Van de daken schreeuwen hoe fantastisch mijn producten zijn en dat iedereen ze moet kopen. Nope. Onder marketing-werkzaamheden versta ik het versturen van persberichten, het samenstellen en up to date houden van een perskit, het versturen van nieuwsbrieven, het plannen van social media en bloggen. Met al deze taken bij elkaar ben ik natuurlijk meer dan twee uur per week bezig en als ik meer tijd beschikbaar heb, dan zal ik die daar ook zeker aan besteden. Heb ik die tijd niet, dan kan ik die twee uur gebruiken om vast na te denken over leuke onderwerpen voor mijn blog bijvoorbeeld.
✎ Dinsdag: Acquisitie
De vreselijkste van de vijf. Opdrachten komen niet aanwaaien, maar daar moet je als freelancer vaak zelf voor zorgen. Ik zal dus in deze tijd mijn portfolio updaten en versturen naar verschillende (potentiële) opdrachtgevers. Ook kan ik deze tijd gebruiken voor het werven van nieuwe verkooppunten voor mijn producten.
✎ Woensdag: Productontwerp
Deze reken ik zeker niet tot de 'moetjes', want productontwerp vind ik één van de leukste dingen binnen mijn bedrijf! Maar door deze taak wel op de wekelijkse aandacht-lijst te zetten, zorg ik ervoor dat ik (ook al verdrink ik in de opdrachten) bezig blijf met nadenken over nieuwe producten. Mijn webshops vormen immers een groot onderdeel van mijn werk en inkomen.
✎ Donderdag: Administratie
In de breedste zin van het woord. Van het inboeken van bonnetjes en bijwerken van de BTW-aangifte-excelsheet tot het beantwoorden van achterstallige e-mail en het opruimen van mijn inbox.
✎ Vrijdag: Plannen en opruimen
Meestal is op vrijdag mijn home-office alsof er een bom is ontploft en daar wil ik maandagochtend niet mijn werkweek in beginnen. Er moet dus opgeruimd en schoongemaakt worden. Ook gebruik ik deze tijd om een basisplanning voor de volgende week op te zetten; ik maak een to do list van wat er de volgende week moet gebeuren en ik plan losjes in op welke dagen ik wat ga doen. Dit kan gaandeweg nog veranderen, maar dan heb ik iets om aan vast te houden en mooi zicht op wat ik allemaal nog moet doen.
✎ Weekend: Inspiratie
Inspiratie is belangrijk en voor creatievelingen zelfs onmisbaar. Ik hoor je vragen; waarom heb je dit dan niet ingepland? Nou, dat komt omdat ik wil proberen mijn inspiratie minder van internet en meer uit het 'echte leven' te halen. Op internet ligt 'het vergelijken' altijd op de loer en dat kan funest zijn voor mijn zelfvertrouwen en workflow. En aangezien ik ga proberen in het weekend minstens één dag écht niet met werk bezig te zijn, leek het mij een goed idee deze twee met elkaar te combineren.
Dat is hem dan. Het schema waarmee ik vanaf nu aan de slag ga (ik heb vorige week nog even gesmokkeld omdat ik weer even in de werkstemming moest komen). Wat denken jullie? Zou dit een goede manier zijn om te zorgen dat dingen die normaal gesproken te weinig aandacht krijgen toch te gaan doen? Of heb je zelf nog tips voor een efficiënte planning? Laat het me weten in de comments.
P.S.: Ben jij ook van mening dat een mooie planner zoals op de foto het maken van je planning een stuk aangenamer maakt? Dan kun je die hier aanschaffen voor een extra goed begin van je jaar! (Alvast bedankt voor je support ☺)
♥♥♥
Vera blogt één keer in de vier weken voor teamconfetti.nl. Ze is illustrator, allround mooie dingen maakster en ze heeft haar eigen label: Franje Design!