Oooooh jongens! Het is bijna zover! De Team Confetti agenda 2017 is bíjna af. Ik heb hier de proefdruk in mijn handen en kon het niet laten om hem alvast aan jullie te laten zien. Deze week gaat het definitieve bestand naar de drukker en volgende week is hij klaar. Er moet dus nog een laatste correctie-ronde overheen, maar hij is zo goed als af. Benieuwd? Kijk snel verder!
De omslag hadden jullie al gezien toen Vera hem een paar weken geleden onthulde, maar daar kunnen jullie natuurlijk geen genoeg van krijgen. Wat volgt is de allereerste pagina van de agenda waar je je persoonlijke informatie kan noteren. En die heb ik dit jaar wat opgeleukt door er een soort goede voornemens-invul-vak bij te doen. Elke keer als je je agenda openslaat, dan zie je wat je dit jaar graag wil bereiken. Vul hem met positieve gedachten en je hebt een jaar lang inspiratie…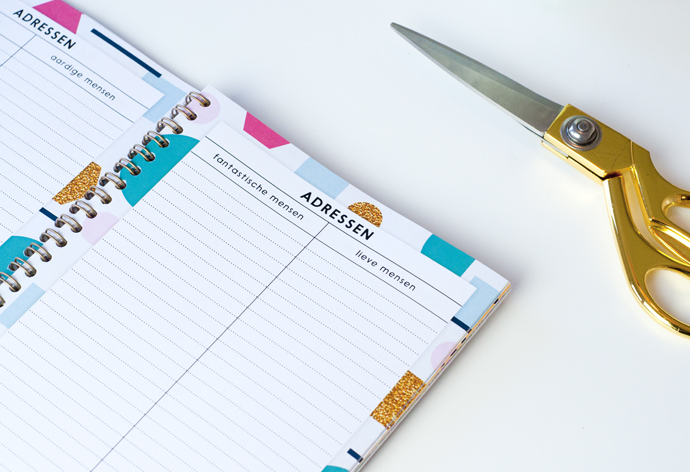 Ook is er weer een dubbele pagina voor adressen. Want kaartjes en brieven versturen is iets moois en ik vind het zelf heel handig om altijd alle adressen van mijn lievelingsmensen binnen handbereik te hebben. Als je hier geen behoefte aan hebt, kun je deze ruimte als notitie ruimte gebruiken.
Ook is er vóór elke maand begint weer een maandoverzicht. Afgelopen jaar vond ik dit één van de allerbeste keuzes die ik ooit op agenda-gebied heb gemaakt. Ik gebruik het overzicht om blogartikellen in te plannen maar je kunt hem ook als gezinsagenda gebruiken of om overzicht te houden van al je belangrijkste afspraken. Links kun je to do's neerzetten waarvan je nog niet precies weet op welke dag je ze wil uitvoeren maar niet wil vergeten.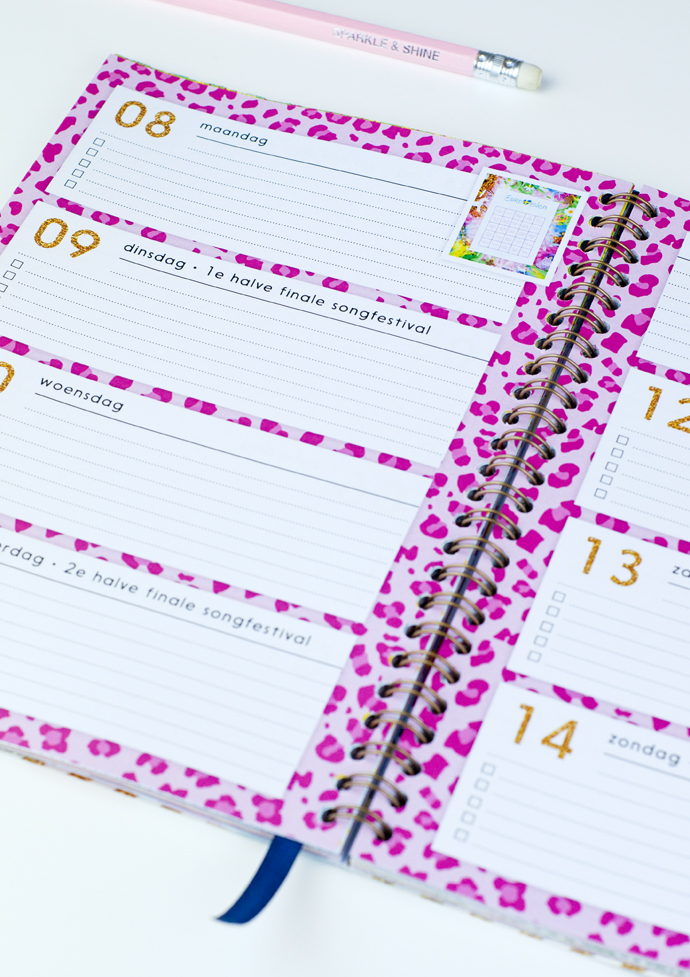 Elk jaar weer een must: Eurovision week! Ik ben er vrij zeker van dat dit de enige agenda in Nederland is die deze data erin heeft staan mét roze panterprint op de achtergrond. Fout en uniek, een goede combinatie!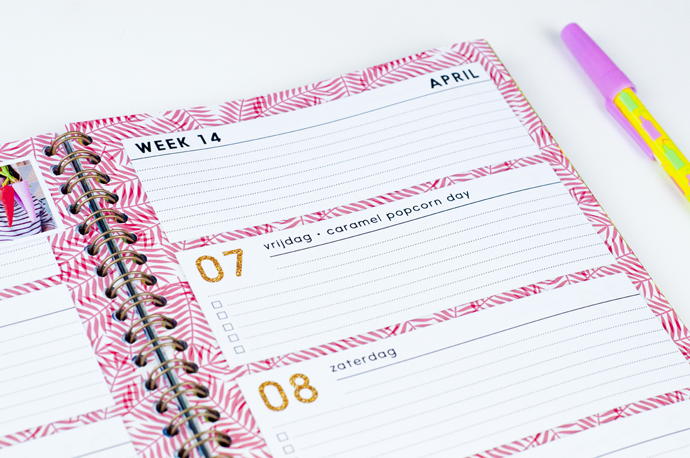 Alle reguliere feestdagen staan in de agenda (ook in de maandoverzichten) maar er staan ook een paar bijzondere niet-zo-officiele feestdagen in zoals 'caramel popcorn day' 'doe vriendelijk dag' en 'take a walk in the park day'. Zo heb je in een feestdag-loze week toch vaak nog iets te vieren.
Tenslotte zit er wederom een mooi bronskleurig ringbandje in zodat de agenda mooi openvalt en is het papier mat zodat het lekker schrijft (en het drukt niet door). Ook zit er een lintje én een opbergvakje in en een elastiek omheen. Aan alles is gedacht!
Het klinkt misschien een beetje opschepperig, maar ik vind echt dat de agenda elk jaar mooier wordt en héél handig is in gebruik. Ik gebruik hem zelf het hele jaar door, dus ik zorg ervoor dat hij praktisch is en dat elke week er anders uitziet zodat hij nooit verveelt. Ik onthoud wat ik fijn vond aan de vorige agenda en pas dingen aan als ze handiger of leuker kunnen. En even tussen jou en mij: het is niet mijn meest lucratieve product (er gaan zoveel uren inzitten die ik nooit terug kan verdienen) maar ik weet dat er een groepje trouwe TC agenda fans zijn die hem elk  jaar weer bestellen en ik zou het nooit over mijn hart kunnen verkrijgen om die teleur te stellen. Daarnaast ben ik ben altijd weer trots als ik de dozen van de drukker opentrek en reacties lees van blije confetti klantjes. En natuurlijk heb ik er ook zelf een heel jaar plezier van!
♥♥♥
Je hebt nog een week de tijd om de agenda in als pre-order te bestellen en daarbij krijg je gratis DRIE telefoon wallpapers cadeau. Bekijk hier de wallpapers en klik hier om de agenda te bestellen.
♥♥♥
Heb jij de agenda al besteld? En dit vind ik vooral leuk om te weten: is het je eerste of gebruik je hem al een aantal jaren?