Ik ben misschien een beetje een flaky blogger geworden maar I'll be damned als ik niet die bingo elk jaar weer in elkaar flans. De bingo die van eurovision haters, eurovision lovers maakt en die ervoor zorgt dat je op het puntje van je stoel blijft zitten zelfs als de hosts in onverstaanbaar engels iets over  de facebookpagina proberen duidelijk te maken. 'Eurovision Facebook page is promoted' check en BINGOOOOO!!!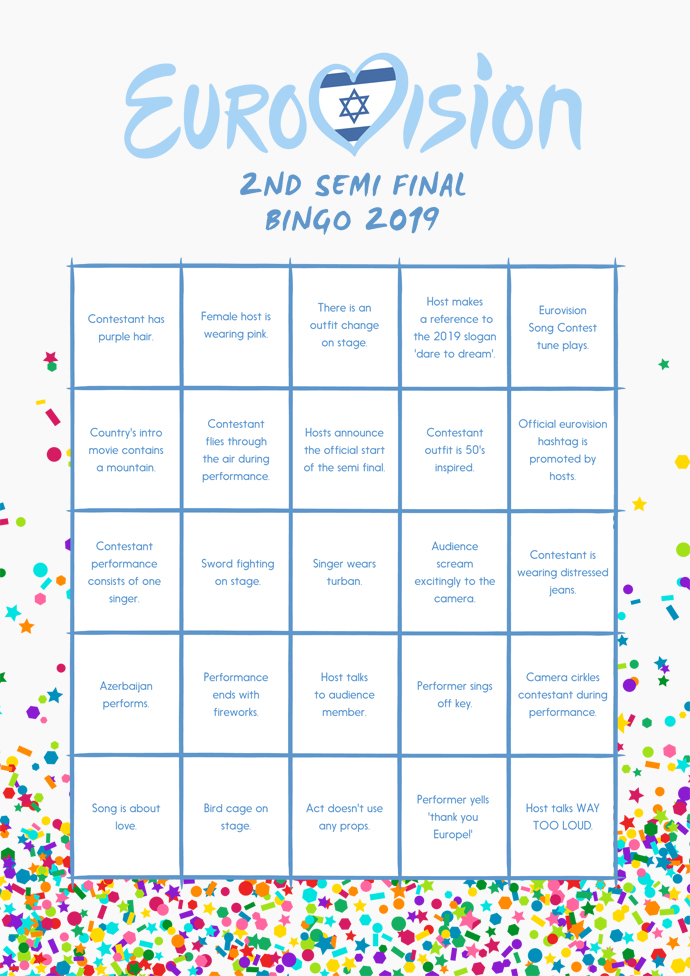 En omdat ik dit jaar een dreumes heb in plaats van een huilbaby, heb ik zelfs tijd om twéé bingo's te maken! Eentje voor de 2nd semi final op donderdag 16 mei om 21.00 waaraan Nederland meedoet én voor de grote finale op zaterdag 18 mei. Want Nederland schijnt met gemak door te gaan, dus dan durf ik het wel aan om die finale bingo te beloven.
Onder het mum van inspiratie heb ik mezelf de afgelopen weken ondergedompeld in de shows van vorig jaar, fan websites én de officiële Eurovision pagina. Zo weet ik inmiddels wat voor prachtige pakjes en special effects ons staan op te wachten, heb ik iets meer vertrouwen in de presentatie dan vorig jaar (mijn oren doen nog steeds pijn van die schreeuwende Portugese wijven) én weet ik dat publieksfavoriet Mans én Eurovision legendes Conchita en Dana de pause van de finale gaan invullen samen met Madonna die er net als Justin achter is gekomen dat dat hele Eurovision gebeuren best aardig bekeken wordt. Ik ben van mening dat ze daar niet thuis hoort, maar ach, het is Eurovision en dan is er voor elke gek een plek. Daarom hou ik er zo van.
DOWNLOAD THE 2019 2ND SEMI FINAL BINGO CARDS HERE
DOWNLOAD THE 2019 GRAND FINAL BINGO CARDS HERE!!
Er zitten vijf verschillende bingo kaarten in de pdf, print er zoveel als je nodig hebt. Meer dan vijf kijkers op de bank (bravo!)? Dan kun je teams maken. De bingo wordt ieder jaar wat moeilijker en voor ongevorderde spelers kan het flink opletten zijn geblazen. Dus twee of drie paar ogen voor één bingo kaart is nog steeds dikke pret. Plus meer tijd om m&m's te eten en wijn te tetteren. Everybody wins.
O en schroom niet deze post met iedereen te delen die je kent, IEDEREEN EUROVISION BINGO!!!