Mijn standaard bestelling bij een kopje koffie is een blue berry muffin (ok óf een stukje carrot cake). Een muffin met blauwe bessen dus! De muffin is zoet en zompig, de bessen fris en zuur en dat vind ik zo'n perfecte combi. Cappuccino erbij en ik ben een gelukkig mens. Een hele batch maken bleek easy peasy en ik had álles ervoor al in huis (dankzij Tom's blauwe bessen stash in de vriezer). Klik snel door voor het instant party in your mouth recept!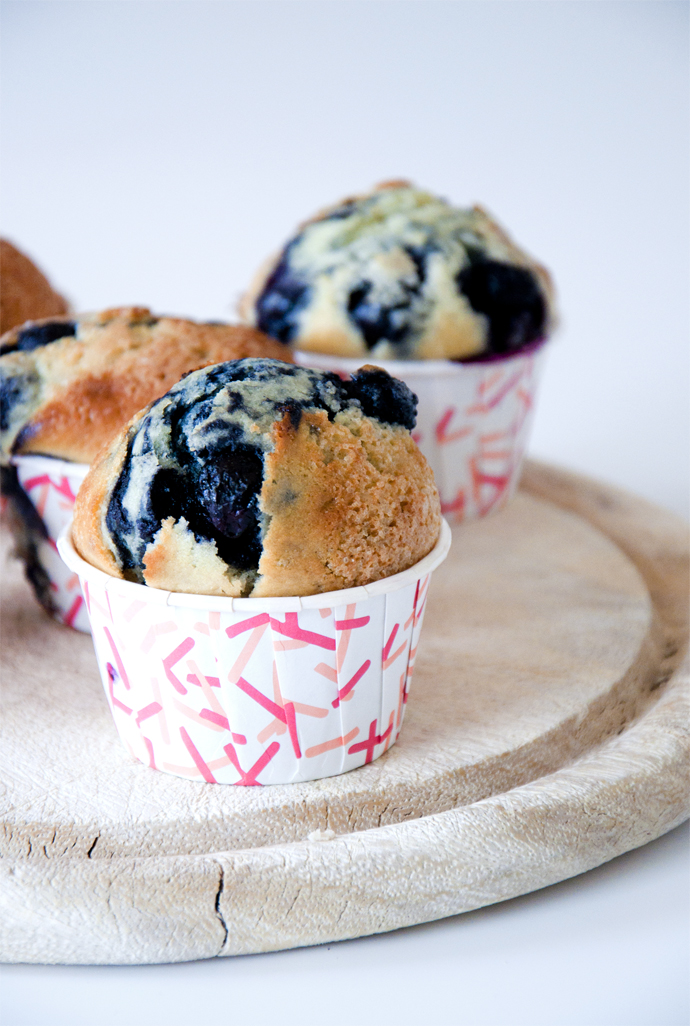 INGREDIËNTEN (voor 5-6 muffins)
1 cup bloem
75 gram suiker
1/4 theelepel zout
1 theelepel bakpoeder
40 ml of 1/6 cup zonnebloemolie
1 ei
100 ml melk
1/2 theelepel vanille
1/2 cup blauwe bessen (uit de vriezer)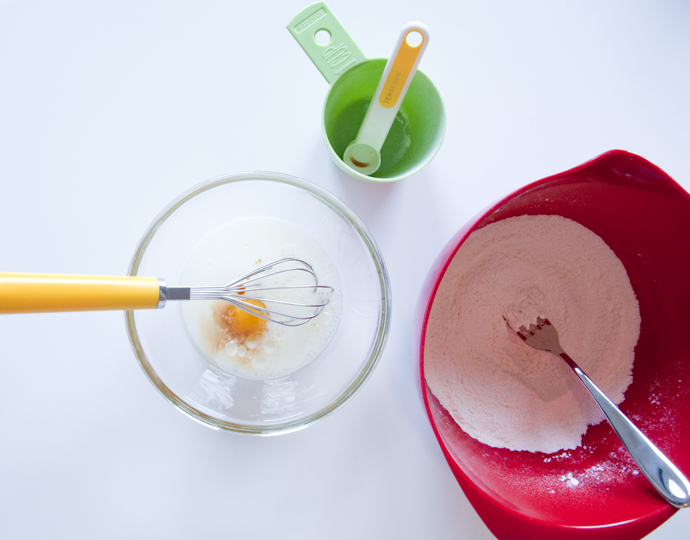 Het verzamelen van de ingrediënten is eigenlijk het meeste werk, haha. Verwarm de oven voor op 200 graden en pak twee schalen. Doe in de ene schaal alle droge ingrediënten (bloem, suiker, zout en bakpoeder) en in de andere schaal alle natte ingrediënten (zonnebloemolie, ei, melk, vanille).
Tip: houd een paar schepjes suiker apart om later over de muffins te strooien, daar krijgen ze een knapperig suikerkorstje van.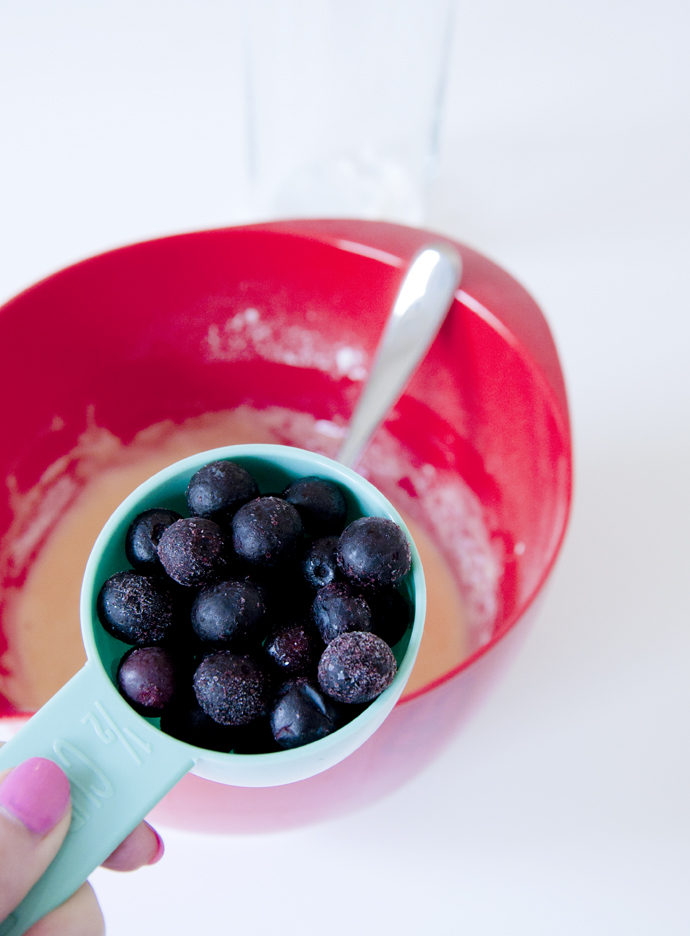 Mix de droge en de natte ingrediënten los van elkaar en gooi ze dan bij elkaar. Roer tot een beslag maar niet te lang! Zodra het op een beslag begint te lijken, roer je de blauwe bessen erdoorheen. Als ze uit de vriezer komen, hoef je ze niet te ontdooien. Gewoon hop, erbij!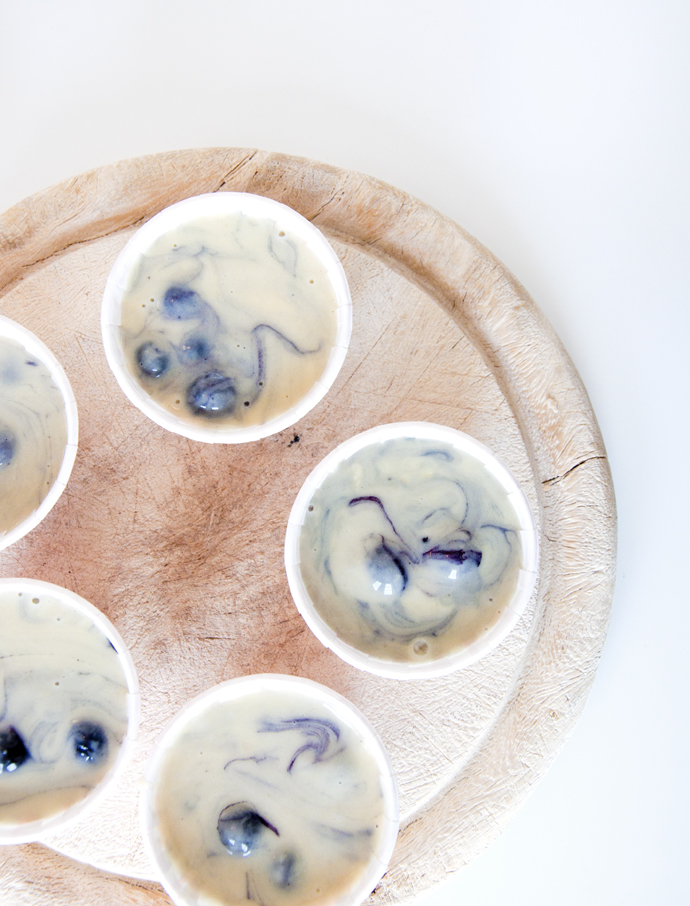 Verdeel het beslag over vijf of zes muffinbakjes. Ik koos voor hele stevige omdat ik geen muffinblik in mijn bezit heb (die dingen nemen zóveel ruimte in beslag). Die kocht ik bij Sostrene Grene, maar je kunt ze op meerdere plekken vinden.
Strooi nog een beetje suiker over de muffins heen voordat ze de oven ingaan. Dan krijgen ze dat knapperige suikerkorstje dat ik eerder beloofde… Nu kunnen ze 15-20 minuten de oven in!
Tip: Leg een velletje bakpapier op je bakblik/rek en plaats daar weer de muffins op. Als de muffins overstromen (dat kan gebeuren, ze zijn heel rebels) dan ligt dat niet op je bakblik of erger nog, op de bodem van je oven…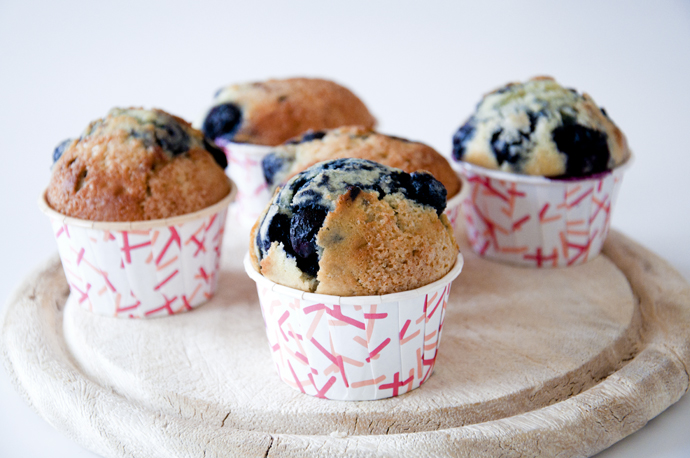 Laat de muffins afkoelen en zet intussen een lekker kopje/thee om deze badboys straks mee weg te spoelen.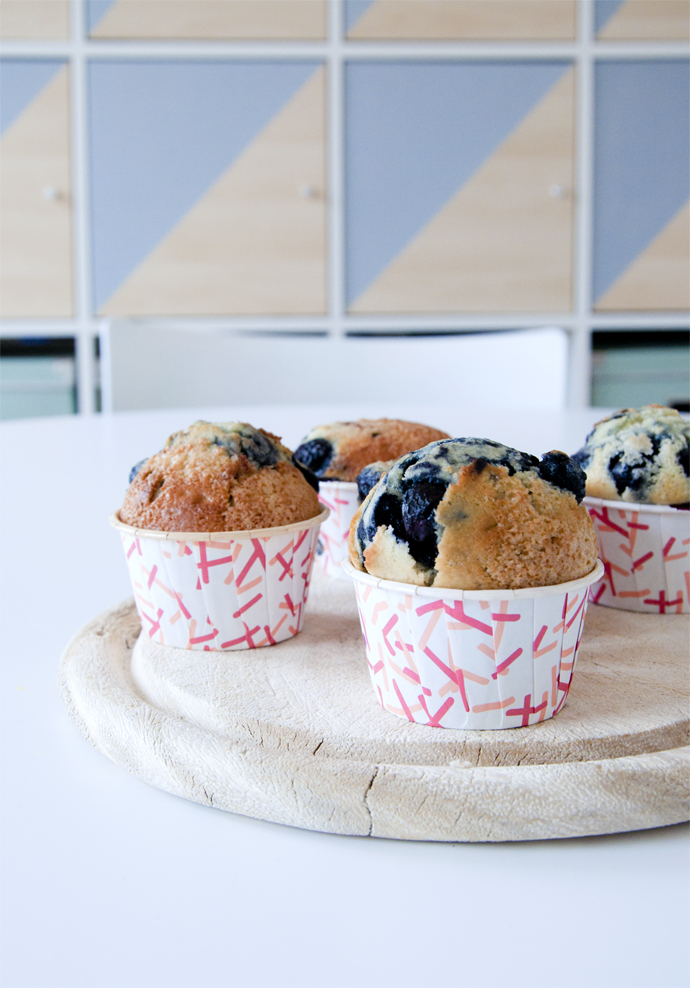 Smullen maar!
Het leuke van dit recept is dat je de ingrediënten eigenlijk altijd wel in huis kan hebben (als je een vriezer hebt). En dat als je er een beetje de sokken in hebt, je binnen een half uur een batch héérlijke muffins op tafel kunt neerzetten. Voor het ontbijt in het weekend, afternoon tea of gewoon als avondeten als je een hele rottige dag hebt gehad (#unsuccessfuladulting, hell yes).
♥♥♥