Gastblog door Noortje – Vandaag ga ik jullie laten zien hoe je op een 'design' verantwoorde manier alfabet-stempels kan gebruiken. Ik kwam op het idee voor deze tutorial door de Team Confetti Easter Swap. Zoals jullie misschien gelezen hebben, had ik Tea geloot en omdat ze fan is van Wes Anderson, wilde ik daar iets mee doen. Ik wilde ook typografie toepassen en de techniek die ik daarvoor gebruikte, deel ik vandaag met jullie!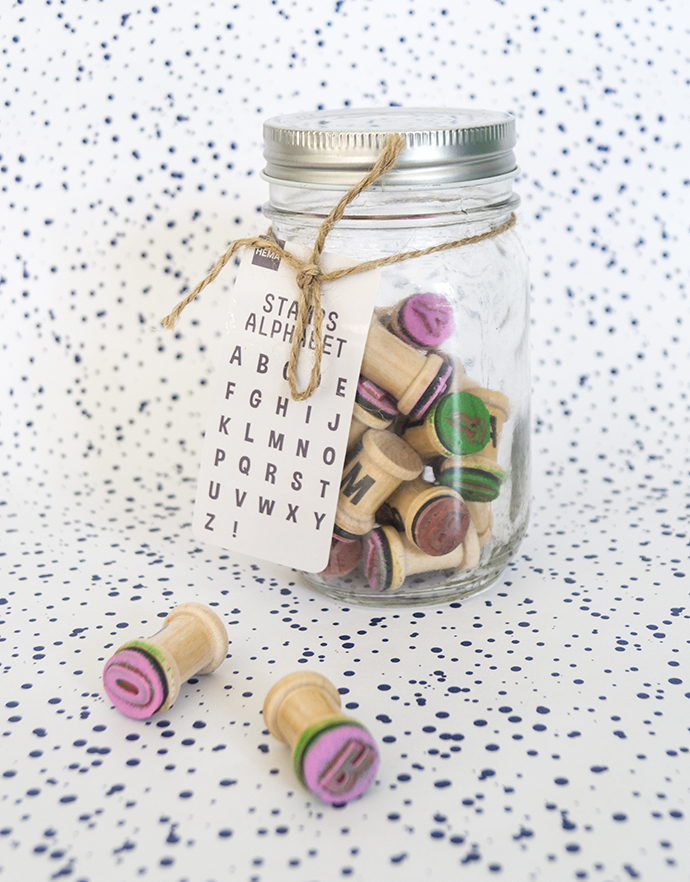 Ik denk dat ik niet de enige ben die ooit een alfabet-stempel-potje heeft gekocht en daar vervolgens nog nooit wat mee gedaan heeft. Stempelen met letters is ook niet makkelijk. Je kunt niet zien of de letter netjes terechtkomt, om maar niet te spreken over de daaropvolgende letter… Voor je het weet, heb je een onbegrijpelijke lettersoep gecreëerd! Ik laat vandaag twee technieken zien waarbij het niet uitmaakt hoe je je letterstempel plaatst maar waarmee je een lettersoep ontwijkt.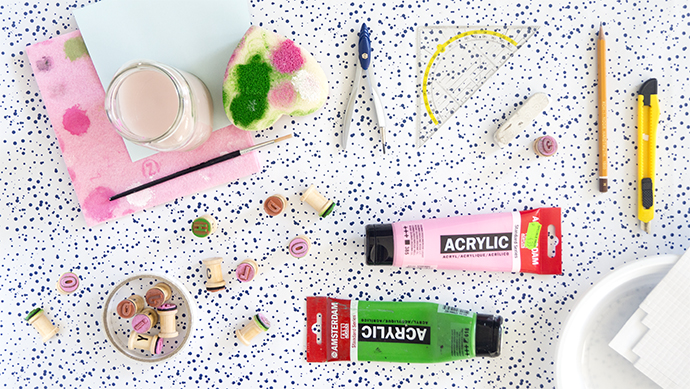 Ten eerste heb je een aantal dingen nodig. Het meeste hiervan heb je waarschijnlijk gewoon in huis, maar waar je op moet letten is dat je een spons gebruikt met een fijne structuur. Hierdoor kan de acrylverf egaal aangebracht worden op de stempel. Wat verder nog 'speciaal' is, zijn de dubbelzijdige tape (linksonder) en de stukjes dubbelzijdige 3d tape (rechtsonder). Beide dingen zijn voor minder dan €1 bij Action te vinden. O en natuurlijk een potje alfabet stempels!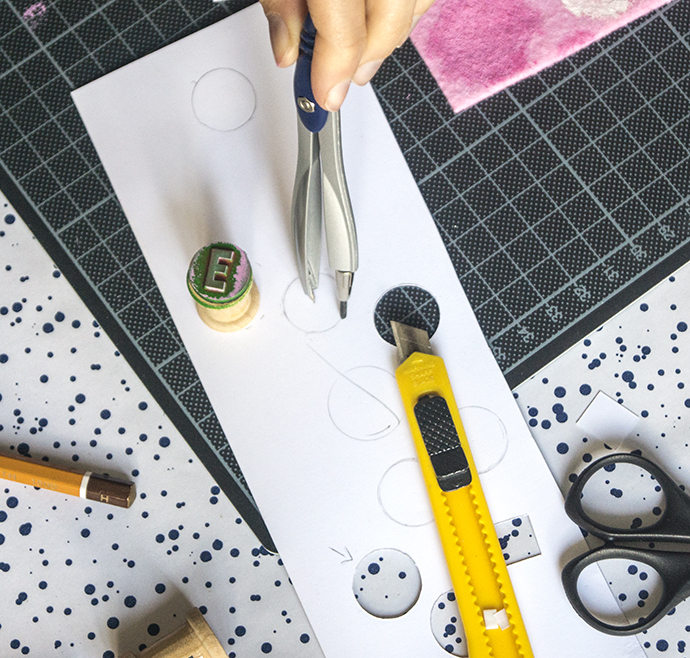 TECHNIEK #1: Losse gestempelde rondjes van papier.
Uit ervaring weet ik dat het stempelen niet altijd in één keer goed gaat. Maar wat nou als je een heleboel losse papieren rondjes hebt waar gestempelde letters op staan? Die kun je plaatsen/plakken waar je ze precies wil hebben. Hieronder leg ik uit hoe ik dat doe:
STAP 1: Pak een stukje papier dat lekker stevig is. Je kan de omslag van een oud tijdschrift gebruiken bijvoorbeeld.
STAP 2: Pak een letterstempel en trek de omtrek licht om met een potlood.
STAP 3: Met een passer maak je hier een perfect rondje van.
STAP 4: Snijd het rondje uit met een scherp stanleymes.
STAP 5: Gebruik de mal om een aantal rondjes te tekenen op het papier naar jouw keuze. Zo hoef je niet steeds opnieuw de stempel om te trekken en de passer te gebruiken. Teken rondjes totdat je genoeg hebt voor het aantal letters dat je wil gebruiken.

STAP 6: Doe een beetje acrylverf op je spons en voeg een beetje water toe door op de spons te deppen met een natte kwast.
STAP 7: Druk je eerste letterstempel in de verf op de spons. Let er goed op dat je de stempel nog even afdrukt op een droog stuk van de spons, anders krijg je geen egale afdruk. Als er ook verf zit aan de zijkanten van je letterstempel, kun je die voorzichtig afvegen aan de zijkant van de spons. Test eerst even wat voor jouw werkt op een stukje testpapier.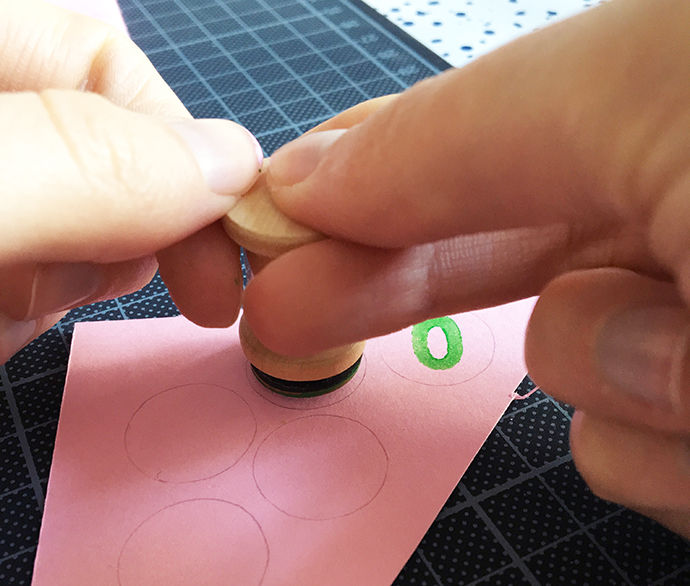 STAP 8: Plaats nu je stempel precies binnen het rondje en druk zachtjes aan. Beweeg de stempel voorzichtig heen en weer om de hele stempel af te drukken. Welke richting de letter opstaat als je hem plaatst,  maakt niet uit. Je knipt de rondjes straks namelijk uit.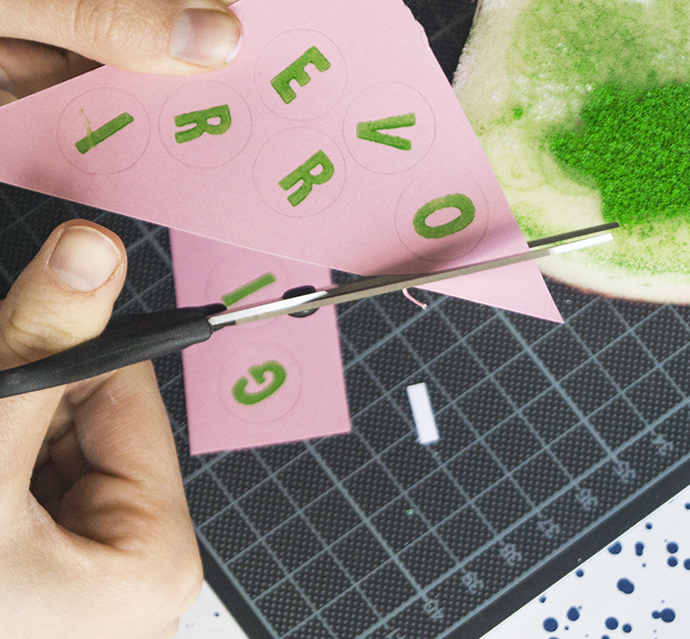 STAP 9: Wanneer de afdrukken droog zijn, kun je de rondjes uitknippen.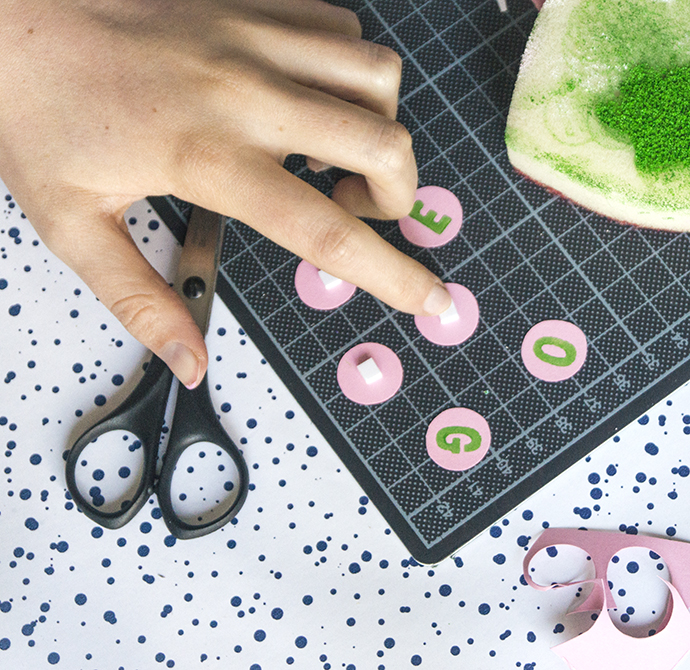 STAP 10: Plak nu aan de achterkant stukjes 3d tape, zo komen de letters iets naar voren te staan. Dat vind ik zelf erg mooi.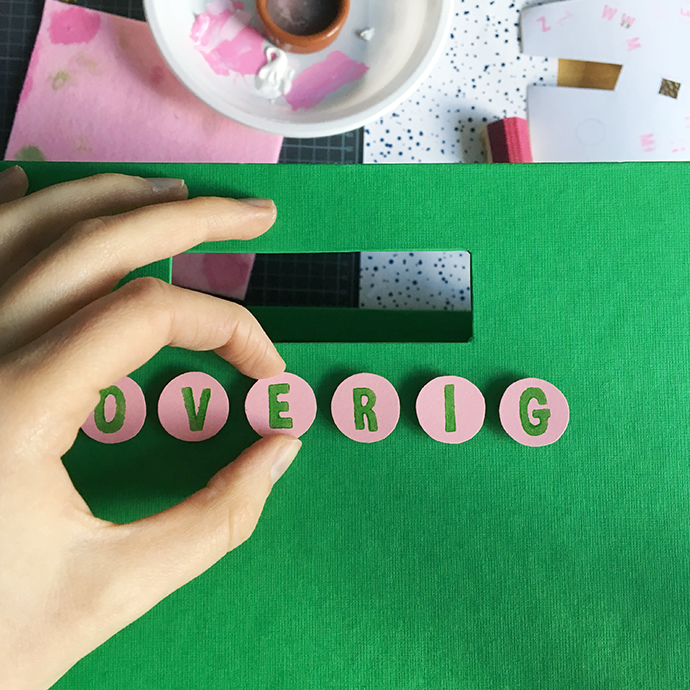 STAP 11: Verwijder de dubbelzijdige tape en plak de letters op een ondergrond.
Ik heb er zelf voor gekozen om een van mijn 'rommel' dozen een nieuwe tag te geven. Nu is het duidelijk wat erin zit en ziet het er ook nog eens leuk uit. Je kan op deze manier talloze dingen van namen voorzien. Wat dacht je van een theedoos of tags voor een ladekastje?
♥♥♥
TECHNIEK #2: Harmonica woordjes maken.
Met deze techniek kan je makkelijk strookjes maken van je letters en op die manier woorden en zinnen maken. Er is wel wat meetwerk voor nodig dus pak je geodriekhoek erbij!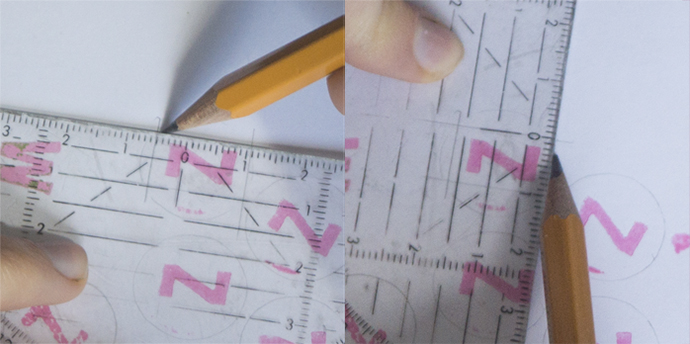 STAP 1: Stempel een letter op je testpapier. Wanneer de letter droog is, leg je je geodriehoek eroverheen zoals hierboven. Leg de eerste zwarte regel op de geodriehoek in het midden en trek met potlood een lijn. Nu kun je de lijn die je net getrokken hebt, gebruiken om aan de andere kan precies hetzelfde te doen. Gebruik nu de middelste streep op de geodriehoek om een hoek van 90 graden te maken. Zoals je op het rechterplaatje ziet houd ik het middelste streepje aan om de ruimte te bepalen. Doe aan de andere kant hetzelfde. Als het goed is heb je nu een rechthoekje om je gestempelde letter heen getekend.
STAP 2: Knip de rechthoek uit en trek deze over op een dikker stukje papier. Snijd nu de rechthoek uit. Dat is je mal! Bij het maken van de mal kun je het beste uitgaan van de letter W of M, dan voorkom je dat je de rechthoek nog bij moet snijden zoals bij mij het geval was.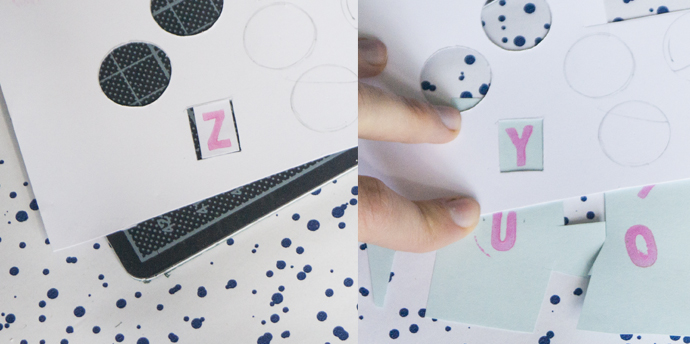 STAP 3: Stempel nu de letters die je nodig hebt op het papier wat je wil gaan gebruiken voor je eindproduct. Let op dat je genoeg ruimte overhoudt tussen de letters. Wanneer de letters droog zijn, plaats je de mal over een letter heen zó dat de letter precies in het midden zit. Trek de rechthoek over op het papier en knip uit. Eventuele potloodlijntjes kun je nog voorzichtig weggummen na het uitknippen.
STAP 4: Meet nu de hoogte op van een rechthoekje met een letter erop en knip een strook dikker papier af van die hoogte.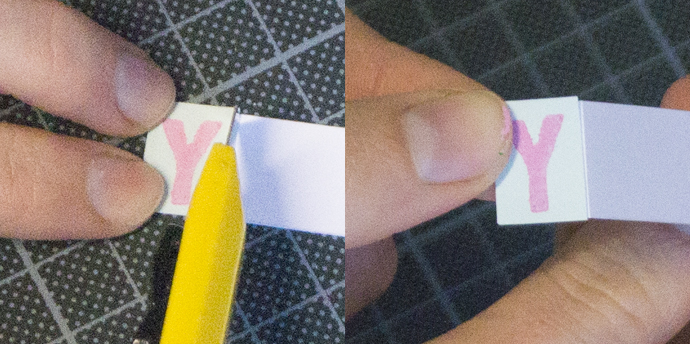 STAP 5: Plak op de achterkant van je eerste letter nu een stukje dubbelzijdig tape en plak deze vervolgens aan het begin van de strook.
STAP 6: Maak voorzichtig een inkeping langs de rand van de eerste letter en vouw de strook naar buiten dubbel.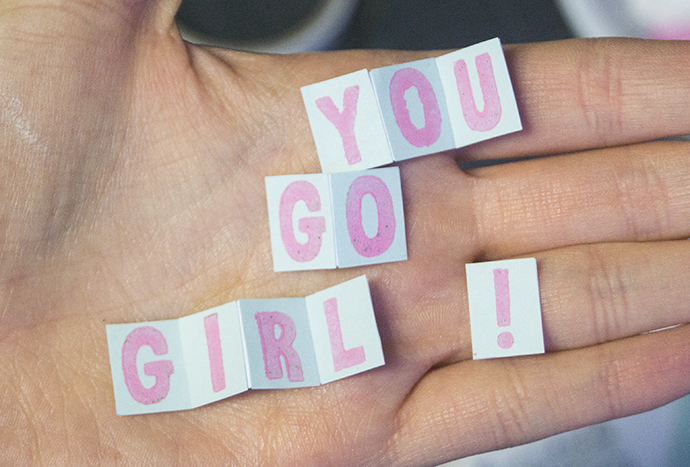 STAP 7: Plak de volgende letter net naast de eerste en maak weer een inkeping. Dit keer vouw je de strook naar binnen dubbel. Zo ga je door tot je harmonica-woord klaar is. Aan het einde knip je de strook gewoon af.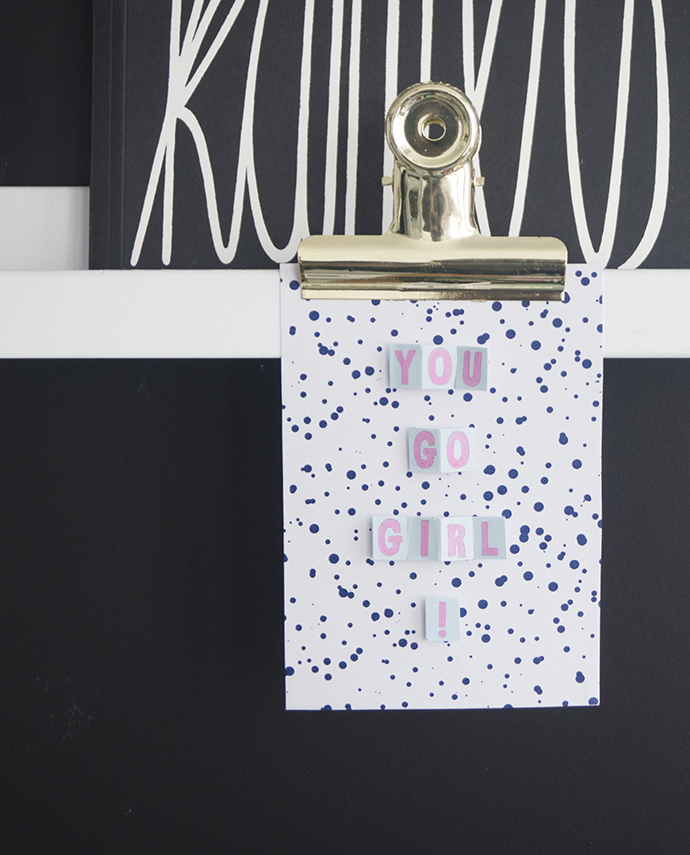 Ik wilde van deze quote een kaartje maken dat ik op kan hangen of weg kan geven. Hiervoor heb ik een a6 formaat kaartje overgetrokken op stevig papier en op het papier dat je deze hele blogpost al voorbij ziet komen. Ik kocht het trouwens bij de net geopende Sostrene Grene in Rotterdam. Die twee heb ik vervolgens aan elkaar geplakt met lijmspray. Achter de woorden plakte ik weer dubbelzijdig tape.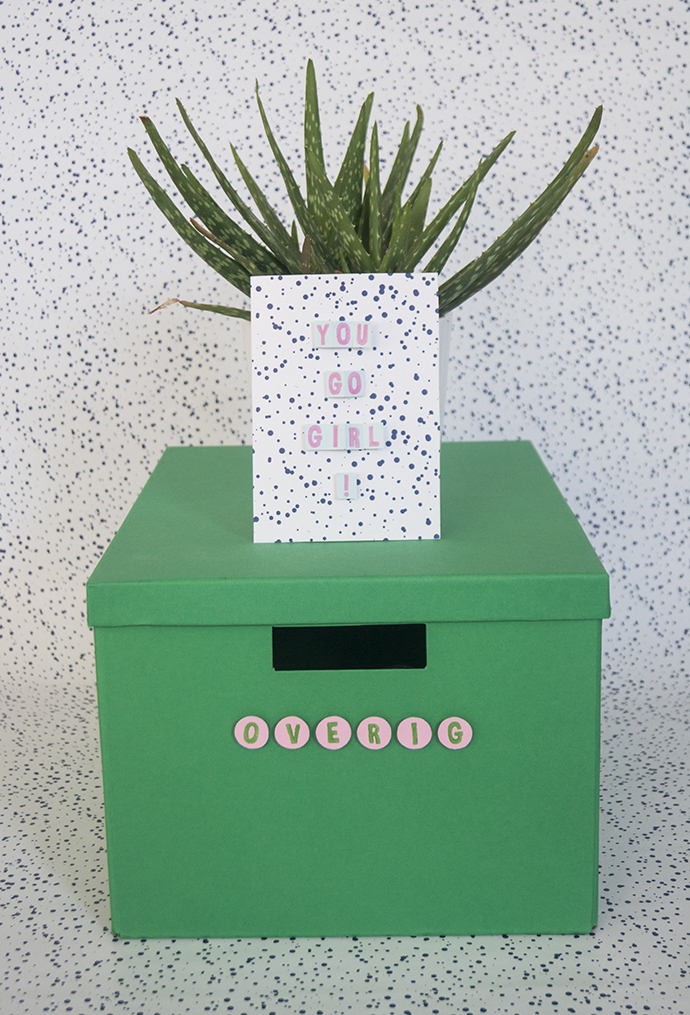 En dat is het! Ik hoop dat ik jullie heb kunnen inspireren om eindelijk eens wat met dat potje stempels te gaan doen.
♥♥♥
Noortje is een vrolijke illustrator uit Rotterdam met een passie voor papier en kleur. Hier op teamconfetti schrijft ze artikelen waar je iets van kan leren, maar waar je vooral vrolijk van wordt.