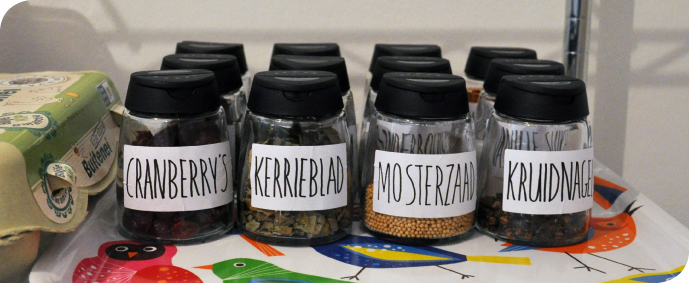 Het is alweer tijd voor de laatste DIY mini keuken make-over.
Deze keer: Maak je eigen kruidenpotjes en een stellingkast inrichten.

We beginnen met de kruidenpotjes. De reden dat ik dit heb gedaan omdat ik een gevaarlijk wiebelende stellage in het raamkozijn had staan, bestaande uit allerlei flesjes, blikken en zakjes waar ik geen wijs uit kon maken. Daarnaast stond er ook nog een mandje vol kruiden en specerijen ergens achter in een kastje.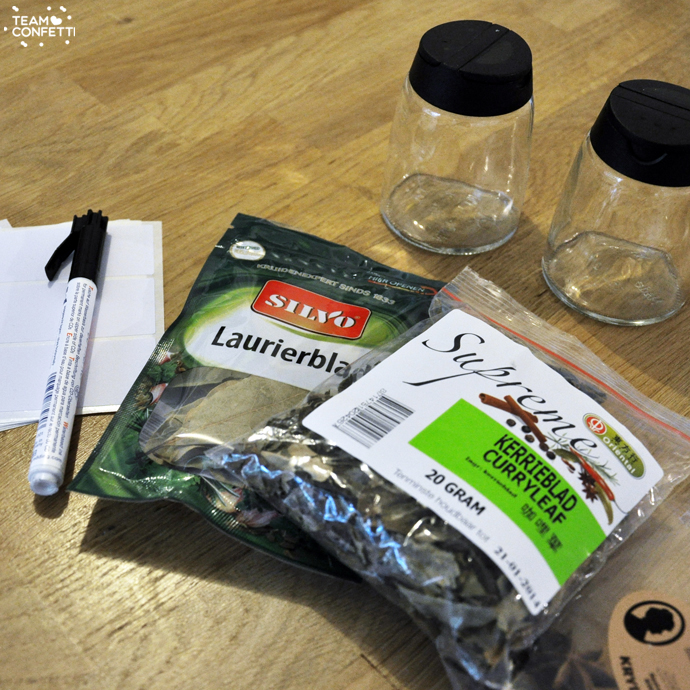 STAP 1: BENODIGDHEDEN
– Een hopeloze hoeveelheid kruiden en specerijen.
– Een stuk of wat lege kruidenpotjes. Ik heb potjes bij IKEA gehaald. Deze potjes hebben twee verschillende openingen in de deksel voor grof en fijn strooien.
– Labels. Ik had ze nog liggen. Je kunt ze in elke kantoorboekhandel, Hema, Bruna of V&D vinden.
– Stift.

STAP 2: SCHRIJVEN & PLAKKEN
Schrijf de naam van het kruidengoedje op een label en plak het label op een kruidenpotje.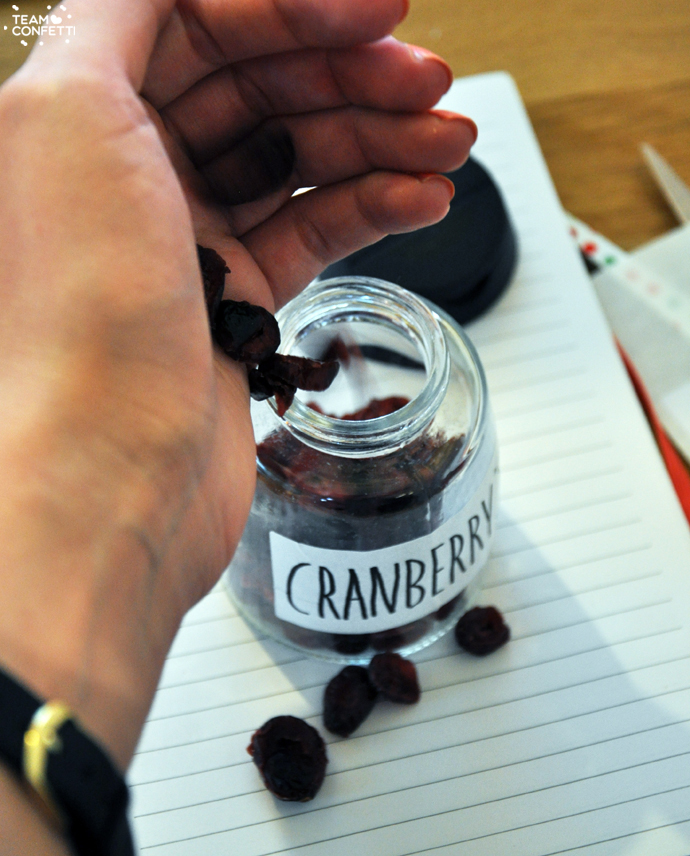 STAP 3: GIETEN
Giet nu de kruiden in het potje. Het potje heeft een draaideksel, dus dat is makkelijk. Bij mij pasten niet alle kruiden in een keer in het potje. De resterende kruiden heb ik terug in het mandje gestopt waar ze uit kwamen. Ik ben dus niet in een klap van mijn mandje afgekomen, maar het dient nu als backup-plek.
STAP 4: UITSTALLEN
Omdat je er werk van hebt gehad en omdat je overzicht wilt houden over de kruiden raad ik je aan de potjes op een goed zichtbaar plankje neer te zetten. Ik heb ze in de stellingkast gezet die ik zometeen ga bespreken. Ze passen precies op dit dienblaadje wat ik ook bij IKEA haalde. Er passen precies 4 x 4 = 16 potjes kruiden op. Bij mij staan er nog maar 12, ik heb dus nog ruimte voor vier potjes.
RESULTAAT: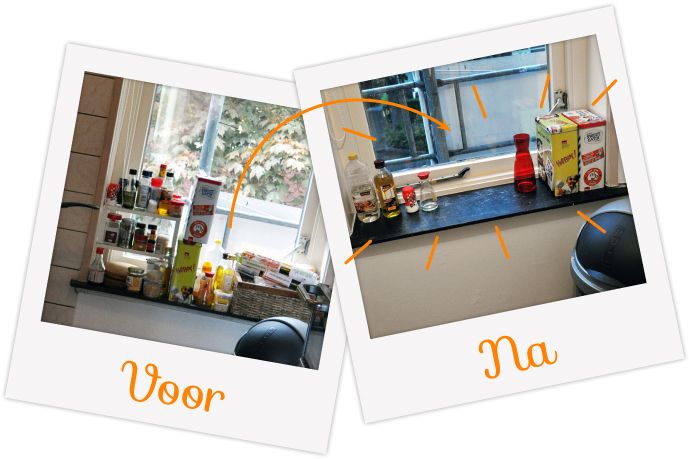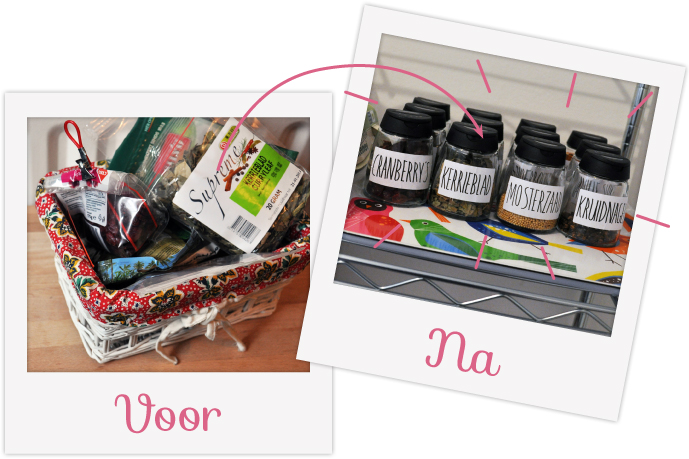 We gaan door met de stellingkast. Voordat ik deze in de keuken neer zette stond er een vreemde verzameling tafeltjes en kastjes die na de verhuizing nergens anders pasten.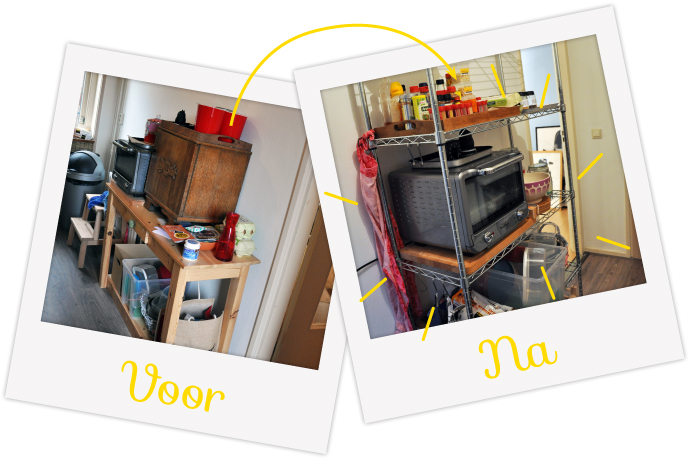 Zoals je op de foto kunt zien is het niet bepaald efficiënt en heeft het een erg rommelig uiterlijk. De hele handel is dan ook naar de kringloop gegaan en er staat nu een blinkende stellingkast die ik in de aanbieding kocht bij de PRAXIS.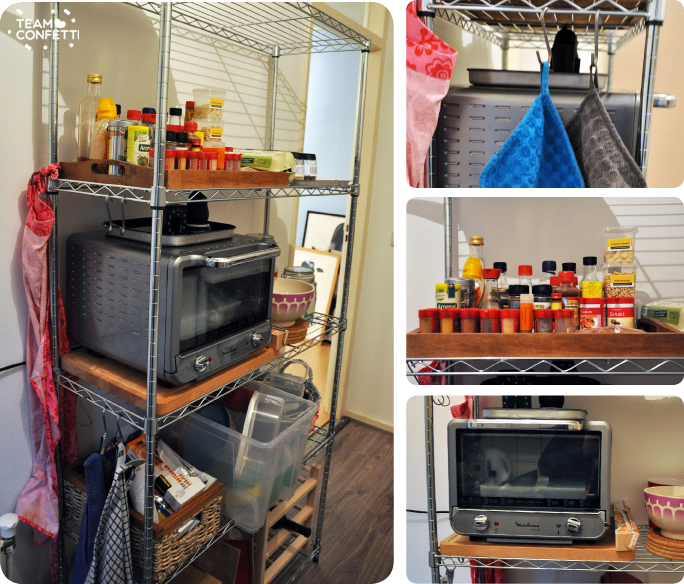 Dat ziet er beter uit! Ik heb alle potjes en flesjes op hoogte op een dienblad gezet zodat ik alles goed kan zien. Ook heb ik haakjes gekocht (IKEA) waar pannenlappen, de theedoek en de handdoek aan kunnen hangen. Verder is er ruimte voor lege plastic bakjes, potten met bloem/suiker/rijst/pasta, een wijnrek en oud papier.
Er moet nog wat houtwerk geschilderd worden maar verder is onze keuken bijna klaar en kan hij er weer een paar jaar tegenaan :)