We hebben dus een nieuwe keuken. Nouja, hij is bijna af. Er zijn nog wat ruwe randjes die weggewerkt moeten worden. Omdat er een inbouwkoelkast inkwam en een echte oven, bleef er niet ontzettend veel ruimte over voor kastjes waar we al onze keukenspulletjes in kwijt konden. Daarbij komt dat ik een mini-mens ben en niet veel verder kan grijpen dan het eerste plankje. En om nou overal een trapje bij te pakken… Daarom wilden we graag opbergruimte aan de andere kant van onze smalle keuken. Het is heeeeeeel erg mooi geworden en daarom leggen we graag uit hoe we (lees: mijn vader) dat hebben gemaakt.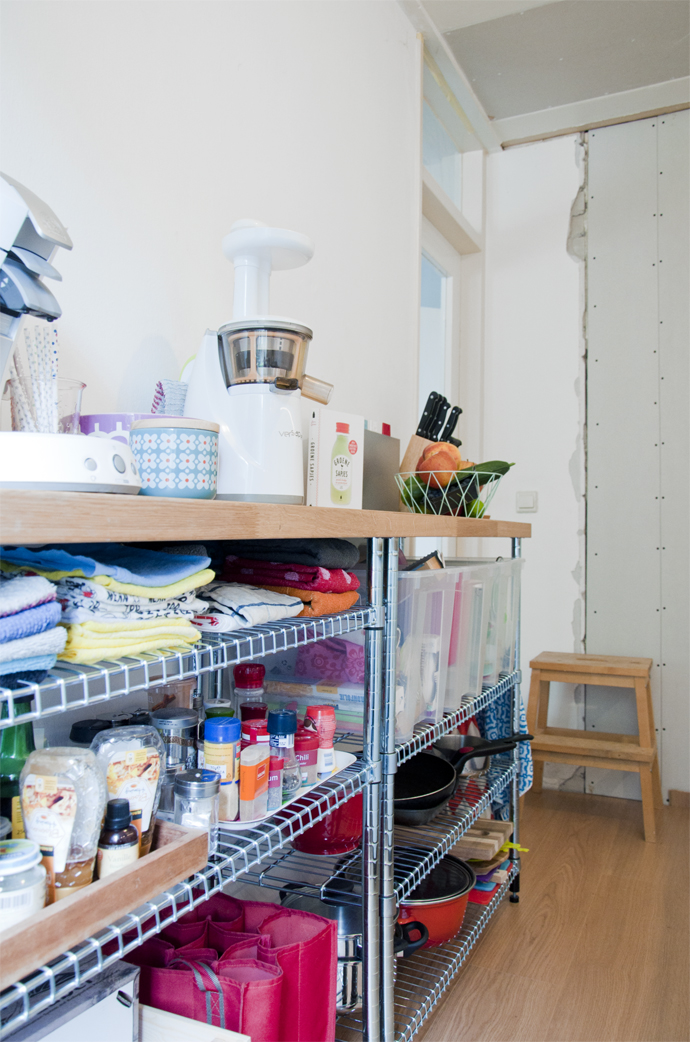 Dit is waar het allemaal om draait vandaag. Aanschouw ons glorieuze extra aanrechtblad! De diepte van de stellingkasten is perfect. Dieper en je zou je kont niet meer kunnen keren in onze smalle keuken, maar als ze ondieper zouden zijn, zou het amper als aanrechtblad kunnen dienen. We zijn er helemaal over the moon mee en hebben hem lekker volgepropt zoals je kan zien.
INGREDIËNTEN VOOR EEN EXTRA AANRECHTBLAD:
▲ Twee (of eentje, of drie, of vier, hangt er vanaf hoe lang je je extra aanrechtblad wil maken) halfhoge stellingkasten. Die van ons komen van IKEA, maar je kunt ze in veel bouwmarkten en woonwinkels vinden.
▲ Een lang stuk aanrechtblad. Wij hadden een flink stuk over van het aanrechtblad in onze nieuwe keuken. Perfect!
▲ Een cirkelzaag (met lineaal).
▲ Een bovenfreesmachine.
▲ Een potlood en duimstok.
▲Twee schragen.
▲Oog- en oorbescherming.
Lees deze DIY eerste goed door voordat je begint, zodat je de logica van alle stappen begrijpt. Anders kom je later misschien in de knoei. Ik heb niet alles tot in detail gefotografeerd en je zult het her en der met een beetje logisch nadenken zelf in moeten vullen. ;)
STAP #1
Leg het stuk aanrechtblad op de schragen, ergens waar je een beetje ruimte hebt. Bedenk hoe lang je je aanrechtblad wil hebben. Het blad moet ruim langer zijn dan je twee stellingkasten achter elkaar. In ons geval was dat 190,5 cm. Zet de stellingkasten niet te krap naast elkaar maar laat een paar cm ruimte ertussen in tijdens het meten. Dat ziet er wat minder propperig uit later en de gaten waar de poten inkomen, overlappen dan niet. Teken het af en zaag dat stuk eraf met een cirkelzaag. Achteraf gezien hadden we beter aan onze oog- en gehoorbescherming moeten denken, stupid! Als jij hiermee aan de slag gaat, ben je dan wel een beetje verstandiger dan ons? ;)
STAP #2
Tweede zaagronde. Dit keer gaat het om de diepte van het blad. Bedenk hoe dicht je de stellingkast van de muur gaat plaatsen (houd rekening met eventuele plintjes waar de pootjes van de kast tegenaan komen te staan op de grond) en meet. In ons geval was dat 38,5 cm. Wederom met een potlood markeren waar de zaag langs moet gaan. Omdat je niet met je zaag door de schraag wil zagen (dat is leuk voor niemand), leg je een paar extra planken/plinten tussen je aanrechtblad en de schragen zodat hij een paar cm boven de schragen ligt. Vervolgens stel je de cirkelzaag in op de dikte van het aanrechtblad (zie foto). Nu kun je in één haal de zaag langs de lineaal scheren zonder dat je de schragen raakt. Superhandig!
STAP #3
De verdiepingen van je stellingkast kun je daarna gebruiken om de plek waar de gaten (voor de poten) komen, af te tekenen. Leg de rekjes neer zoals je wil en teken met een potlood een lijn om de cirkels waar de poten straks komen.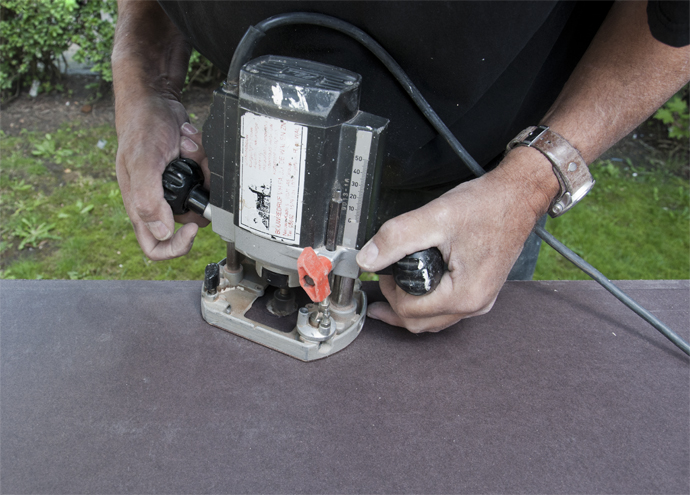 STAP #4
Bovenfreesmachine-tijd! Stel de machine in op een halve cm diepte en positioneer hem in het midden van de cirkel die je afgetekend hebt. Druk de machine naar beneden totdat hij niet meer verder kan en draai langzaam rondjes zodat je gat steeds breder wordt. Net zolang totdat je je potloodstreepjes niet meer ziet. Dan is je gat breed genoeg en kun je doorgaan met het volgende gat.
Zet de twee stellingkasten naast elkaar op zo'n manier dat de poten in de gaten vallen. DONE! Het is niet een hele ingewikkelde DIY als je er de tools en de handige papa voor hebt. Maar als je een beetje dapper bent, kun je deze machines gewoon huren bij een bouwmarkt. Je kunt de poten nog vastlijmen aan het aanrechtblad, maar een aanrechtblad met een beetje gewicht gaat nergens heen. En op deze manier kun je de verdiepingen nog in hoogte verstellen als de inhoud van je kast verandert.
Geen dappere klusser, geen zin in gedoe of niet zoveel ruimte? In de webshop van OTTO kun je ook losse keukentrolleys kopen. Die hebben een ingebouwd aanrechtblad en ook handige plankjes waar je spullen kwijt kan. Dan heb je alsnog een plekje los van je gewone aanrecht waar je bijvoorbeeld een koffie-stationnetje van kan maken. :) Naast keukentrolley's hebben ze ook andere handige rekjes en plankjes voor extra opbergruimte in je keuken.