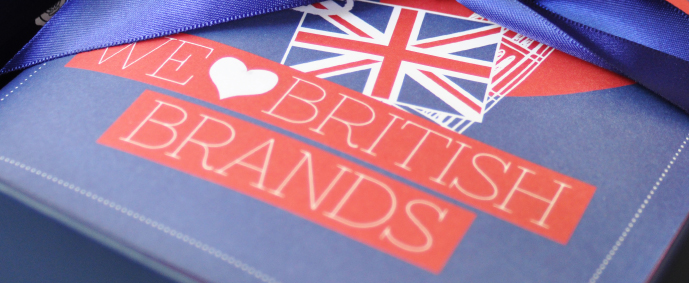 Als kind was ik al gek op verrassingsdozen. Kerstpakketten, grabbeltonnen, noem maar op. Nu ik wat groter ben is die interesse niet verminderd. Gelukkig is er de Glossy Box!
De Best of Britain Box is een speciale limited edition doos in verband met de geboorte van het engelse koningskind. Wellicht dat hij nog te bestellen is, maar hij zou al uitverkocht kunnen zijn. Hij zou gevuld moeten zijn met de beste engelse beauty producten…
Ik wilde deze doos graag samen met jullie uitpakken, kijken jullie mee?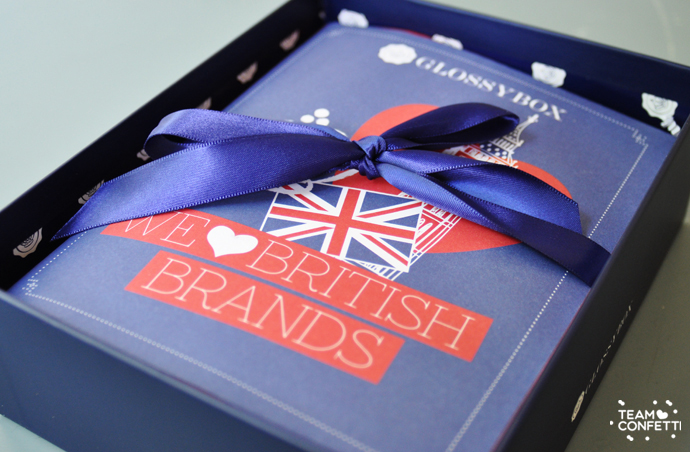 Hier heb ik de doos net geopend.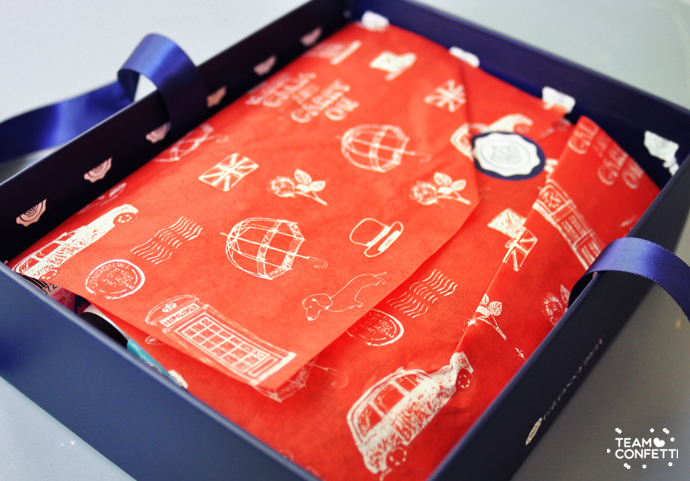 Strikje los, spanningsopbouw…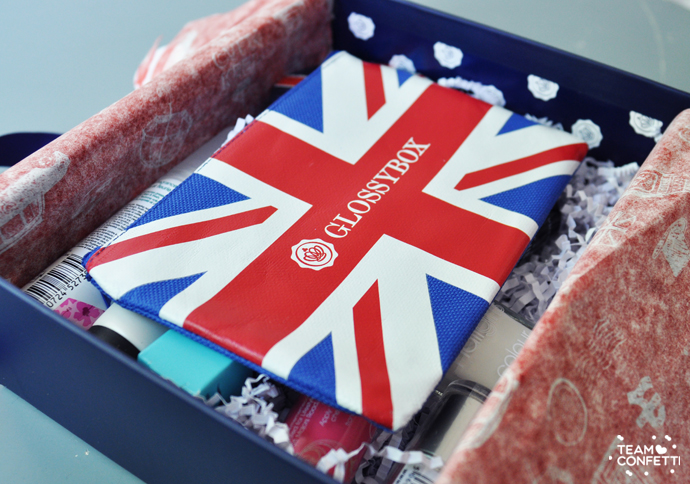 Papiertje open, er ligt een etuitje van Glossy Box bovenop, we zijn bijna bij de inhoud…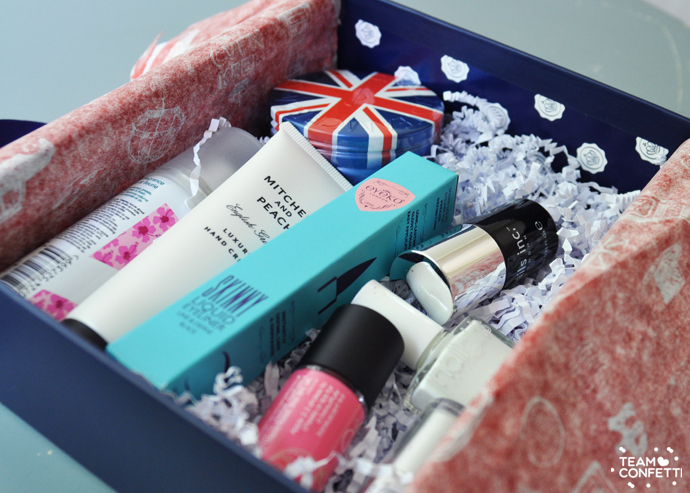 En daar is ie dan! Ik zal een voor een laten zien wat er in zit.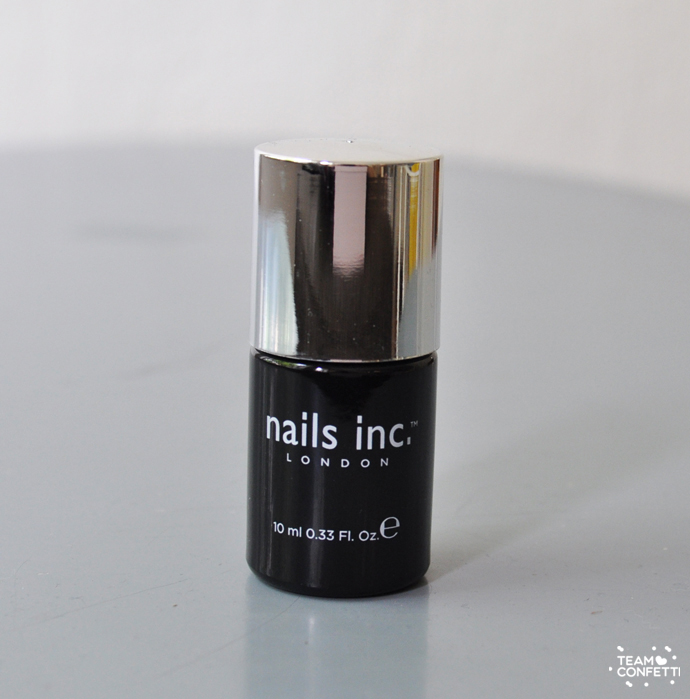 NAILS INC. CAVIAR TOP COAT ( 10 ML / € 14 )
Dit zegt Glossy Box erover:
Maak jouw manicure helemaal af met de Caviar topcoat van Nails Inc. De topcoat laat de kleur van je nagellak glanzen en beschermt tegen afbladdering. Binnen een handomdraai glanzende nagels met sneldrogende formule die zijn werk doet binnen 45 seconden!
Dit zeg ik erover:
Ik ben benieuwd. Ik zweer bij mijn Sally Hansen Insta-Dri, in dit artikel vertel ik waarom. Ik ga hem de eerstvolgende keer dat ik mijn nagels lak, uitproberen. Hopelijk is hij net zo goed!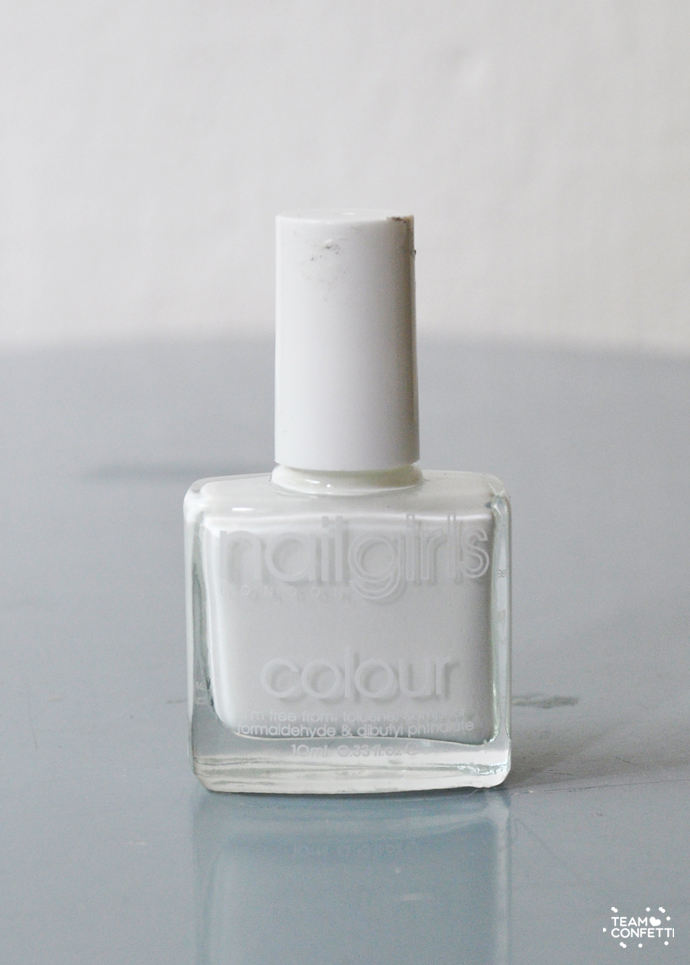 NAILGIRLS LONDON ( 10 ML / € 9,90 )
Dit zegt Glossy Box erover:
Geïnspireerd door de laatste catwalktrend, presenteerd Nailgirls London jou de nagellak-kleur van het moment: wit! Breng de nagellak evenredig op de nagel aan en werk met verschillende laagjes en een topcoat voor de ultieme dekking.
Dit zeg ik erover:
Ik heb nog nooit gehoord van dit merk en ben wederom benieuwd. Van alleen witte nagellak word ik niet zo enthousiast, maar als basis van nailart of met glitters eroverheen is het best mooi. Ik hoop dat de dekking goed is, want Glossy Box heeft het over 'verschillende laagjes'… Jammer genoeg is het flesje besmeurd met wat witte nagellak, dat is jammer.
MEMEME COSMETICS – CUPID'S KISS CHEEK & LIP TINT ( 12 ML / € 6,40 )
Dit zegt Glossy Box erover:
Transformeer jezelf in een Engelse roos met dit multifunctionele product van MeMeMe! Breng de vloeibare substantie naar eigen smaak aa op zowel je lippen als wangen en creëer een romantische look, die door de unieke formule extra lang blijft zitten.
Dit zeg ik erover:
In eerste instantie was ik niet zo enthousiast. Behalve lippenbalsem smeer ik niet graag iets op mijn lippen, en op mijn wangen gebruik ik liever poeder. Toen ik het uitprobeersel van mijn hand haalde bleef er keurig een roze vlekje zitten. Hij werkt dus wel. Misschien in combinatie met een lippenbalsem…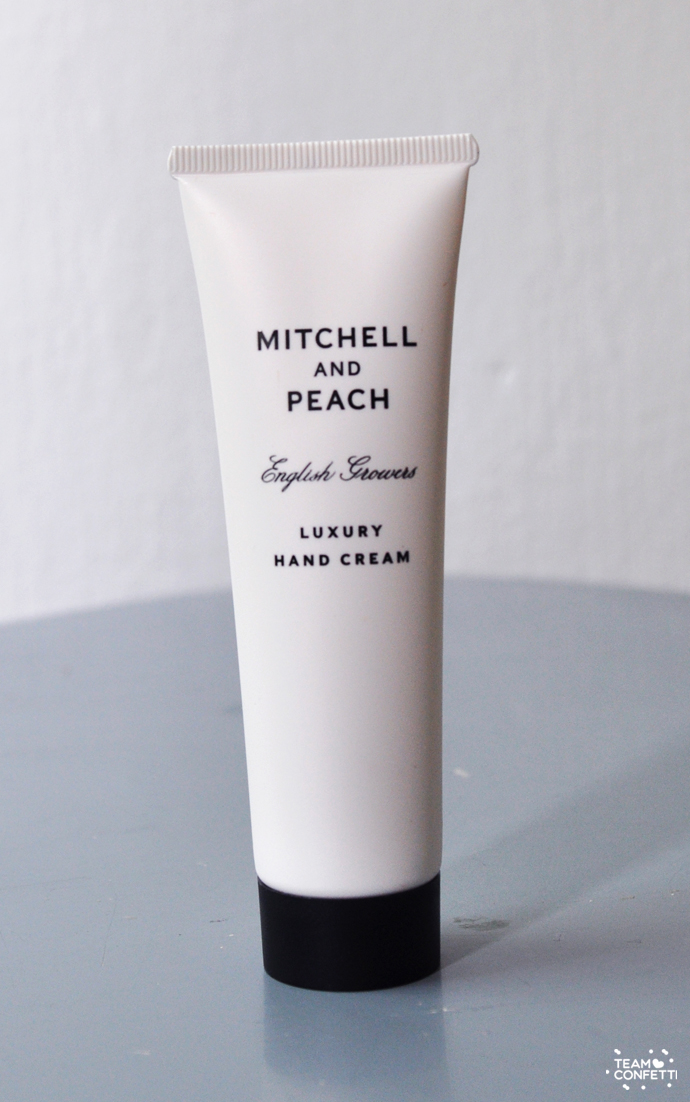 MITCHELL AND PEACH – LUXURY HAND CREAM ( 60 ML / € 20 )
Dit zegt Glossy Box erover:
Deze luxueuze en snel absorberende handcreme is een van de paradepaardjes van de familie boerderij van de Britse familie Mitchell. De essentiële olie zorgt voor een ware geursensatie, terwijl de natuurlijke ingrediënten dit product zorgen voor een optimale hydratatie en bescherming van de handen!
Dit zeg ik erover:
Poei! Dat is dure handcreme zeg! Maar hij ruikt heel lekker en ik ben gek op handcreme. En natuurlijke ingrediënten vind ik ook erg fijn. Blij mee dus!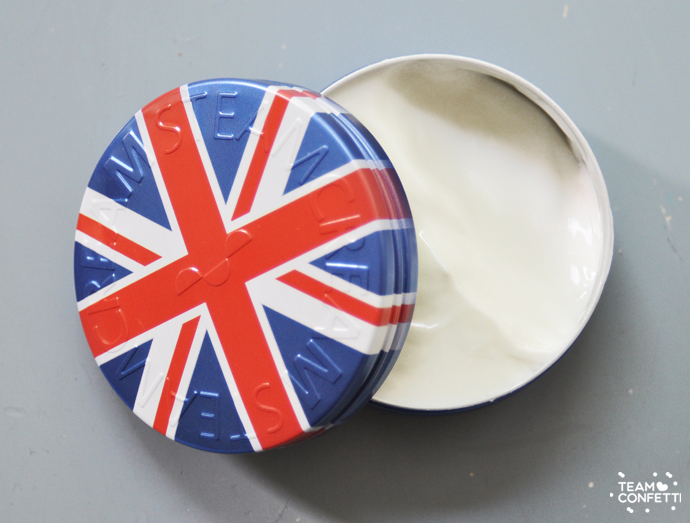 STEAMCREAM – ALL-IN-ONE NATURAL MOISTURISER FOR FACE BODY & HANDS ( 75 G / € 15,00 )
Dit zegt Glossy Box erover:
Steamcream, what's not to love? Deze multi-inzetbare moisturiser heeft al meerdere awards gewonnen in beautyland en is geschikt voor elk huidtype. Naast de effectieve werking van dit product, zijn de originele en veranderlijke designs van de blikjes nog een extra reden om direct verliefd te worden op deze Britse uitvinding!
Dit zeg ik erover:
Ik kan er nog weinig over zeggen, het is creme in een potje. Maar ik kom er snel genoeg achter of het fijn spul is. Het ruikt in ieder geval sterk naar lavendel en daar moet je van houden.
EYEKO SKINNY LIQUID EYELINER ( 2 G / € 11,00 )
Dit zegt Glossy Box erover:
Creëer de perfecte Britse, Twiggy-look met deze superhandige eyeliner van Eyeko! Naast het handige formaat, blijft deze eyeliner lang mooi door zijn hold en intense kleur.
Dit zeg ik erover:
Hele dunne lijntjes kun je er niet mee trekken, maar hij is diep en diep zwart. Over de houdbaarheid kan ik nog niets zeggen, maar een stift-eyeliner is altijd welkom! Wat Glossy Box precies bedoeld met 'handig formaat' is mij een raadsel, want hij is niet kleiner of groter dan andere eyeliners die ik mijn bezit heb… Net als bij de witte nagellak heeft de verpakking vlekken, jammer.
HELEN E COSMETICS – LASTING LIP COLOUR ( 3,5 G / € 9,40 )
Dit zegt Glossy Box erover:
Als je van je lippen houdt, dan zal je direct verliefd worden op de hydraterende lipsticks van Helen E! Het assortiment bestaat uit zowel felle als natuurlijke kleuren, waardoor je bij elke mood en gelegenheid de juiste kleur kan kiezen!
Dit zeg ik erover:
Zoals ik al zei, ik ben niet van de lipsticks. Daarnaast vind ik het geen mooie kleur. Ik denk dat ik mijn moeder hier erg blij mee ga maken!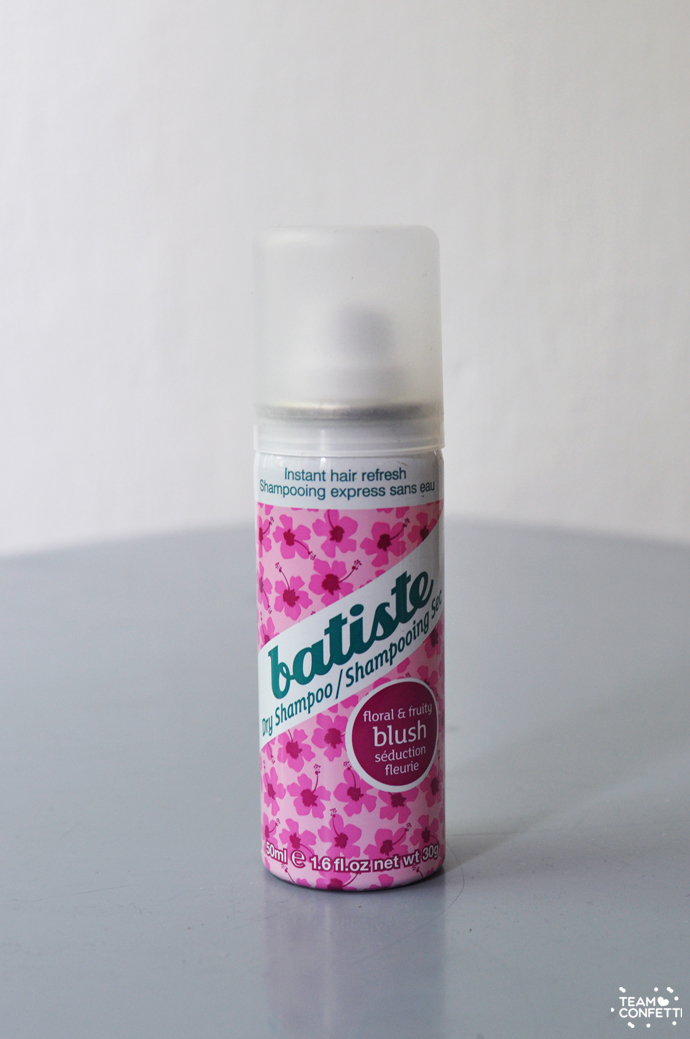 BATISTE DRY SHAMPOO – BLUSH ( 50 ML / € 1,80 )
Dit zegt Glossy Box erover: 
Wat jouw haartype ook is, met deze iconische Britse droogshampoo verfris jij je haar in een handomdraai tussen de wasbeurten door. Het resultaat? Je haar voelt fris en vulumineus aan!
Wat ik erover zeg:
Tja, ik heb al een busje staan en gebruik het niet veel. Ik weet dat veel meiden er gek mee zijn dus met de kwaliteit is niets mis denk ik. Ik vind het alleen jammer dat dit in de box zit, aangezien je het hier ook bij Kruidvat kunt kopen.
En dat was hem alweer. Mijn eerste reactie was toch teleurstelling. Er zijn in Engeland zoveel leuke merken die we hier niet kunnen krijgen en daar heb ik er niet eentje van terug gezien in de box. Ik had stiekem gehoopt op producten van: MakeUpArtist, Barry M, Sleek, Soap and Glory en Illamasqua. Maar dat is het nadeel van een verrassingsdoos, je weet van tevoren niet wat erin zit.
Ik hoop dat de witte nagellak goed dekt en dat de topcoat net zo goed werkt als die van Sally Hansen. De handcreme vind ik erg fijn en de steamcream is zo veelzijdig, die komt vast ook wel op. De eyeliner zou zo maar eens geweldig kunnen zijn, maar met de lipproducten heb ik niet zoveel. En dat geld ook voor de droogshampoo.
De Best of Britain box kost € 29,95 en is te koop bij Glossy Box.
Heb jij de Best of Britain box ook besteld? Wat vond jij ervan?