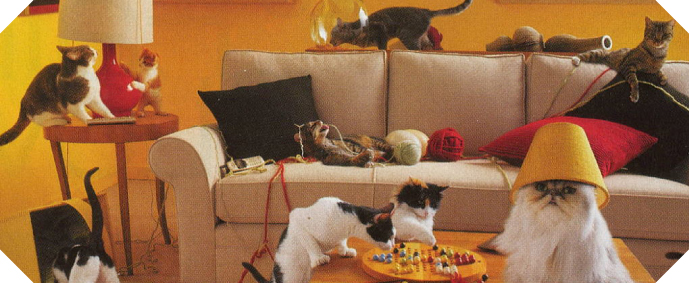 Het zal voor velen van jullie geen verrassing zijn dat ik hierbij openlijk beken een crazy cat lady te zijn. Katten zijn geweldig, dat roep ik al mijn hele leven en vandaar dat ik een tag voor ze heb gemaakt. Laten we er niet omheen draaien (katten doen dat overigens graag) en laten we beginnen!
SCHATTIGSTE FOTO VAN JE KAT(TEN)
Ik was alweer bijna vergeten hoe onwaarschijnlijk schattig Mo en Tetkees waren toen we ze voor het eerst kregen. Kijk die twee roze neusjes nou… Smelt…
BIJZONDERE EIGENSCHAPPEN
Katten zijn raar, daarom zijn ze zo leuk. En ik heb twee rare katten.
Tetkees is nog een beetje een baby. Toen hij echt een baby was zoog hij aan Mo's buik omdat hij dacht dat er wel melk uit te krijgen was. Gelukkig voor Mo dacht hij al vrij snel dat een fleece dekentje op de bank melk produceerde, want daar ligt hij nu aan te sabbelen.
Mo wil met geen mogelijkheid op schoot. Maar als je hem optilt en vasthoudt terwijl je staat vindt ie dat geweldig. Andersom kun je Tetkees amper oppakken maar ligt hij te pas en te onpas op schoot.
OMSCHRIJF HET GELUID DAT JE KAT MAAKT
Tetkees: 'Maaaawww, maaawwww, scratch scratch scratch.' Huilt als een wolfje en krabbelt aan de deur.
Mo: 'Murrrrr, mrrrrrr, mrr, mrrrrrrr, murrr, mrrrrrr, mrr, mrrrrrrr, murrr, mrrrrrr, mrr, mrrrrrrr, murrr, mrrrrrr, mrr, mrrrrrrr, murrr, mrrrrrr, mrr, mrrrrrrr, murrr, mrrrrrr, mrr, mrrrrrrr, murrr, mrrrrrr, mrr, mrrrrrrr, murrr, mrrrrrr, mrr, mrrrrrrr, murrr, mrrrrrr, mrr, mrrrrrrr, murrr, mrrrrrr, mrr, mrrrrrrr, murrr.' De hele dag door. Als je hem roept, als hij rond loopt, als hij wakker wordt en vooral als er helemaal niks aan de hand is. Oja, en hij miauwt ook weleens.
KOOSNAAM
Tetkees noemen we zelf hooguit Tetkeessie. Alle andere mensen die langskomen noemen hem Testcase of Mafkees. Tom's broer bekijkt niet vaak genoeg de kattenupdate want hij noemt hem Mo…
Mo noemen we van alles: Mootje, Mojo, Mooster. Maar meestal noemen we hem Murpy. Omdat hij de hele dag 'mmrrrr' zegt.
BEKENTENIS
Ik (Tom ook trouwens) heb de neiging mijn katten in te stoppen. Ze kunnen zo ontzettend lekker slapen en dan wil ik ze gewoon inpakken in een dekentje. Want dat lijkt me zo lekker voor ze. Meestal zijn ze het er niet mee eens, maar soms zijn ze moe genoeg dat ze het erbij laten.
GOEDE TIP VOOR ANDERE CRAZY CAT LADIES
Onze katten verslijten kattenbandjes alsof het niks is. Soms duurt het een uur, soms een dag of een week, maar dat kattenbandje gaat eraan. En het is niet alsof ze uitzonderlijk goed hun best doen om die dingen te vernietigen: beetje krabbelen, beetje met elkaar spelen. Maar nu hebben we toch eindelijk HET PERFECTE kattenbandje gevonden: Het ENVY kattenbandje. Jaja, Envy, dat klinkt chique en onbetaalbaar, maar nee! Net zo duur als elk ander kattenbandje (rond de €5, te koop bij Tuinland). Ze reflecteren, gaan niet stuk, hebben geen uitsteeksels waar je kat aan gaat knagen en hebben zo'n klipje dat los schiet als ze ergens achter blijven hangen. Ziehier een vergelijkend warenonderzoek: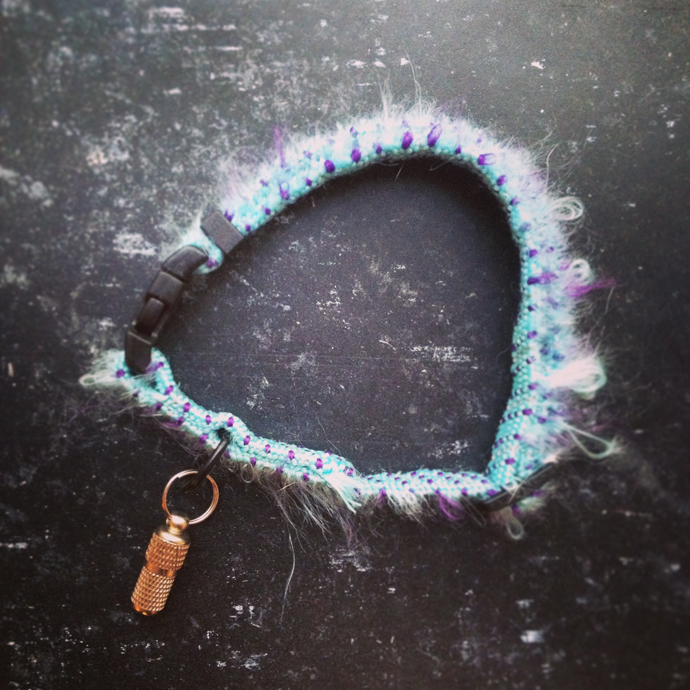 Dit is Tetkees zijn bandje van het merk Pet Products. Na twee weken. Praktisch aan gort.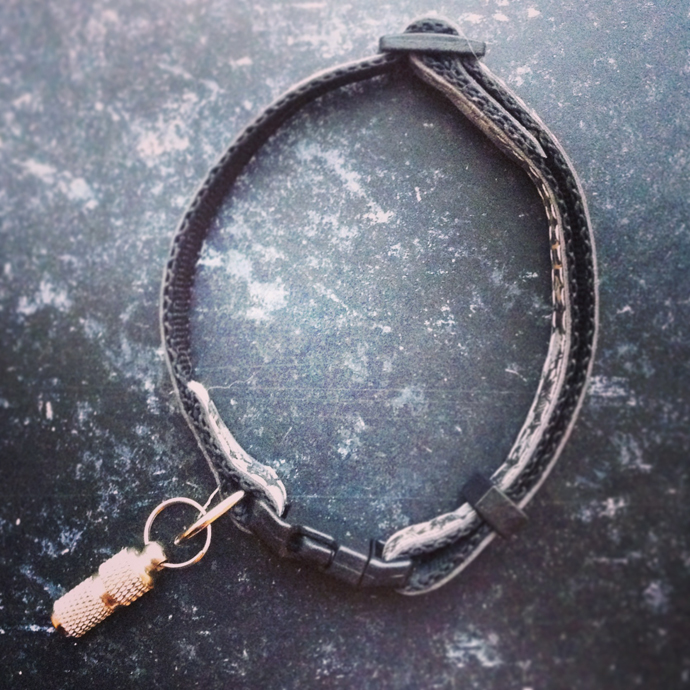 En dit is Mo's bandje van Envy. Ziet er brand spanking new uit!
We worden overigens niet gesponsord door Envy (zou je bijna wel zeggen na zoveel lovende woorden). We zijn gewoon blij dat we niet elke dag naar de dierenwinkel hoeven om nieuwe te halen. Er zaten trouwens eerst belletjes aan beide bandjes, maar die hebben we vervangen door ouderwetse adreskokertjes. Vooral Tetkees werd he-le-maal knetter van het rinkelende belletje om zijn nek.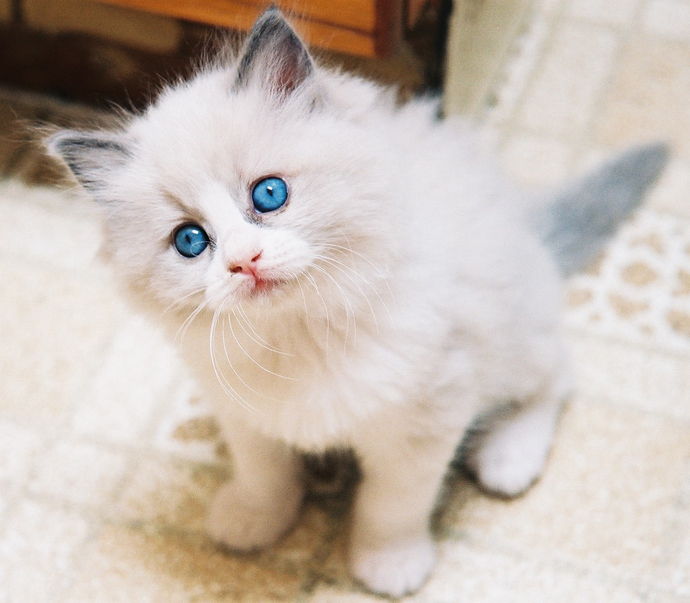 WAT VOOR KAT ZOU JIJ ZIJN?
Aangezien ik niet echt op de hoogte ben van alle kattenrassen (al onze katten kwamen uit het asiel, ik ken alleen het vuilnisbakkenras) dus heb ik even deze zeer betrouwbare kattentest gedaan. Daar kwam uit dat ik een echte Ragdoll ben. En als ik de foto zo bekijk, klopt het aardig. Heel schattig met blauwe oogjes, maar er zit ook wel een beetje crazyness in verscholen…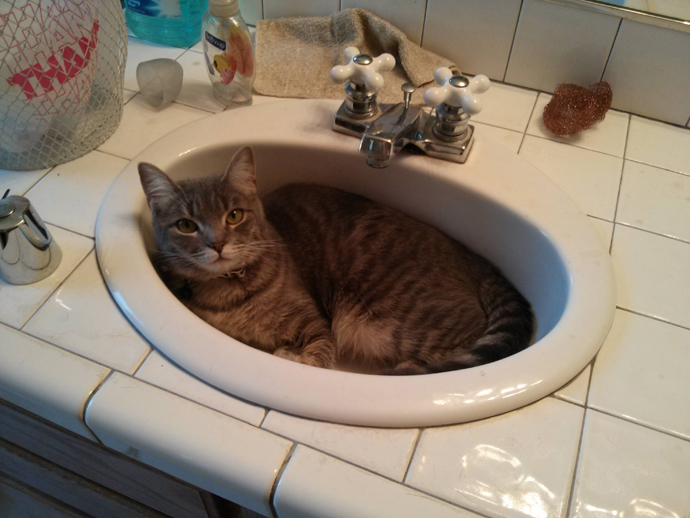 LEUKSTE KATTENWEBSITE
Ik ga voor een oldschoolwebsite. Ontzettend basic en toch kun je niet ophouden met klikken. Ik heb het over Cats in Sinks. Katten in wasbakken, that's right!
BESTE KATTENGIF
Ok, laten we wel wezen, een beste kattengif bestaat natuurlijk niet. Dat is echt heel persoonlijk. Ik houd wel van een combinatie van schattig en heel raar. En dan krijg je dit: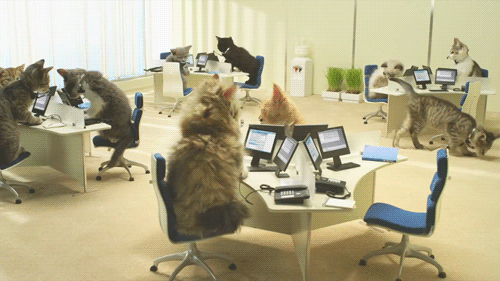 En dat was hem alweer!
Ik tag bij deze:
Aline van Paperboats.nl (De schattigste foto van Emmy en Franklin moet onbetaalbaar zijn)
Mascha van Beautygloss.nl (Siem en Manis zijn zo leuk!)
Kathleen van Verbeelding (Ik ben benieuwd wat voor geluid Vince en Nelson maken)
Serena van Beautylab.nl (Wat zouden de bijnamen van Coco en Clarence zijn?)
Wil je de Crazy Cat Lady Tag overnemen, heel graag! Laat het weten, als Crazy Cat Lady lees ik heeeeeel graag over andermans katten. Zou je dan wel een linkje naar onze blog willen vermelden?