Welkom bij een superleuke aflevering van de Confetti Soap! Deze week is hij extra lang en extra leuk, want Tom en ik zijn precies één week naar Engeland geweest, van zaterdag tot zaterdag. Naar Cambridge, London én Brighton. En we hebben héle mooie dingen gezien en héle leuke dingen gedaan…
Vorige week zaterdag begon onze vakantie. We gingen met de boot van Hoek van Holland naar Harwich en de boot vertrok om 22.00. Tijd zat dus om 's middags in Groningen nog een uitgebreide sushi lunch te eten bij Okami. De treinreis was door werkzaamheden extreem lang (vijf uur en vier keer overstappen met een stuk bus ook nog) dus we waren héél blij toen we eindelijk bij de boot kwamen. We hadden het goedkoopste hutje genomen en het was iniemieni maar alles zat erin. De boot voer terwijl we sliepen en we hadden dus geen vliegveld-stress (bonus). Als je de tijd hebt, is het dus super. Bij het bootkaartje kregen we ook nog treinkaartjes van Groningen naar Hoek van Holland en van Harwich naar Cambridge. En dat voor €100,- per persoon, goeie deal!
Zondagochtend kwamen we aan in Harwich en vanaf daar namen we de trein naar Cambridge. In Cambridge konden we helaas nog niet in onze Airbnb, maar we konden er gelukkig wel onze koffers kwijt. We bleken een beetje in een buitenwijkje te zitten want het was een flinke wandeling naar het centrum. Ik had mijn digitale kaart van Cambridge vol gezellig pubs, winkels en wandelroutes gepropt (het grootste deel kreeg ik van lieve bloglezeres Marjon) en ons eerste biertje mét sunday roast (echt een must in Engeland) aten we bij Pint Shop. Heerlijk eten, een mooie binnentuin en heel veel speciale biertjes. Na de lunch liepen we door naar de Botanic Garden want er was 's middags een gratis rondleiding van een uur (wij zijn suckers voor gratis rondleidingen over dingen waarover we helemaal níks weten). En ook omdat we een beetje moe waren en wel een plek konden gebruiken waar het heerlijk rustig en mooi was. Zoals je ziet is het er prachtig en ik raad het van harte aan als je ooit naar Cambridge gaat.
Aan het einde van de middag wandelden we terug naar ons heerlijke tuinhuisje (geen grap, het stond letterlijk in iemands tuin). Het was echt het allermooiste tuinhuisje dat ik ooit heb gezien met hoge plafonds, een perfecte indeling en dakramen. De buurt was niet zo (beetje deprimerend) maar in het huisje was het echt héél fijn.
Op maandag begonnen we de de dag met yoga with Adrienne en daarna liepen we weer richting de stad. Marjon had een hele leuke route langs de rivier Cam aangeraden en wat heel grappig was: overal liepen koeien. De foto van Tom met koe is vlakbij het centrum, haha. Als je naar Cambridge gaat, moet je natuurlijk een paar College's bezoeken. De eerste die we bekeken was Clare's College want die scheen hele mooie tuinen te hebben. En daar hadden ze niet over gelogen! Oh het was zó prachtig en zó Engels. Lunch aten we bij Bill's, een hele leuke restaurantketen in Engeland (in Brighton hebben we er ontbeten). Het interieur doet een beetje denken aan een Lush winkel, het eten is heel lekker en de bediening is lief en efficient (we namen een drie gangen lunch en stonden met een uur alweer buiten). Maar het belangrijkste: er staat een toetje op de kaart van donut-balletjes met aardbeien en chocolade-saus. Goddelijk! Na de lunch hebben we nog wat gewinkeld (patatketting is van Topshop) en ik heb er een nieuwe favoriete winkel bij: Oliver Bonas. Zulke mooie dingen, patroontjes en kleuren. Gelukkig hebben ze ook een webshop…
Dinsdag was alweer de laatste dag in Cambridge. We gingen naar St. John's College (mooi, maar Clare vonden we mooier), ik had fish & chips voor lunch (ook een moetje als je in Engeland bent) en we huurden fietsen… En dat was niet zo'n groot succes. Laten we zeggen dat links fietsen, andere verkeersregels en boze automobilisten die uit hun auto hingen, niet zo goed was voor de vakantiesfeer. Maar we hebben het gedaan (en voordat we het weer doen, gaan we ons eerst even verdiepen in de Engelse verkeersregels). Tot slot nog een tip voor als je je nu of ooit nog in Engeland bevindt: de hummus met Maroccan topping is suuuuperlekker.
Woensdag vertrokken we op tijd uit Cambridge en namen we de trein naar Londen, waar Tea al op ons stond te wachten. Jullie kennen Tea natuurlijk wel van haar fantastische gastblogartikelen hier op teamconfetti.nl maar ze is ook een geweldige gids door Londen. We aten lunch bij Granger & Co (de beste scrambled eggs van het land), huppelden nog even door Camden (en aten daar het lekkerste, met stikstof bereide ijs van het land bij Chinchin) en gingen toen door naar de televisiestudio van Pointless!
Pointless is een ietwat flauwe, maar hilarische BBC quiz die Tom en ik al jaren kijken. Toevallig konden we precies op de dag dat we met Tea in Londen hadden afgesproken, naar een opname van twee afleveringen en het was echt fantastisch. Als je een vakantie naar Londen in de planning hebt staan, kijk dan zeker even op de website van sro audience om te zien of er nog tv opnames zijn van iets leuks. Je kunt je aanmelden voor van alles en het is gratis. Wie weet zit je straks in het publiek van the Graham Norton show…
Donderdag was onze eerste dag in Brighton (we waren woensdagavond laat aangekomen vanuit Londen) en na tien stappen lopen waren we al verkocht. En toen we bij de zee aankwamen waren we driedubbel hard verkocht. Blogger Emma heeft een jaar in Brighton gewoond, de tijd van haar leven gehad en ons heel veel leuke tips gegeven. En we zijn net als Emma nu groot fan van de stad. Brighton is zó mooi. Niet te druk, gezellig met schattige winkelstraatjes, knetterveel leuke eettentjes, knusse parkjes en die zee, o die zee…
De gele portemonnee heb ik trouwens (na een nachtje slapen) gekocht. Ik moest al driehonderd jaar een nieuwe en deze is heel mooi, gemaakt van gerecycled leer en op een natuurlijke manier geverfd. Hij was (voor mijn doen) aardig aan de prijs, maar ik ben er zo blij mee. Treat yourself!
Vrijdag stonden we om kwart voor tien al bij Brighton Buddhist Centre voor een yoga / meditatie les. Het leek me leuk om zoiets te doen op vakantie (net zoals het me leuk leek om te fietsen in Cambridge, oeps) en omdat we ook de stad aan het verkennen waren om er heel misschien wel een paar maanden te gaan wonen… Het was de eerste keer dat Tom naar een les was geweest en gelukkig vond hij het (net als ik) ontzettend fijn. Blij en ontspannen liepen we na anderhalf uur de deur weer uit. Tijd voor een lekkere koffie én een plak bananenbrood. En na wat winkelen, ook nog maar een salted caramel donut. Want die stond al een maand op mijn Brighton to do list, haha. 's Avonds dronken we cocktails en aten we hotdogs (die van mij was vegetarisch en superlekker) bij the Dog Haus. Terwijl een DJ soul muziek draaide. Liefde.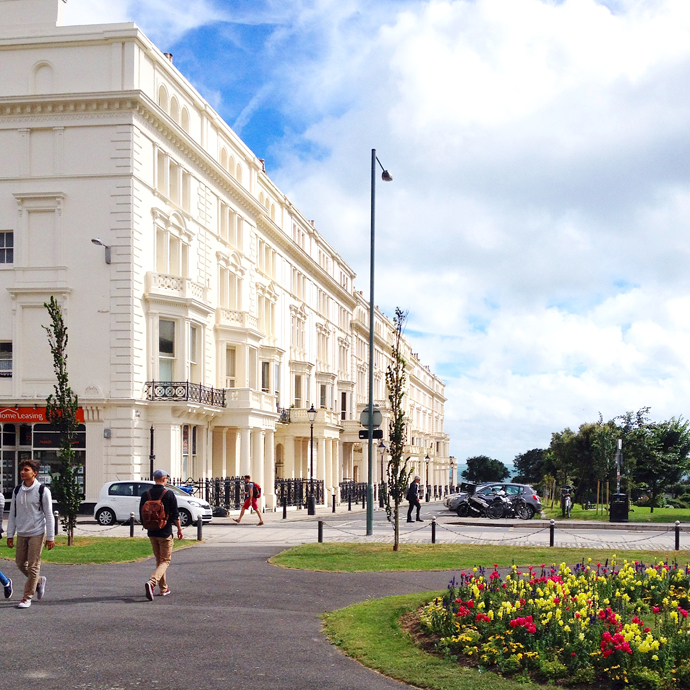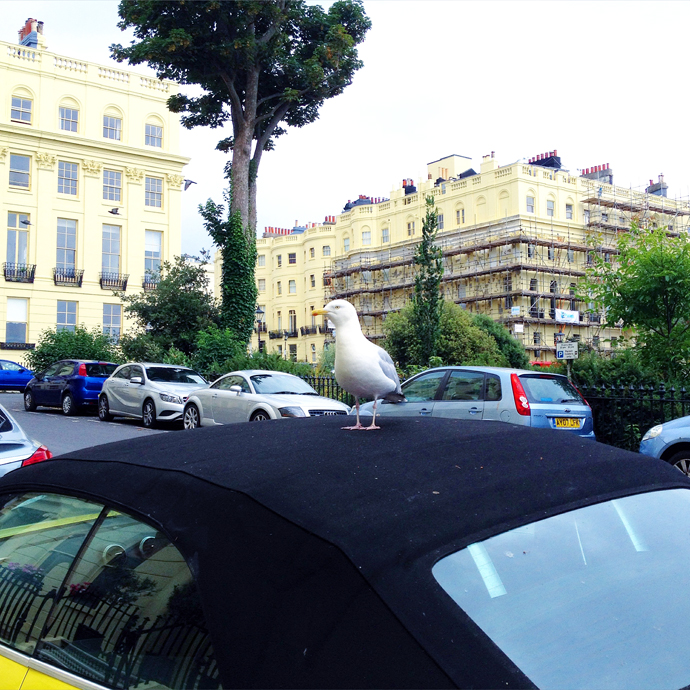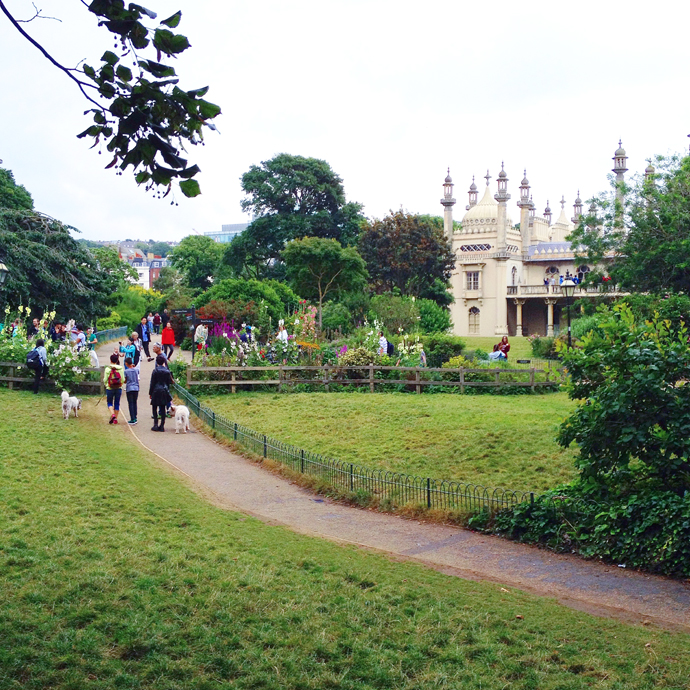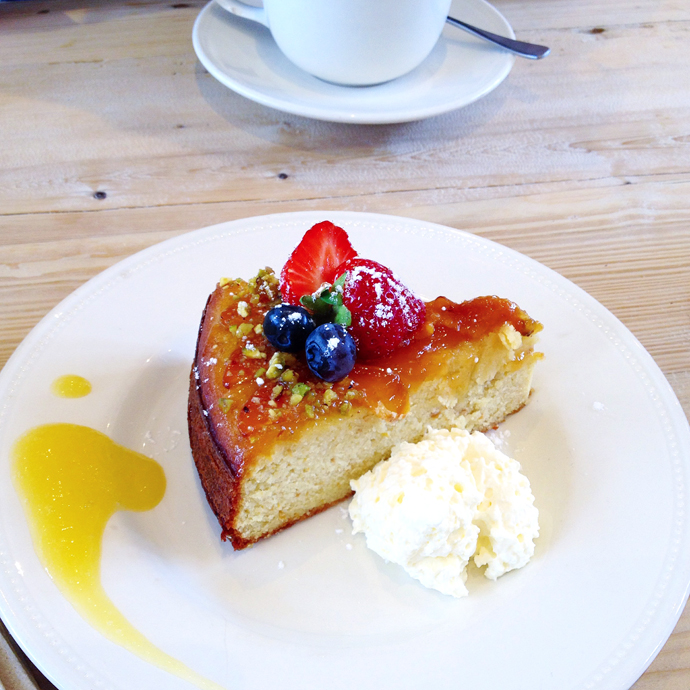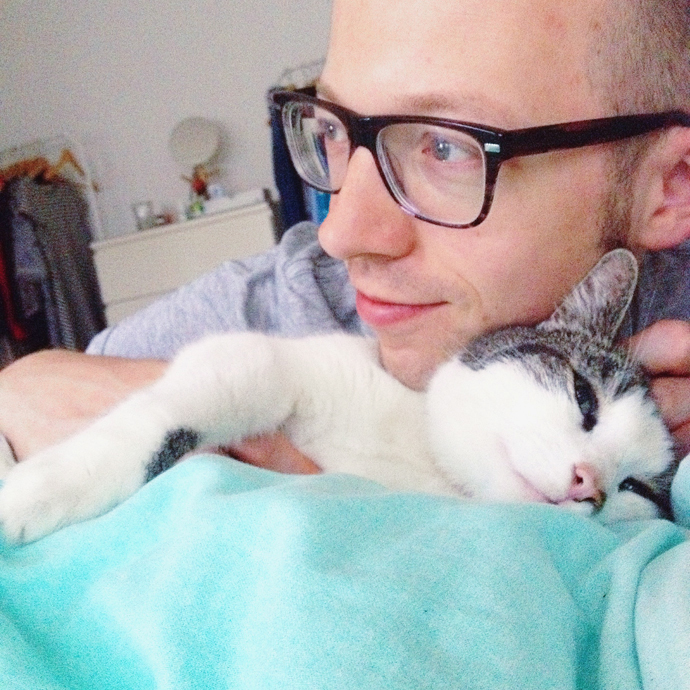 Zaterdag hadden we nog één ochtend in Brighton voordat we weer naar huis gingen en we waren allebei een beetje verdrietig. We wilden nog niet naar huis! We liepen nog een laatste keer langs de pier, een laatste keer door de stad en een laatste keer door ons favoriete parkje. Nog een heerlijke lunch mét taart na bij Igigi (zagen we voorbijkomen in de vlog van Zoella, 's werelds grootste YouTuber en trots inwoonster van Brighton) en het was tijd om te gaan. Maar na een korte vlucht en een lange treinreis was het wel héél leuk om Tetkees weer te zien…
♥♥♥
Als je nog vragen hebt over onze Engeland reis (omdat je zelf ook gaat binnenkort), vraag het dan gerust!