Gastartikel door Noortje – Al een tijdje stond het op mijn lijstje, een blogpost schrijven over welke boeken mij inspireren. Het duurt niet lang meer voor de officiële cadeautjestijd weer aanbreekt. Daarom leek het me nu de perfecte tijd om mijn vijf inspirerende boekaanbevelingen te delen!
Het leek me leuk om een fotoreportage te maken die je het gevoel geeft dat je krijgt van het lezen van een fijn boek. Op een prachtige dag sprak ik af met mijn vriendin en fotografe Minou Meijers en daar kwamen idyllische herfstige plaatjes uit voort die in deze blogpost te zien zijn. De enige foto's die ik zelf geschoten heb, zijn de afbeeldingen waarop de binnenkant van de boeken te zien zijn.
BINNEN KAMERS – TIM ENTHOVEN
Binnens Kamers is het enige boek in het lijstje met een verhaal. In dit geval is het verhaal geïllustreerd en kUn je spreken van een beeldroman of graphic novel. Het verschil tussen een stripboek en een graphic novel is dat de thematiek bij een graphic novel vaak veel dieper gaat en dat is bij Binnens Kamers ook het geval. Binnen Kamers vertelt het verhaal van een enigszins autistische jongen die een voorspelbaar leven leidt tot er een paar dingen anders gaan dan normaal en hij daar op zijn manier mee om moet zien te gaan. Het bijzondere aan dit boek is de verbeelding van zijn leven en gedachten. Wanneer dingen erg dichtbij komen, komen de afbeeldingen ook daadwerkelijk heel dichtbij bijvoorbeeld. Op deze manier wordt het voor een buitenstaander heel makkelijk om zich in te leven in de gedachtenwereld van de hoofdpersoon. Een aanrader voor iemand die houdt van absurbisme, psychologie en heldere zwart/wit illustraties.
HET FOREST FEAST KOOKBOEK – ERIN GLEESON
In het Forest Feast kookboek wordt je ondergedompeld in de wereld van Erin Gleeson. Je kan het met recht haar wereld noemen omdat zowel de recepten, de fotografie, de illustraties, de typografie en de vormgeving van haar hand zijn. Ik vind dat echt ongelooflijk, dat je zo getalenteerd bent dat je alle onderdelen zelf samen kunt brengen en dat het er fantastisch uitziet. Eigenlijk inspireert dit boek mij op verschillende manieren. De eerste manier is natuurlijk door de heerlijke (en allemaal!) vegetarische recepten. Toen ik net met vegetarisch eten begon, was dit boek echt een uitkomst, er was hoop zonder vlees en vis! Ten tweede vind ik het mooi dat zij dus allerlei disciplines beoefent en samenbrengt. Ik werk met papier en dat vind ik superfijn maar soms heb ik weleens de neiging weer eens een potlood op te pakken. Erin laat zien dat er geen grenzen bestaan en dat je alles kan doen wat je wilt. Ten derde beschrijft ze in dit boek hoe haar leven verlopen is en wat voor keuzes ze gemaakt heeft. Door hard te werken hebben zij en haar man het voor elkaar gekregen om een buitenhuis te kopen in de bossen van Californië. De plaatjes kunnen ervaren worden als jaloersmakend maar door de manier waarop ze erover schrijft inspireert het me juist enorm om nog harder te werken en ook mijn dromen na te jagen. Het laat zien dat wanneer je hard werkt (en okee ook wel een portie geluk hebt) er van alles mogelijk is.
MAKE AND GIVE – STEPH HUNG & ERIN JANG
Het boek Make and Give door Steph Hung en Erin Jang stijgt met kop en schouders en borst en buik en benen boven elk ander diy/craft boek uit. Erin is een sublieme illustrator en grafisch vormgever. Daarnaast heeft ze goede ideeën en bij alles wat ze doet, denk ik yep, she's done it again. Toen ik hoorde dat dit boek uitkwam, stond ik dus ook te springen en de inhoud bleek alles behalve tegen te vallen. De diy's in dit boek zijn briljant maar worden tegelijkertijd simpel en laagdrempelig gehouden door het gebruik van makkelijk verkrijgbare materialen. Onderwerpen die worden behandeld zijn bijvoorbeeld het organiseren van een fietsdate, een snoep bordspel, een housewarming gift guide en nog veel meer. De vormgeving is heel stoer wat de projecten toegankelijk maakt voor alle leeftijden maar is ook toepasbaar voor zowel vrouwen als mannen. De kleuren, ideeën en vormgeving inspireren mij enorm en helpen mij vanuit een andere hoek te denken. Ik kijk er daarom ook vaak in wanneer ik begin met een nieuwe opdracht.
THE MAKING OF FANTASTIC MR FOX – UITGEGEVEN DOOR RIZZOLI NEW YORK
Ten eerste, wanneer je nog nooit van Fantastic Mr Fox gehoord hebt maar wel een liefhebber bent van animatie en van vossen, prijs jezelf gelukkig! Er wacht een fantastisch prachtige film op je die je sowieso moet gaan zien. Dan over naar het boek. In the making of wordt er in leuke anekdotes, aantekeningen en schetsen vertelt hoe het maken van de film eraan toe is gegaan. De honderden foto's van alle set designs, props, characters en work in progresses zijn overweldigend prachtig tot het onroerende aan toe. Het lezen van dit boek is een beetje als het kijken naar de Lion King, het is je lievelingsfilm maar je moet hem maar niet te vaak zien want bij de eerste tune zit je al in tranen. Ik kan er nog van alles over vertellen maar als je een liefhebber bent van handgemaakte dingen, animatie, dieren, Roald Dahl… Dan is dit een boek dat je moet hebben of geven aan zo'n iemand.
FIKA – IKEA
Fika is een receptenboek uitgebracht door Ikea. In het Zweeds betekent Fika een pauze met een kopje koffie en iets lekkers erbij. Voor dat laatste worden er 30 klassieke recepten van koekjes tot taarten behandeld. Ik heb dit boek gekregen van een vriendin die wist dat ik voor de vormgeving zou vallen. Fika is namelijk niet zomaar een kookboek. Alle ingrediënten worden namelijk los van elkaar op de foto gezet, gevolgd door een foto van het het eindresultaat. Het is niet moeilijk om te raden dat dit boek mijn inspiratie was voor de vormgeving van mijn paper recipes. Naast dat het er prachtig uitziet, vind ik het zelf ook heel praktisch. Je ziet namelijk in één oogopslag wat je nodig hebt. Ik moet eerlijk bekennen dat ik nog geen één recept uit Fika geprobeerd heb, maar ik kan blijven kijken naar die nauwkeurig gesorteerde suikerkorrels, om nog maar niet te spreken van hoe ze vloeibare ingrediënten als melk bijvoorbeeld geordend hebben… Dit boek is vooral erg mooi en een genot voor de ogen. Daarnaast wordt er gebruik gemaakt van prachtige kleurcombinaties en krijg je die 30 recepten gewoon cadeau! (Ben je trouwens benieuwd naar mijn eigen recepten? Er zijn nu drie paper recipes te zien zijn op mijn website.)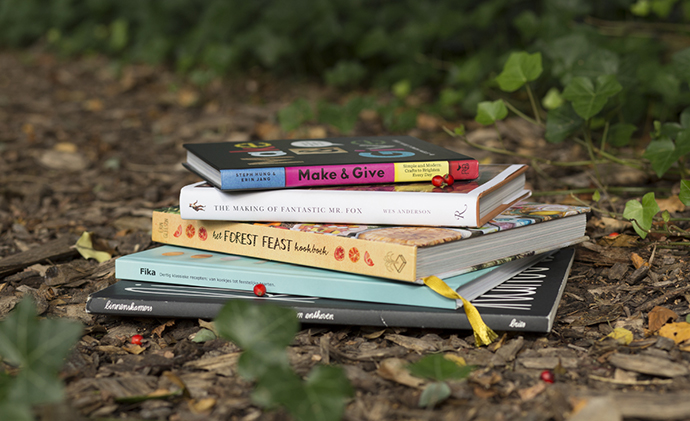 Ik hoop dat ik jullie heb kunnen inspireren met deze boekentips. Heb je zelf ook een boek dat jou elke keer weer inspireert laat het dan vooral achter bij de comments! Daar ben ik heel benieuwd naar. 
♥♥♥
Noortje is een vrolijke illustrator uit Rotterdam met een passie voor papier en kleur. Hier op teamconfetti schrijft ze artikelen waar je iets van kan leren, maar waar je vooral vrolijk van wordt.