Gastblog door Vera – De oplettende lezer onder jullie heeft misschien gemerkt dat ik een maandje heb overgeslagen met mijn gastblogs. De reden daarvoor is een klassiek 'first world problem' en dat luidt dat ik een boek aan het illustreren en vormgeven ben voor Uitgeverij Snor (voor wie het nog niet wist) en dat dat al mijn tijd opslokt. Maar mij hoor je niet klagen want de opdracht is awesome. Ik bedoel: er ligt straks een boek van mij (van mij, ja) in de winkels. Need I say more?
Maar goed, zo'n monster-opdracht betekent dus een bomvolle planning en nul social life. Maar ik kon Olga niet voor een tweede keer achtereen laten stikken, dus deze maand ben ik er gewoon weer bij hoor! En hoewel jullie leuke downloadjes  en DIY's en dergelijke van mij gewend zijn wil ik het deze maand eens over iets anders hebben.
Namelijk: Weet jij al waar je je decembercadeaus gaat kopen dit jaar? Nee? Mooi! Overweeg dan dit jaar eens bij kleine ondernemers (zoals wij allen van Team Confetti bijvoorbeeld) te kopen. Waarom? Omdat kleine ondernemers de inkomsten van de kerstdrukte veel harder nodig hebben dan de grote ketens en gewoonweg omdat ik persoonlijk kleine mede-ondernemers mijn knaken veel meer gun dan grote concerns die alles in het buitenland laten produceren. En daarbij: iets waar de handmade-liefde vanaf straalt, dat koop ik veel liever dan iets wat onder dwang is gemaakt in een lage-lonenland. Mee eens?
Goed zo, want vandaag heb ik voor jullie een overzicht van mijn 10 favoriete Nederlandse Etsy shops. Dus zoek je nog wat leuks? Etsy (hét online platform voor handgemaakte dingen) heeft voor elk wat wils!
Gaan we: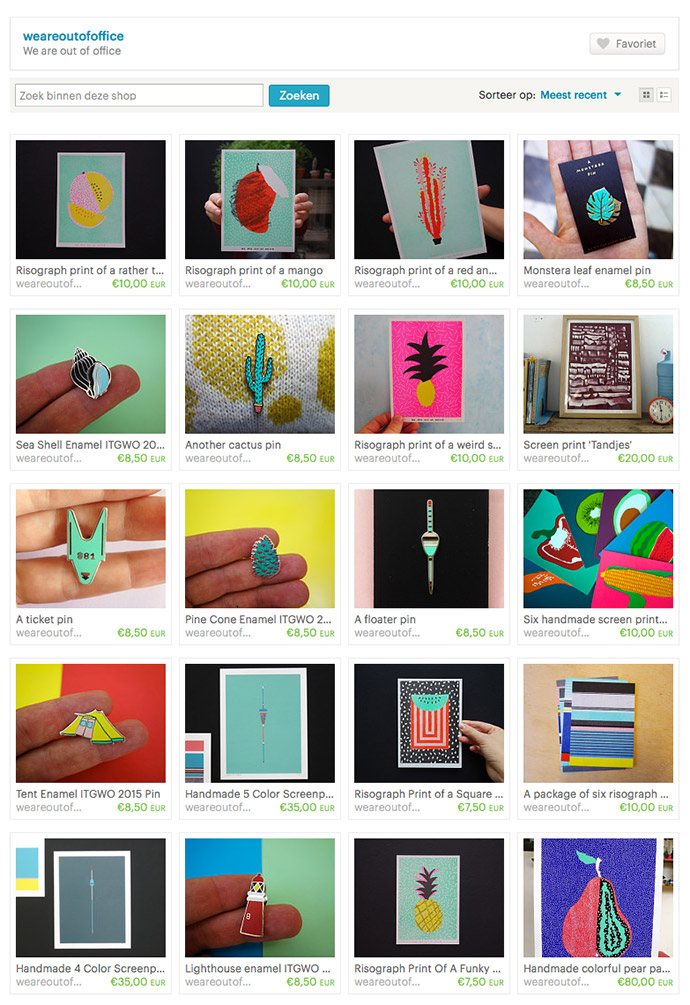 #1. weareoutofoffice
Emaillen pins zijn helemaal 'je van het' tegenwoordig en deze shop in Utrecht zal je niet teleurstellen. Vuurtorens, cactussen, dennenappels. Ze hebben het. En ze verkopen ook nog prints in kekke kleuren.
☆☆☆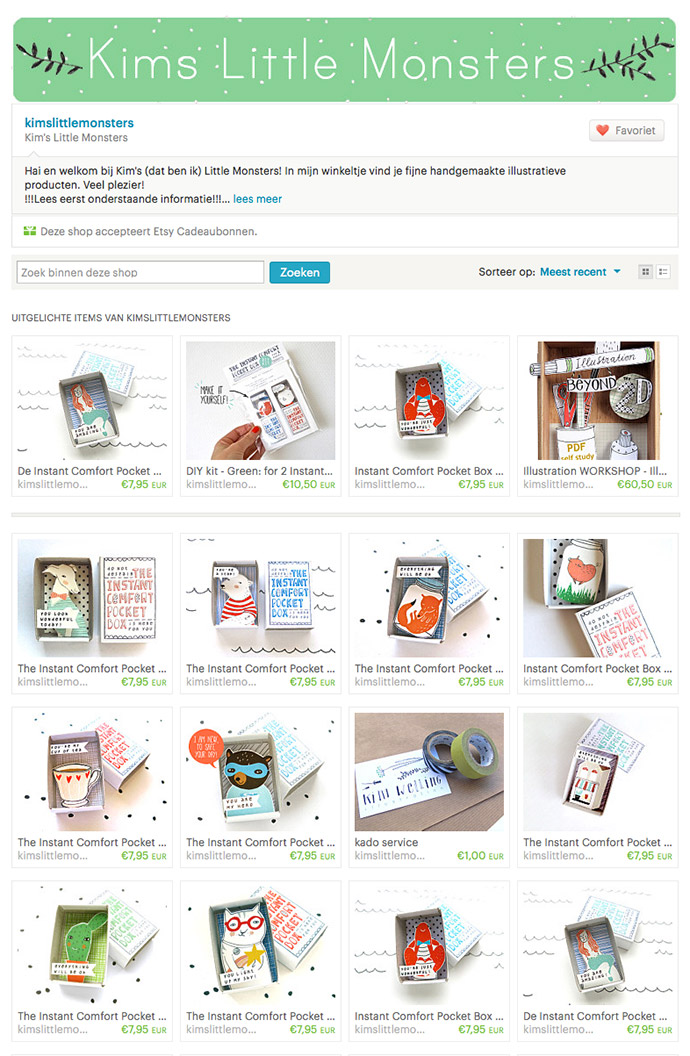 #2. kimslittlemonsters
Collega-illustrator Kim Welling maakt de mooiste 'Instant Comfort Pocket Boxes'. Watte? Gelukwensen en troost in een luciferdoosje. Een goedkoop, superleuk cadeautje voor iedereen. En ter ere van allerlei verschillende gelegenheden!
☆☆☆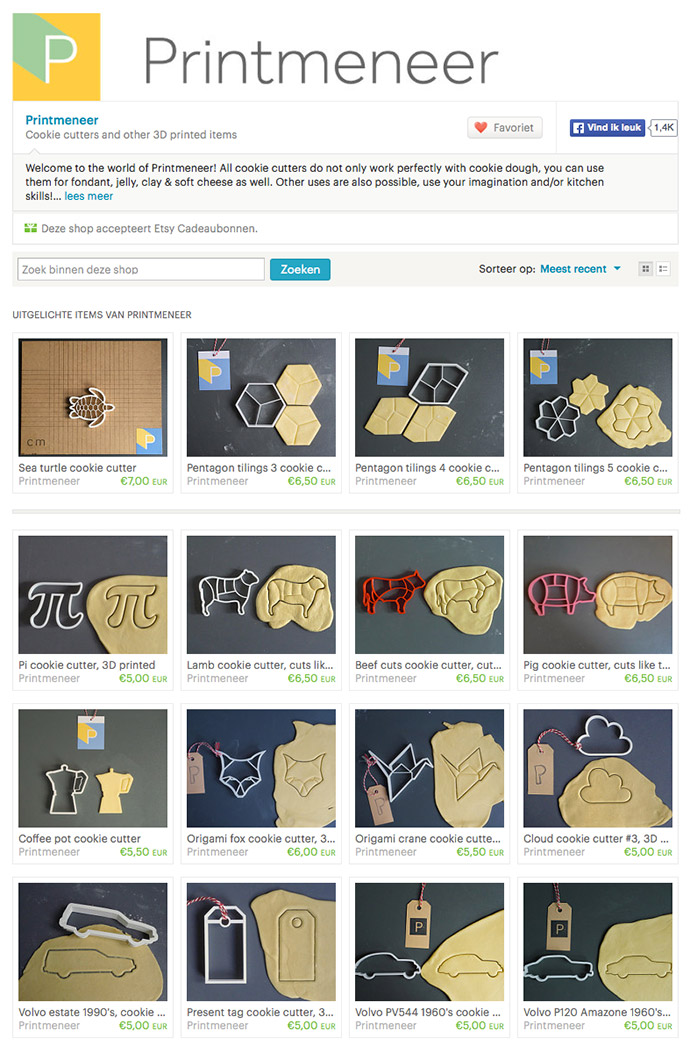 #3. Printmeneer
Heb je een vriend/vriendin/moeder die van bakken houdt? Dan zijn de koekvormpjes van Printmeneer echt een ideaal cadeau. Van varken tot cadeaulabel, van wolk tot origami-vogel. Printmeneer heeft ze.
☆☆☆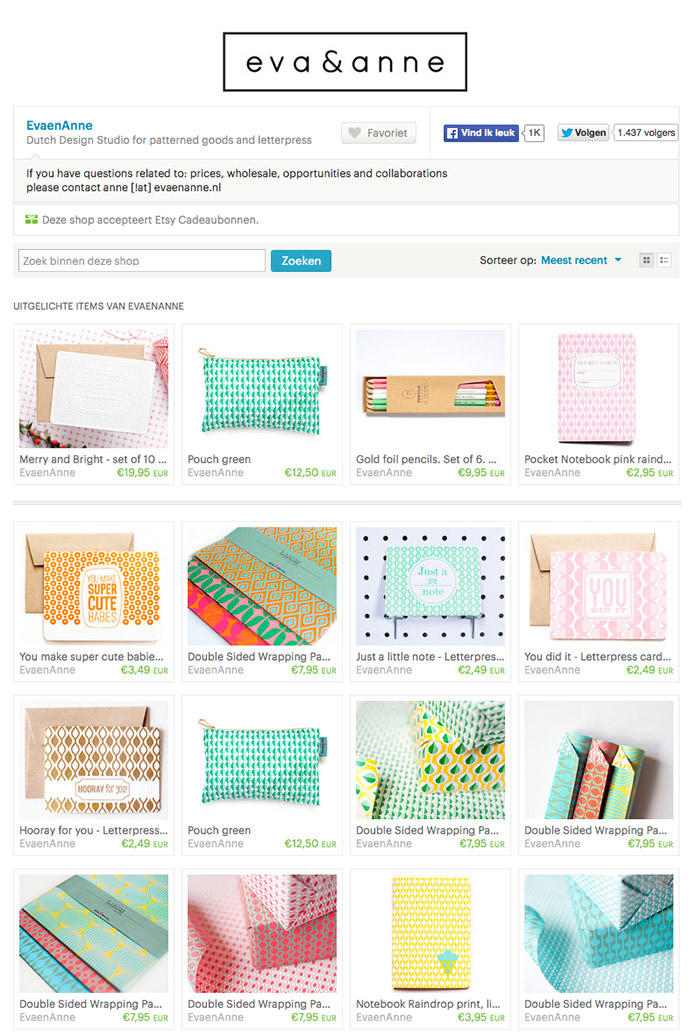 #4. EvaenAnne
Eva en Anne maken supertof cadeaupapier. Misschien 'ansich' geen ideaal cadeau, maar als je iets zoekt om alle moois in te verpakken, kijk dan zeker eens hier!
☆☆☆
#5. StudioLilesadi
Als je iets zoekt voor in huis, dan hoef je niet verder te kijken dan deze shop. Geometrische kussens, marmeren fotohouders in de vormen van bergen. Ik kan eigenlijk alles uit deze winkel wel op mijn verlanglijstje zetten.
☆☆☆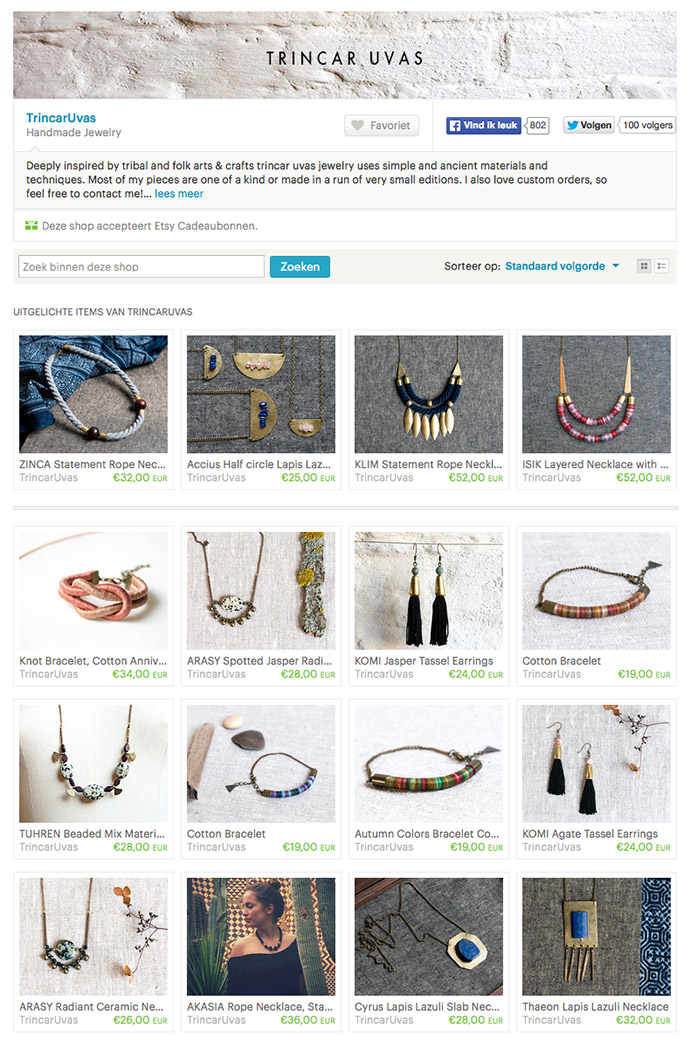 #6. TrincarUvas
Joana van Trincar Uvas maakt supermooie bohemian sieraden met de hand. Er is voor ieder wat wils, dus zoek je iets voor je bestie, tante of jezelf, kijk dan zeker even in haar shop!
☆☆☆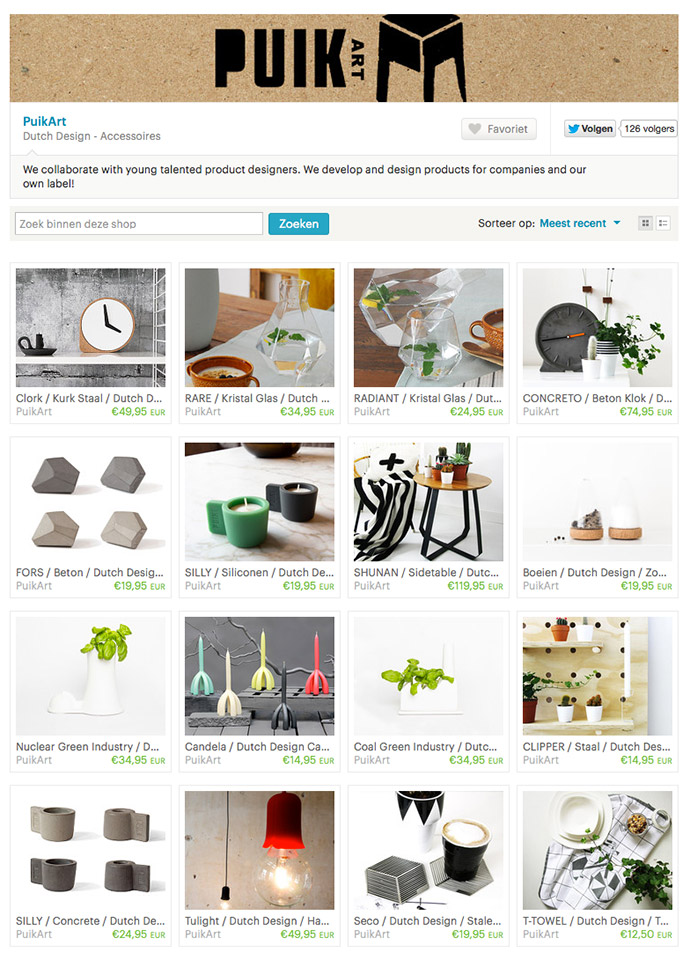 #7. PuikArt
Natuurlijk vergeet ik ook de mannen in ons leven niet. PuikArt heeft mooie, industriële en mannelijke interieuraccessoires. Lampen, klokken en peper- en zoutstellen. Voor iedereen die van stoer en simpel houdt.
☆☆☆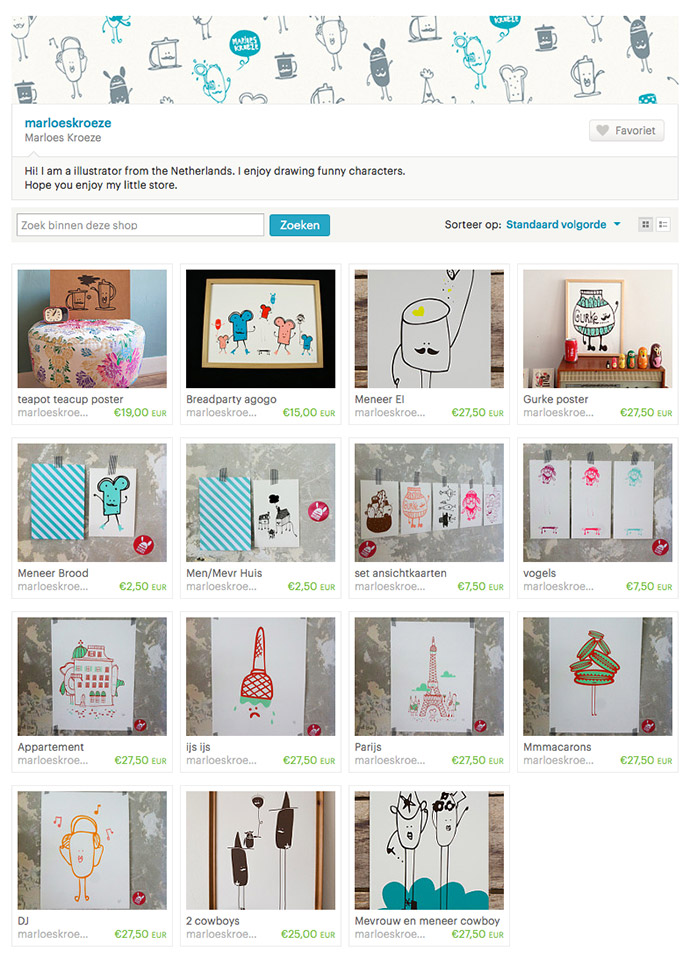 #8. Marloes Kroeze
Marloes maakt übertoffe zeefdrukken van haar illustraties. Simpele lijntekeningen in fluorkleuren; ik houd ervan. Hier koop je iets voor aan de wand of om op te sturen.
☆☆☆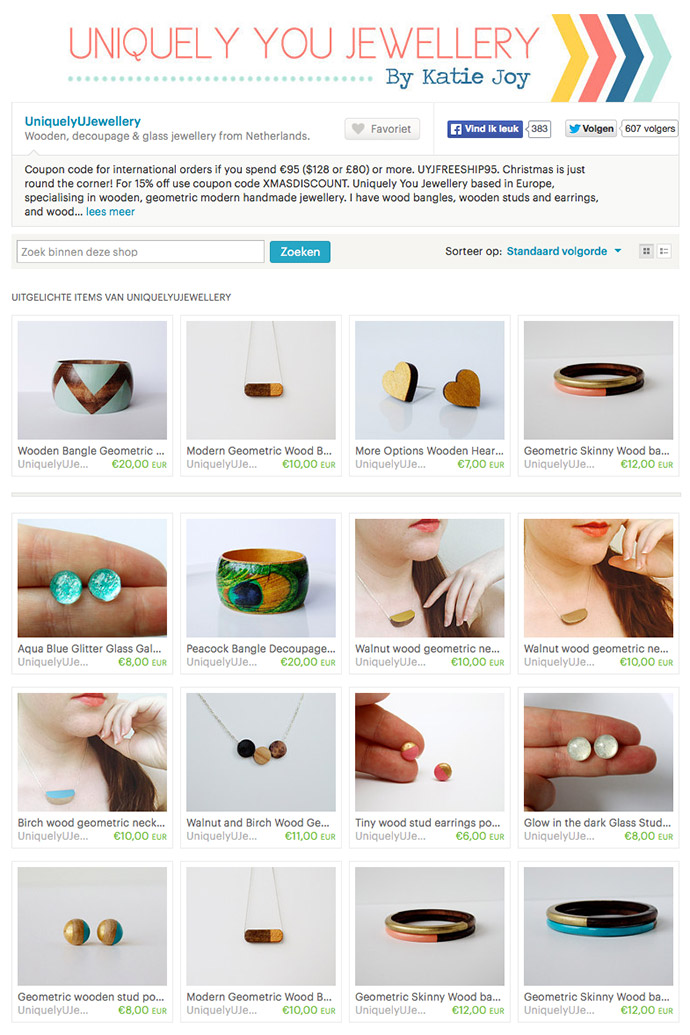 #9. UniquelyUJewellery
Katie Joy maakt de mooiste sieraden van hout en glas. Ze maakt zowel decoratieve als geometrische sieraden, maar ze zijn allemaal even mooi.
☆☆☆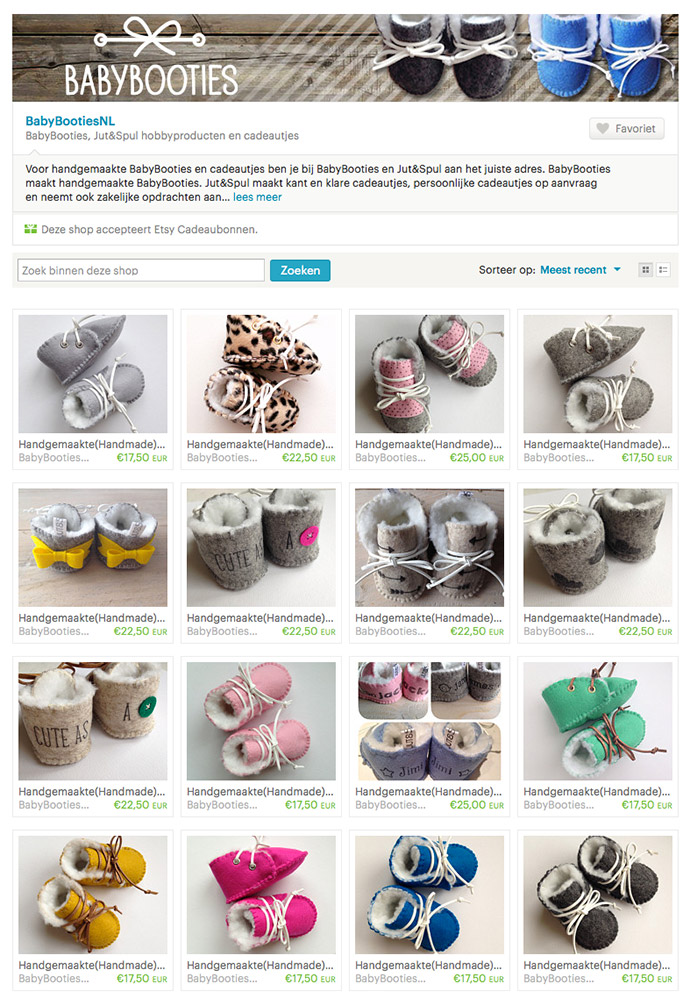 #10. BabyBootiesNL
Ik weet niet hoe het met jullie zit, maar ik zit in de levensfase waarin iedereen om me heen baby's krijgt. Toen ik deze super schattige baby booties tegenkwam wilde ik er spontaan zelf ook één (dat duurde niet lang, gelukkig). Dus voor alle jonge moeders in je vriendenkring is deze shop een go-to. Want ze verkopen niet alleen leuke handgemaakte booties, maar nog veel meer baby-leuks zoals mobiles, slingers en haarspeldjes.
☆☆☆
Tot zover de top 10, maar wist je dat Olga, Ingrid en ik ook een webshop hebben? Dus mocht er tussen alle bovengenoemde leuks niets voor je bij zitten, kijk dan eens in onze winkels! De mijne vind je hier, die van Ingrid hier en die van Olga hier. Shop ze!
Wil je meer tips over 'klein winkelen'? Ik plaats op mijn eigen blog in het feestdagenseizoen zo nu en dan op donderdag een 'Treasury Thursday' :een overzicht met leuke Etsy cadeautjes binnen een bepaald thema. Heb ik je geïnspireerd met dit artikel? Overweeg jij om 'klein en lokaal' te gaan winkelen dit seizoen? Of die je dat misschien al jaren en heb je zelf nog tips? Laat het me weten in de comments!
☆☆☆
Bronnen: De beelden in dit artikel zijn afkomstig van Etsy en alle fotografie is gedaan door de shopeigenaren zelf.
☆☆☆
Vera blogt één keer in de vier weken voor teamconfetti.nl. Ze is illustrator, allround mooie dingen maakster en ze heeft haar eigen label: Franje Design!