Gastblog door Ingrid – In de zomer ligt bij veel mensen het werktempo wat lager. Collega's en opdrachtgevers zijn niet goed bereikbaar, mensen zitten op elkaar te wachten en zijn met het hoofd misschien heel ergens anders dan op het werk. Als de zon dan ook nog eens volop schijnt, of juist nergens te bekennen is (het is ook nooit goed…), is de focus helemaal ver te zoeken. Maar met een paar kleine aanpassingen in je dagelijkse werkroutine, kun je tóch een zomergevoel krijgen.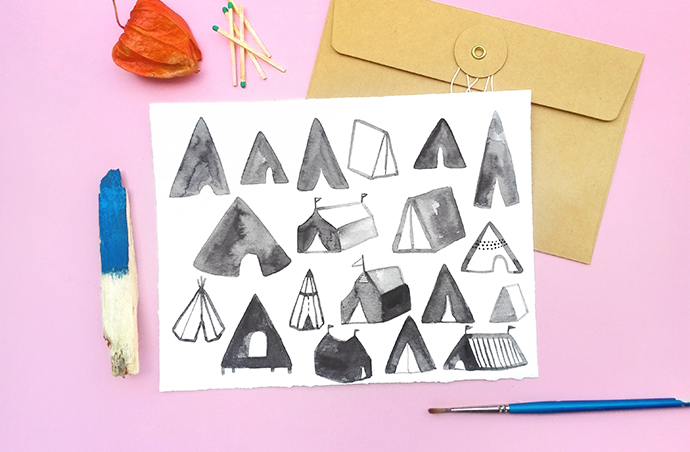 De zomervakantie is aan, veel mensen zijn op vakantie en dat merk je. Op de weg, in het OV, in de winkels. In mijn vorige artikel schreef ik hoe je een goede out-of-office-reply kunt instellen voor wanneer je zelf op vakantie gaat en je geen last wilt hebben van je werk. Ik heb deze zomer niet echt vakantie. Hier en daar ben ik een paar daagjes vrij maar verder werk ik gewoon door. Omdat het rustiger is, pak ik wat vaker mijn smartphone erbij en scroll wat op facebook en instagram. Daar zie ik allerlei vakantiekiekjes voorbij komen van mooie glampings, tropische eilanden, blauwe wateren en allerlei instagram waardige foto's. Bah, het lijkt wel alsof iederéén op vakantie is behalve ik. Maar dat betekend niet dat ik als een zuurpruim achter mijn tekentafel zit te sippen dat ik de enige ben die moet werken. Hierbij geef ik je mijn tips om het zomergevoel in je werk op te roepen: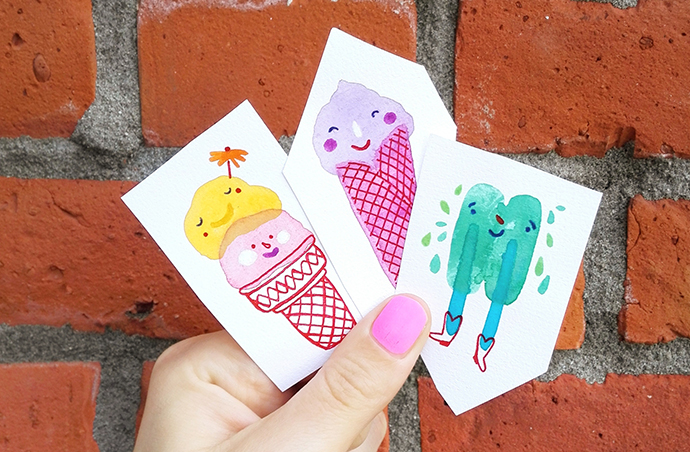 Pas je ochtend- of middagroutine aan
Het is komkommertijd, alles gaat wat langzamer dus jij kan binnen deze marges misschien wat schuiven in je routine. Misschien kun je wat later beginnen of juist eerder opstaan om zo in de middag wat eerder weg te gaan. Kijk wat bij jezelf en bij je werkzaamheden het beste past. Een optie is om eerder te beginnen dan normaal. Bij lekker weer is het in de ochtend nog niet zo heet en kun je in de middag op tijd stoppen om misschien lekker nog een paar uurtjes strand of terras mee te pakken. Bovendien is het tijdens een hittgolf in de middag toch niet uit te houden op je werkplek dus ik voorzie hier een zomerse win-win. Ben je echt geen ochtend mens dan kun je natuurlijk ook de andere optie uitproberen: later beginnen. Misschien sta je elke dag al voor dan en dauw op en kun je deze zomerperiode gebruiken om wat langer te blijven liggen. Ok, je bent ook wat later klaar maar je bent uitgeslapen en wanneer het slecht weer is, zit er toch niemand op het terras.
Andere tips om je ochtend- of middag routine aan te passen zijn bijvoorbeeld je route van huis naar werk te veranderen of een keer de fiets naar je werk pakken. Zo verminder je je stresslevels en kom je langs watertjes en parkjes die je nog nooit hebt gezien: change of habits works wonders.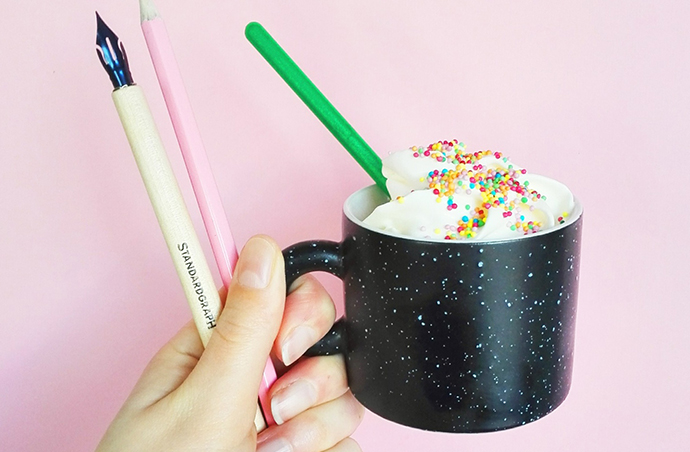 Treat-yourself-moment
Eén van mijn favoriete tips die je eigenlijk elke dag wel kunt toepassen: bouw een treat-yourself-moment in je dag. Dit kan van alles zijn. Op deze manier kun je jezelf motiveren om je werk af te krijgen of die middagdip te verminderen. Je maakt je werkdag wat leuker omdat je weet dat er een beloning op je wacht. Zo vind ik vind koffie super lekker maar ik wil het niet te vaak drinken. Daarom heb ik maak ik dagelijks van mijn koffiemoment een feestje! Elke dag (zo rond mijn middag dip) neem ik de tijd om een vers kopje koffie te zetten, just for me. Koffie van gemalen bonen, langzaam gezet met zo'n kek koffiepotje. Met liefde klop ik melk op tot een dik, loddig schuim en top dit af met wat discodip of chocolade sprinkles. Door de tijd te nemen voor dit ritueel verminder ik mijn behoefte om 's middags naar het terras te vluchten en kan ik er nog even een paar uurtjes tegenaan. Je kunt natuurlijk ook lekker een uur gaan lunchen in de zon of spreek met je collega's af om tussen 3 en 5 de muziek hard aan te zetten.
Hou een workcation 
Whut? Dat klinkt tegenstrijdig maar eigenlijk is het heel simpel: werken vanaf een zelf gekozen locatie (anders dan je standaard werkplek). Wanneer je flexibel kunt werken en/of je baas vindt dit idee oké, dan kun je eens proberen om je omgeving aan te passen maar je werk ritme hetzelfde te houden. Tegenwoordig heb je op veel plekken wifi, speciale laptop plaatsen en heule goede koffie. Denk maar eens aan dat leuke café bij het park, de inspirerende bibliotheek met airco of dat leuke stadsstrand! Je kunt gewoon je normale werktijden en werkuren aanhouden, je begint gewoon op tijd dus heb je het beste plaatsje van de hotspot te pakken! Misschien wel lekker buiten op het terras? Door je te installeren op een andere plek met andere prikkels én zonder collega's om je heen, krijg je een instant zomergevoel en kom je misschien aan meer werktijd toe. Collega's staan niet de hele tijd aan je bureau en een verandering van omgeving brengt vaak nieuwe inzichten/ideeën. Door skype, hangouts, mail,telefoon en allerlei interne programma's ben je gewoon bereikbaar. Yay voor de moderne technologie! Het mooie van deze manier van werken is dat je geen vakantiedagen hoeft op te nemen om toch het gevoel te hebben dat je er even uit bent geweest. Tot nu toe alleen maar voordelen, maar ik hoor je denken: hoe zit het met afleiding, is die niet veel groter op een andere plek? Dit gevaar is er, maar ook daar heb ik een aantal tips voor!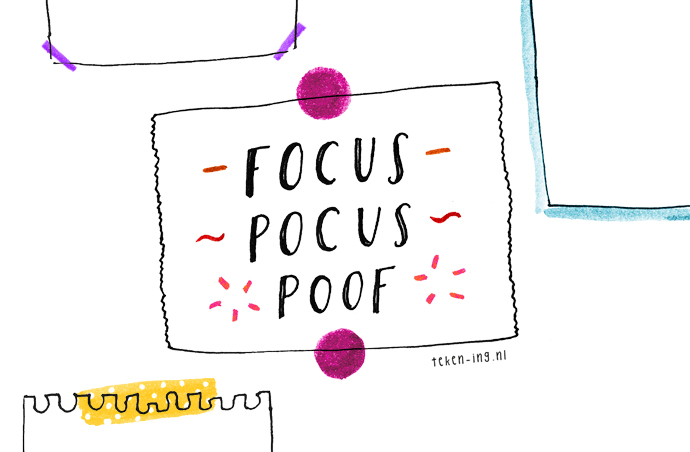 Focus-pocus-pas
Het is af en toe lastig om je aandacht bij je werk te houden, helemaal in de zomer. Zo heb ik gewerkt bij een bedrijf direct gelegen aan het water met prachtig uitzicht. Hartstikke leuk maar ik zat binnen te zweten in de hitte terwijl er allemaal plezierbootjes voorbij voeren… je snapt dat ik nogal snel was afgeleid. Er zijn een aantal goede tips die je kunnen helpen om je focus te bewaren.
– Werk met oortjes in en/of muziek op. Op deze manier ben je minder gevoelig voor omgevingsgeluid en kan je je beter focussen op je werk.
– Gebruik de Pomodoro techniek. Dit is een techniek waarbij je 25 minuten onafgebroken werkt aan een gekozen taak, zonder afleidingen waarna je 5 minuten pauze hebt. Je zet hiervoor een alarm (ook voor de pauzes). Bij het afgaan van het alarm begin je aan de volgende 'pomodoro' van 25 minuten. Na 4 'pomodoro's' van 25 minuten mag je ongeveer 20 minuten pauze. Op deze manier kun je langer geconcentreerd werken, heb je minder afleiding omdat je weet dat je straks 5 minuten iets anders mag doen en kun je bijhouden hoe lang je ergens mee bezig bent.
– Stel prioriteiten en werk met afvinklijstjes. Het kan best zijn dat je er in de zomer wat extra taken bij krijg van je collega die op vakantie is. Probeer ongeveer 2/3 grote taken per dag te doen en wellicht kun je proberen daarnaast nog een aantal kleintjes af te krijgen. Het afvinken van to-do-lijstjes kan heel motiverend werken als je ze in stukjes hakt. Het einde van de lijst komt dan sneller in zicht dan je denkt. Natuurlijk zijn deze tips niet specifiek gerelateerd aan de zomer maar ze kunnen je wel helpen om je werk sneller te doen in combinatie met de andere tips. Zo kun je misschien een paar uurtjes eerder vrij nemen voor gin tonics op het terras!
Hopelijk heben mijn tips om het vakantiegevoel in jouw werkweek te brengen en wie weet kun je ze wel voortzetten wanneer de dagelijkse sleur weer in kickt. Heb jij nog goede tips voor zomer op het werk? Laat het weten in de comments. En om ook je workgear nog extra zomers te maken download je hier  de zomerwallpaper die ik vorig jaar maakte voor Team Confetti. Happy (work)summer!
Ingrid Wuyster is illustrator / ontwerper en maakt veel moois onder de naam Teken-ing.
Eén keer in de vier weken blogt ze voor teamconfetti.nl