Oooooh, vandaag heb ik zoiets leuks voor jullie! In samenwerking met Radbag mocht ik een feestelijke verjaardagscupcake verzinnen waarbij ik de suikerzoete free printable van Radbag gebruikte. Op die free printable staan o.a. unicorns en daar weet ik wel raad mee… Het resultaat is een zompige chocolade fudge cupcake met ROZE slagroom, een fantastisch alternatief voor de saaie slagroomtaart uit de supermarkt…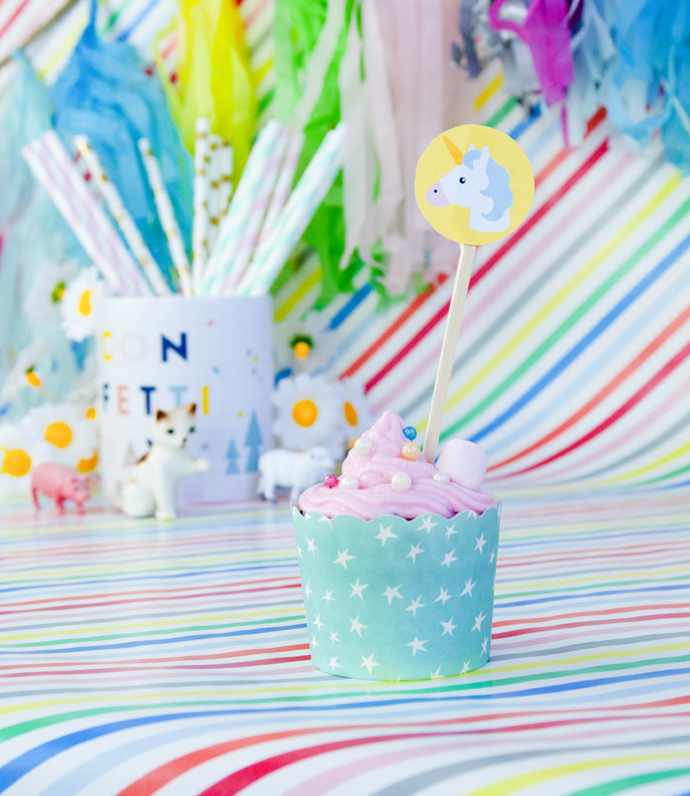 CHOCOLADE FUDGE CUPCAKES MET ROZE SLAGROOM
Ik ben pro guilty pleasures en al helemaal als het gaat om een speciale gelegenheid zoals een verjaardag. Als je dan toch een calloriebom in je bakkes gaat schuiven, zorg er dan voor dat je er optimaal van geniet. Bij mij hoef je niet aan te komen met een slagroomtaart uit de supermarkt of een kersenvlaai (of nog erger, een rijstevlaai, getsie). Maar wat dan wel hè? Toen Radbag me vroeg naar mijn ultieme verjaardag-cupcake heb ik daar héél serieus over nagedacht. Hij moet er leuk uitzien (ik eet ook altijd een beetje met mij ogen), er moet chocolade in en er moet een alternatief voor de mierzoete 'frosting' komen. Ik houd van zoetigheid, maar die typische gigantische toef boter met suiker gaat me écht te ver.

Na wat experimenteren bleek dat mijn ultieme cupcake een zompige chocolade cake had met een fudge vulling én pastelkleurige slagroom…
AAN DE SLAG(ROOM)!
Voor 12 cupcakes heb je het volgende nodig:
CUPCAKES
♥ 1 cup bloem
♥ 1 cup suiker
♥ 1/2 theelepel bakpoeder
♥ 1 theelepel baking soda
♥ 1 theelepel zeezout
♥ 1/2 cup cacao
♥ 1/2 cup olie (ik gebruikte zonnebloemolie)
♥ 1/2 cup melk
♥ 1 geklutst ei
♥ 1/2 theelepel vanille (ik gebruikte aroma uit een flesje)
♥ 1/2 cup gekookt water
♥ 12 cupcake vormpjes
FUDGE SAUS
♥ 12 fudge blokjes (ik gebruikte chocolade fudge van Johnny Doodle)
♥ 1 theelepel zeezout
♥ bodempje water
♥ 2 theelepels maple sirup
ROZE SLAGROOM
♥ grote beker slagroom
♥ roze (of andere kleur) kleurstof (ik kocht de mijne bij Xenos)
♥ spuitzak & spuitmondje (HEMA)
♥ 1 á 2 theelepels suiker
DECORATIE
♥ free printable Radbag
♥ sprinkles
♥ mini marshmallows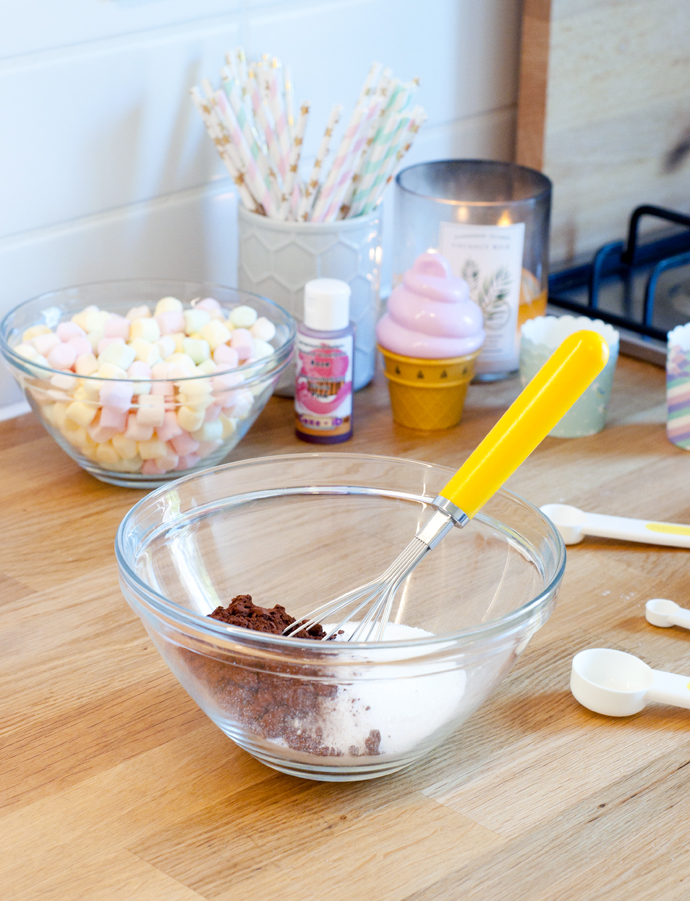 CUPCAKES
Verwarm de oven voor op 160 graden. Doe alle droge ingrediënten in een grote kom en alle natte ingrediënten (behalve het kokende water) in een kleine kom. Meng beide kommen goed door en doe dan de natte ingrediënten bij de droge ingrediënten en mix net zolang totdat alles vermengd is. Nu pas doe je het kokende water erbij! Roer nogmaals goed door en giet de cupcake vormpjes tot driekwart vol. Het lijkt nu een beetje op chocoladesoep, maar dat komt echt goed.
Ik gebruikte kartonnen vormpjes zodat ik geen cupcake bakblik hoefde aan te schaffen. Die dingen zijn groot, onhandig, je krijgt ze niet goed schoon (want ze passen niet in de vaatwasser) EN je hele keukenkastje is in één keer vol. Doe jezelf dus een plezier en koop kartonnen cupcake vormpjes.
Zet de cupcakes op een bakplaat zo'n twintig minuten in de oven. Trek je je niets aan van mijn goede adviezen en gebruik je wél een cupcake bakblik? Houd je cupcakes dan goed in de gaten, ze kunnen wat sneller gaar zijn.
FUDGE SAUS
Nu de cupcakes in de oven staan, kun je aan de fudge saus beginnen. Doe twaalf fudge blokjes in een klein steelpannetje en giet er een bodempje water bij zodat ze 'met hun voetjes in het water staan'. Ik hoop dat jullie begrijpen wat ik bedoel. Doe het zout en de maple sirup erbij en roer af en toe totdat de fudge blokjes gesmolten zijn. Laat de saus zachtjes op een laag pitje pruttelen zodat het van soep naar saus gaat. De saus moet dikkig zijn, maar geen pasta worden. Zodra je de goede consistentie hebt bereikt, haal dan van het vuur en zet aan de kant.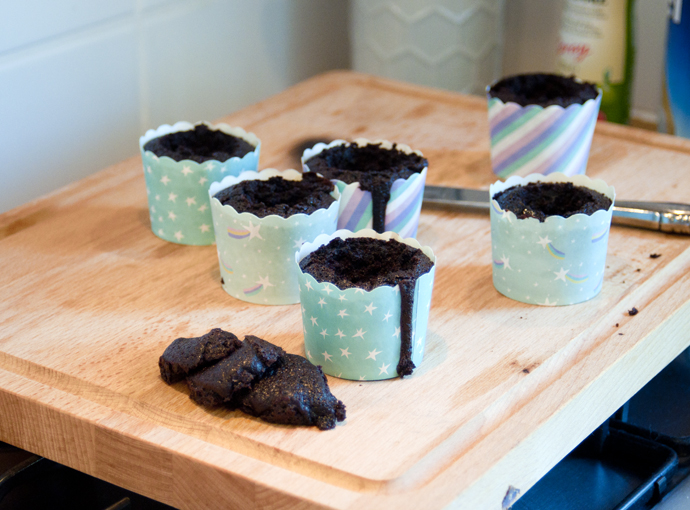 Mijn cupcakes kwamen met een muffintop de oven uit en een paar hadden lichtelijk overgegeven. No worries! Met een mes sneed ik de topjes eraf en daarna holde ik de cupcakes ook nog een klein beetje uit. Niet meteen opeten! Je hebt ze later nog nodig!
DRIZZLE SIZZLE
Tijd om de fudge saus ín de cupcakes te gieten. Het plan was om een vulling te maken in de cupcakes, maar omdat de cupcakes vrij luchtig zijn en de saus nat, zakte alle saus weg. Dit is NOG BETER dan een fudge vulling want zo wordt de cupcake heerlijk zompig. Druk de eerder afgesneden muffintops weer op de cupcake om de bovenkant mooi egaal te maken.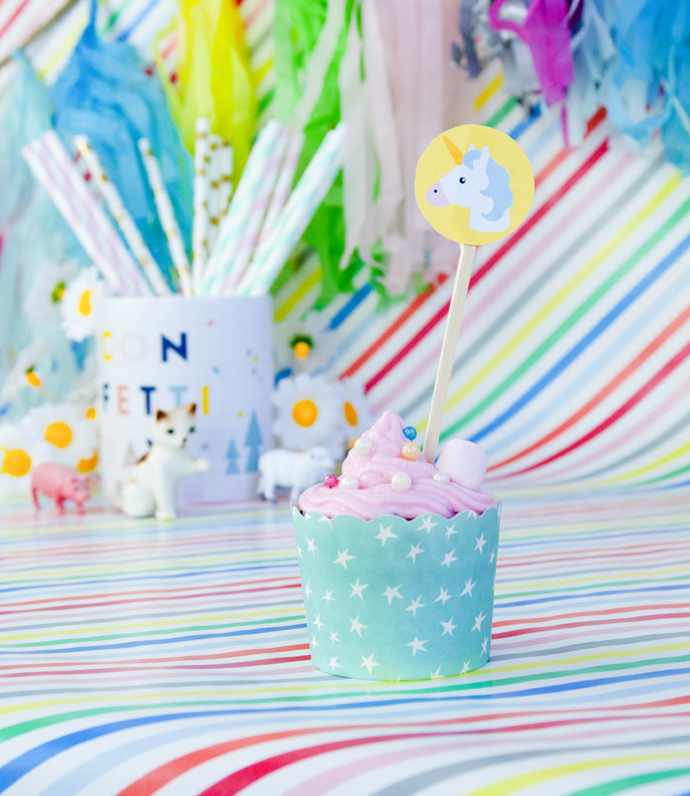 ROZE SLAGROOM
Terwijl de cupcakes afkoelen, kun je aan de slagroom beginnen. Doe de slagroom in een kom en voeg vóórdat je gaat kloppen de kleurstof toe samen met een theelepel suiker (of twee). Klop de slagroom en doe het in een spuitzak. Ik had dit nog nooit gedaan (want hallo, ik ben geen banketbakker) en mij is het gelukt. Maar een flinke dot slagroom op de cupcakes dumpen met een lepel is nét zo leuk en nét zo lekker.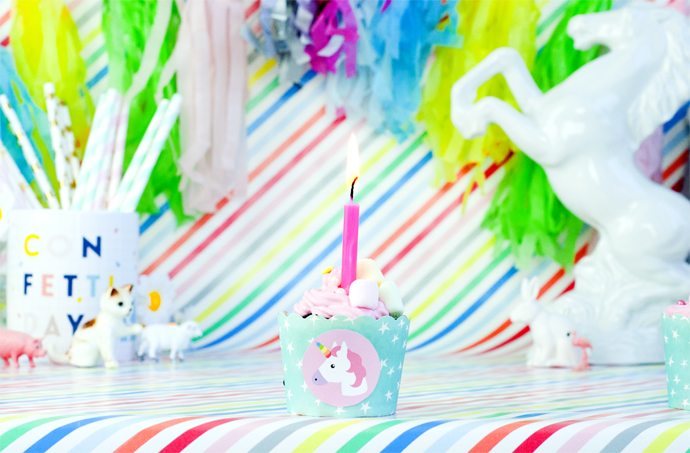 VERSIERPLEZIER
Versier de cupcakes met sprinkles en mini marshmallows of andere lekkere decoraties (lekker is hier belangrijker dan mooi, onthoud dat) en steek er een prachtige free printable unicorn prikker in. Een pastelkleurig kaarsje is óók leuk en die kan de jarige uitblazen voordat de cupcake geflambeerd wordt…

De unicorns en glitters stegen mij naar het hoofd en toen creëerde ik per ongeluk een soort unicorn fantasy land, excuses daarvoor:

VERJAARDAG CADEAUTIPS
Bij een verjaardag horen cadeautjes. Ken jij iemand die binnenkort jarig is en je hebt geen flauw idee waarmee je ze kan verassen? Dan heb ik nog een paar tips voor je. Ik heb de volledige webshop van Radbag doorgespit en dit zijn de állerleukste kleinigheidjes die ze hebben: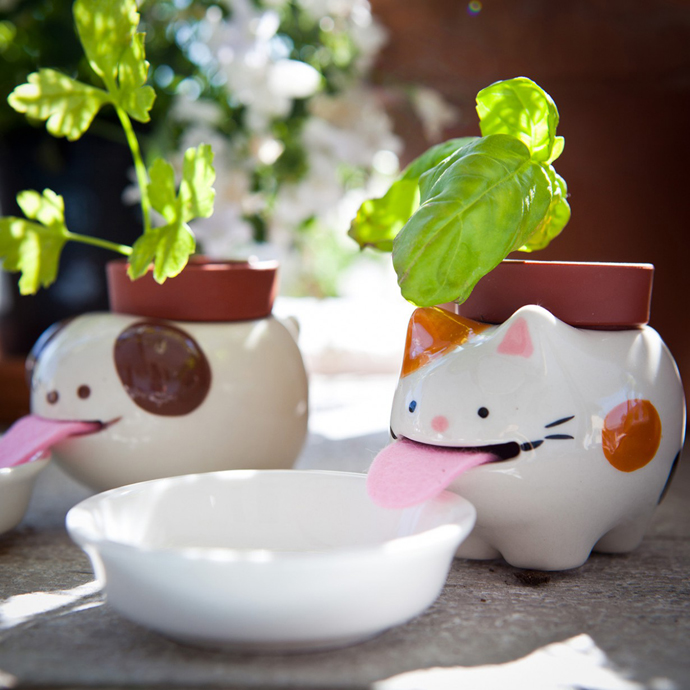 DIERENBLOEMPOT MET WATERVOORZIENING

Niet alleen maar schattig maar ook héél handig. Via hun tongetje slurpen ze water naar binnen. Als het bakje leeg is, hebben de plantjes hun water op. Cute!
♥♥♥
Beeld zegt hier meer dan 1000 woorden. Wauw, zó geniaal bedacht!
♥♥♥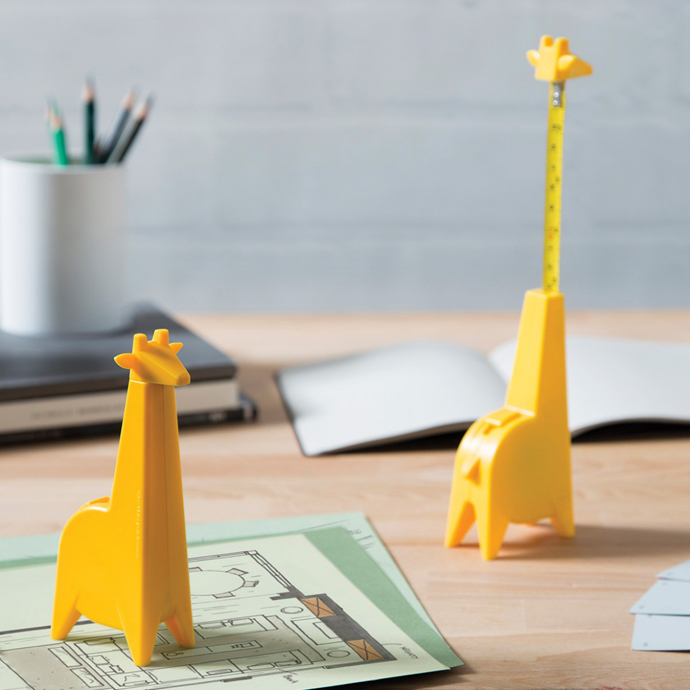 Zo lief! En heel handig. Wij zijn altijd bezig met ons huis (in ieder geval in ons hoofd) en gebruiken heel vaak een meetlintje. Deze lieverd is ideaal voor in je tas!
♥♥♥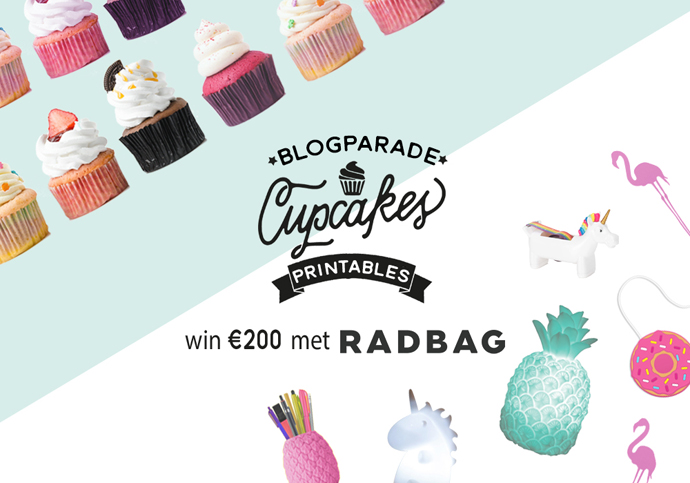 BAK MEE EN WIN!
Medebloggers opgelet! Je kunt namelijk een whopping €200 (!!!) tegoedbon van Radbag winnen door mee te doen aan de blogparade! Deel een heerlijk cupcake recept waarbij je de free printable cupcake toppers of cupcake vormpjes van Radbag gebruikt. Iedereen die meedoet krijgt sowieso €20,- tegoed en maakt daarnaast kans op €200,- extra tegoed. Je kunt nog meedoen tot 18 september. Lees het blogartikel op Radbag.nl voor alle voorwaarden and make this unicorn mama proud!
♥♥♥
Hoe zou jouw ultieme cupcake eruit zien (en smaken)?