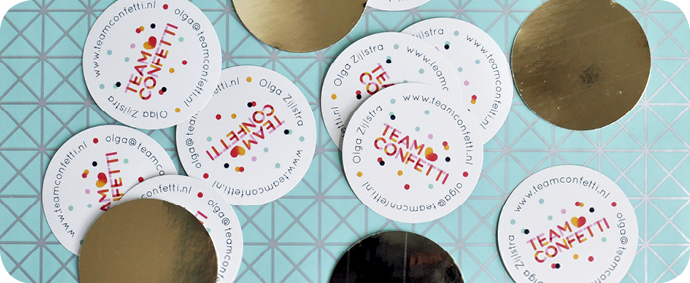 Check out how we made our own custom made confetti business cards!
Bij Team Confetti horen natuurlijk confetti visitekaartjes. Meike en ik maakten onze eigen visitekaartjes en vandaag laat ik zien hoe we te werk gingen!
Cirkle punch – €14.95 and gold cardboard by Sostrene Grene € 1.69 / 10.
Allereerst gingen we op zoek naar de basics: karton met een gekleurde achterkant en een cirkelpons. Bij Sostrene Grene vond ik A4 karton met een glimmend gouden achterkant, perfect! Het goud oogt lekker fancy en A4 papier past precies in mijn printer.
De pons was een wat langere zoektocht. Visitekaartjes zijn normaal 55 x 85 mm. Groter dan dat en ons visitekaartje zou niet in een standaard visitekaartjeshouder of vakje van een portemonnee passen. Uiteindelijk bestelde Meike bij www.aguinij.nl een cirkelpons met een diameter van 57 mm, kon net. Hij kostte 21,70 euro inclusief verzenden.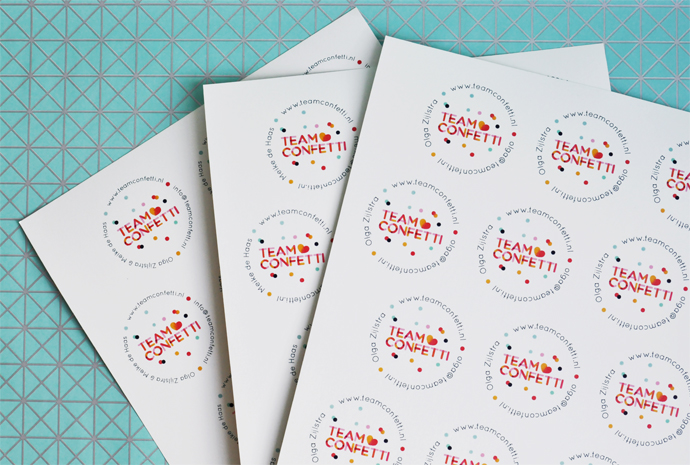 15 business cards printed on gold cardboard.
In Indesign maakte ik een A4 op waar precies 15 visitekaartjes op pasten. Ik maakte er eentje voor Meike, eentje voor mezelf en eentje voor ons samen. Ik had geluk dat mijn printer het karton en de gladde achterkant aan kon, dat zullen vast niet alle printers trekken…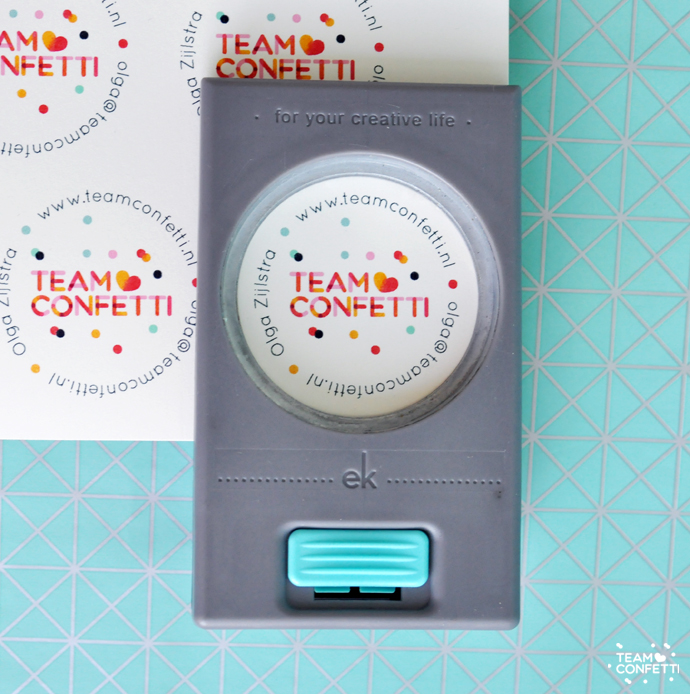 Ponstijd! Door de pons ondersteboven te keren kon ik het kaartje precies in het midden leggen en met een druk op de pons had ik een visitekaartje! Ik had met opzet de achtergrond wit gelaten zodat er wat speelruimte was.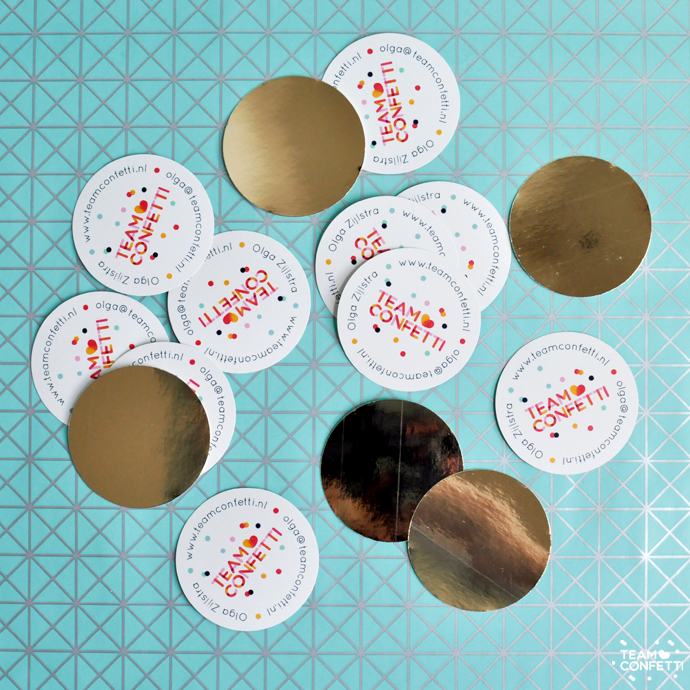 We zijn heel blij met ons visitekaartje, hij past perfect bij ons! Zelf gemaakt, rond, shiny en een beetje anders dan anders. We vinden het fijn om een visitekaartje bij ons te hebben als we bijvoorbeeld een hotspot willen fotograferen of als we bij vrienden of familie op visite zijn die maar niet kunnen onthouden hoe onze website ook alweer heet.
Wil je ook een bijzonder en op maat gemaakt visitekaartje en kom je er zelf niet uit? Wij ontwerpen maar wat graag visitekaartjes, logo's, huisstijlen, banners en nog veel meer. Neem contact met ons op via email: info@teamconfetti.nl, meike@teamconfetti.nl of olga@teamconfetti.nl.
If you want us to help you make your own custom made business card (or logo, banner, poster or pretty much anything) please contact us at info@teamconfetti.nl, meike@teamconfetti.nl or olga@teamconfetti.nl
Binnenkort nog meer leuk visitekaartjes-nieuws…