Every week I show you guys what me and my cats have been up to.
Pfoe, het lijkt net alsof ik de hele week niks anders heb gedaan dan gegeten en bingo heb gespeeld… Blijkbaar waren alle andere dingen niet belangrijk genoeg om op de kiek te zetten ;) (of ik heb gewoon echt niks anders gedaan…)
Outfit and sandwich on Bevrijdingsdag.
Omdat ik net een festivalweekend achter de rug had (en de helft van de bandjes van mijn festival ook op Bevrijdingsdag stond) zijn we niet naar muziek gaan kijken. In plaats daarvan hebben we lekker in het zonnetje een broodje gegeten bij Mr Mofongo's in Groningen. Dit is Tom's broodje met makreelsalade die er heel funky uitzag. De patat met sinaasappelmayo was echt heeeeeeerlijk erbij.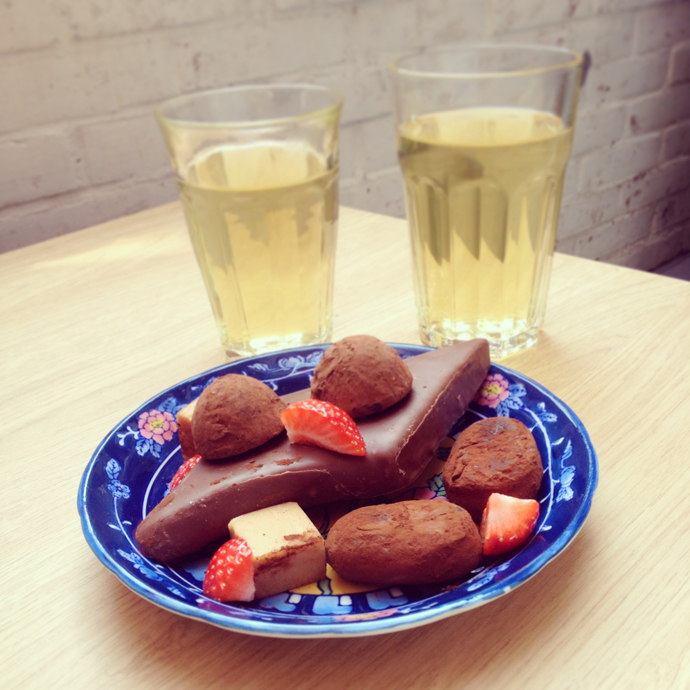 Chocolate heaven.
Na het broodje had ik zin in een toetje. In plaats van nog een kopje koffie op het terras, fietsten we door naar de V&D om een paar luxe chocolaatjes uit te zoeken. Dit doen we echt nooit en het was heel leuk. We stonden op en neer te springen bij de vitrine: 'o, die! En die!'. Gelukkig was de verkoper net zo enthousiast als wij, haha. Thuis hebben we ze bijna allemaal opgegeten met een kopje thee. De chocoladespek was het lekkerst!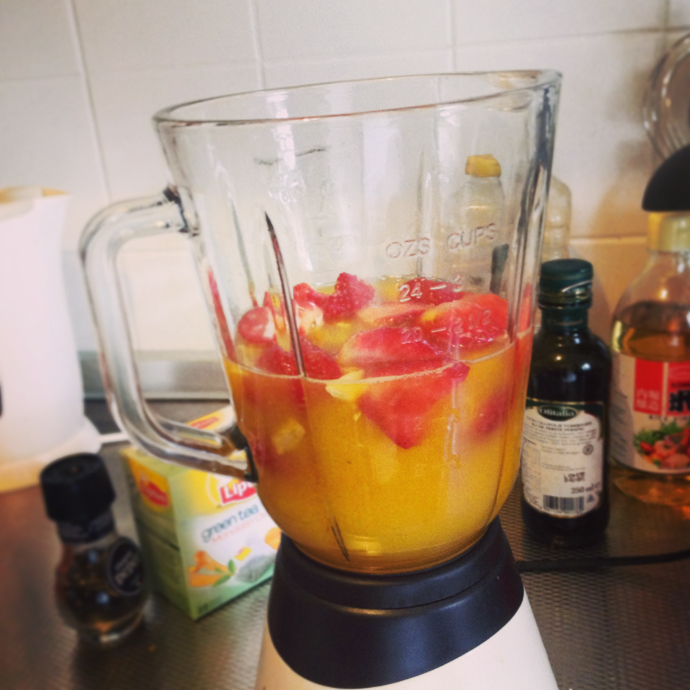 Smoothie with orange and strawberry.
Smoothie tiiiiiiime! Sinaasappel met bevroren aardbeien is mijn favoriet tegenwoordig.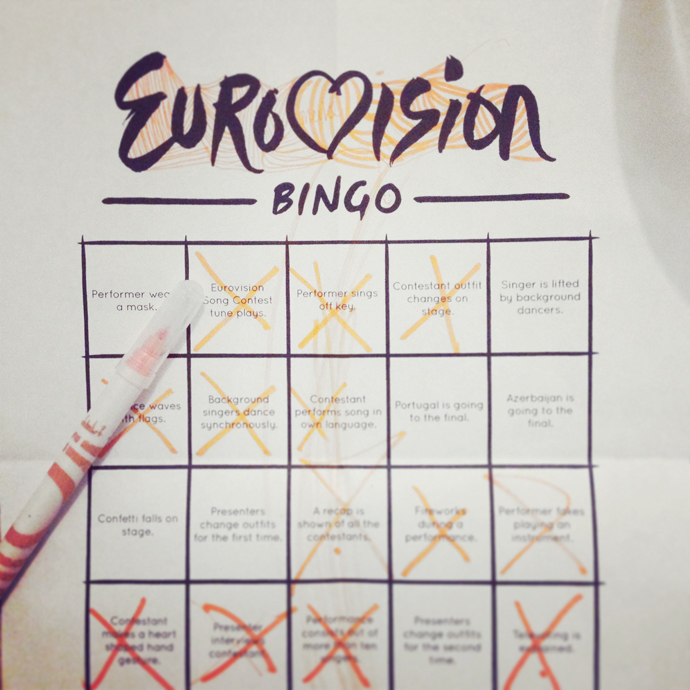 Eurovision Bingo, the first semi-final.
Dinsdag speelden we Eurovision Bingo en Meike won! Hij was eigenlijk iets te makkelijk, na de openingsvoorstelling (van tien minuten) was de halve kaart al vol.
Leftovers an Gü.
Woensdag leftovers for dinner met Gü chocoladefondants. Dit scheen het helemaal te zijn en met de 35% kortingsticker wilde ik het wel een keer proberen. OMG, dit is het ALLERLEKKERSTE toetje dat in de supermarkt (AH) te koop is. Ze moeten heel even de oven in en daarna zijn het hele lekkere cakejes met vloeibare chocolade in het midden. HEER-LIJK. Hou me bij de AH vandaan!
Köfte curry for dinner and Eurovision Bingo, the second semi-final.
Donderdag maakte ik köfte curry met linzen, gehakt, tomaten, kokosmelk, tuinerwtjes en rijst (jum). En daarna speelden we weeeeeeer bingo. Ik had hem dit keer iets moeilijker gemaakt, wat het een stuk spannender maakte: zou een van ons wel bingo krijgen? En ja hoor, Tom had als eerste bingo! Belachelijk eigenlijk, dat ik als maker van de bingo nog niet een keer gewonnen heb.
Preparations for Eurovision.
Zaterdag heb ik moederdagcadeautjes gekocht en ons Songfestival-feestje voorbereid. Ja, ik ben een beetje overboard gegaan. Ik regelde een mega chocolade-medaille die een ere plaatsje kreeg in onze woonkamer (zoals ik al zei, overboard). En ik maakte tien gouden envelopjes waar de bingo kaarten inzaten.
Eurovision night, Heike won!
De avond zelf was FANTASTISCH. Er werd fanatiek bingo gespeeld (Heike won!), Tom had een glitterpruik op en we gilden en schreeuwden het uit tijdens de puntentelling. Jammer dat we niet wonnen, maar verliezen van de prachtige dame met de baard is zeker geen schande. Dit gaan we volgend jaar weer doen!
Heeft er trouwens nog iemand de bingo gespeeld?
KATTENBONUS!
Het is een beetje de Mo-show deze week. Hij likte de lege erwtensoep-pan leeg, had een bijzonder kapsel na een regenbui en zat als vanouds weer op het randje van het bad om het badschuim (en mijn teen) te inspecteren…
***
Nog een hele fijne zondag en tot volgende week!

Vind je het leuk om te volgen wat Meike en ik de hele week uitspoken? Volg ons dan op instagram.
Liked what you saw? Follow us on instagram.