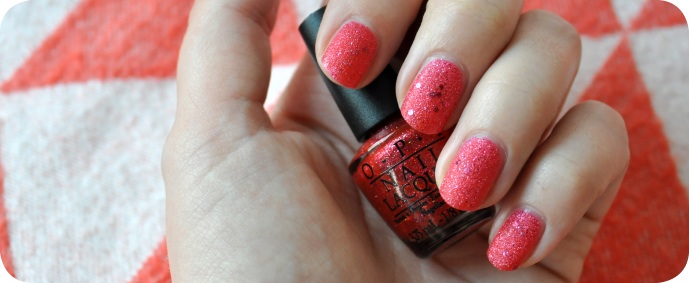 Deze week wel een heel speciaal lakje uit de Mariah Carey mini set van OPI.  Dit lakje heeft een zogenaamd liquid sand effect. Het komt vloeibaar uit het potje, maar droogt korrelig op. Ik was bij aanvang wat sceptisch, 'nagels als schuurpapier, no thanks'. Maar ik ben van gedachten veranderd…
Het lakje heet heel toepasselijk The Impossible. Het is alsof ik een aardbeien-lolly kapot heb gestampt en op mijn nagelas heb geplakt. En dat bedoel ik op een positieve manier! De lak droogt mat op, maar zit vol met glinsters. Het voelt wat ruw aan, maar niet vervelend.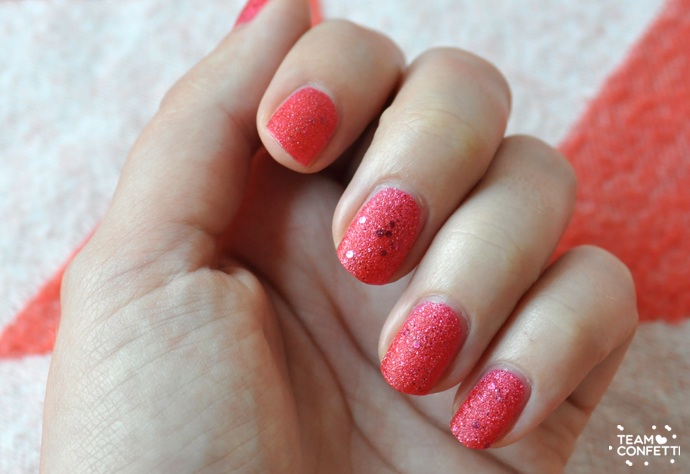 Ja, ik ben zeker van mening veranderd, dit effect is heel mooi! En als ik het matte en korrelige zat ben, kan ik er altijd nog een laagje doorzichtige topcoat overheen doen.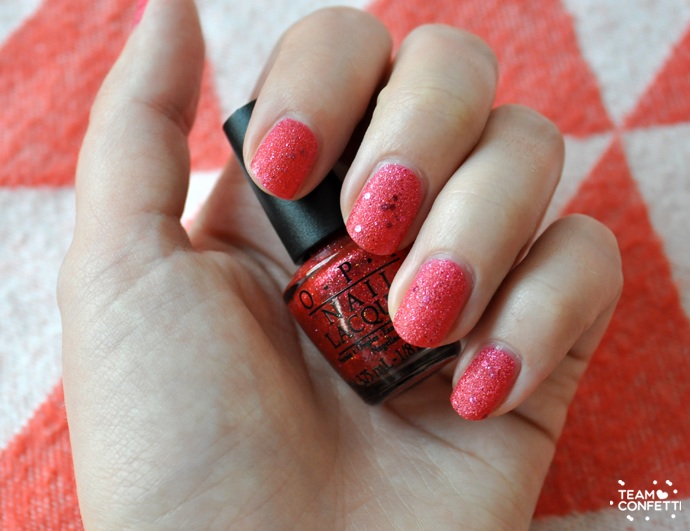 De mini setjes van OPI kosten €18,95 en zijn o.a. te koop bij DA en Douglas. OPI The Impossible is ook los te koop in een normale uitvoering en kost dan €14,25. Ik weet niet of hij nog steeds in de winkel te koop is, maar anders is hij vast online te bestellen.
Heb jij al een keer een liquid sand effect lakje geprobeerd? Wat vond je ervan?