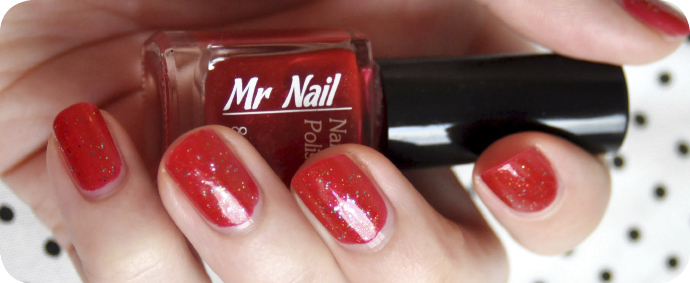 I tried to take it easy and just paint my nails red, but the urge for glitters was too big…
'Ik doe een keertje niet ingewikkeld, gewoon rode nagels kan ook wel een keertje'. Meh, blijkbaar niet. Ik begon met een bijzonder glitterig rood lakje en besloot er nog meer glitters overheen te gooien…
Ik kreeg van Helen een prachtig rood lakje van het merk Mr Nail opgestuurd. Ik had nog nooit van dit merk gehoord en was benieuwd… Het kwastje van Mr Nail is wat dun en daarom is het wat lastiger om het onderste randje (bij je nagelriem) mooi rond te krijgen. Hij dekte wel bijna in een keer en was niet stroperig. Jammer dat hij niet een leuke naam heeft, hij heet 4.
I had never heard of Mr Nail before. The brush is a little thin but the consistency of the nailpolish is very nice.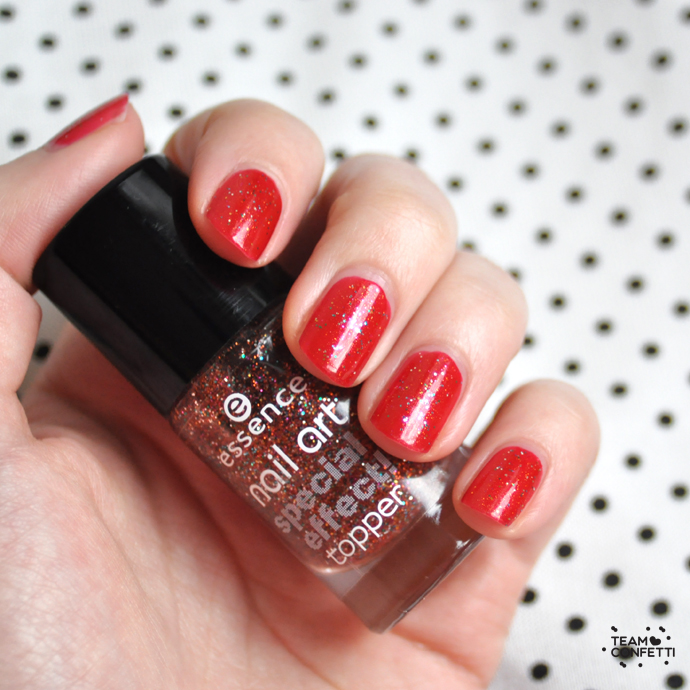 Alhoewel ik had besloten het simpel te houden, kon ik het toch niet laten om er nog een laagje vrolijke glitters eroverheen te lakken. Dit lakje van Essence, genaamd 09 copper'ize me! heb ik al heel erg lang en een tijdje niet gebruikt. Beetje suf want hij is echt heel erg mooi. Herontdekking!
Essence's 09 copper'ize me! is a very nice glitter topcoat that I hadn't used in a while. So silly, because it's so pretty!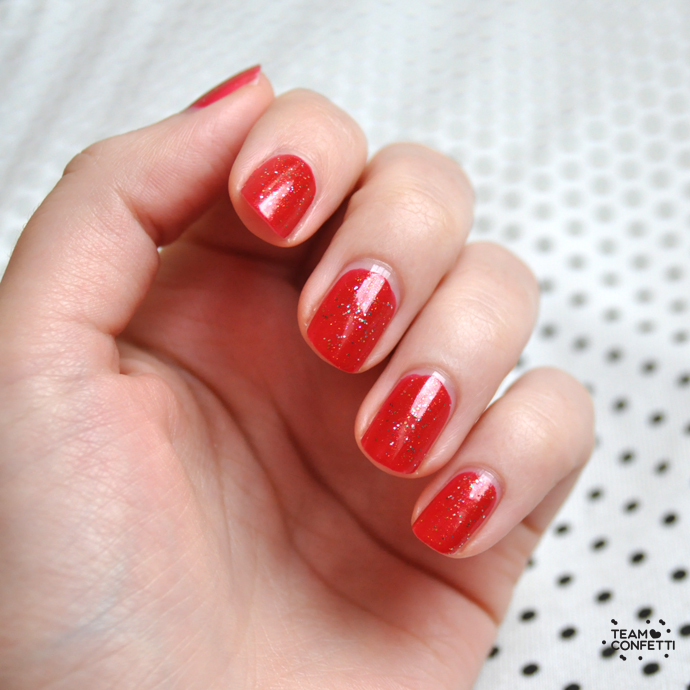 Simpel maar toch bijzonder.
Simple but special!
***
Wat draag jij vandaag op je nagels?
What are you wearing on your nails today?
Mr. Nail lakken zijn te koop bij AliceJo voor €1,00. Essence Special Effect Toppers zijn voor € 1,89 te koop bij Kruidvat en Trekpleister. 09 Copper'ize me! is helaas niet meer te koop, maar er zijn inmiddels wel veel andere mooie topcoats te koop.