The nail art of this week is super sweet!
Deze week een superzoete nails of the week! Of je er nu een lekker ijsje of een cupcake (of nog heel wat anders) in ziet, it's all good! Het was even knoeien (mijn rechterhand is een slagveld) maar het resultaat is om op te eten!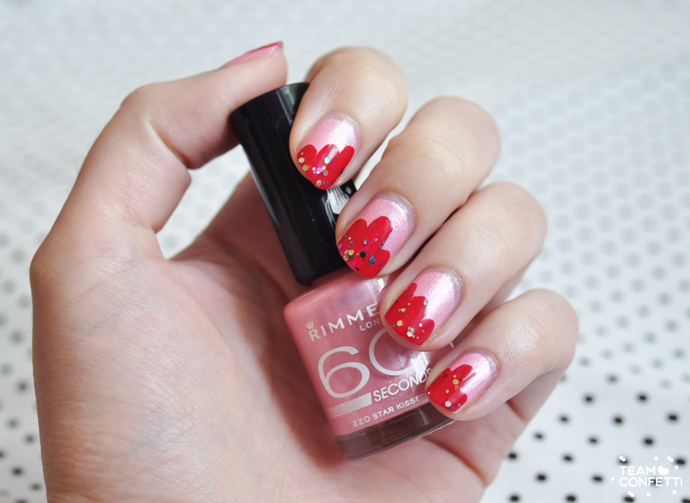 Rimmel London 220 Star Kissed.
De basis van deze nailart is een heeeel lichtroze lakje van Rimmel (deze is volgens mij al 100 jaar niet meer te koop, maar doet het nog steeds prima). Er zitten glinstertjes in, hij heet dan ook Star Kissed en dekt daardoor perfect met twee laagjes. Dit is zo'n lakje wat ik veel vaker zou moeten dragen omdat lichtroze zo mooi staat maar meestal dekt het heel slecht.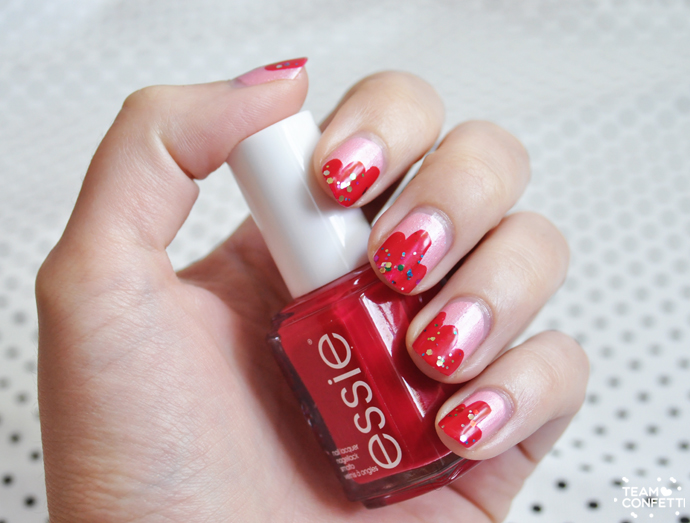 She's pampered by Essie.
Het was even knoeien om erachter te komen welk lakje geschikt zou zijn voor de druipers. Wat bleek, je moet een lakje met een breed kwastje hebben. Zo eentje die een beetje afgerond is en waar je heel makkelijk met een haal je hele nagel lakt. Gebruik de ZIJKANT van zo'n kwastje. Zo heb je wel een afgerond streepje maar hij is smal in plaats van heel breed. Oh, de science van druipers lakken…
115 Multi Dazzle by W7.
En dan is het tijd voor de sprinkles! Ik gebruikte een alltime favorite: Multi Dazzle van W7. Hier zitten heel veel glitters in en verschillende formaten glitters. Met dit lakje is het elke keer weer een feestje, hij staat OVERAL mooi bij (heus).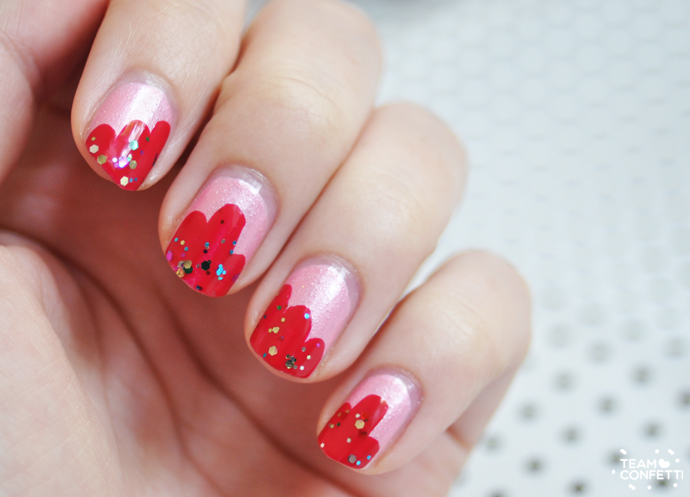 Zoals ik al zei, het is een beetje oefenen, maar als je het eenmaal door hebt, is het een hele makkelijke nailart die over the top girly is, maar waar niet letterlijk een ijsje of cupcake op staat (ik ben wat meer van abstract en simpel).
***
Essie nagellakken kosten €9,99 en zijn verkrijgbaar bij de meeste filialen van Etos en DA.
De lakjes van W7 zijn te koop bij Op=OP Voordeelshop voor €2,75.
De Rimmel 60 seconde nagellak kost €4,99 per stuk en is verkrijgbaar bij o.a. de Kruidvat, Etos en Trekpleister. De kleur Star Kissed is waarschijnlijk niet meer te krijgen, ik heb deze al een tijdje.

***
Hebben jullie nu ook zin in een lekkere sunday or is it just me?