Vandaag is er weer een nieuwe gastblog van mijn beste vriendje Hessel; foodie en illustrator. Ik betreur dagelijks dat we niet in dezelfde stad wonen, want dan zou ik elke avond bij hem aan tafel zitten. Gelukkig is hij zo lief om af en toe een recept te delen, hier op teamconfetti.nl zodat ik zelf een poging kan wagen en er nog veel meer mensen kunnen profiteren van zijn smakelijke ideeën en tekeningen!
Gastblog door Hessel – De laatste keer dat Olga kwam eten plaatste ze de foto's van mijn creaties op instagram. Op die manier kon iedereen live meegenieten. #Hesselkookt deed het prima op social-media. En nu is Hesselkookt meer dan een hashtag, want sinds kort ben ik zelf actief op instagram en kun je regelmatig bekijken wat ik kook en eet.  Zo zie je het direct als ik weer iets moois heb gemaakt, maar ook wat ik op een doordeweekse dag naar binnen schuif.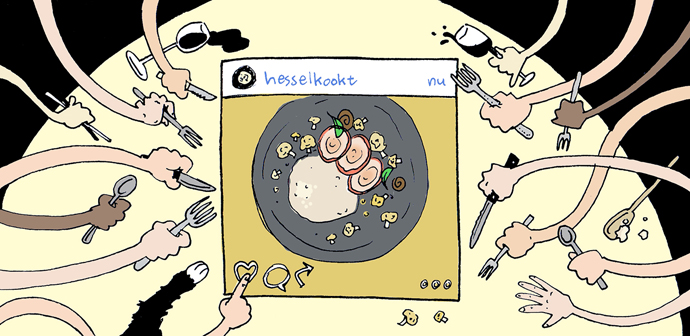 2 dagen nadat ik m'n instagram account aanmaakte, kwam Olga met een geniaal idee. "Doe mee aan de Ikea food challenge! Je hebt nog vier dagen…" Voor deze uitdaging moest je kiezen uit één van de ingrediënten die je kan kopen bij de Ikea food market en daar een lekker gerecht bij bedenken. Het gerecht van de winnaar kun je volgend jaar bestellen als je honger krijgt en je je in een Ikea bevind. Dat je er een keuken mee kan winnen is ook niet mis. Zeker niet als je weet wat voor klein keukentje ik tot mijn beschikking heb.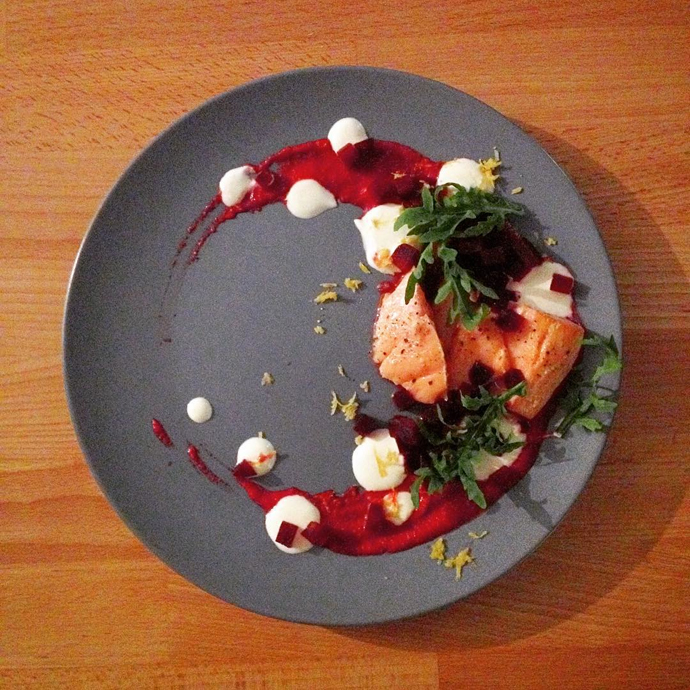 Voor mijn bijdrage aan de #ikeafoodchallenge koos ik voor gerookte zalm met rode biet. Een goed gerecht bestaat volgens mij uit een paar smaken die goed bij elkaar passen. Als ik daar zelf niet helemaal uitkom sla ik mijn smaakbijbel er op na. Geen grap, de smaakbijbel is een superfijn boek van Niki Segnit. Het aardse van rode biet past prima bij de uitgesproken smaak van gerookte zalm. Om het een beetje fris te houden maakte ik er ook crème fraîche bij, op smaak gebracht met citroen en mierikswortel. Mierikswortel gebruik ik bijna nooit, maar combineert prima met zowel zalm als rode biet. Wat ik ook graag mag doen is verschillende bereidingen maken van een ingrediënt. Rode biet leent zich daar prima voor en is ook nog eens heel goedkoop.
Vind je de foto van mijn inzending er smakelijk uitzien, maar kan je er niet op wachten totdat ik gewonnen heb om het te proeven? Maak het dan gewoon zelf. Ik heb mijn best gedaan het recept zo duidelijk mogelijk op te schrijven. Veel succes en eet smakelijk!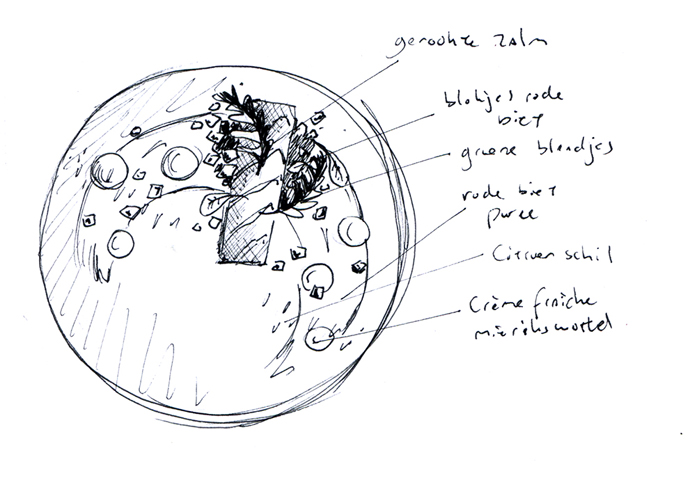 Ingrediënten:
Plakken gerookte zalm.
4 rode bieten
250ml crème fraîche
3 tl mierikswortel (uit een potje)
1 citroen
waterkers of rucola als garnering
100ml room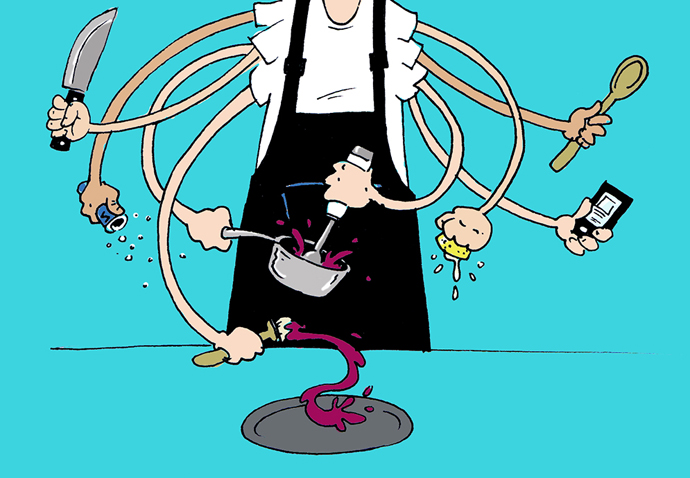 Bereidingswijze:
Kook de rode bieten (met schil) in ruim water in 60 minuten gaar. Leg de bieten daarna in ijswater om af te koelen.  Je kan daarna de schil er vrij gemakkelijk af pellen. Gebruik evt. een dunschiller om alle schil te verwijderen.
Snijd twee bieten in grove stukken. Pureer deze met een staafmixer. Voeg de slagroom toe totdat er een mooie puree ontstaat. Zeef de puree en breng op smaak met zout en peper.
Snijdt de overige bieten in blokjes van ongeveer een halve centimeter.
Meng de crème fraîche met de mierikswortel en een klein beetje citroensap. Mierikswortel is verkrijgbaar in een potje, vaak staat dit in de buurt van de mosterd en kappertjes. Je wil de crème fraîche een subtiele smaak van mierikswortel geven. Lepel steeds een beetje mierikswortel door de crème fraîche en blijf proeven totdat het goed is. Meng voorzichtig, als je te hard roert zal de crème fraîche inzakken. Je kan er ook voor kiezen twee verschillende smaakjes crème fraîche te maken, een met mierikswortel en een met citroen.
Als de smaak goed is, doe je de crème fraîche in een spuitzak en leg je deze in de koelkast totdat je je bord gaat opmaken. Ik gebruik zelf spuitzakken van plastic die je na gebruik kan weggooien. Spuitzakken zijn namelijk onmogelijk om fatsoenlijk schoon te krijgen. Bovendien moet je zelf de punt van de zak afknippen en zo kun je zelf bepalen hoe groot je spuitmondje wordt. Als je geen spuitzak hebt, kun je de crème fraîche ook met een theelepel op het bord scheppen.
Als je gerookte zalm koopt, hoef je daar niks meer aan te doen. Je kan ook een mooi stuk zalm kopen en deze zelf roken in een rookoventje. Maar ik begrijp dat de meeste mensen dat niet in huis hebben. Een lekker stukje gebakken zalm smaakt ook prima bij dit gerecht, maar je loopt het risico dat de smaak overstemd wordt door de aardse smaak van de rode biet en het scherpe van de mierikswortel.
Was de citroen en rasp de schil. Het liefst gebruik je hiervoor een biologische citroen. Stop met raspen als je wit ziet, dit smaakt namelijk niet lekker.
Opmaak:
Smeer een mooie veeg rode bietenpuree aan een kant van het bord. Leg de zalm er in het midden op. Schep wat blokjes biet naast de zalm. Spuit mooie cirkeltjes crème fraîche op het bord. Maak het geheel af met nog wat blokjes biet die je willekeurig neerlegt, wat geraspte citroenschil en een paar blaadjes waterkers of rucola.
♥♥♥
Wil je zien wat ik zoal eet en kook? Volg me dan op instagram (hesselkookt)