Today I share my secrets about a new diet I created myself… It's called the Cheapskate diet.
Ik heb per ongeluk iets nieuws uitgevonden en het bevalt me wel. Het zogenaamde krentendieet! En nee, dit betekent niet dat je twee maanden alleen maar op rozijntjes zit te kauwen (gelukkig maar). Je zou het ook het zuinigheidsdieet kunnen noemen…
Het Krentendieet dus. Denk niet dat ik de nieuwe Sonja Bakker wil worden, ik wil alleen wat ondervindingen met jullie delen:
The Cheapskate diet isn't really a diet, it's a way to save money really:
Een paar maanden geleden hield mijn werk op (grrr crisis) en zat ik thuis. Er viel een inkomen weg en dus werd er gaandeweg steeds meer bespaard. Het begon met het opzeggen van de sportschool. Ik had een duur abonnement waar alleen groepslesjes gegeven werden, ontzettend leuk. Alleen ging ik bijna nooit meer. De smoesjes: geen zin / straks komen er weer geen mensen opdagen en moet ik met mijn eentje suffe dansjes doen met de leraar / zoveel tijd mee kwijt / dan eet ik zo laat /  het is helemaal aan de andere kant van de stad. En ga zo maar door. Dus ik zegde het abonnement op en ging samen met Tom drie keer in de week een kwartiertje om het parkje naast ons huis rennen.
When I lost my job a couple of months ago, I quit the gym because it was to expensive and I never went. Instead I started running. It's a lot cheaper, closer to home and more fun because Tom is running with me.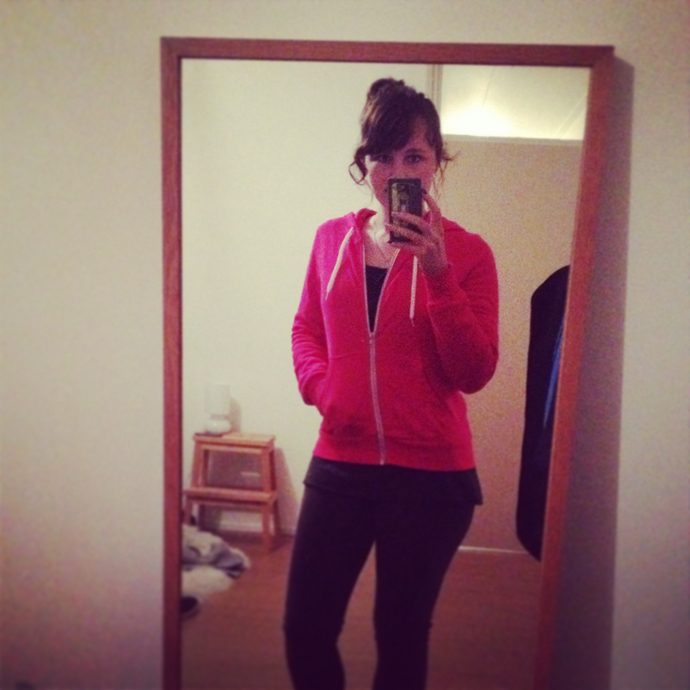 Het is de perfecte oplossing. Ik beweeg weer, Tom vertelt over zijn dag en ik over de mijne, we zijn er amper tijd mee kwijt, eten niet laat, het is naast ons huis en het kost niks. En omdat we samen gaan, gaan we ook altijd omdat smoesjes alleen in je eentje werken (meestal dan).
Stap twee in het Krentendieet was de besparing op de boodschappen. Ik heb werkelijk geen idee wat een normaal stel van twee met twee katten aan boodschappen uit geeft, maar wij gaven voordat we begonnen met het Krentendieet zo'n €50 uit per week. En daar kwam nog bij dat we een of twee keer per week ook nog buiten de deur aten / iets bestelden / een diepvriespizza haalden.
We zijn in de supermarkt de B-merken uit gaan proberen, stopten met frisdrank kopen en ook veel snacks en lekkere dingetjes werden niet meer toegelaten in ons winkelkarretje (die waren namelijk niet broodnodig en kostten best veel). Het was de uitdaging om zo min mogelijk te kopen en toch vrolijk (en lekker) de week door te komen. Maar een keer in de week boodschappen doen en een boodschappenlijstje maken van tevoren hielp enorm. Resultaat: alles gaat op. Ik vind bijna nooit meer restjes in de koelkast die zwaar over datum zijn. We zijn van €50 naar ongeveer €30 gegaan en bestellen bijna nooit meer iets.
Step two in the Cheapskate diet: save money on groceries by bying exactly what you need and nothing more. Use a list and only go shopping once a week.
Nu moet ik er wel bij vertellen dat Tom en ik idioot weinig (avond)eten (kleine hapjes tussendoor kunnen we er heel veel van op). We worden regelmatig uitgelachen door vrienden als we hard nee schudden als ons een tweede portie eten wordt aangeboden. En toen ik deze leuke pannetjes voor mijn verjaardag kreeg,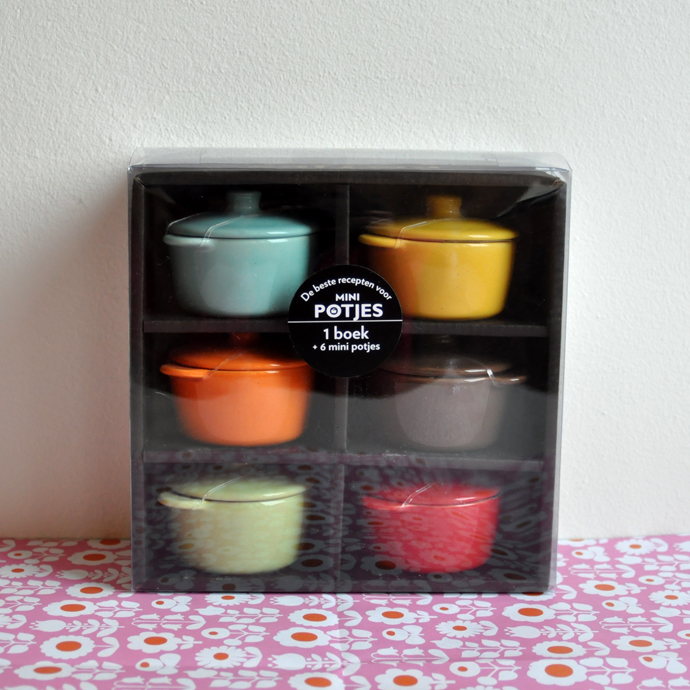 gierde iedereen het uit toen iemand zei dat het perfecte bordjes waren voor ons avondeten. Dus daar hebben we met het oog op besparen mazzel mee.
Besparen op buiten de deur eten: Vooooor het Krentendieet aten we regelmatig sushi.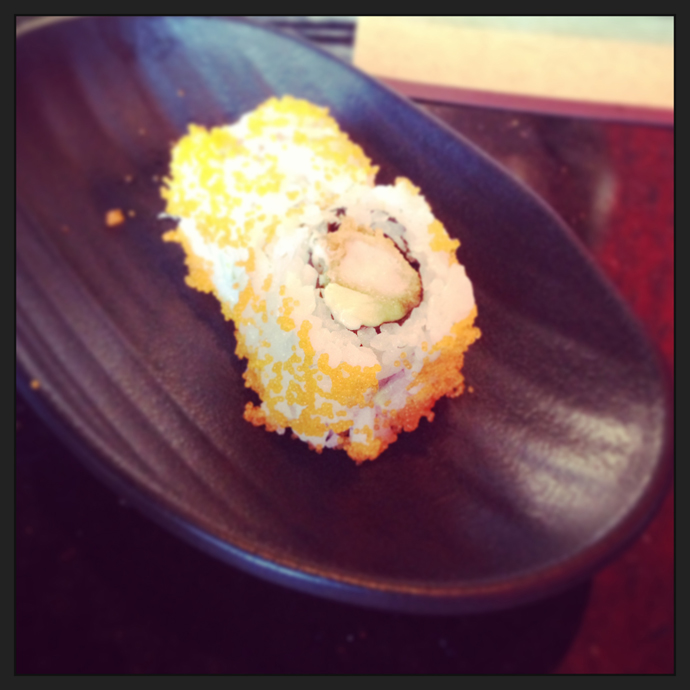 En sushi buiten de deur eten is duuuuuur. Het kost al snel €30 inclusief drankjes per persoon. En aangezien wij helemaal niet zoveel op kunnen, is all you can eat eigenlijk een beetje zonde (en dus prop je jezelf helemaal vol totdat je bijna niet meer kunt lopen).
Dus nu maak ik zelf sushi. En dat is ontzettend veel werk, dus wil je dat daar ook zoveel mogelijk mensen van genieten (en je becomplimenteren). En dus nodig je al je vrienden uit, die ook een lekker hapje meenemen en dat kost bijna niks. Ennnnn je zit niet proppie vol aan het einde van de avond.
Don't go out to eat sushi, make it yourself! It's much cheaper and you don't stuff yourself in an all you can eat restaurant. O, and invite friends to show off your sushi skills.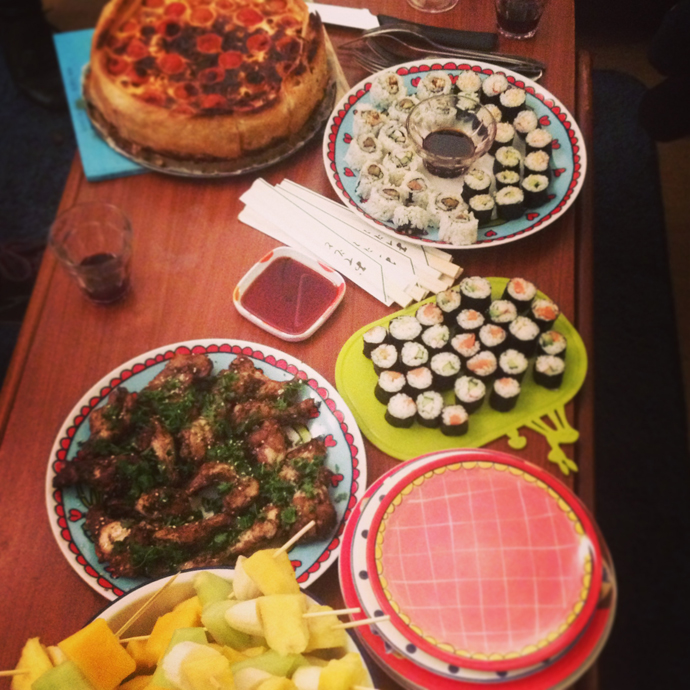 Je kunt ook helemaal niet zelf koken en gewoon op bezoek gaan bij vrienden die zich graag uitsloven in de keuken. Zoals mijn beste vriend Hessel die een tijdje geleden een vegetarisch viergangen menu voor een groepje vrienden klaar maakte:
Save money by eating at a friend's house. My friend Hessel makes amazing food:
Ander goedkoper alternatief om uit eten te gaan is te gaan lunchen buiten de deur in plaats van dineren. Bijvoorbeeld bij de Soepwinkel:
Go out to lunch instead of going out to dinner.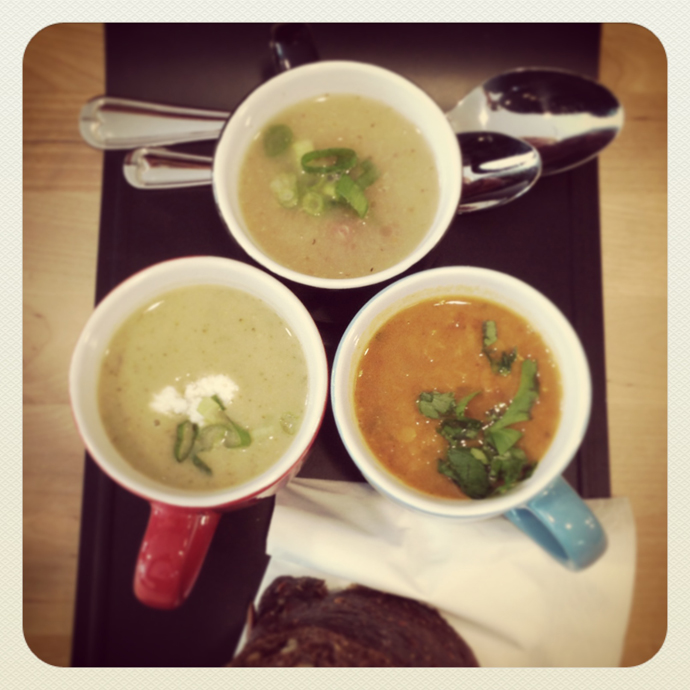 Daar krijg je drie enorme koppen soep en twee hompen brood voor nog geen €5. Geen voor- of nagerecht, maar wel drie keer iets anders geproefd!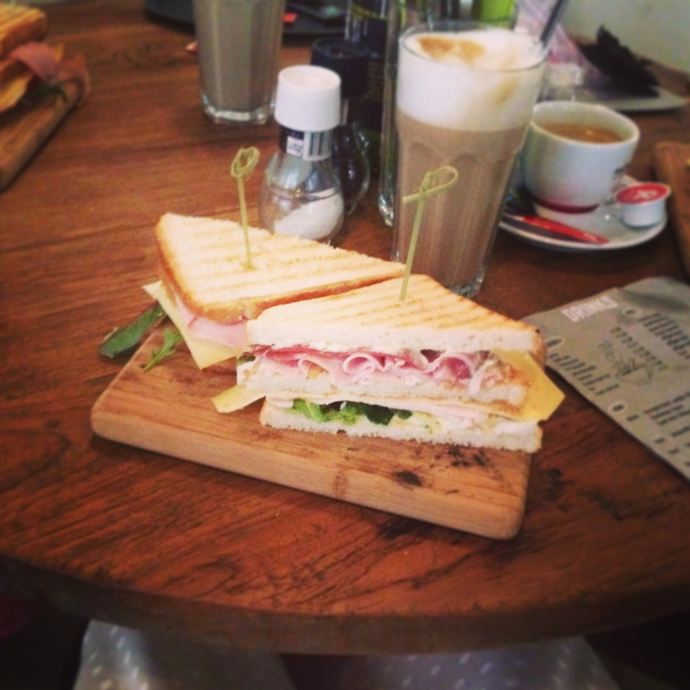 Of bij De Uurwerker. Tom en ik hebben het af en toe nog steeds over deze club sandwich (it was so goooooood) en hij kostte maar €5,50. We zaten zo vol dat we 's avonds alleen nog een boterham hoefde te eten.
Het resultaat van dit krenterige gedrag is dat ik een paar kilo ben afgevallen. Heeeeel geleidelijk, maar toch! En dat was absoluut niet het doel, maar wel een prettige bijkomstigheid! En het leuke is, ik mis helemaal niks! Ik eet nog steeds heel erg lekker. Ik geef alleen veel minder geld uit en gooi veel minder eten weg.
After a couple of months of Cheapskate diet, I noticed I had lost a little weight. I wasn't supposed to, it just kind of happened. And the great thing is that I almost never throw out food anymore and spend a lot less money.